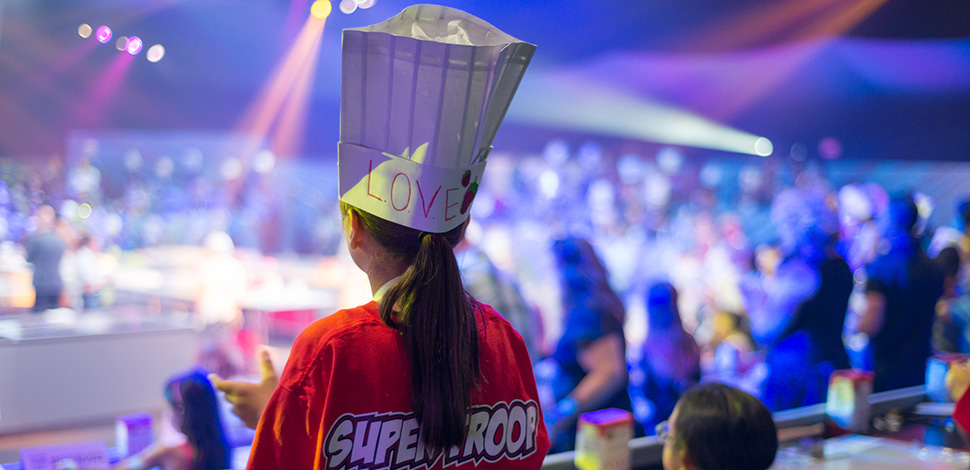 NEXT UP: Little Masters presented by Le Creuset!
The event will be held in Restaurant Stadium by Fisher & Paykel, which will transform from kitchen to culinary classroom as children learn to cook alongside one of the All-Star Chefs! This year Sherry Yard, from Helms Bakery in Los Angeles and City Perch + Bar in North Bethesda, Maryland, will be conducting the class. Originally from New York, Sherry Yard is now in Los Angeles reviving LA icon Helms Bakery as Chef and Owner. She has earned the praise of her critics and peers with multiple accolades, including three James Beard Awards.
Sherry Yard (Helms Bakery – Culver City, CA)
Little Masters presented by Le Creuset will be a large scale cooking class dedicated to children who can also be accompanied by a parent or guardian. These future chefs will experience hands-on cooking in a fun and interactive atmosphere. This year, All-Star Chef Sherry Yard will be teaching children how to make a cast-iron skillet pizza in a Le Creuset skillet. Each child will also get to go home with a special Le Creuset cooking kit and an apron!
The event will be hosted by Sarah Michelle Gellar (Foodstirs).
Sarah Michelle Gellar launched Foodstirs in October 2015 along with Galit Laibow, and Gia Russo. It is a culinary lifestyle brand that offers convenient, delicious and healthier ways to bring families together in the kitchen. The products range from creative cooking kits to premium signature baking mixes. Foodstirs is meant to inspire creativity and curiosity, while emphasizing the importance of a healthier lifestyle. All ingredients are crafted perfectly for a homemade taste using premium, non-gmo ingredients, no preservatives, artificial dyes or flavors. Foodstirs mission is to offer real and tasty baking products that provide a convenient and healthier way to unplug, connect, and create memorable experiences together as a family.
The event is sold out, but you can see chef Sherry Yard at Global Grand Tasting presented by Melissa's Produce on Saturday, March 12.
Buy Tickets Here
Complete List of Events
Masters Dinner Series
Strolling Events
Kids Cooking Class
Saturday March 12th — Little Masters presented by Le Creuset
You might also like