To say the experience I had at Coachella this year was a 180 from my past years spent at the festival would be 100% correct. I spent my past 3 Coachellas at weekend one, camping. If you haven't experienced Coachella like this I definitely recommend it. Yes it's dirty. Yes it's hot. But it's also much more than that. I think the benefits outweigh the not-so-fun parts. I owe a lot of myself to those days. I know this may sound ridiculous to some, but looking back on the first year of that dirty, hot experience, so much has changed since then. I went with a huge group of people which I probably had met 2% of. If you've ever met Drea of Fancy Made or follow her on social media, you know she is one of the most inspiring people you will ever run into. So we met over IG a few years back (when it wasn't AS "normal" to do so) and she and her friends welcomed me into their Coachella family that first year (2013) and needless to say I went back 2 more times with them.
As the group dwindled from over 100 to a couple dozen, we eventually decided not to go back this year, partially because purchasing tickets has become such a mess, and the experience wasn't really serving us anymore. I tried and failed at purchasing tickets, so decided I would retire from Coachella. Drea attended another festival after we attended Coachella last year, called Lightning in a Bottle and I decided to attend that one with her this year instead. This festival is done by the people who put together the Do Lab at Coachella. This festival is supposed to be more about inspiring meaningful connections, complete with workshops, art, of course music, and unique experiences. Stay tuned for my recap coming ASAP!
Additionally; I ended up having a bachelorette party to attend weekend one and a wedding to attend weekend 2, so it was pretty much an easy decision not to attend, but as you can see, I ended up heading to Coachella anyways. I was invited to Vanity Fair, The Retreat the first weekend. This gorgeous relaxing event was held at Korakia Pensione, complete with what I called "Little Bohemia", basically my dream living space.
Location: Korakia Pensione — Palm Springs, CA
Beauty: GLAMSQUAD, Iris + West lashes, Vanity Project (manis and pedis), Caudalie Paris
Drinks: Tenants of the Trees — Silverlake, CA
Food: Curated by The Fare Trade — The day I attended the featured chef was Josh Henderson of Huxley Wallace Collective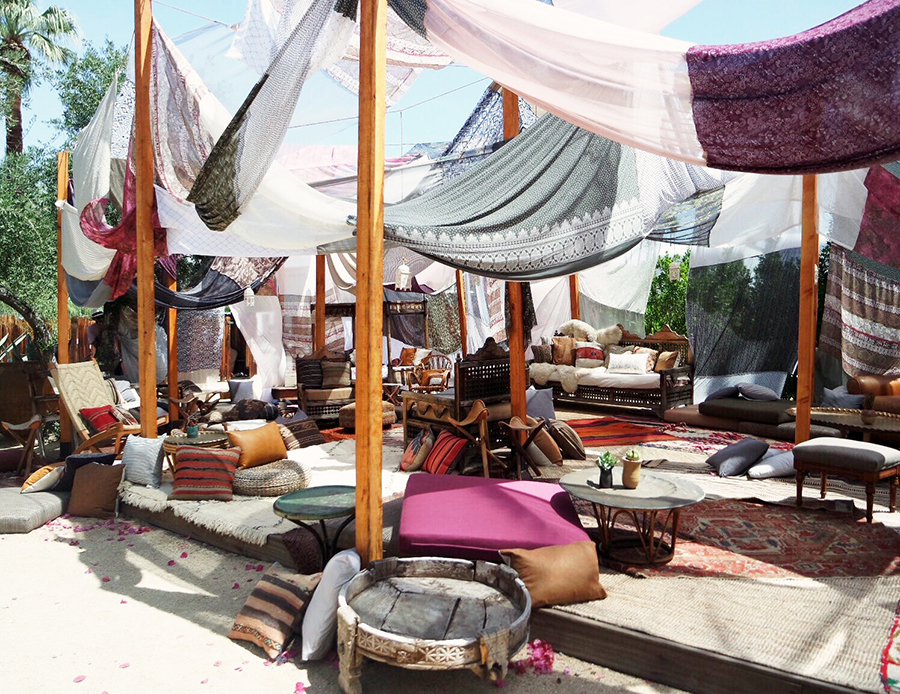 The food offerings varied a bit the 3 days, but on Friday I tried out these chocolate covered frozen bananas from Hannah's Bananas. Not only were they so photogenic and delicious, but this was Hannah's senior project in high school. How cool is that?! She is based out of Huntington Beach, CA.
Next, I hit up the Salt and Straw stand (obviously). If you know me or have followed my food feed long enough, you know how much I love their ice cream. Besides it being based out of Portland originally, their flavors are so imaginative and out of this world delicious. Below you will see a photo I found of myself on Zimbio in an album alongside celebs and influencers. Cool.
Cocktails were mixed up by Tenants of the Trees. This is a bar located in Silverlake, CA that I've checked out once before. The cocktails definitely made you feel like you were being healthy while sipping on booze.
I took the day off work to attend this event on a Friday and drove down to Palm Springs by myself. I spent the first part of the day getting eyelash extensions from Iris+West (which I'm now addicted to getting done 4 months later), grubbing a bit, and sitting by the pool taking it all in. I was among celebrities like Emma Roberts and tattoo artist Dr. Woo. Honestly I am pretty oblivious when it comes to recognizing celebs and influencers, so who knows who else was there too. Haha. I did take a look at some albums from the whole weekend of those who attended and it is an eclectic group of attendees. Check out the Vanity Fair photo studio portraits if you're interested in seeing who else was in attendance.
I sat by the pool and took in the sights for awhile while chowing down on some grub. I was thinking of heading back home soon, then was approached by a gal who complimented me on my outfit, saying I looked beautiful. I thanked her and we parted ways. When I was about to leave, I spotted her with 2 other women and decided to go up to her and tell her how much I appreciated her compliment. We started chatting and I learned a lot about her and her friends. Alexa and Leah are a part of a band called Lex, based out of Los Angeles. Nikomi owns a few restaurants in Los Angeles County. We shared great conversation and planned on meeting up in the future. I truly felt like I was meant to meet these wonderfully inspiring women. Here is Leah playing piano poolside.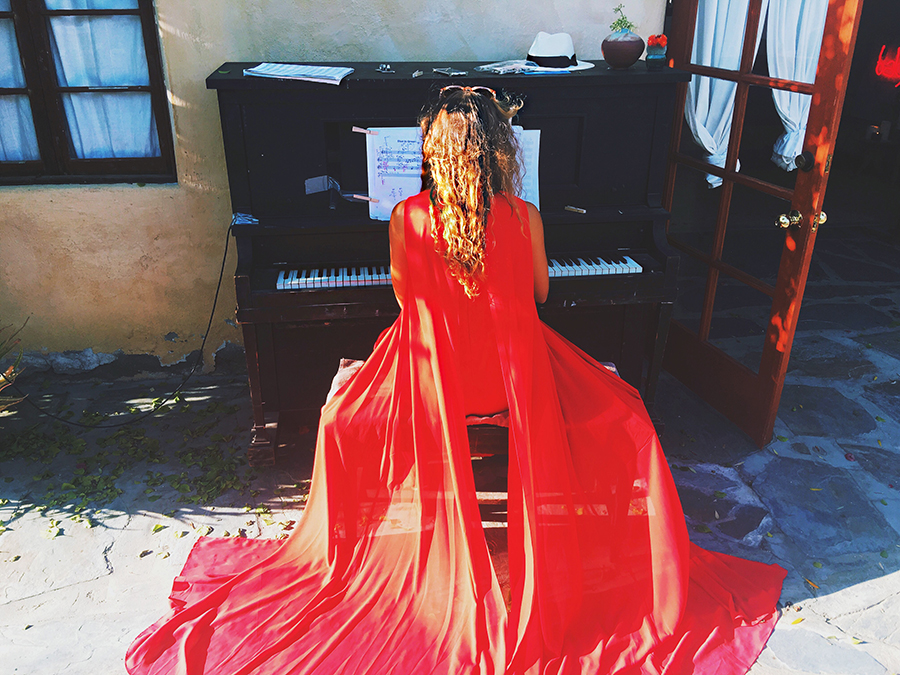 Second weekend of Coachella, I attended the Festival on Saturday. I decided to go in around when the gates opened so I could get a lot out of the day! I ended up meeting up with my friend Darlene, then hitting up Afters and GD Bro Burger.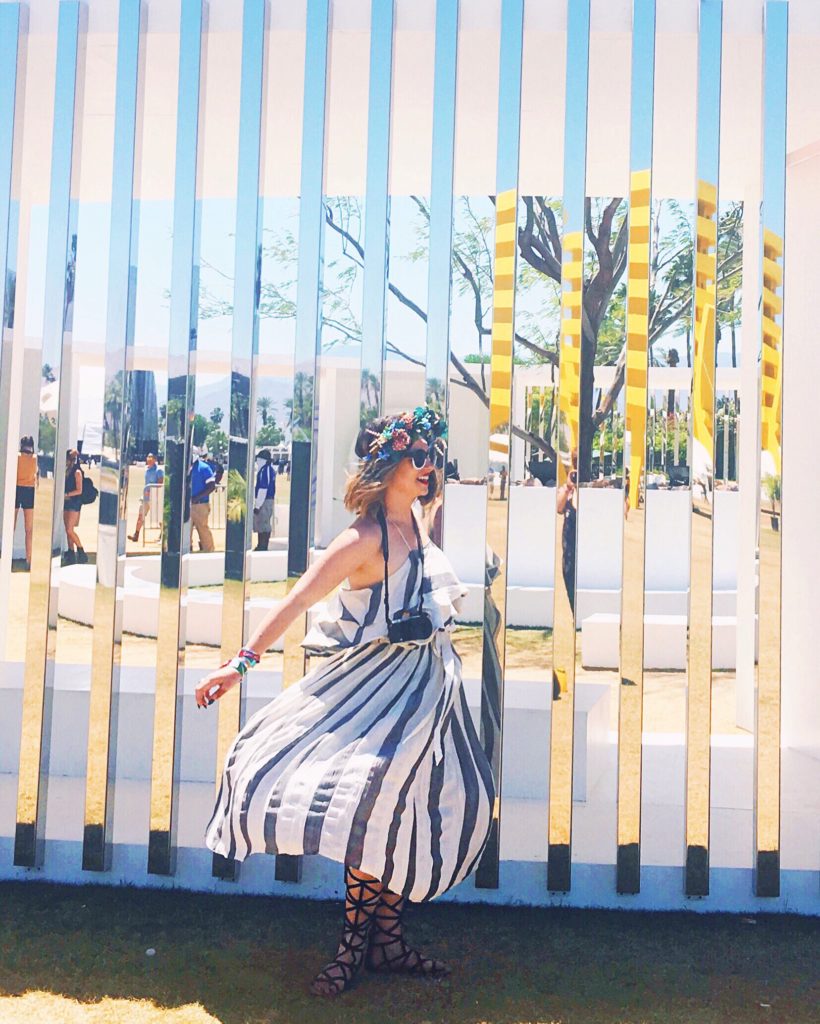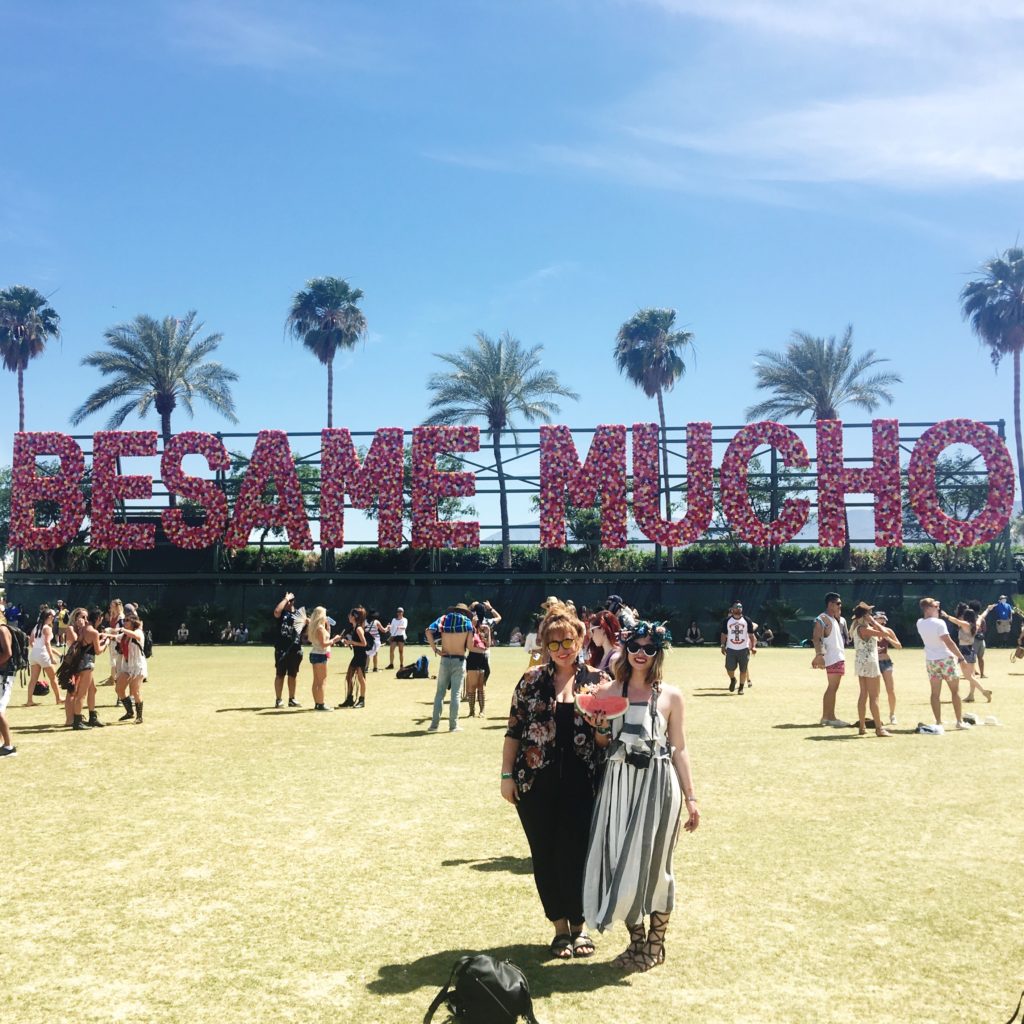 After enjoying some grub I headed to one of the VIP sections to check out some more food. First I checked out Fritzi Dog (located in the Los Angeles Arts District) and then was treated to Chris Oh of Hanjip's VIP special! How delicious does that salmon roe and uni look? It was definitely one of my favorite dishes of the weekend!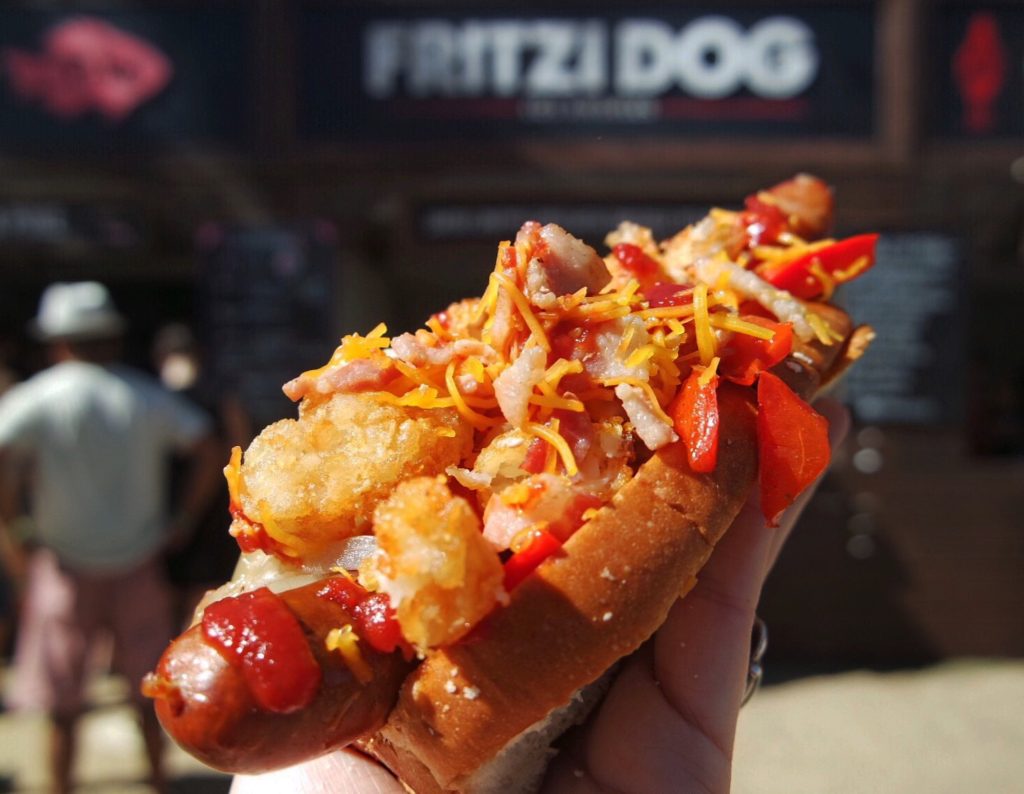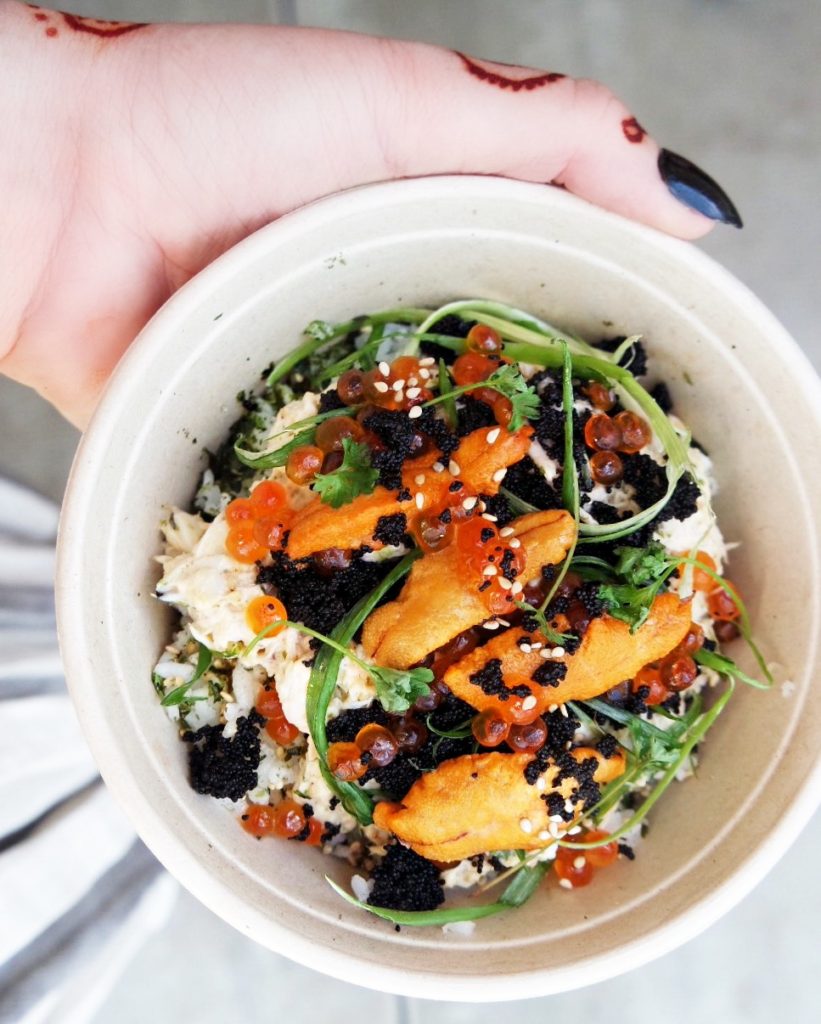 In true foodie style, of course I also had 2 dinner reservations for the night. My first one was at a popup in the VIP section. I chose to check out Rosaline, Ricardo Zarate's (not opened yet) Peruvian restaurant destined for West Hollywood.
First course (primera) — SALMON TIRADITO marinated salmon, tomato punzu, maracuya sauce
Second course (saltados) — BEEF stinging nettles, rice/quinoa blend, kimchi tomatoes, cucumber, 63 degree egg
Dessert (tercera) — CREMOLADA (basically an alcoholic popsicle)
My second dinner was Outstanding in the Field in the Rose Garden. These dinners are held all over at events like Coachella (obviously), in the middle of vineyards, on private beaches to name a few venues. The set up is one long single table where everyone is seated. We were first greeted with a welcome cocktail which was very refreshing, some sort of cucumber alcoholic beverage. Then you're free to choose a seat at the table. I walked in about the time the dinner was scheduled to start so I had to find an empty seat. I found a single seat between to gals and across from a couple and 2 empty seats. I'm a big fan of the pop-up style dinner, because there is nothing more intimate than sitting down to dinner with a group of people. This is one of the main reasons I love food so much. It is inevitable that you will get to know each other while sharing a meal together. I chatted with the couple from Miami and the gals from Chicago the whole time. Two of my fellow LA foodies joined across the table in those two empty seats.
The dinner consisted of a beautiful summer salad, steak, pasta (not pictured) and s'mores ice cream sandwiches!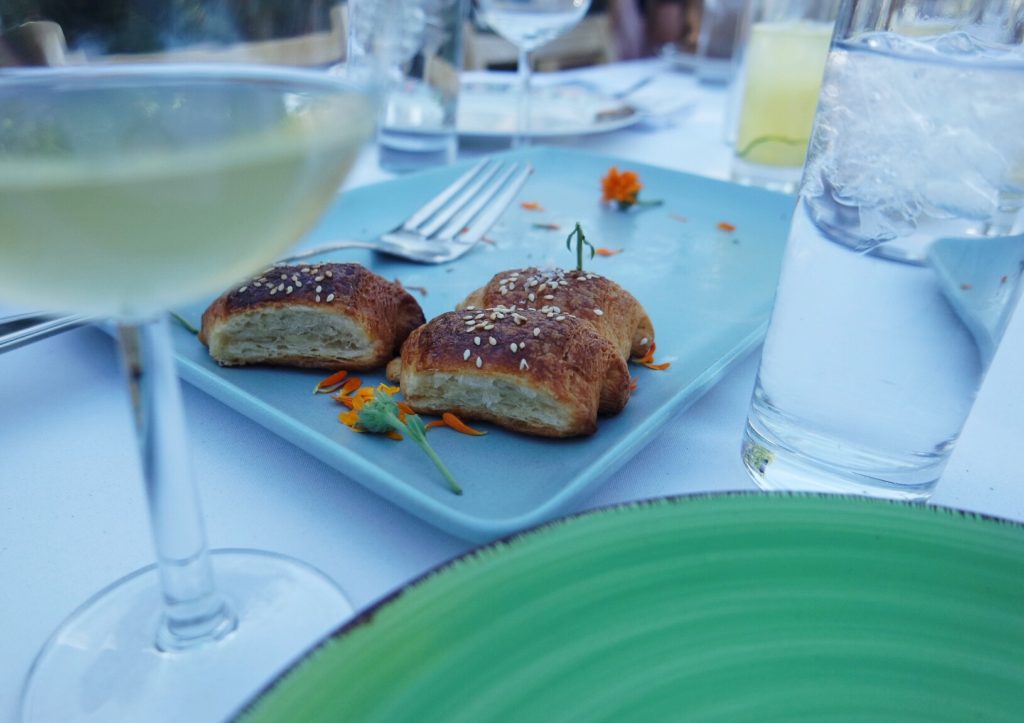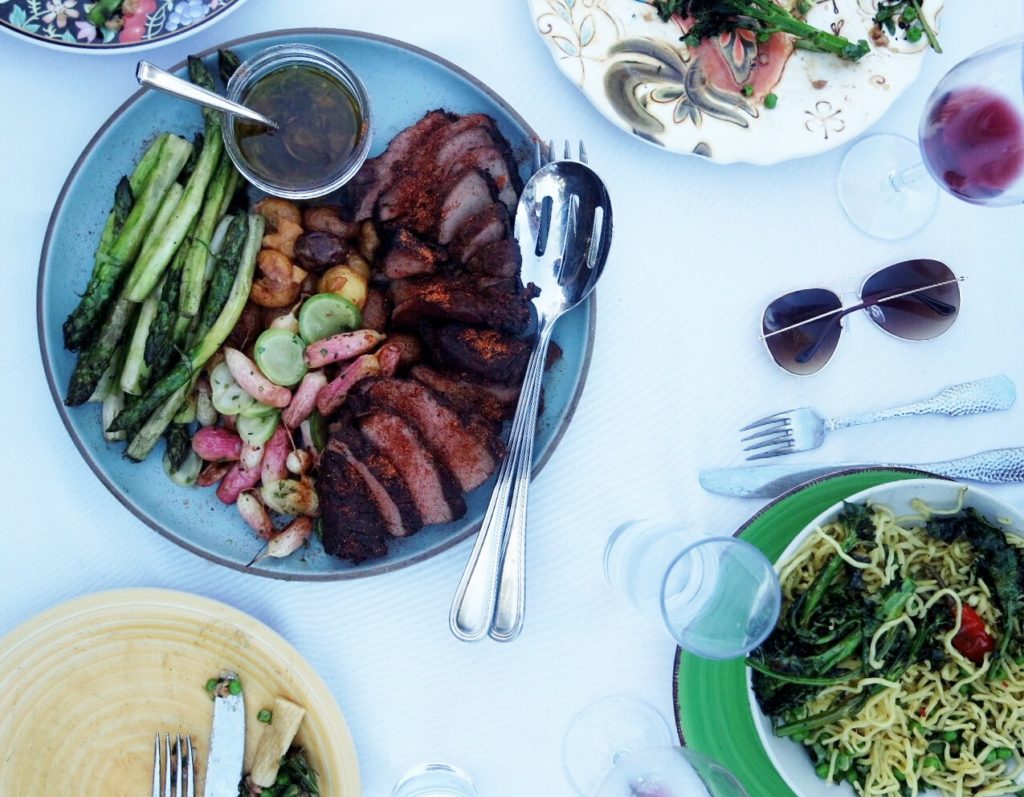 After dinner, I ventured off into the festival and caught a couple more shows. And like that, my 4th Coachella experience came to a close. Same place, different experience, loved every second of it.