I went into 2018 with one main goal — to TRAVEL. I wanted to go somewhere every month, whether it was out of the country, a weekend trip up or down the California coast, or anything in between. I'm so excited to report, I did that and more!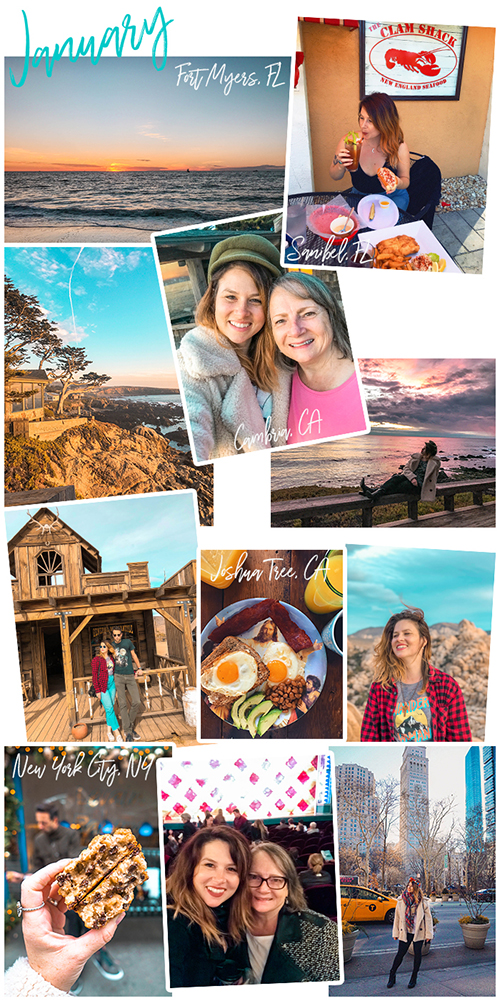 Fort Myers & Sanibel, FL: I spent the last few days of 2017 in Florida — eating lobster rolls, taking in the last sunset of the year and ringing in the new year in good company.
Cambria, CA: My family has made it a bit of a tradition to start off the year with a trip up the CA coast for my mom's birthday. Cambria has a special place in my heart as I have spent a lot of time on vacation there since I can remember. Trips complete with delicious food, beachcombing, breathtaking sunsets and trips further up the coast to Big Sur.
Joshua Tree, CA: A trip where I fell even more in love with JT. We stared up at the stars, climbed boulders, and laughed late into the night & early into the morning — one of the trips of the year that I most treasure my memories from!
New York City, NY: This was the second trip my mom and I took to NYC to see Sara Bareilles in the musical, Waitress (definitely worth the trip). Obviously we explored the city too!
Temecula, CA: My first trip to the area (for a friend's birthday trip); I was totally surprised by how gorgeous the area is, with plenty of wineries to visit and delicious wine to taste.
Breckenridge, CO: I hadn't skied since one lesson back when I was a kid (maybe age 7) and I ended up on the level 3 slopes after my first few runs! I was surprised by how much I loved flying down the slopes — what an adrenaline rush! I may have to make a trip to the snow this season.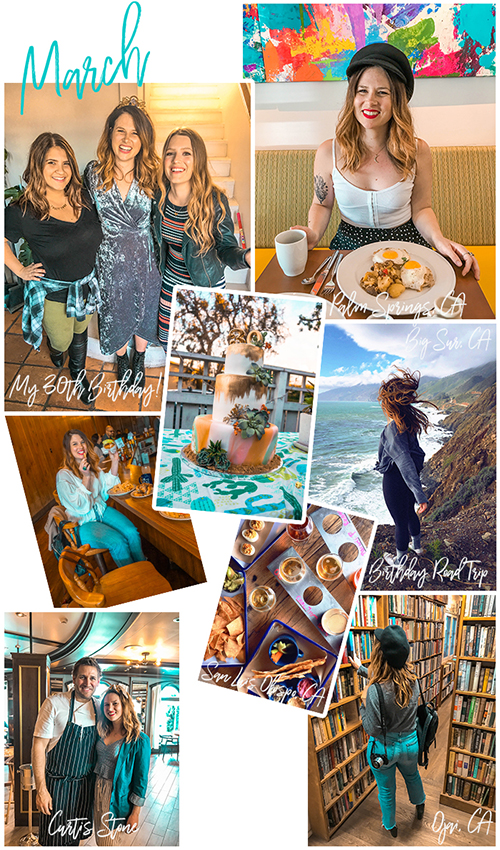 In March, I turned 30! I had a birthday celebration in Venice Beach surrounded by my favorite people & one of my best friends surprised me! My cake was the most adorable and delicious succulent cake by Dorie Cakes.
After my party, R and I headed on a road trip up the California coast from Ojai, to Big Sur and back down to San Luis Obispo.
I also got to meet Curtis Stone at a Princess Cruises event!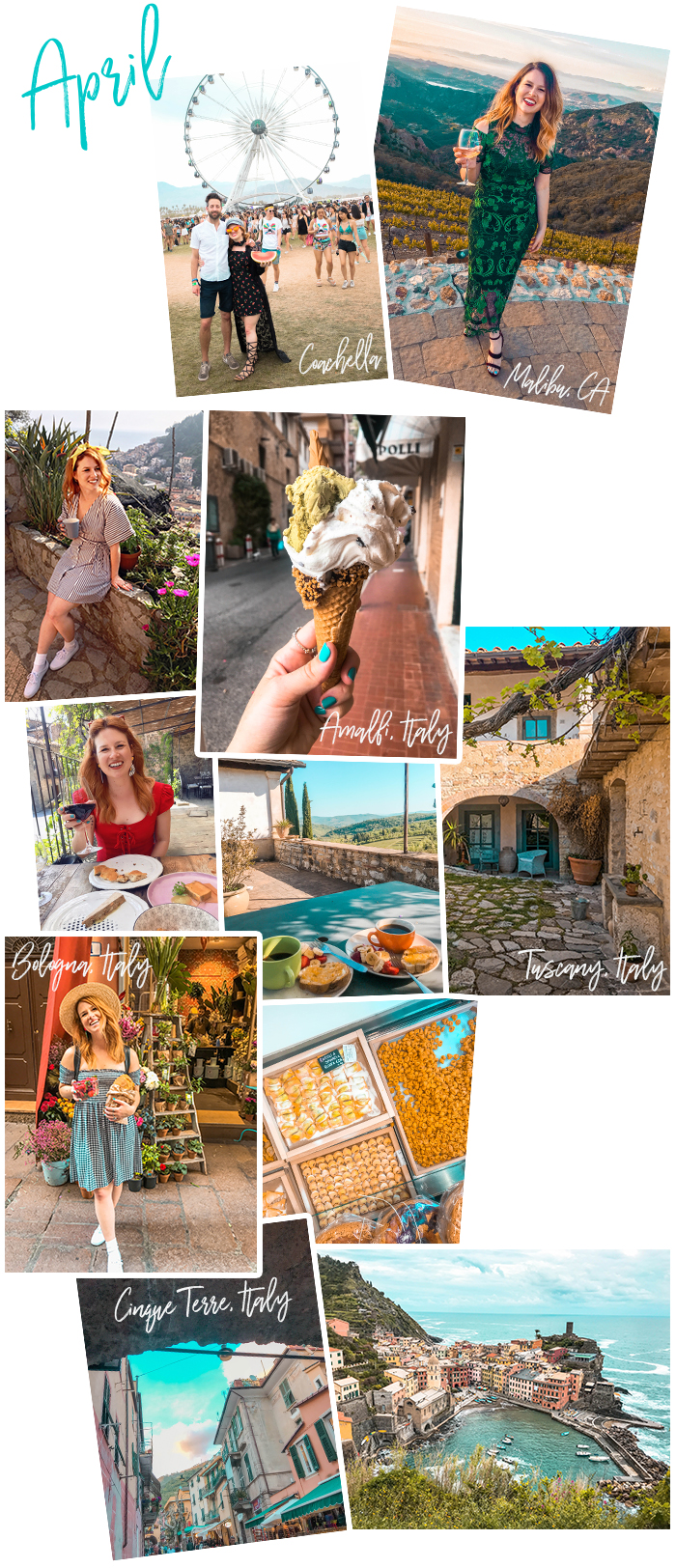 Coachella: I was so excited to take R to Coachella and experience the festival again in a different light. It was my first time staying in a house and not camping (I camped 4 years in a row back in my heyday of music festival going).
Malibu Rocky Oaks: I had seen this place only on instagram and it was so magical to actually set foot on the property — delicious wine and food, stunning views and this gorgeous dress from Rent the Runway! (little did I know I would set foot there again later in the year)
Italy: This was basically my dream trip — we took a road trip from Amalfi to Tuscany to Bologna to Cinque Terra.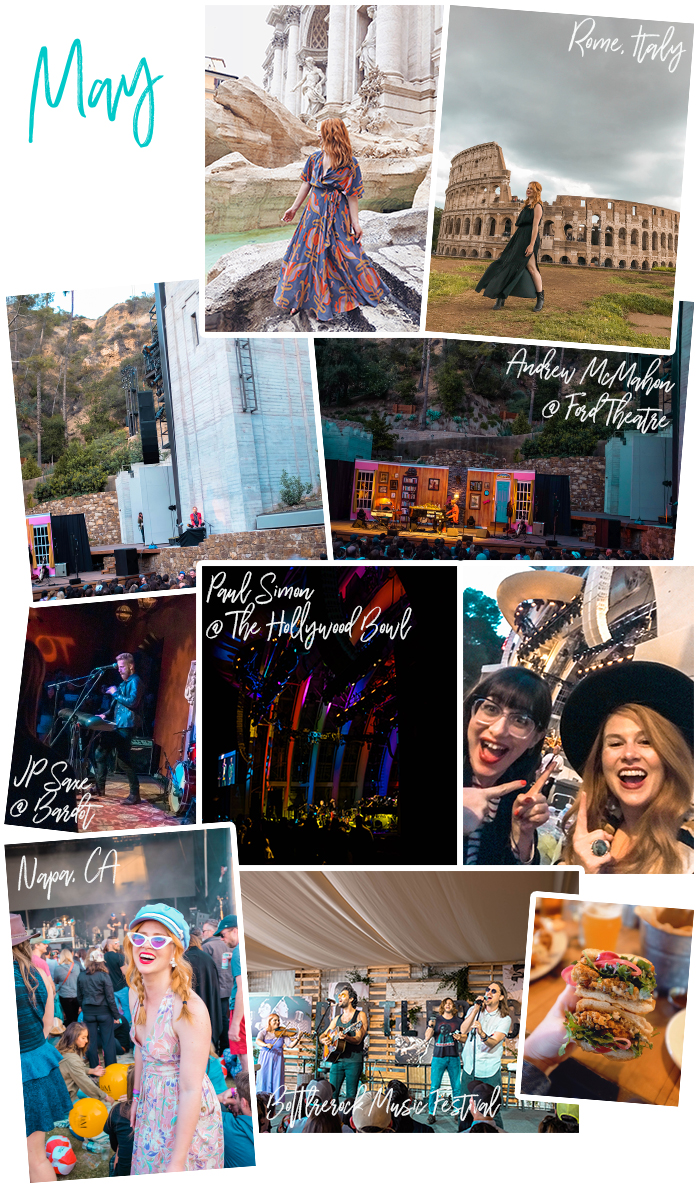 & ended up in Rome in May (travel guide coming soon)! I can't wait to head back to Italy this March & April!
I saw some great shows in May! Andrew McMahon is one of the artists that is timeless for me. I started listening to him back in middle school, the Something Corporate days, then Jacks Mannequin got me through college, to his solo stuff now. I am so grateful for his music! My friend Ilana invited me to see Paul Simon at the Hollywood Bowl which was magical since I'd listened to Simon & Garfunkel since I was a kid. JP Saxe was a new discovery for me in 2018, but the love of his music is still going strong at the beginning of 2019. I went to his show by myself, since it was a last minute decision right after I attended a media event. It felt pretty damn good to go alone!
Bottlerock — Napa, CA: My favorite music festival of them all. This year was pretty special. From seeing The Head and The Heart twice (once in the acoustic VIP section and once at the main stage), to dancing around to The Killers and Bruno Mars. We also squeezed in some delicious wine tasting! Already getting pumped for the 2019 lineup!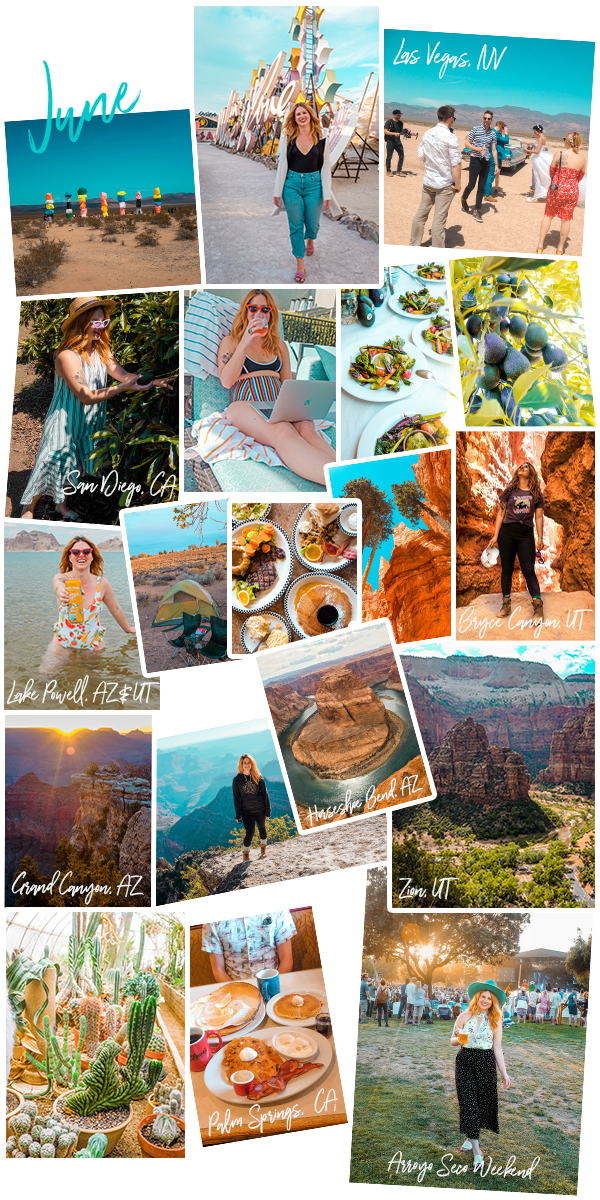 Las Vegas, NV: It was the first time I'd been to Vegas in any capacity other than going to clubs and pool parties 90% of the time. We went for a wedding outside of town at the salt flats, what a gorgeous experience. R brought me to the Beatles, 'Love' Cirque Du Soleil show (epic), we saw Zedd (also epic), got some thrifting in, checked out the Neon Museum, & I went to old Las Vegas for the first time.
San Diego, CA: California Avocados invited me, along with a group of other members of the media to experience their avocado groves, a few delicious meals with avocados and preview a really cool installation (I don't believe it has opened yet, as they pushed back launch quite a bit). It was such a fun experience!
Road trip from Bryce Canyon to Lake Powell to the Grand Canyon: This was quite the spur of the moment trip. We decided to camp and explore a few place between where we were staying. This was definitely one of my favorite trips of the year as I'd been wanting to revisit The Grand Canyon (since I'd only been when I was 6 or 7). Everything was so breathtaking!
Palm Springs, CA: The perfect stop on the way back from our road trip to LA.
Arroyo Seco Weekend: Another of my favorite festivals these days. Favorite performances: Alanis Morisette & Third Eye Blind! Flashback much?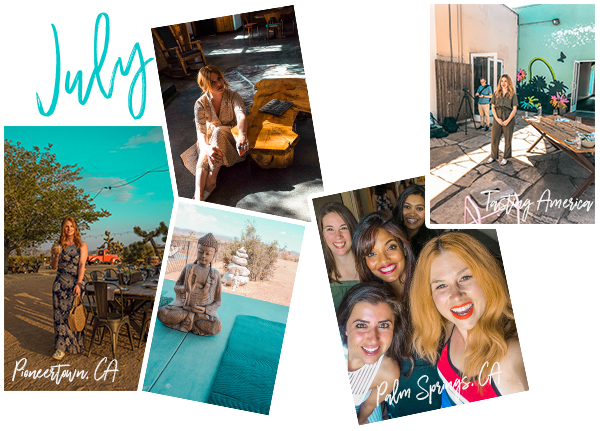 Pioneetown, CA: I was invited to Rimrock Ranch to check out their gorgeous space — they mostly host weddings and retreats, but you can stay in their cabins when they have openings. We took in a sound bath, star gazed and partook in delicious food and booze.
Tasting America: I got to film a fun brunch segment all around the west side of LA! I still haven't brought myself to watch it, but everyone who has watched it so far said I did well. *cringe* lol
2019 goal: watching the segment — and film another segment, perhaps!
Palm Springs, CA: I headed to Palm Springs for one of my close friend's bachelorette parties!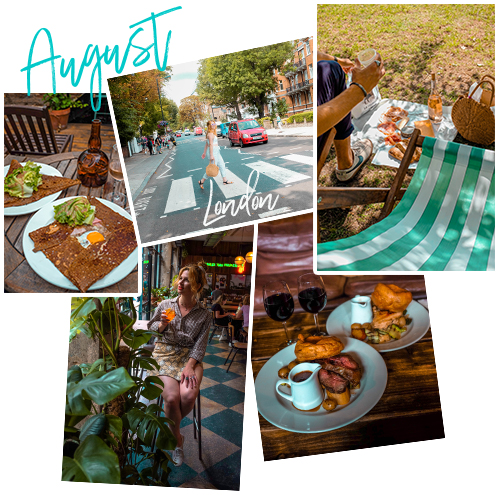 London: I spent half of August in London — eating my way through the city, mostly crepes and Sunday roasts!
Note: I am still working on travel guides for all of these locations!
Berlin: This was one of my most surprising loves of 2018. Berlin was so charming, yet rugged, with so many creatives and some delicious food and ICE CREAM! I definitely want to make my way back in 2019!
Belfast: It was so fun to get a taste of Northern Ireland. It definitely lit a spark in me that wants to explore the area more!
London: Back to London for a bit longer. Found some delicious Italian restaurants on this leg of the trip!
Santa Barbara: This trip saved me at the time. I'd just gone through the breakup and was so grateful to have this trip planned, especially the fact that it was with my mom.
Pioneertown: Back to the area for my friend's wedding. This was also a trip I was so grateful to have had. It was a rough one since I was supposed to be going with my ex, but obviously that changed and it worked out that my mom could join me. We stayed in the most magical, perfectly quiet and comforting place — just what I needed at the time.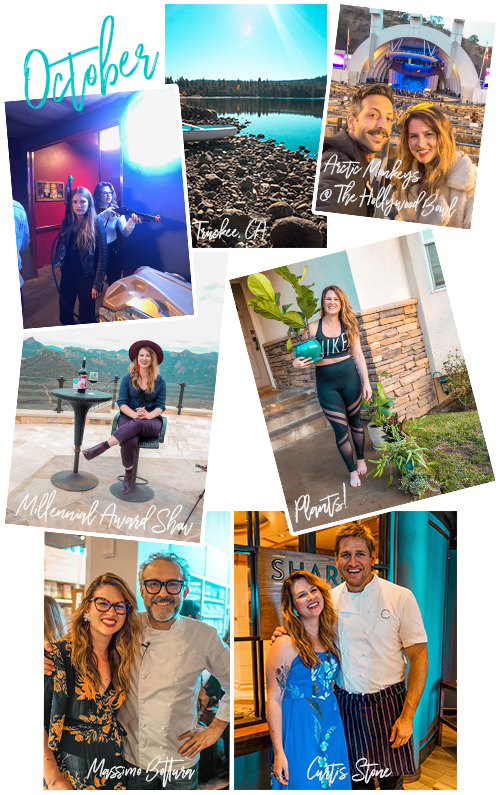 Arctic Monkeys: Saw this show with R as it was one of his LA bucket list items he wanted to check off before he moved to London. It was pretty epic!
Truckee, CA: I booked this trip right after the breakup as one of my best friends lives in the area. It was so good to catch up and a perfect getaway!
Millennial Award Show: My friend Oli invited me to be a part of this wine and spirit focused award show. I am excited to continue to be a part of it in the coming years, learning more about wine and spirits. This is the other time I went to Malibu Rocky Oaks.
I decided it was time to integrate some plant therapy into my life! 🙂
I got to meet Massimo Bottura (holy shit — my Italy obsessed self was in heaven) and saw Curtis Stone again!
Joshua Tree, CA: Another trip to this magical place, this time with a group of people that I am so excited to be a part of. It was exactly what I'd been searching for, an accountability group full of inspiring people. I'm excited to be a part of this into 2019.
NYC: Another of my favorite trips of the year. I stayed separately with 2 of my close friends. I was so excited to taste foods and check out parts of the city I hadn't seen before with my friend Emily and explore my spirituality with my friend Drea. I can't wait to return again. (travel guide coming soon)
Met Jose Andres!
Hosted a panel at Away luggage with Candace Nelson of Sprinkles and Armando De La Torre of Guisados!
Got invited to a Dermot Kennedy concert. I had only heard one of his songs before the concert and am now obsessed with all of his music!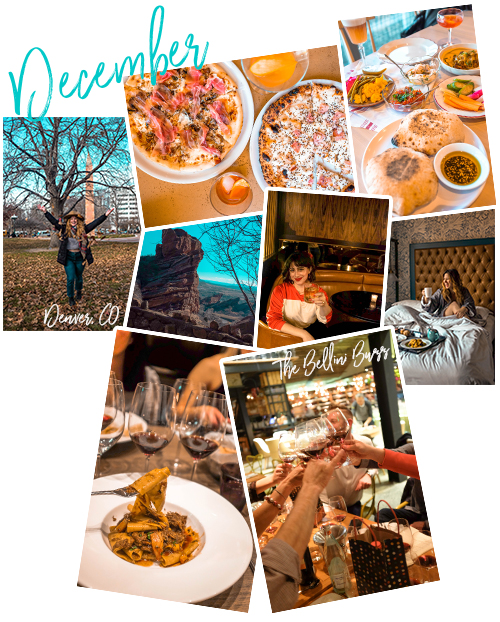 Denver, CO: My first trip to Denver. I was pleasantly surprised by the amazing quality of food, people and surroundings. I can't wait to return next year! (travel guide coming soon)
The Bellini Buzz: I am so excited to be part of my friend Oli's consulting agency officially starting in 2019!
It's amazing looking back at all of the brand partnerships I was a part of in 2018! I can't wait to see what I get to be part of in 2019.
Looking back on the entirety of a year — from the highs to lows, accomplishments to failures, to the mediocre times that seemed to have no meaning at all. So often, I find myself rushing through life, worrying about the next thing, or tomorrow or next week or next year. But I'm working on remembering all of those moments add up to where we are now and they ARE what makes up our life. They're all moments that deserve our attention and some of them are probably moments that we dreamt of at one time. From moment to moment, I find comfort in revisiting it all. The one thing I DO know about life is that it's unpredictable. We don't have control over stuff that happens to us, but we DO have control over the way we react to those things. We DO have control over the energy we put out into the world, thus resulting in the energy that comes back our way.
If there is one thing I learned from last year, it is that I MUST trust my gut. This is a lesson the universe keeps trying to teach me. I've always known, but I am learning to listen more closely.
What are your goals for 2019?! Mine?
Less wasted time on social media, but when I am on it — be engaged, creating and cultivating meaningful relationships.
Learn something new: acoustic guitar, night photography, film photography.
JUST CREATE: Get back into self portraits (I was really into them before selfies were a thing).
Travel more, obviously!
Stay Curious.
Keep track of friends' and family members' birthdays.
Stay in touch with people.
Choose.
& so much more.
Happy New Year,
Corey, Miss Foodie Problems