I've only scraped the surface, but am already in love with the small towns that make up the Santa Ynez Valley!
During the beginning months of the pandemic I fed my travel bug by continuing to explore my home state of California, clocking in a total of 6 trips up the coast. I started traveling along the 101 with my parents before I can remember, while in my mama's belly. Our yearly family vacations were always to Cambria, making it basically a second home to us. We'd usually supplement the trip with a drive further up the coast to Big Sur. I also ended up going to college in San Luis Obispo, so have driven 100s of times on that same route.
Santa Ynez Valley was always a section off the highway that we would just drive by. I'm so glad that changed when my friend group planned a wine tasting trip to Los Olivos a handful of years back. Admittedly I didn't do much more exploring than that until more recently.
I've been to the area 4 times in the last year and each stay has been uniquely perfect –– from my usual move (a house rental), to a couple newly renovated motel/hotel (now boutique hotels) and even camping on a farm!
Where to stay in Santa Ynez Valley
Santa Ynez Valley Hotels
When you walk onto the grounds of Hotel Ynez (Skyview's newly opened sister property), you immediately let out that breath you've probably been holding for the last year. The courtyard is a beautifully curated garden, surrounded by oak trees & fire pits –– making up plenty of outdoor space to social distance. It's almost as if you've been transported to that European vacation you've been daydreaming about, but without the jet lag.
Each room has a private patio with chairs and a hammock! I mean could it get more chill? The decor is a little country, a little boho + a lot of light & airy.
Oh and did I mention you're in the heart of Santa Barbara wine country, they're woman-owned AND they're pet friendly?!
I know you want to know about the food! They offer al fresco breakfast daily, perfect to fill up your tank for whatever your plans may be for the rest of the day! We also enjoyed an interactive BBQ style dinner on our private patio. Just text the staff and let them know when you'd like them to wheel over a BBQ for you to warm up the delicious meal!
Note: If you need anything during your stay, you are given a phone number to text at anytime. I love the ease of this feature that both Hotel Ynez and Skyview have integrated.
Skyview is an iconic roadside motel turned boutique luxury hotel that offers 33 guest rooms, a full-service restaurant, heated pool, bicycle access, firepits and a working vineyard (be sure to try the perfectly crisp Skyview Rosé during your stay). When I say iconic, I mean supposedly the Beatles stayed there & The Mamas and the Papas wrote "Monday Monday" during a stay on a Monday long ago. Perched on a hillside overlooking Santa Ynez wine country, the 5 acre outpost merges mid century style with modern rustic chic. It often felt like a little slice of Palm Springs on the California Coast.
In response to the pandemic, Skyview reimagined their operations and environment. Everything felt extremely safe!
If you need anything during your stay, you are given a phone number to text at anytime. Also, if you have leftovers from a meal during your trip, the staff will gladly hold them in the fridge near the front desk for you, with 24hr access, just in case you need a midnight snack.
When you check in, the staff will ask you what time you'd prefer your breakfast delivered! Fresh OJ, coffee & pastries definitely hit the spot! Oh and as you can see, they're super pet-friendly –– I'd even go as far as saying, pet-encouraged, there were so many pups on the property.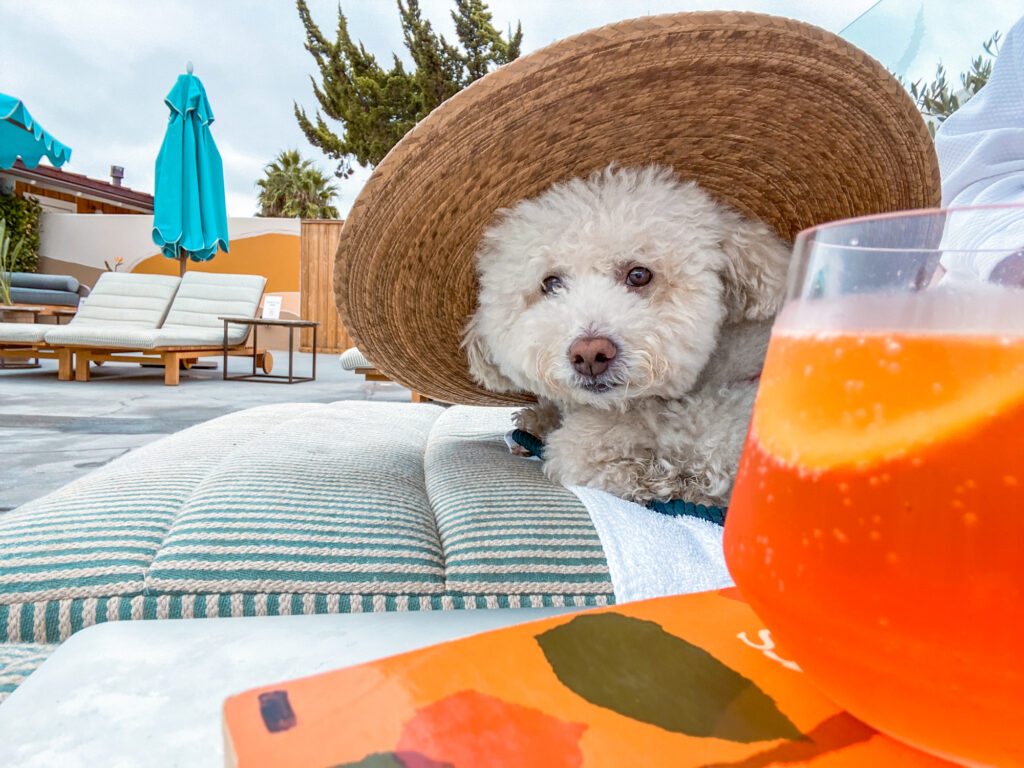 The heated pool was perfect on the gloomy morning we took a dip! Be sure to schedule your 2 hour time slot beforehand so everyone stays safe while enjoying the property. Obviously I had to order an Aperol Spritz to enjoy poolside once the bar opened up at 11AM.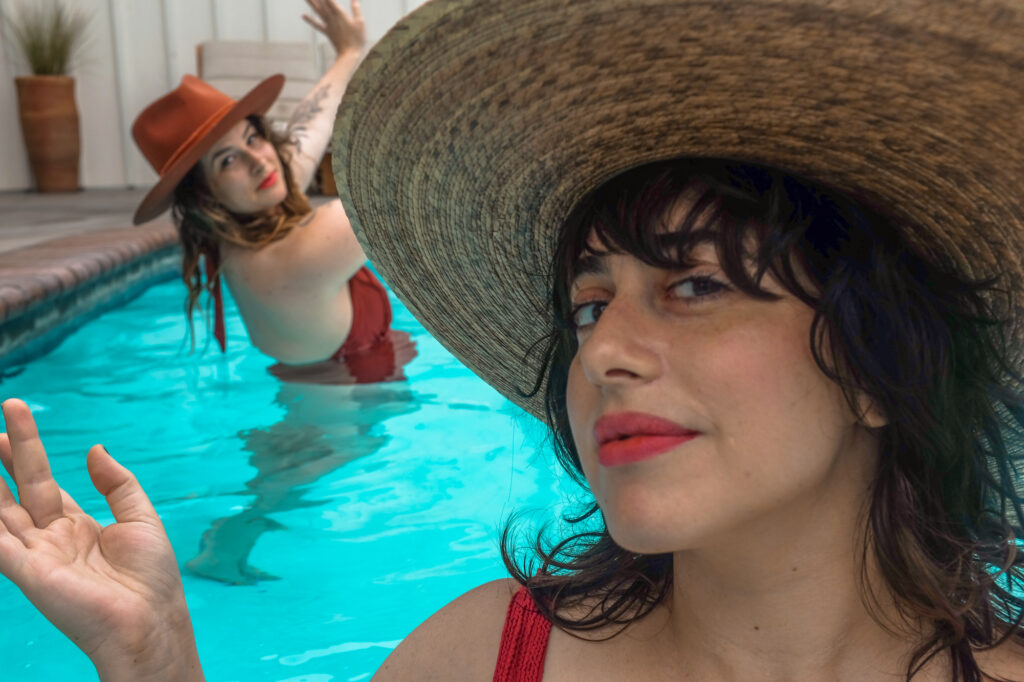 If you're feeling a little famished after that aforementioned dip, or just craving a delicious cocktail, you're in luck because Skyview's on-site restaurant, Norman is just steps from the pool (they're currently offering patio seating and require reservations, but that's just one phone call or text away). We grabbed a quick lunch and I HAD to try the Old Fashioned, because duh it's me. The Beet Hummus and the Old Fashioned are both a MUST order.
Santa Ynez Valley House Rentals
1 bed, 1 bath (sleeps 2)
If you want to go down the house rental avenue –– I'm sure you've heard of Airbnb & VRBO. I have more experience staying in Airbnbs but we ended up booking a VRBO when Walter and I headed up to the area.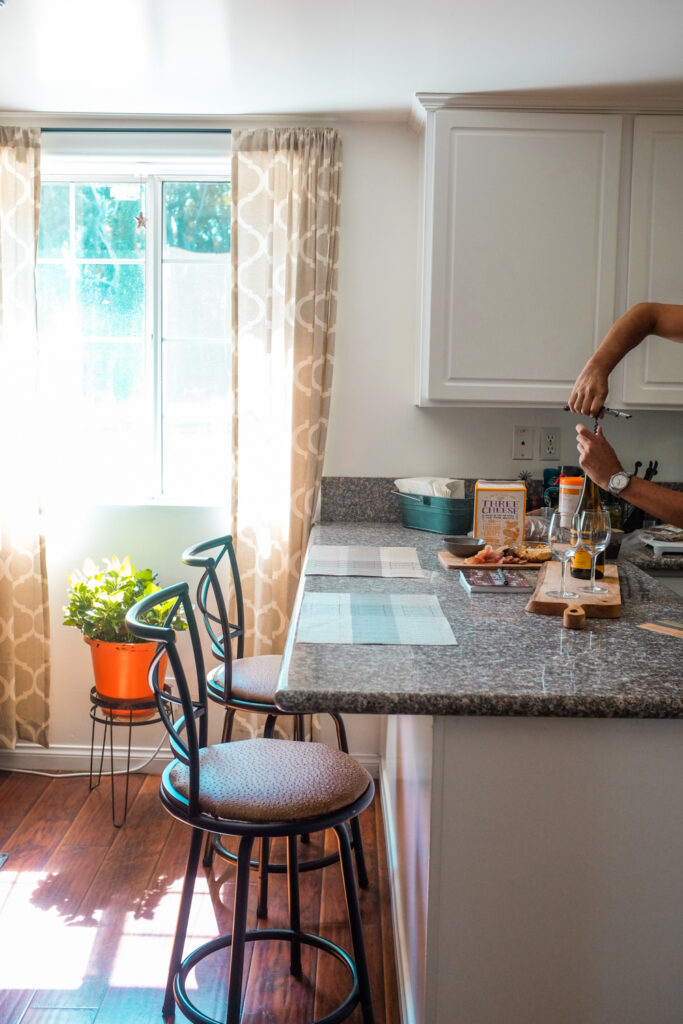 This spot was perfectly cozy for a couple! Our neighbors were literally horses and I loved the quietude of being somewhat out in the "country". The kitchen was fully equipped and ready for us to prep meals!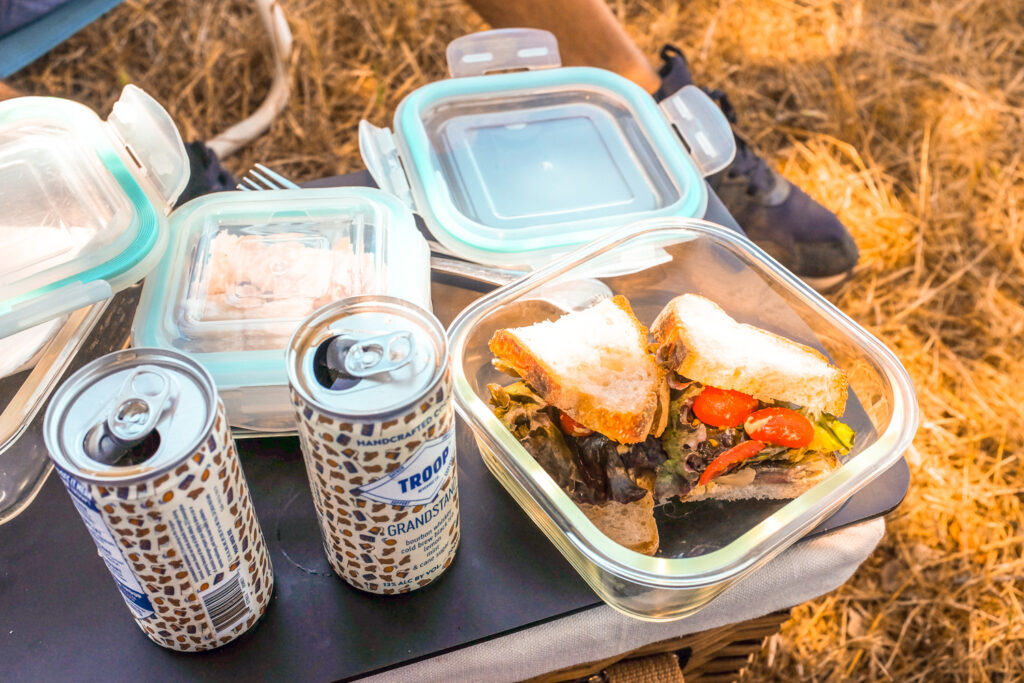 We planned to cook most of our meals at our place and everything turned out perfectly. We loved the various seating areas we could enjoy a coffee, a meal or some peaceful time at sunset!
Need menu ideas? Here are my go-to vacation recipes.
This trip we made shrimp burgers with sweet potato fries, steak & veggies, sandwiches for a picnic, cheese boards and s'mores! I introduced Walter to s'mores on our first trip up the coast together, so we obviously had to make them again. Since we didn't have a fire pit this time we made them in the oven and they were perfectly toasted. Not quite as fun as camping s'mores around an open fire, but just as delicious.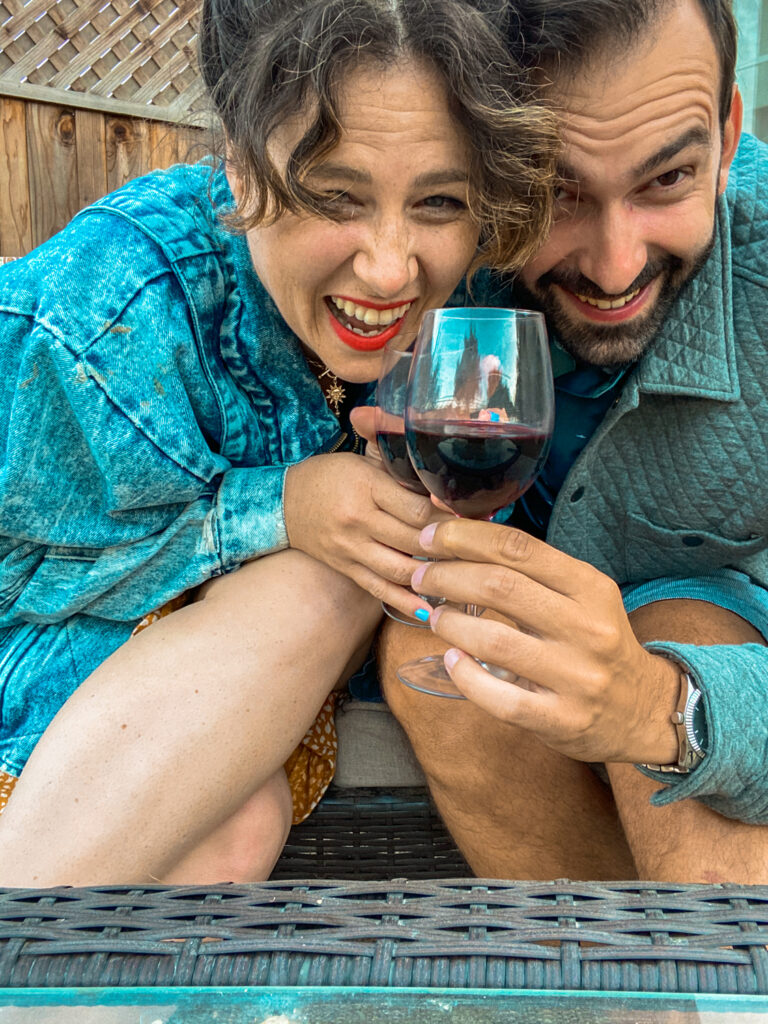 Bodega (Los Alamos)
2 bed, 2 bath (sleeps 4), pet-friendly
This beautifully decorated place is attached to Bodega which is a beautiful space where you can enjoy natural wine & beer. They also have a wonderful shop where you can purchase goods.
I would highly recommend staying here for a girls trip. The bedrooms are quite close quarters, but the location is perfect to explore Los Alamos & the surrounding areas!
Here are more great Airbnb options (all linked individually below):
Santa Ynez Valley Camping
A friend and I decided to skip town the day of the election. It was a much needed getaway and the perfect way to catch up. We found a super chill location at Summerset Farm through Hip Camp. It's an organic pick your own vegetable and fruit farm! When we stayed they had rows of sunflowers blooming, plus a bunch of pumpkins and gourds in their farm stand. I'd browsed Hip Camp before, but never booked a spot. I love the ease of booking, the opportunity to stay in not-so-ordinary places, how affordable it is, and the contact-free check in!
Curious about Hip Camp? Use this link for a discount off of your first booking!
Where to Eat & Drink in Santa Ynez Valley
If there's one thing I could say to sum up the SYV I'd talk about how supportive everyone is of each other –– from carrying local wines at restaurants, to sourcing produce from local farmers. It truly felt like a close knit family everywhere we went.
I highly recommend making a reservation/appointment for any of the restaurants, tasting rooms or wineries that take them! I've always been a fan of planning meals & tasting ahead, but in our current world I find the peace of mind even more helpful. Also, be sure to check hours and days that places are closed, because a lot of them in the area take their "weekends" on weekdays.
The passion for the Santa Ynez Valley and everything it has to offer permeates from everyone at this place. They make a point to support local farmers, ranchers and fishermen. They renovated this Tavern back to the original allure of the original Tavern bar, aiming to highlight and enhance the spectacular old-style feel of the property.
We stopped in for brunch, but can't wait to return for dinner. I am convinced you can't be steered in the wrong direction with their menu.
Dutch Baby boozy berries, whipped cream
Caviar Service taiyaki waffles, créme fraîche, chive, egg, Calvissius caviar
Wine Poached Eggs Benedict zacita frita, meyer lemon hollandaise, cheddar biscuit
Shrimp & Grits creamy polenta, N'Duja, Royal Red Shrimp
The specials when we dined : Crab Machaca & Grilled Whelk
If you still have room for dessert at the end of your meal, whether it's your birthday or not, order the Birthday Cake. You won't regret it. Hell, order it at the start of your meal for your future self, so you don't have any chance of letting yourself down later. 😉
You've heard of Bob's & you already know you have to go! Their products are hand-made with only the finest ingredients and natural starters. No preservatives are added and they strive to source ingredients locally from farmers and growers who practice the purest growing initiatives.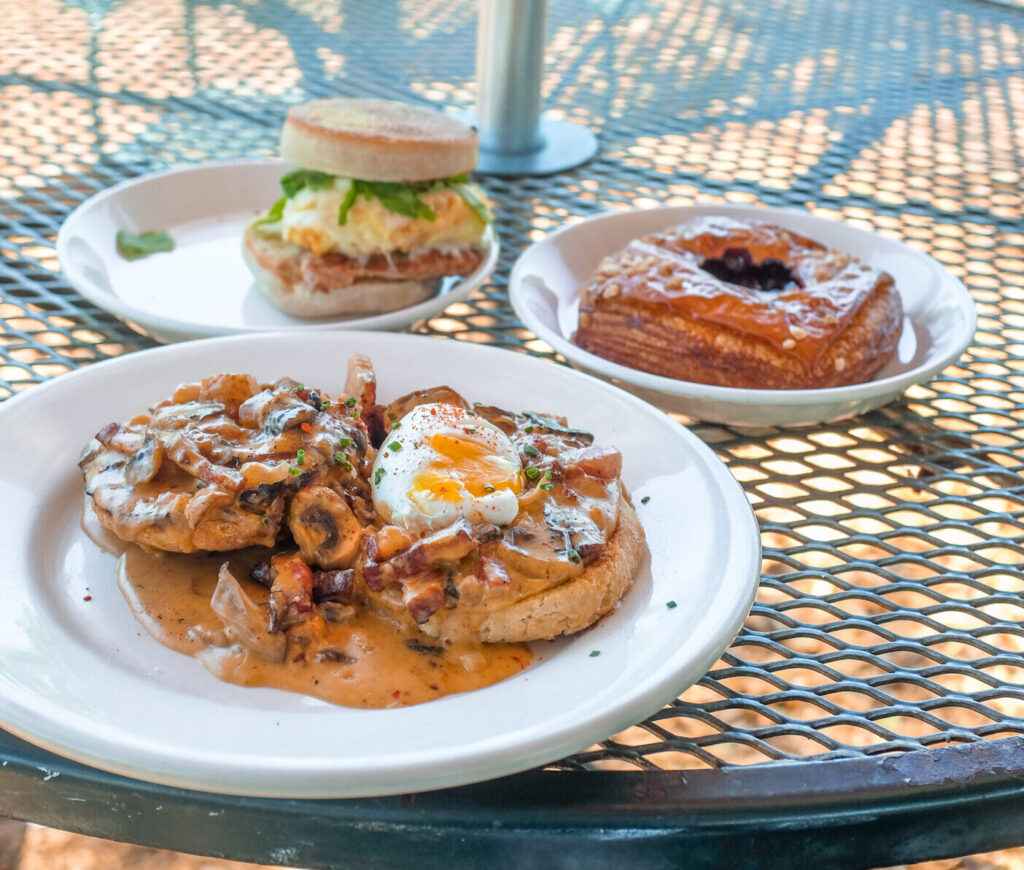 Mushroom Toast A mix of seasonal mushrooms sautéed with Sherry vinegar, creme fraiche, bacon lardons and shallots over a peppery house-made biscuit, and topped with a poached farm egg
Breakfast Sandwich House made turkey sausage on our own english muffin with scrambled egg, arugula and provolone cheese
Baguette, Prosciutto and Egg Sandwich Prosciutto, local farm egg over easy, Pecorino cheese and arugula on a Ficelle
Line Cook's Paté (from the lunch menu & A MUST ORDER) grilled Pain au Levain served with brandy infused chicken liver pate, onion-bacon marmalade & cornichons
And you can't go wrong with any of the pastries –– if they have their Pistachio Croissant, order it!
Born at the beginning of the pandemic –– they started out only doing takeout & haven't actually hosted people inside their restaurant yet, but they are safely open for outdoor dining. They have amassed a steadfast following in the SYV & beyond! It's headed up by a husband & wife duo with a ton of experience in the restaurant and hospitality industries + a passion for cultural cuisine and local, seasonal comfort food with a twist. It has also become one of those restaurants I will be returning to every time I am in town. From the dishes that are always on the menu that I could eat over and over, to the seasonal ones that I wish stayed on longer, I AM HOOKED!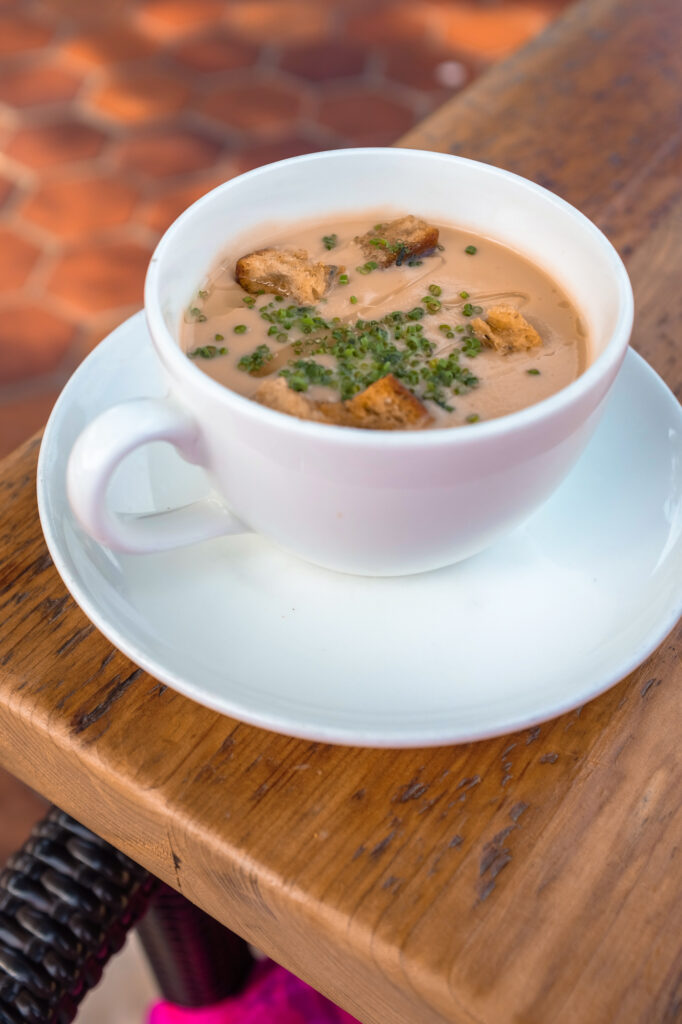 Beet Soup créme fraiche, chives, croutons
Cauliflower Soup, Solvang Hot Chicken spicy buttermilk fried chicken, pickled red onion, fresh herbs, shredded cabbage, ranch, sesame brioche bun
The Grotto Smash Burger 6 oz. custom blend of house ground beef, Stepladder Creamery's "Ragged Point" triple creme cows milk cheese, Branden's roasted mushrooms, roasted garlic aioli, crispy shallots, The Baker's Table sesame brioche bun
Atterdag Smash Burger 6 oz. custom blend of house ground beef, gruyere cheese, caramelized shallots, butter lettuce, tomato aioli, house dill pickles, The Baker's Table sesame brioche bun
Sides: House Pickles local, organic, seasonally pickles vegetables | Cheesy Polenta | Crispy Potatoes triple cooked potato bites with California Chili Aioli
Dessert (more listed below, but aren't always on the menu): Nannie's Frozen Lime Pie graham cracker crust, lime sherbet, Italian meringue
Drinking wine? Get a bottle of Casa Dumetz The Feminist Party GSM to enjoy with your meal!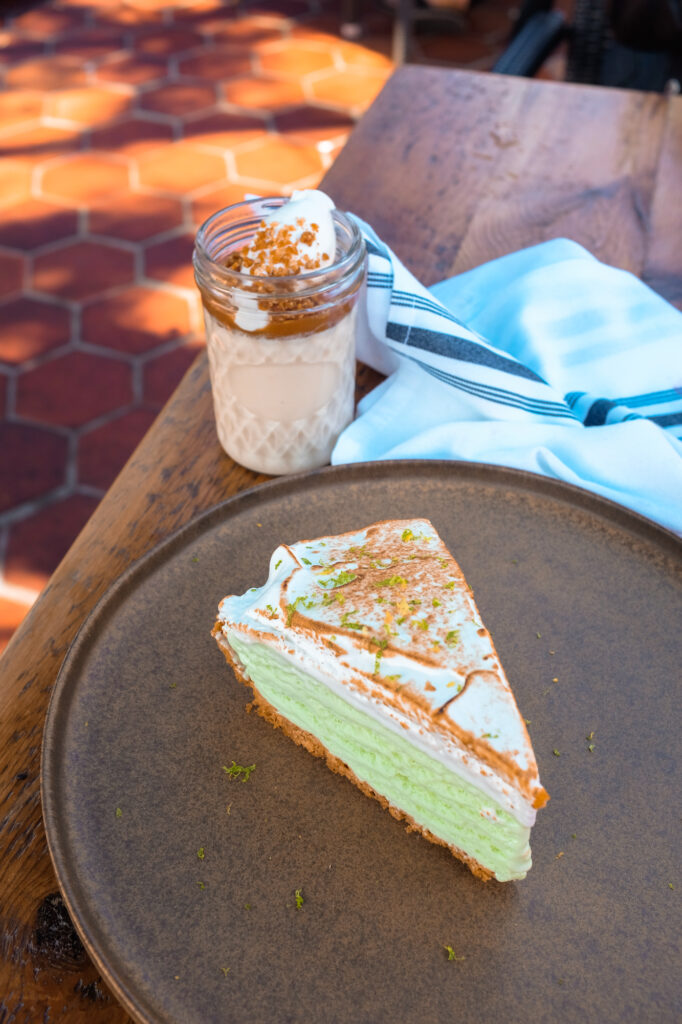 Must order items that aren't consistently on the menu: Mushroom, Toast, Porchetta Sandwich, Brisket Grilled Cheese, Salted Caramel Panna Cotta, Golden Opal Baking slice of cake –– we had a Double Chocolate Layer Cake with Coffee Buttercream & I am currently considering driving up to snag a slice of Olive Oil Passion Fruit Dulce de Leche Cake
Bell's (Los Alamos)
This is one of those places that you're told numerous times by separate people that you HAVE to go to. I am tempted to say that this meal was on par with those Michelin-starred restaurants that people rave about, but without the price tag that comes along with them. When I found out we were heading up to SYV to celebrate my birthday, I immediately looked into making a reservation.
Some tips on that: they release the reservations about a month out, so check their website to snag a spot. They don't have a phone number, but they are quite helpful and responsive on their instagram. That's where I asked them the specific date the reservations would be available!
We went on my birthday which happened to be a Monday AND Bell's 3rd birthday! Mondays are a 5 course prix fixe menu (with 2 -3 items to choose from per course) for $50 a person + bottles of wine over $100 are 50% off! We got the Domaine des Croix 2017 Pinot Noir and I would order it over and over again.
Santa Barbara Sea Urchin with Caviar (added)
---
Salade of Finley Farms Lettuces shallot & medjool date vinaigrette
---
Le Bristol "Croque Madam" polenta, rainbow chard, MC Ranch egg, sauce mornay
My mom got the Citrus Cured Bay Scallops meyer lemon curd & hazelnut
---
Hand Cut Pasta oregano, walnut, gremolata & artichoke cream
My mom & Ilana got the Steak au Poivre 5oz roulette, Steve's peppercorn sauce & frites
---
"Lait L'Orange" huile d'olive, sea salt (such a small bowl of ice cream, but I was obsessed –– it was like a grownup creamsicle)
My mom & Ilana opted for the Gâteau Breton which I ate a lot of too. It brought back a fond taste memory for my mom and I but neither of us could place exactly what it was!
And lastly the customized Happy Birthday Corey menu alongside their Merci pour trois ans! My heart is still full, but my stomach is empty so it's probably be time to return for another meal.
Update: We recently went to bells for their lunch and were BLOWN AWAY!
Here's what we ordered, but I am certain you cannot go wrong!
Chicken Liver Mousse pickled grapes, cornichons
Bob's Well Bread & Butter
Steak Tartare hand-cut with fries
Egg Salad Sandwich pickles
Bell's Salad almonds, goat gouda, sweet peppers, lemon, cucumbers, mustard vin (I rarely rave about salads but I couldn't shut up about this one)
Shortbread Cookie & Gâteau Breton
Our first time at Nella was for a nightcap after dinner at SY Kitchen. They actually share ownership. I asked the bartender to make me something delicious for an Old Fashioned drinker & it did not let me down!
On our most recent trip, we stopped in for lunch! Everything was phenomenal, but the items that I am still thinking about are the Pinsa (Roman-style pizza) & Scallops.
Note: This is a perfect spot to head for lunch after tasting at some of the Los Olivos tasting rooms. I listed a few faves further down in this post.
Bread & Butter French baguette, Bordier salted butter (it was so good, we got 2 orders)
Burrata Italian burrata, tomato jam, Swiss chard, sourdough bread
Roasted Scallops on the half shell, Bordier butter, garlic parsley, tomato, concassé
Carciofi Pinsa Baby artichokes, fior di latte, pancetta lardons, carbonara sauce, pecorino fiore sardo
Tagliatelle Bolognese 5-hour Bolognese, parmigiano
Profiteroles Cream puff, chantilly, dark chocolate
This tasting room also offers dim sum, including dumplings and small plates! I am absolutely obsessed with all of the wines we tasted, but my favorites were The Feminist Party GSM, Clementine Carter Grenache Rosé & Apple Grape Cider (Yeah, like an apple grape cider! If this is available when you go, you HAVE to try!) Walter's favorite was Clementine Carter Grenache Sta Rita Hills. For Beer lovers, you've come to the right place as well : Babi's Beer Emporium, Casa Dumetz's sister business is located under the same roof!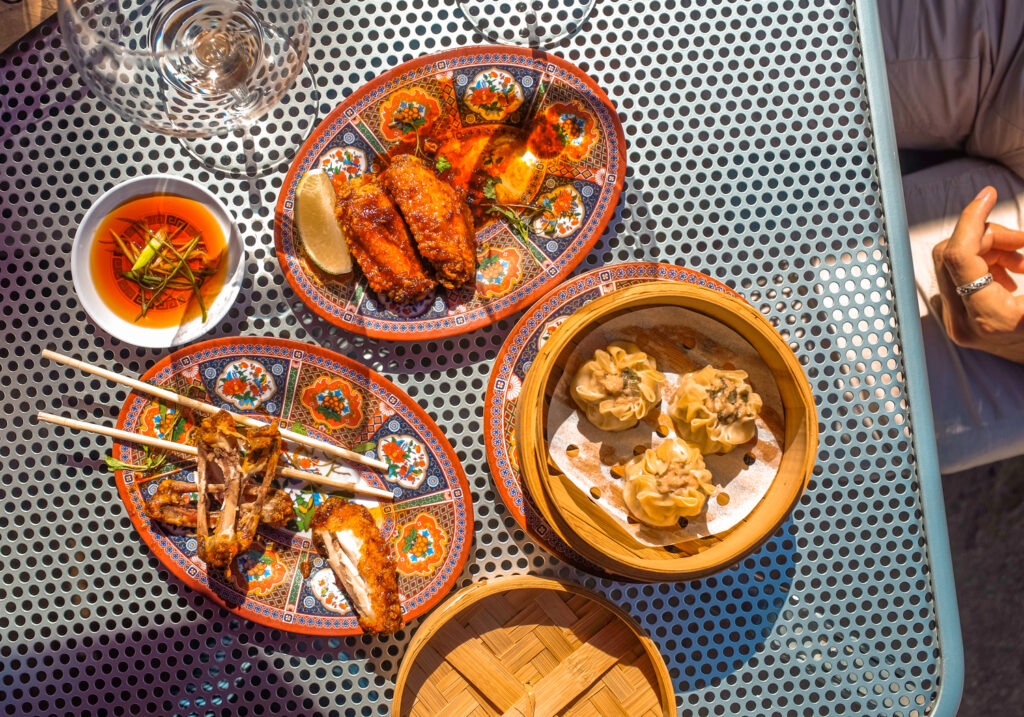 Pickled Wood Ear Mushroom Salad black vinegar, garlic, ginger, scallion, fresnos
Sama Signature Wings free-range Mary's chicken, sweet & spicy tamarind glaze, cilantro, lime
Pork & Shrimp Shu Mai ginger, scallion, soy, ginger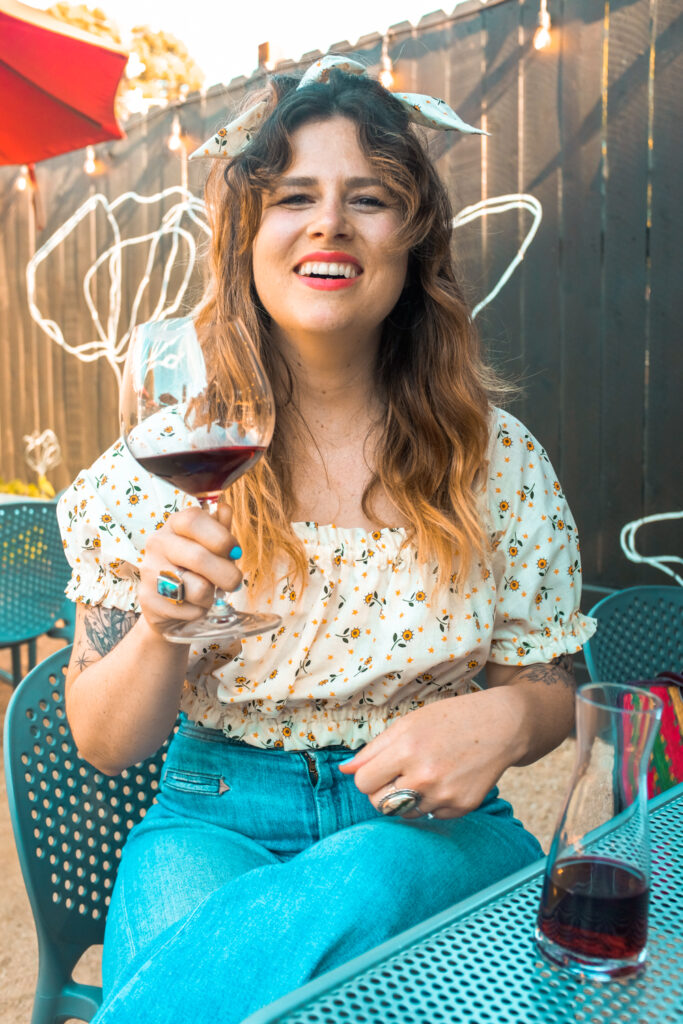 Pico & Lumen Wines (Los Alamos)
Located in the original General Store in Los Alamos, this is the place to go if you're looking for a dinner in a dreamy garden patio! Founded in 2016 by winemaker Will Henry and restaurateur Kali Kopley, Pico is a destination for eclectic California cuisine, with influences from Europe, Asia, and the American South. They create innovative food from local ingredients (some even grown in their very own on-site garden) and carefully sourced from farmers committed to sustainable, organic, and humane practices.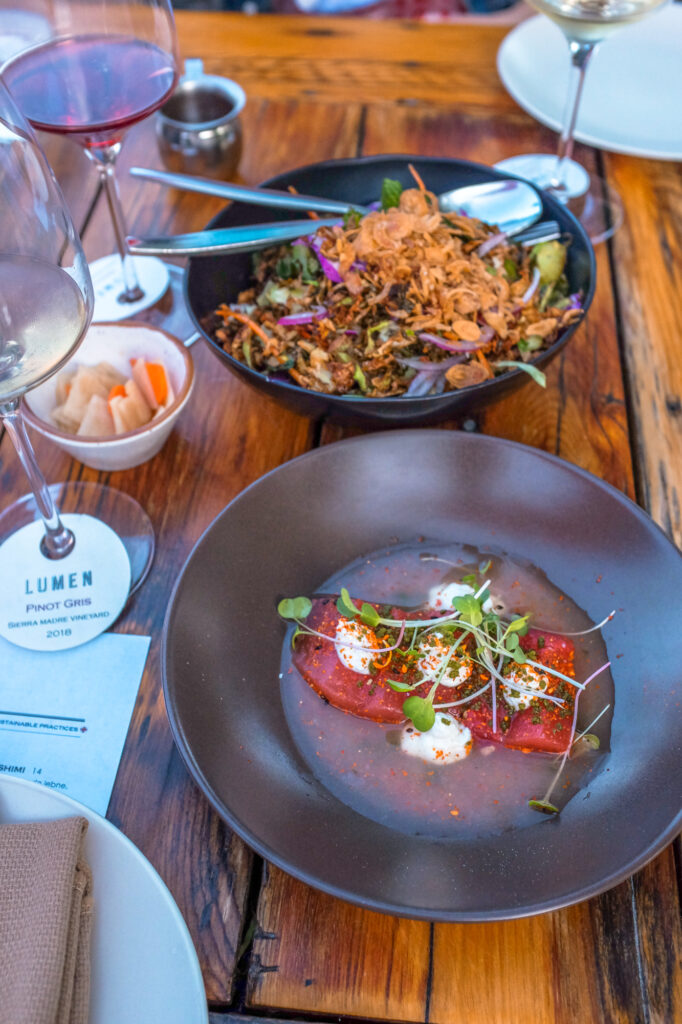 Lumen Wines : A passion project of Will Henry and Lane Tanner. Lane was the first independent female winemaker in Santa Barbara County, and the first to dedicate her entire winery to Pinot Noir. Her wines were always more old-world in style, and built for aging gracefully. We got to taste a Pinot from the 90s and OMG it was delicious! Nowadays Will & Lane make wines from the best cool-climate vineyards in Santa Barbara County, following a regimen consistent with California's early days of hands-on, honest winemaking. I highly recommend doing a Lumen Wines tasting alongside your dinner at Pico.
Pico also focuses on fine, hand-crafted, small-batch spirits from distillers around the world. Their craft cocktails are made with fresh juices and house-made products, using spirits with no artificial additives or coloring.
It looks like the menu is different from when we ate at Pico, since it's super seasonal, but here's what we ordered : Watermelon Sashimi, Housemade Summer Pasta, Pine Nut crusted Local Halibut
Dessert was UNREAL : Deconstructed Smoked Plum Pie, Chocolate Lava Cake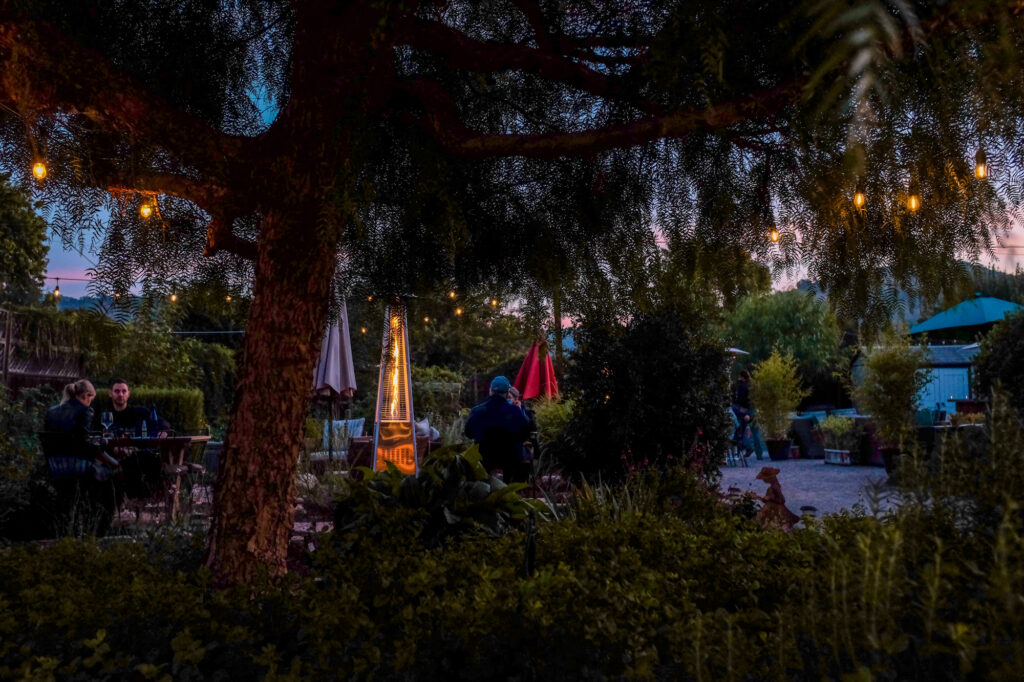 We didn't want to leave that magical garden, so we ordered some craft cocktails and enjoyed them by the fire pit! I got the Barrel Aged Mezcal Old Fashioned & Ilana got the Barrel Aged Mezcal Negroni. They were perfect!

Uhm just literally order it all! Here's a comprehensive list of what we got.
Yellow Beet pickled plum, hazelnuts, goat cheese, fresh lemon, thyme⁠
Fresh Pea Salad Arugula, fresh peas, dry ricotta, celery root, walnuts
Diavola Pizza Spicy salame, cremini mushrooms, tomato, fior di latte, parmigiano⁠
T-bone Truffle Sliders Truffle cheese, caramelized shallots, parmigiano crisp, potatoes
Wild Mushroom Pappardelle Fresh wild mushrooms, thyme, parmigiano⁠
Tahitian Vanilla Panna Cotta Caramel, ladies' kisses crunch cookies⁠
Chocolate Gelato Homemade gelato, caramelized banana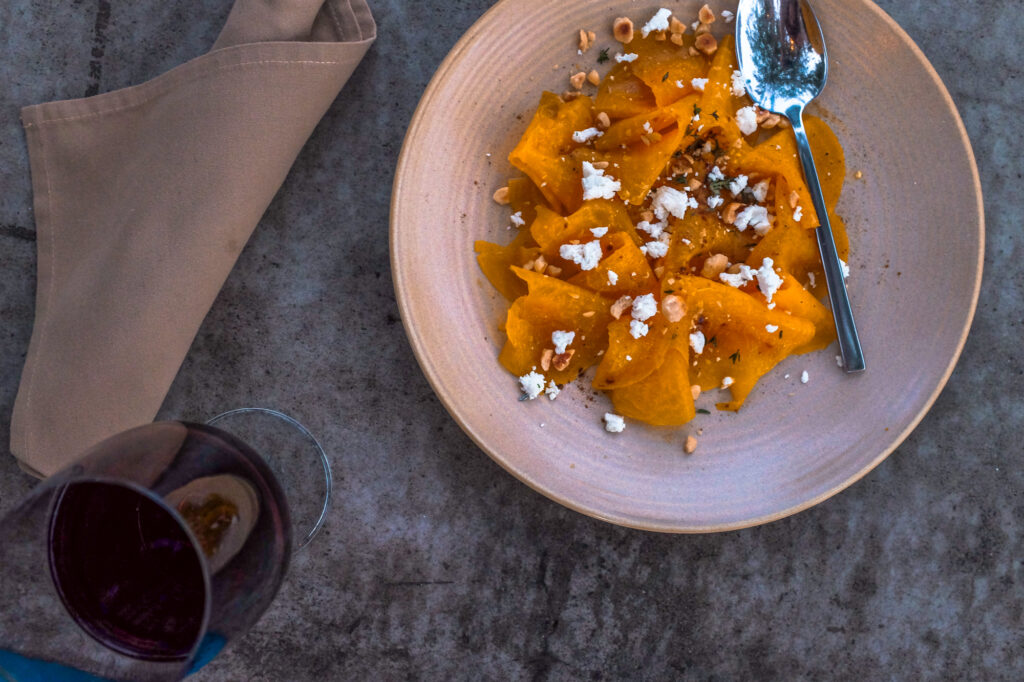 Wine Tasting Rooms in Santa Ynez Valley
"I am proud to source grapes from exceptional, local vineyards practicing sustainability, organic and/or biodynamic farming." – SUNNY DOENCH STRICKER ~ WINEMAKER
Sunny is a light! Honestly, her wine and tasting room quickly became my favorite in the area. It seems, it's become many others' favorite as well, because her wine club has a waitlist! We could have stayed at her tasting room all day, trying her perfectly crafted wines and having deep conversations. You can tell she is passionate about what she does and really cares about the whole tasting room experience!
What we went home with: 2019 Grenache & 2019 Syrah
We love the fun, laid back vibe of this tasting room! It came highly recommended by Sunny, from Future Perfect & it did not disappoint. There is space inside at the standing bar or outside tables to sit and taste! Also, their wine tasting room pup is adorable!
What we went home with:
Amy & Peter Made This Rosé of Pinot Noir
Holus Bolus Syrah
Coquelicot Tasting Room (Los Olivos)
Firstly Coquelicot (ko-klee-ko) means Poppy in French, more specifically the red ones that pop up in Europe on countrysides. I remember seeing them while driving on my first trip through Italy & being obsessed. I mean I am generally obsessed with poppies. See exhibit A: tattoo on right arm.
Their vineyard is an organically farmed property in the heart of the Santa Ynez Valley. Sustainable farming and gentle, meticulous winemaking techniques converge to produce hand made, limited production wines that are a true celebration of life. We had a hard time picking our favorites here, but I highly recommend going in for a tasting, then heading next door to Nella Kitchen for a late lunch!
This tasting room was my very first experience in SYV back in 2013. At that time I was sold on wine in general, but was really excited about their cupcake pairings. Years later I took my mom back to the tasting room to try the wines and we signed up for their wine club! We have been part of it ever since and I swear we've never gotten a bottle we didn't enjoy. Aside from the quality wine, I am drawn to them because they are so focused on family. Read their family creed below & more about them here, cause it's too much for me to sum up.
"We Live to Honor those that have come before us, and to prepare the way for those yet to come."
Their tasting room has a ton of wonderful outdoor space to enjoy wine AND cupcakes!
Liquid Farm Tasting Room (Los Olivos)
Liquid Farm supports local viticulture and honors their palates' love for old world wines. They decided to make what they most love to drink –– Chardonnay that is earth and mineral driven from cool climates with little or no new oak. This is exactly why I enjoyed the Chardonnays they produce! I was also a huge fan of their Rosé & Pinot Noir! Schedule a tasting and you'll probably go home with a couple bottles to enjoy later.
Kings Carey Wines
A passion project by the same winemaker as Liquid Farm, they offer tastings on a case-by-case basis by appointment only. You can contact them with and Qs via their instagram DM or at email them here! Honestly I love all of the wines, but am a HUGE fan of the Syrah!
Santa Ynez Valley Wineries
This is a fun vineyard / farm experience! There are picnic tables, with plenty of shaded spots. Feel free to bring a picnic and your pup, as long as you keep them on leash! Honestly, we brought a dog to every place on this list!
Lots of interesting tastes off menu that we ended up going home with. AND there's a farm stand across the street with produce grown on property.

What we went home with:
2019 Carbonique
2019 Pét-Nat
2020 Grenache Rosé
Hop On (hopped white wine)
One of my must-dos on my birthday was wine tasting at a vineyard, so we headed to Zaca Mesa Winery. The weather was kind of crazy that day –– picture downpour one minute & blue skies the next! But they were super accommodating with covered outdoor seating and heaters.
Zaca Mesa is a family owned and operated winery dedicated to producing distinctive, single-vineyard Rhône-style wines. They were the first vineyard to plant Syrah in the area in 1978. They combine traditional Old World Winemaking practices with innovative farming and vineyard techniques.
I highly recommend tasting through both their Zaca Mesa & TREAD (site-driven Chardonnay and Pinot Noir) lines of wine!
"We believe great wine begins in the vineyard. We are dedicated to crafting high quality, estate-grown wines that showcase the layered nuances of our unique, high elevation vineyard site in Santa Barbara County's beloved Santa Ynez Valley wine country."
Be sure to ask about their cheese pairings! They curated by Cailloux Cheese Shop in Solvang!
Walter and I spent a perfect afternoon under a willow tree at Fess Parker! We made an appointment to taste a few of their wines then chose a bottle to share on the lawn. Our favorite was actually the Chardonnay, which is very rare for me! There is plenty of room on this property for everyone to adequately socially distance.
This is the first and only craft beer and wine bar exclusively featuring tiki style wine-based cocktails. You'll find tiki drinks like the painkilla, mai tai, suffering Scandinavian and more.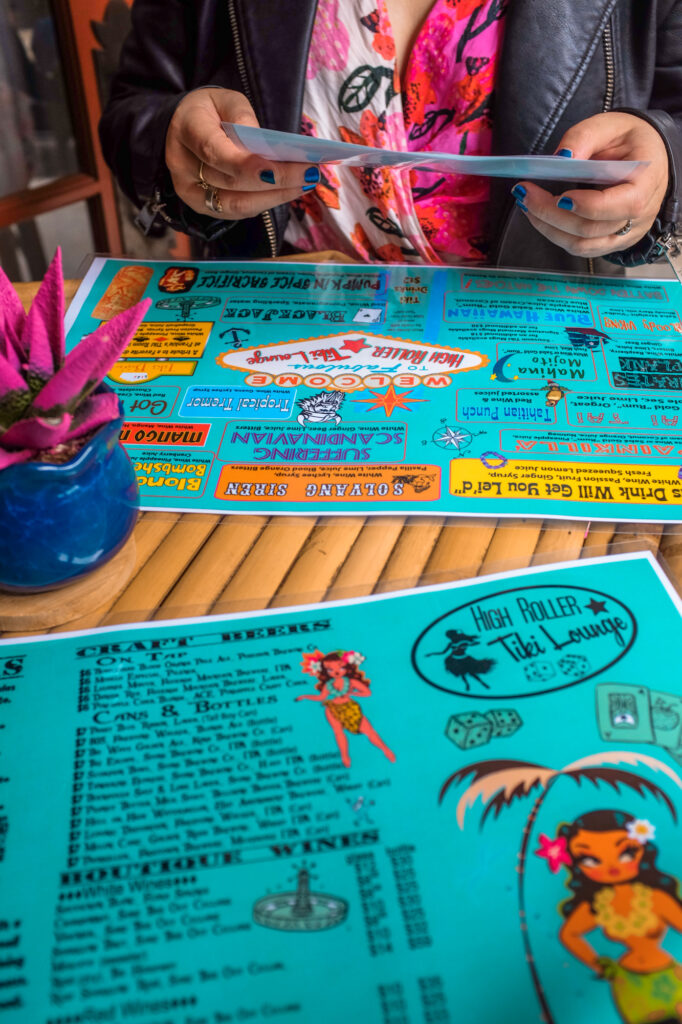 The decor is SPOT ON and I look forward to returning when it's safe enough to drink inside bars again!
We ordered : Suffering Scandinavian, Old Fashioned and a seasonal pick!
What to do in Santa Ynez Valley
Head into Santa Ynez Valley Opportunity Shop if you are a fan of thrifting. I found some gems (picnic basket, fabric, dress, earrings) for such a good deal! I highly recommend parking at one end of the Main Street in SY and walk around to explore.
If you want to see some cute animals, drive by (or even stop in at) Quicksilver Ranch to see the mini horses or Ostrichland USA for ostriches of course! I actually haven't been here before but have driven by and ogled at those cuties!
If you're looking for some beautiful vintage jewelry or just feel like playing dress up, stop by Designs in Gold in Solvang.
I would highly recommend having a beach day at Gaviota Beach in the off season when it isn't open for camping. I am not sure if this was because of the pandemic or the season, but it was wonderful and peaceful with only a few other people.
If you find yourself in the SYV area in the fall before November 1st, you have to make a stop at the Solvang Pumpkin Patch!
Stay healthy and travel safe,
Corey, Miss Foodie Problems