What makes a good birthday party celebration spectacular? A delicious craft cocktail concoction whipped up by the hostess herself! If you know me, you know my signature cocktail is a Classic Old Fashioned. I prefer a more boozy version than the sweeter version that can sometimes be served.
In order to look more professional, be sure to make big ice cubes ahead of time. Since I was having the party at Randolph's place, I gave this task to him. I got a couple of the ice cube trays so we could make more at once. Freeze your first batch, take them out and store in big bowls in the freezer while making more, until you think you have enough for all of your guests to have at least 2 OFs! I also opted for making my own simple syrup rather than buying some or using sugar cubes. It is super simple to make (could this be why it got its name, perhaps?), basically you put equal parts sugar and water into a saucepan on heat until all the sugar is melted. You can also add different flavors into this with herbs, or essential oils if you would like. I didn't end up doing so this time around since I was going for the classic Old Fashioned flavor. I did use a coarse raw sugar which gave it the golden color (in the bottle on the left).
Next up you've got to choose your spirit, and since Johnnie Walker reached out to me to create some delicious cocktails with their Red I was up for the challenge. Obviously you can swap this out for your favorite Whiskey or Scotch!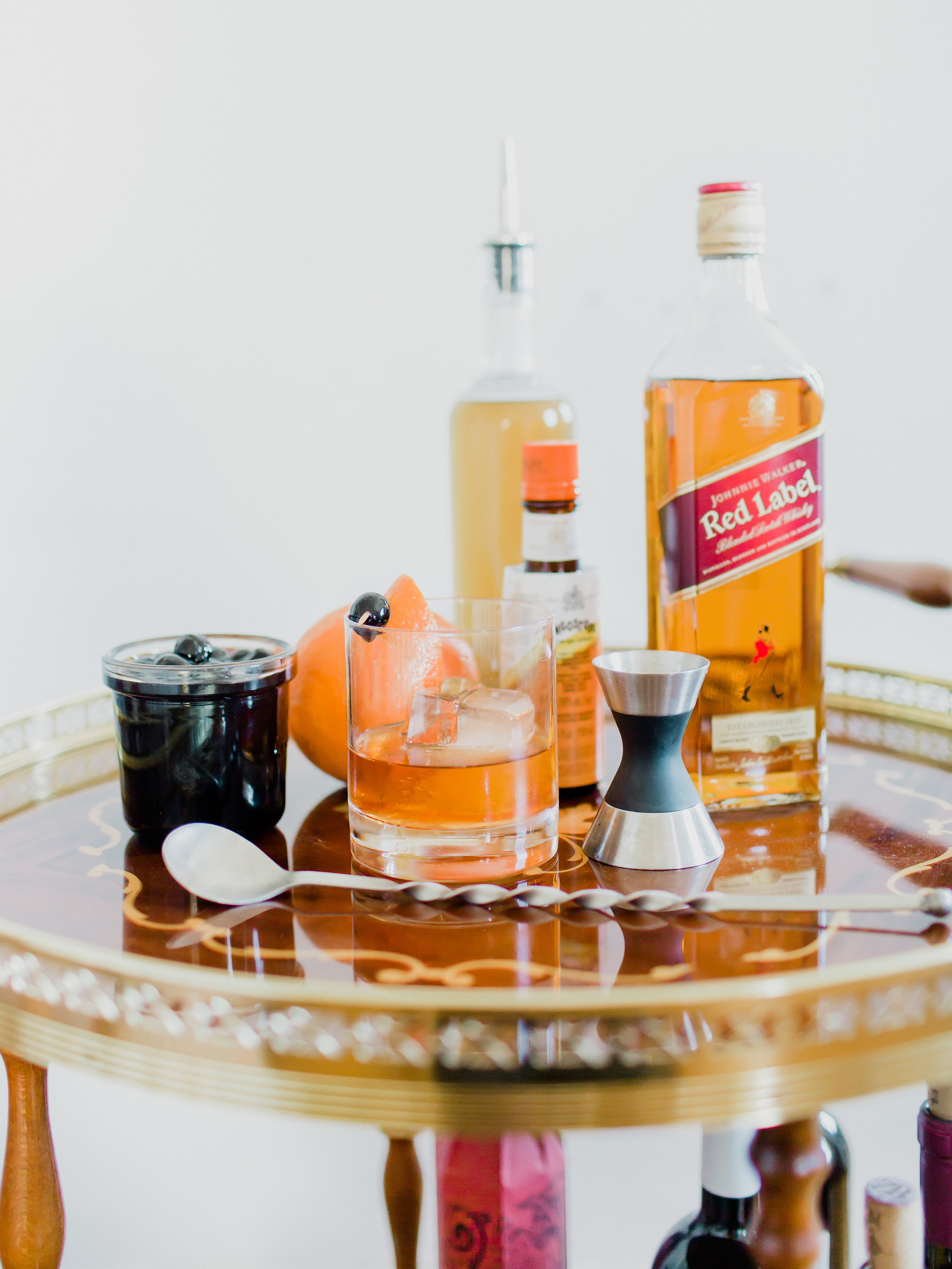 Classic Old Fashioned Recipe
1 ice cube
1 teaspoon simple syrup
2 oz whiskey of your choice
2 – 3 (or more) dashes of bitters
orange peel for garnish
luxardo maraschino cherries or fabbria amarena cherries for garnish – do not skimp out on any other cherries, these are the real deal and I will judge you if you use those bright red ones. *gives side eye*
Place ice cube in a glass (I linked my preferred glass below), add simple syrup, booze, and bitters. Stir with spoon. Garnish with cherries and orange peel.
Bar tools and Glassware
Bartending set that includes the simple syrup bottle
Jar (cherries)
What's your signature drink? Comment below!
All photos taken by Simply Adri Photography.
Cheers! Happy mixing,
Corey, Miss Foodie Problems