When Health-ade Kombucha came out with the Jalapeño Kiwi Cucumber flavor, I quickly decided it's my new favorite flavor! I was inspired by the ingredients and knew it would make the perfect mixer with tequila. This morning I headed to the grocery store to grab a few other items, decided to pick up some tequila (since I've been planning on testing this cocktail), then found out that it is National Tequila Day. I'm not usually one to jump on many of the foodie holidays, but I took this all as a sign that I needed to make the cocktail today! If you like spicy, yet refreshing — this Spicy Jalapeño Cucumber cocktail is for you! And of course the spicy level is customizable.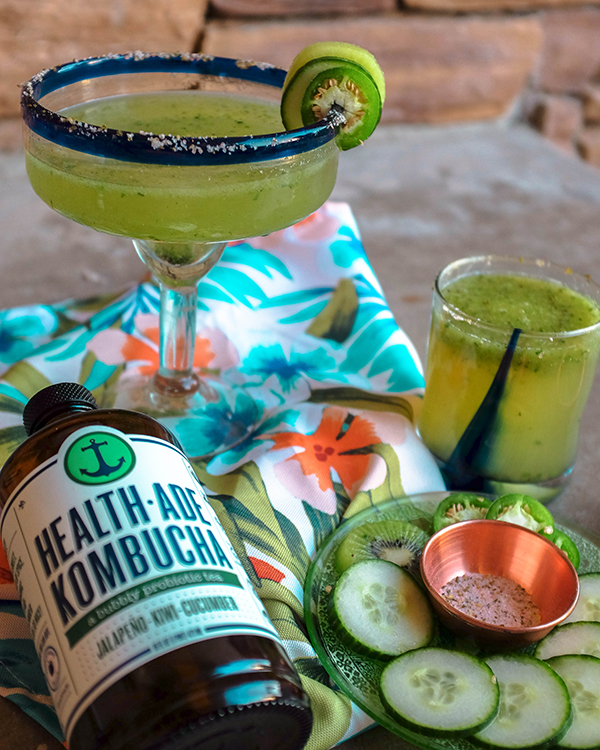 Makes 8 cocktails. If you would like to make less cocktails, just puree less of the cucumber, jalapeño and kiwi!
Spicy Jalapeño Cucumber cocktail ingredients
1/2 English cucumber (you don't have to peel these!)
1.5 jalapeños (less or more depending on how spicy you'd like it — you can also remove the seeds to make it less spicy)
1 kiwi
8 oz. or 1/2 bottle jalapeño-kiwi-cucumber Health-ade kombucha (per drink) — 4 bottles total
1.5 oz tequila of your choice (per drink) — I used Casa Noble Crystal — 12 oz total
handful of ice (per drink)
1 slice of cucumber, jalapeño & kiwi per glass, for garnish
lime wedge, for lining glass rim
salt, for rim
I found a dried & crushed jalapeño with pink rock salt at Home Goods, but any salt will do. Here is a similar one!
Use a food processor or mixer to puree cucumber, jalapeño, and kiwi.
Drag lime slice around glass rims.  Put salt onto plate, turn glasses upside down and rim them with the salt.
Put a few ice cubes in a shaker or separate glass. Measure out tequila, kombucha and about 3 teaspoons of the pureed cucumber, jalapeño and kiwi mixture (if you don't like your drinks spicy, you can put less). Do not shake — the kombucha is carbonated! Stir with spoon, then pour into your prepped cocktail glass.
Garnish with cucumber, lime and jalapeño slices.
Note: If you would like to make this a mocktail, swap out the tequila for water! It is super refreshing!
Looking for more cocktail inspiration?
Happy Mixing and Drinking,
Corey