This past weekend, I was invited to attend finals weekend of BNP Paribas Open with Moët & Chandon. Saturday, I spent some time in their suite, taking in the tennis matches of the early afternoon. This unforgettable view was definitely a favorite #MoetMoment of the weekend. Moët also had a bar set up in the middle of the Indian Wells Tennis Garden where anyone could sip their choice of champagne out of their iconic goblets. I personally enjoyed sipping Ice Impérial garnished with fresh fruit! It was perfectly refreshing for the close to 100 degrees weekend.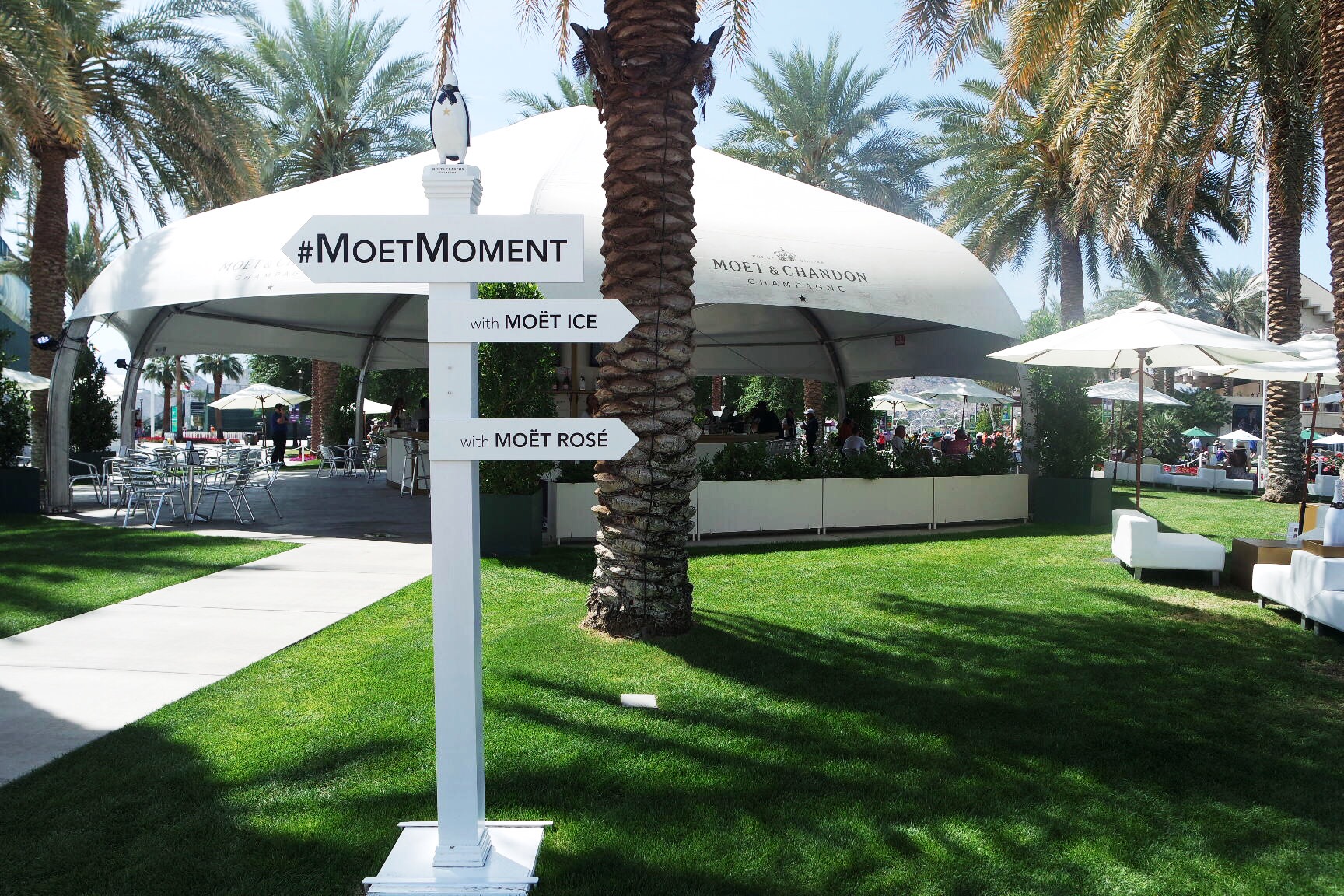 For my daytime wardrobe, I went with casual chic comfort. The olive colored dress paired with tropical print flats, and hot pink sunnies and lipstick were a change from my usual all black or all neutral wardrobe. This weekend was definitely a transition for me into the more cheery spring colors!
After spending some time in the Moët & Chandon suite, I went over to Nobu to meet up with Chef Gregorio Stephenson and preview the menu for the omakase dinner Saturday evening. The Chef had planned 6 custom courses designed to pair with a wide range of Moët qualities, enhancing each of the specific flavors.
Gregorio is a huge fan of champagne, so he enjoyed going through the sommelier notes for each of the Moët vintages and using them as a guide to bring to life each unique course. He said that Japanese cuisine lends itself to champagne pairings, since it is based upon a lot of simple fresh flavors that can be tweaked to pair with the unique notes of the various champagnes. He also said, "eating is more about enjoying yourself and not about the perfect pairings; while they can enhance the flavors of each dish, we all have different tastes. Just eat, drink and enjoy!"
Onto the beautiful omakase dinner!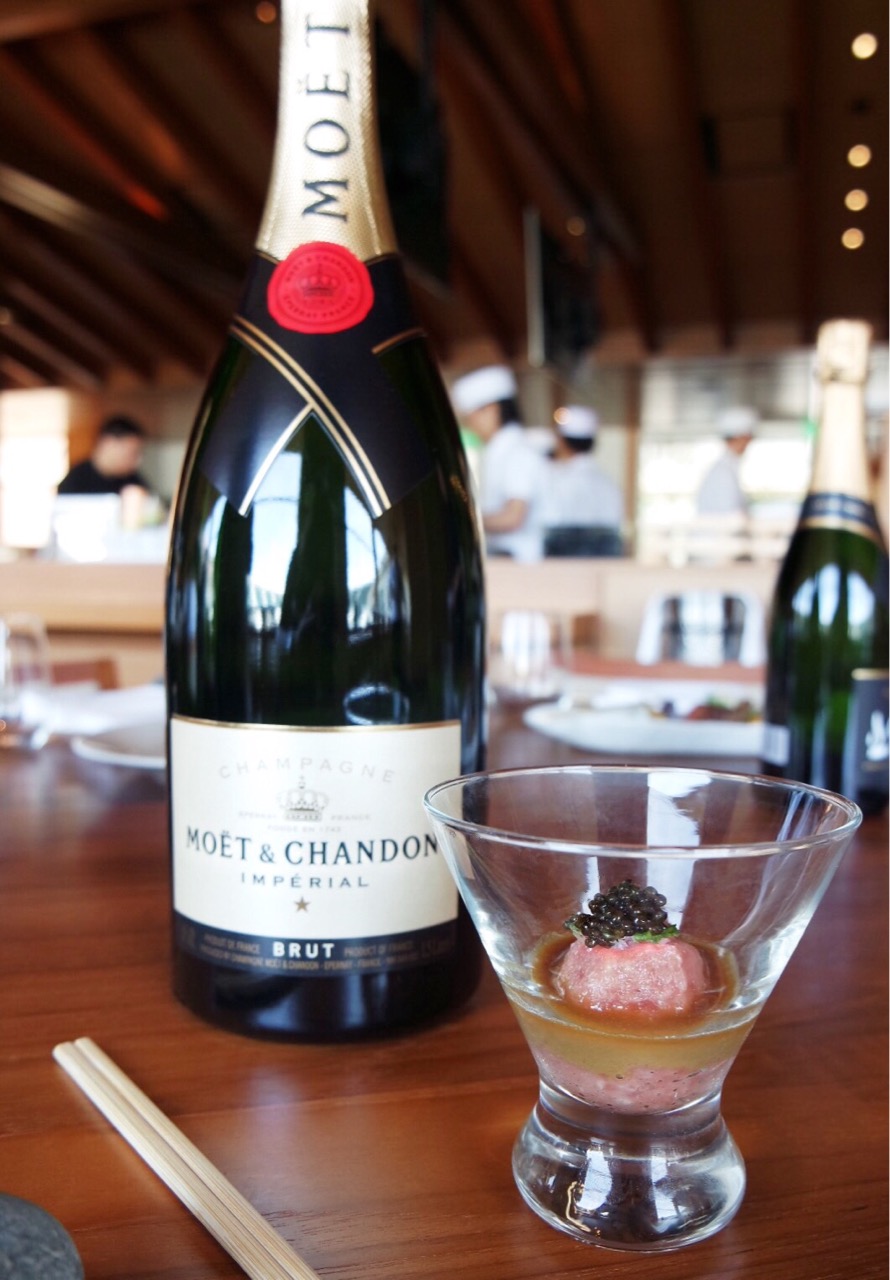 Moët & Chandon Impérial x Toro Tartar with Caviar and Wasabi Soy: Impérial is the House's iconic champagne. It is versatile and vibrant, making it easy to enjoy throughout a meal. We started with this alongside a beautiful toro dish. The crisp fruitiness of Impérial really brought out the fresh flavor of the toro and just enough heat from the wasabi.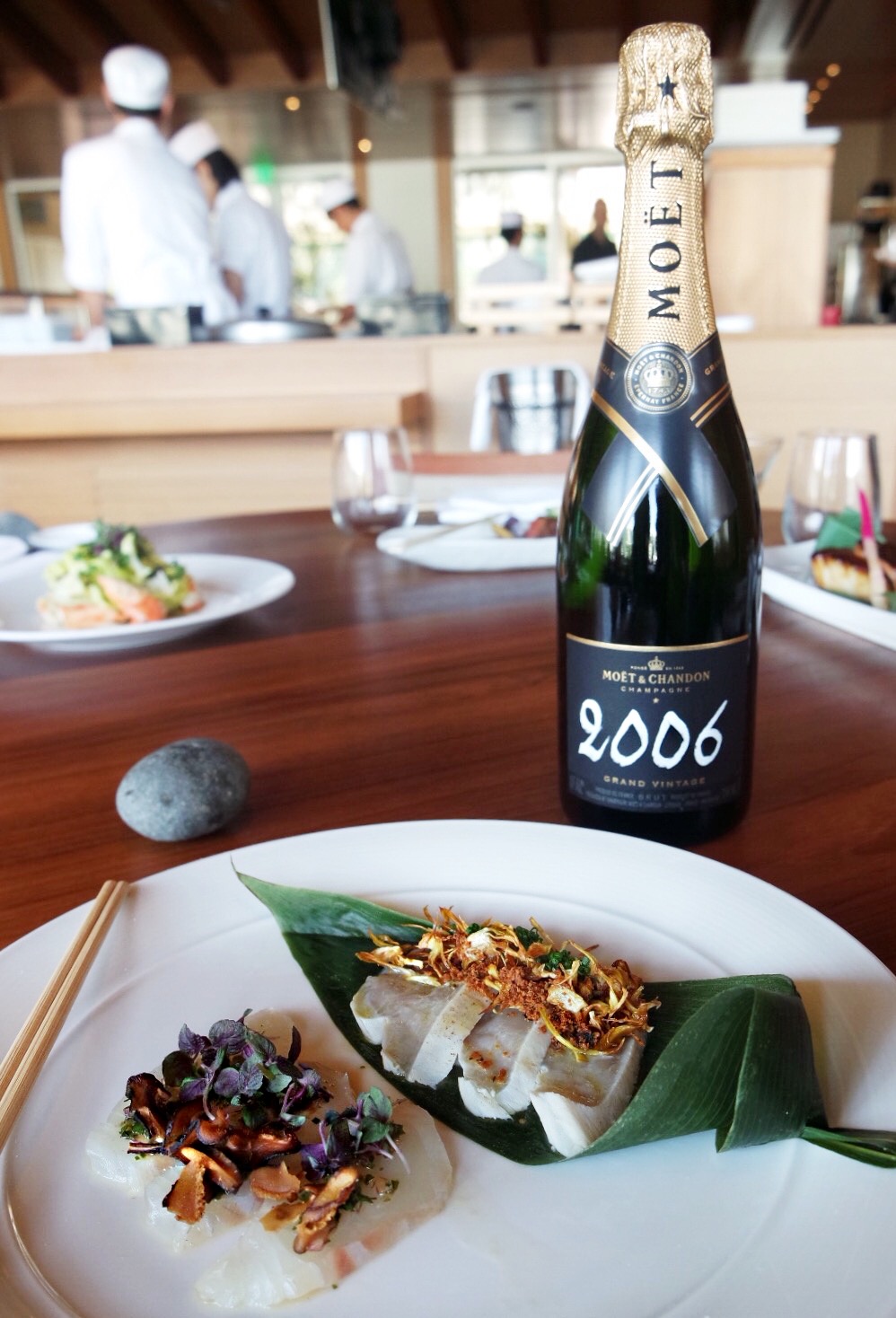 Moët & Chandon Grand Vintage 2006 x Thai Snapper with Crispy Shiitake Mushrooms and Albacore with Meyer Lemon and Truffle: The crispness of the 2006 Vintage heightened the flavors of the Snapper and Albacore dish. With simple garnishes like crispy mushroom, lemon and truffle we were able to taste the freshness of the fish and the champagne helped bring that out even more. We all love a perfect melt-in-your-mouth cut of fish, and the initial crispness, followed by a creamy richness of the 2006 Moët vintage champagne lent well to those flavors.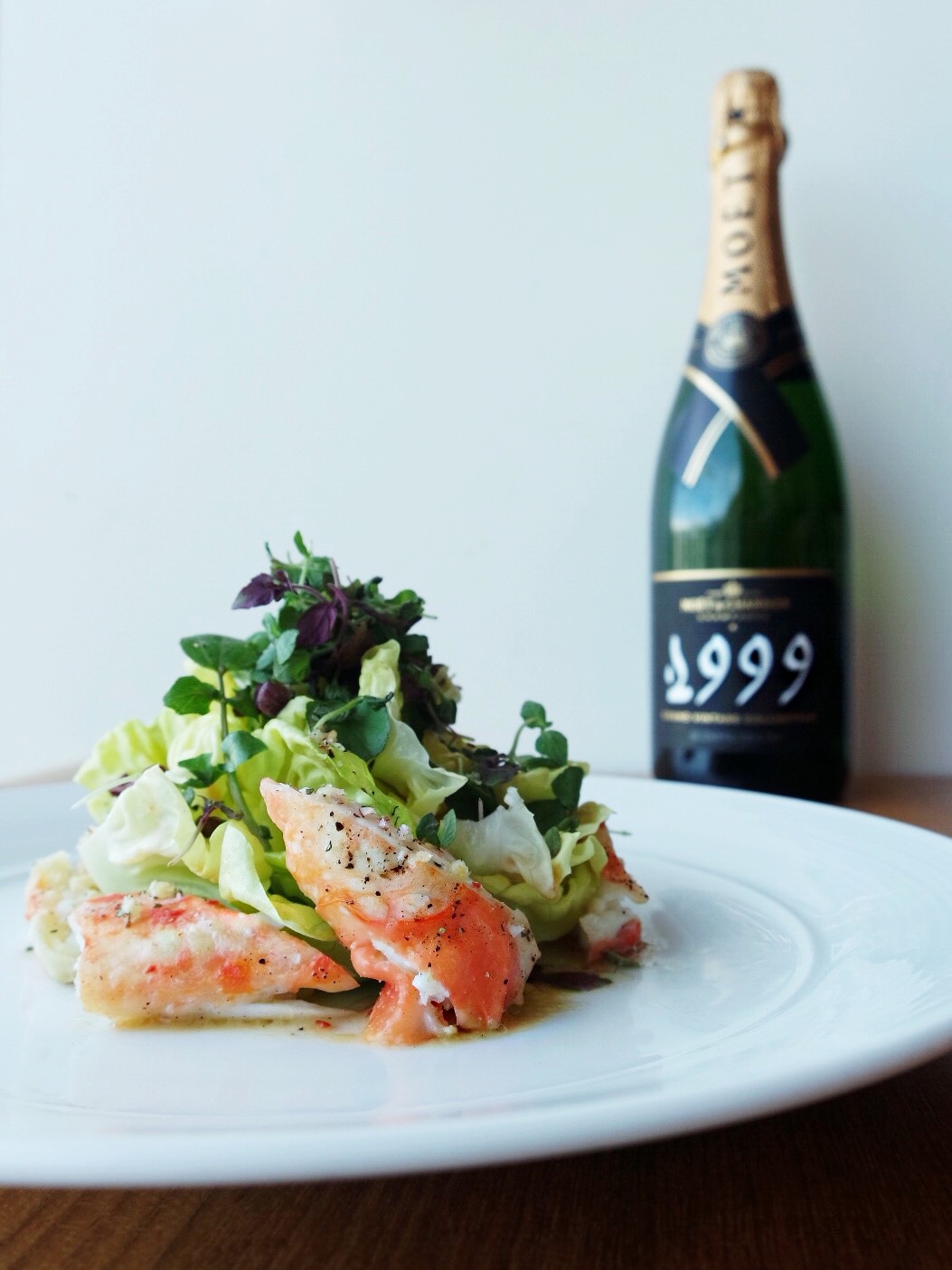 Moët & Chandon Grand Vintage 1999 x King Crab with Butter Lettuce, Marjoram and Pine Nuts: This was definitely not your typical salad. The butteriness of the king crab paired well with the smooth 1999 vintage. The 1999 Vintage was definitely my favorite of the night. You could immediately tell this was a finely aged champagne, by the super fine bubbles & elegant, easy-to-enjoy flavors which were incredibly refreshing.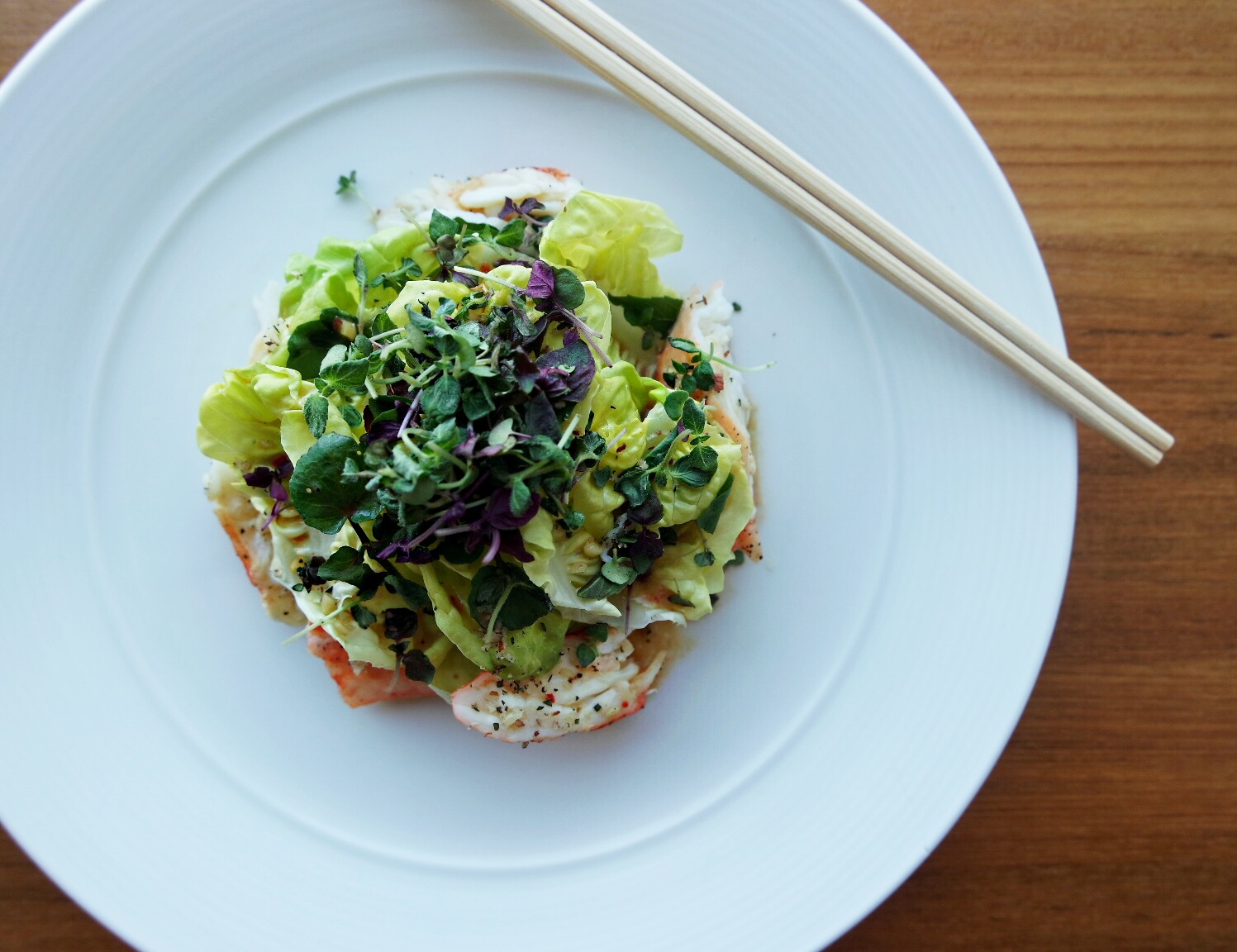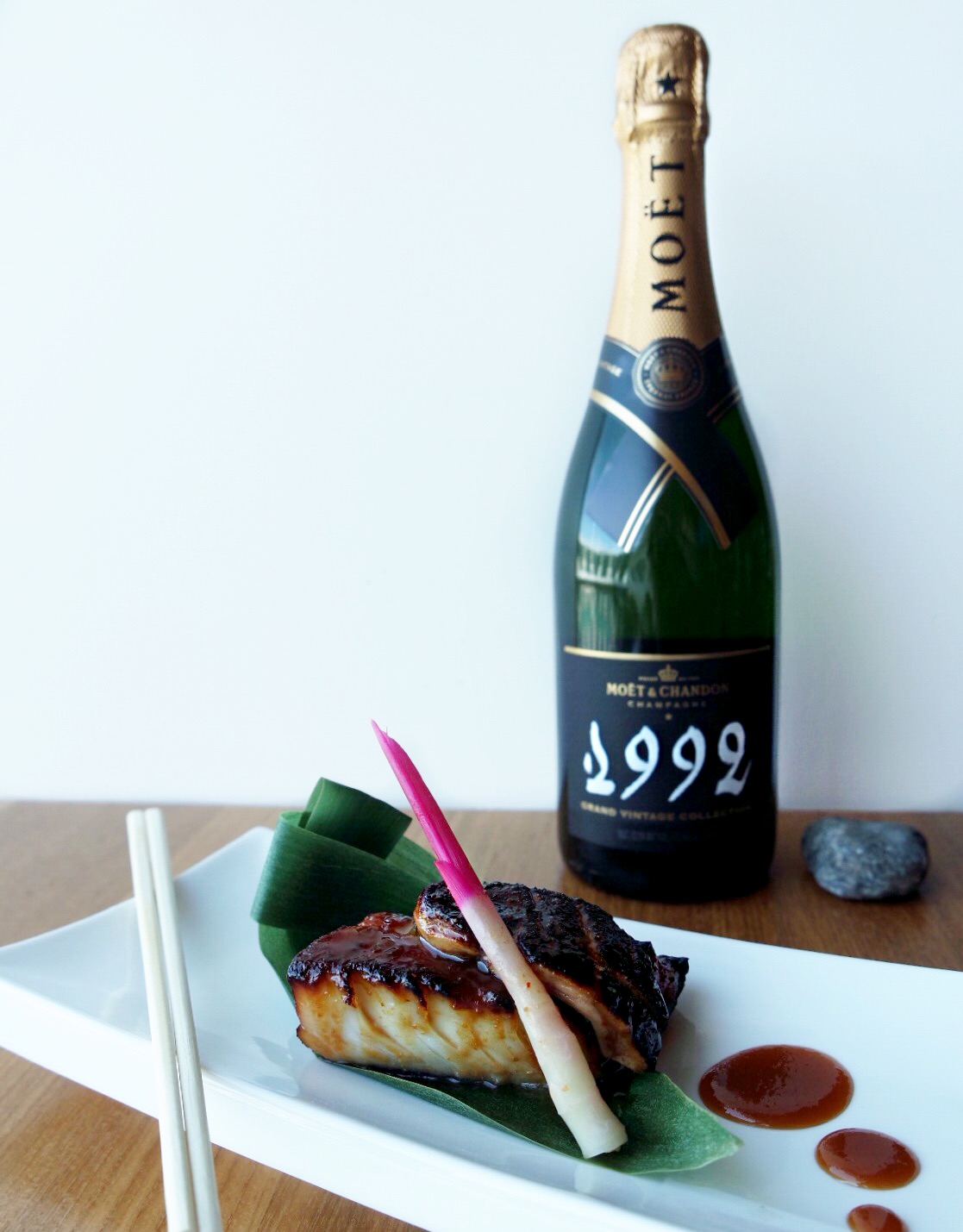 Moët & Chandon Grand Vintage 1992 x Black Cod and Foie Gras with Ginger Scallion: The black cod and foie was one of 2 favorites for me of the night. The fish was perfected cooked in a sweet glaze and the foie added an extra dimension to the dish. The unique 1992 vintage enriched the flavor of sweetness from the glaze on the cod and the buttery flavor of the foie gras, especially when the ginger scallion was brought into the mix. What a powerful flavor combination!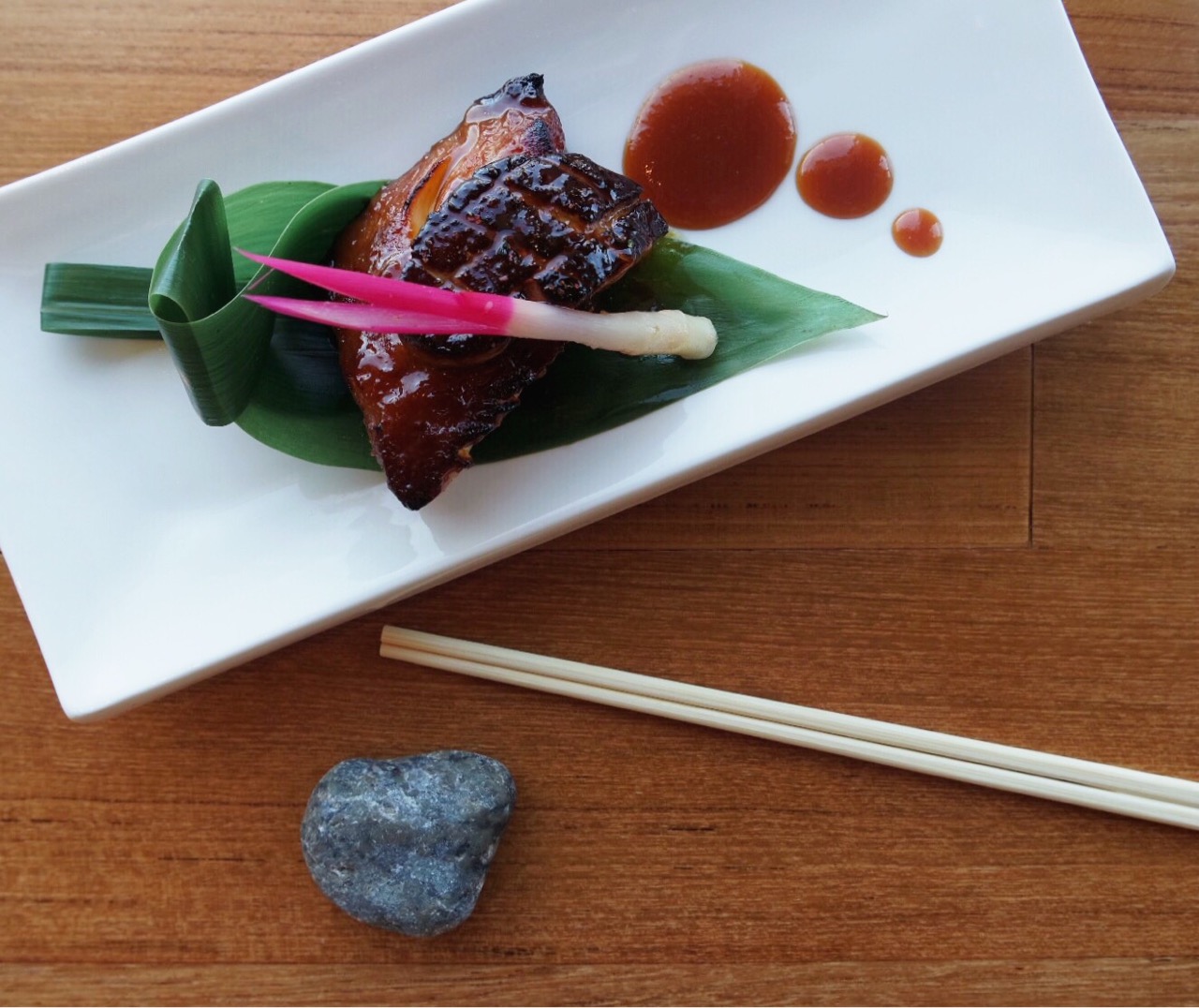 Moët & Chandon Grand Vintage 1985 x Wagyu Steak with Roasted Veggies: My other favorite dish of the night. This wagyu steak was hands down the best steak I've eaten. Perfectly cooked and very lightly seasoned, while simply paired with roasted vegetables and jus. The 1985 was immaculately paired with the dish.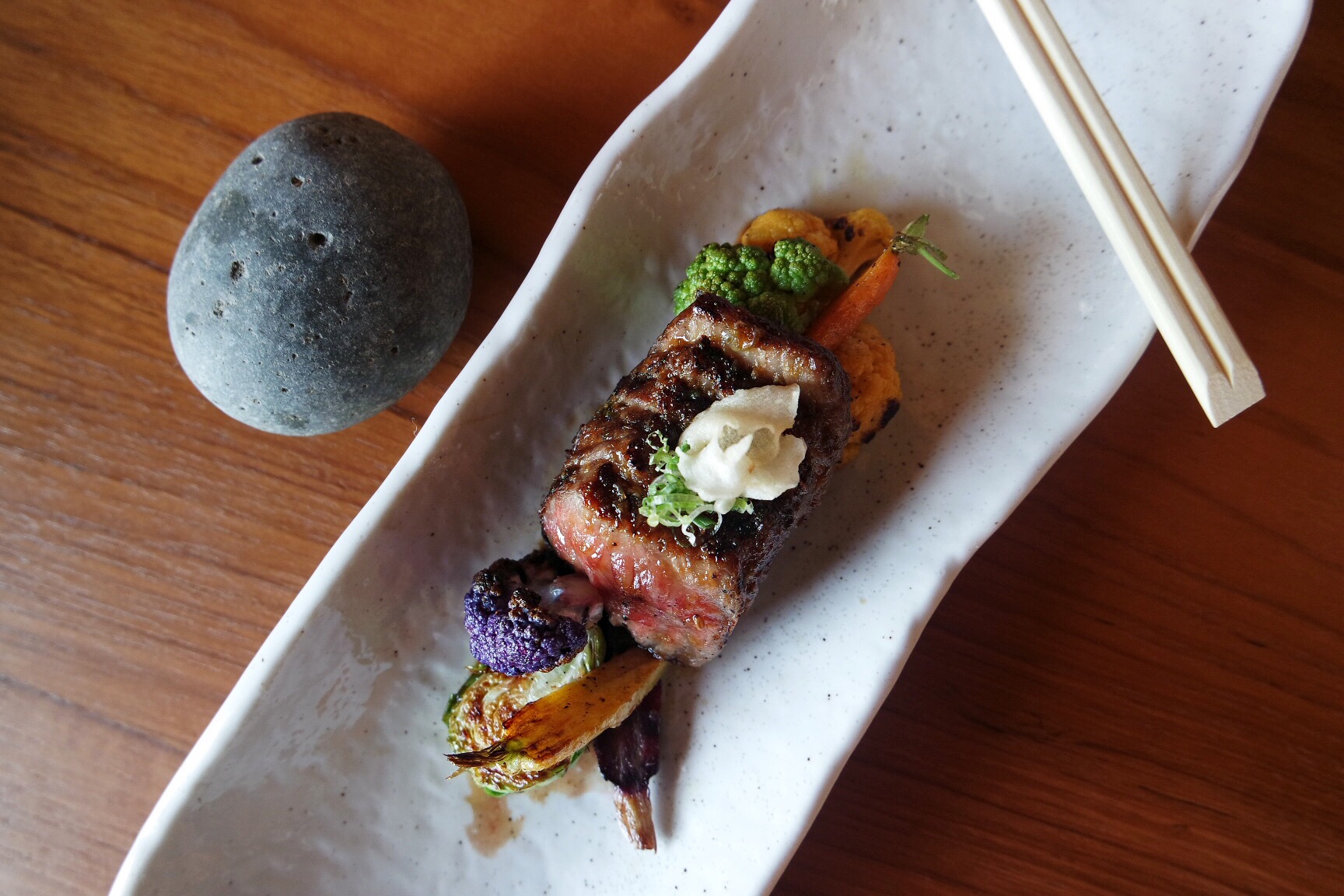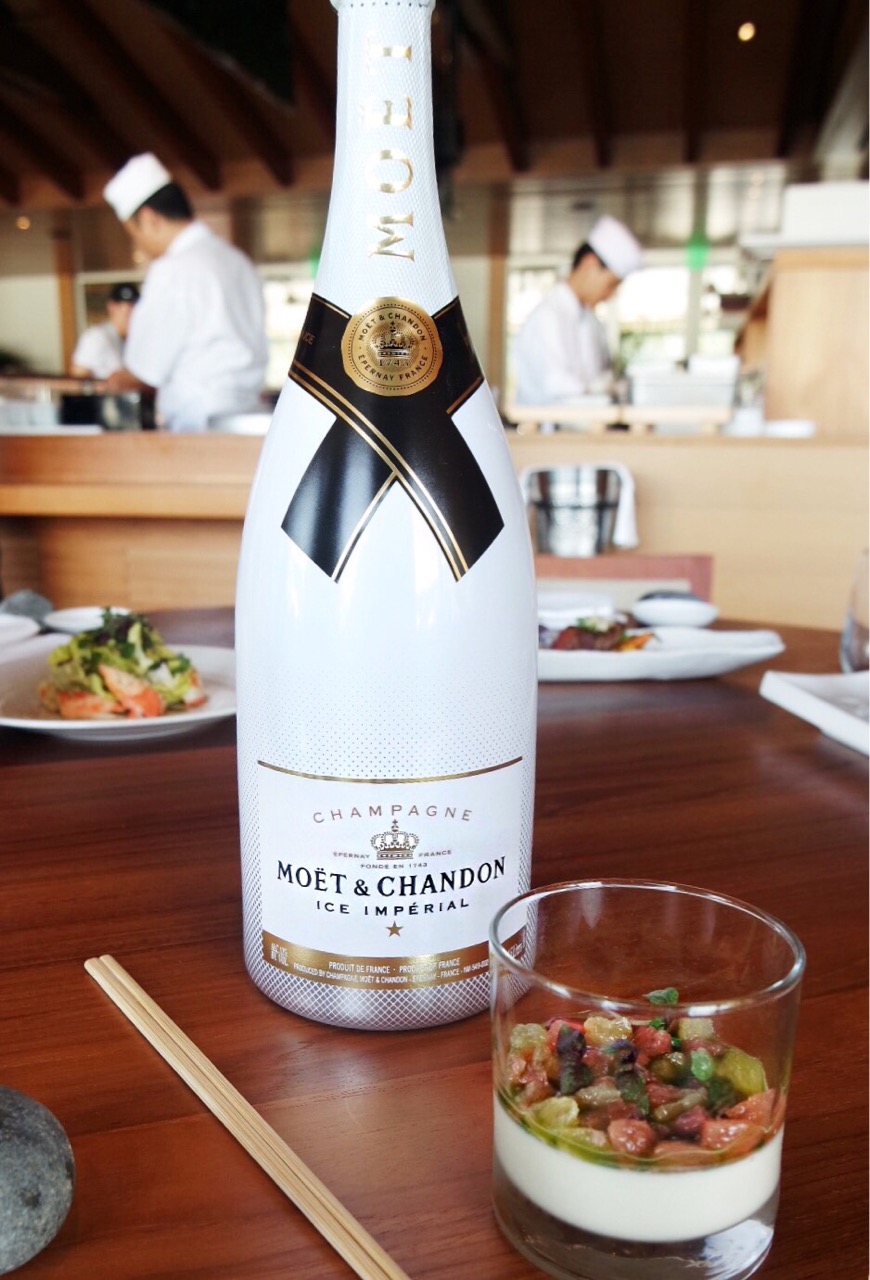 Moët & Chandon Ice Iméprial x White Chocolate Namelaka: Namelaka means "creamy texture" in Japanese. It is similar to a ganache with more of a whipped texture. It was topped off with various pieces of fruit and paired with a refreshing glass of Ice Impérial. This course was a particularly interesting experience in how they served our champagne alongside the delicious Namelaka. Ice Imperial was the first champagne specially created to be enjoyed over ice. Instead of filling our glasses with the everyday ice cubes, the Nobu staff flash-froze strawberries in front of us! This addition further enhanced the bright fruitiness of this amazing wine.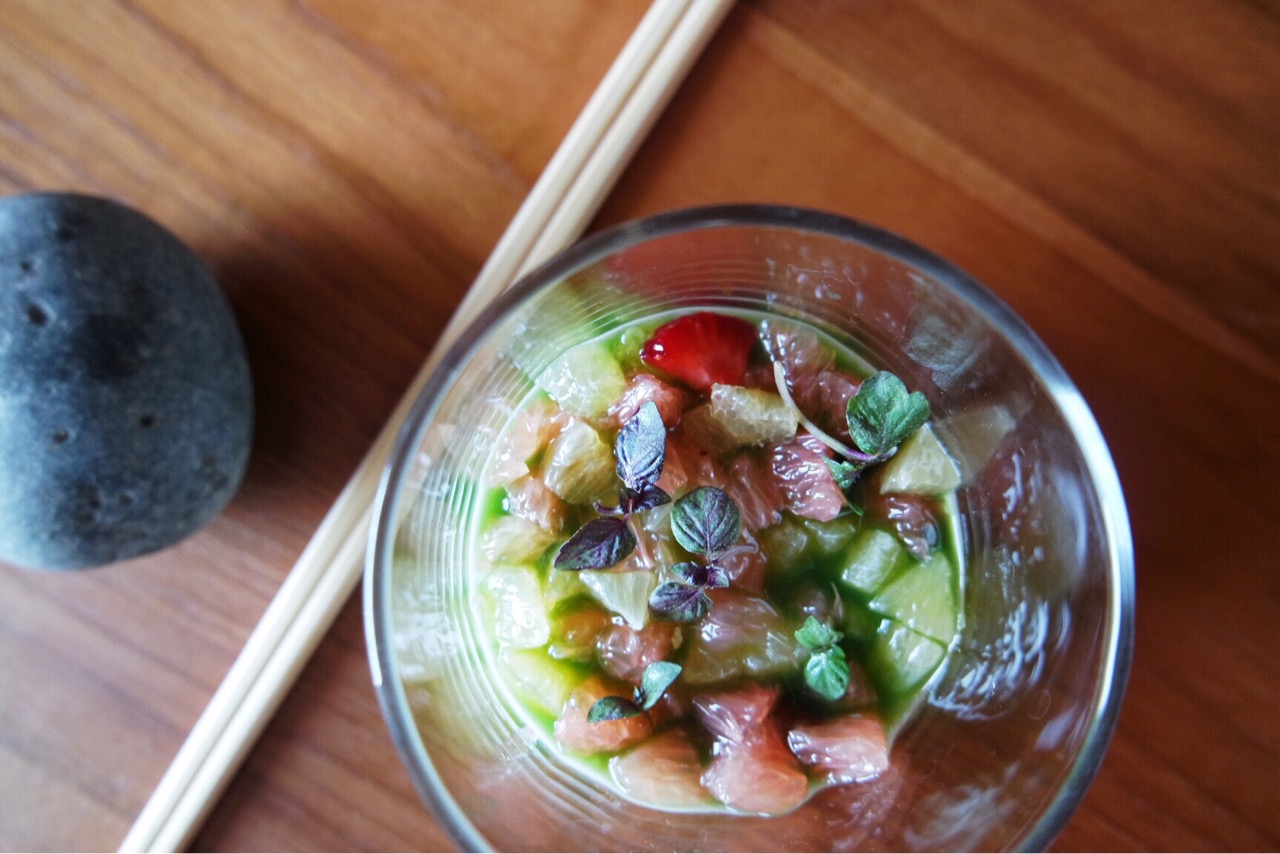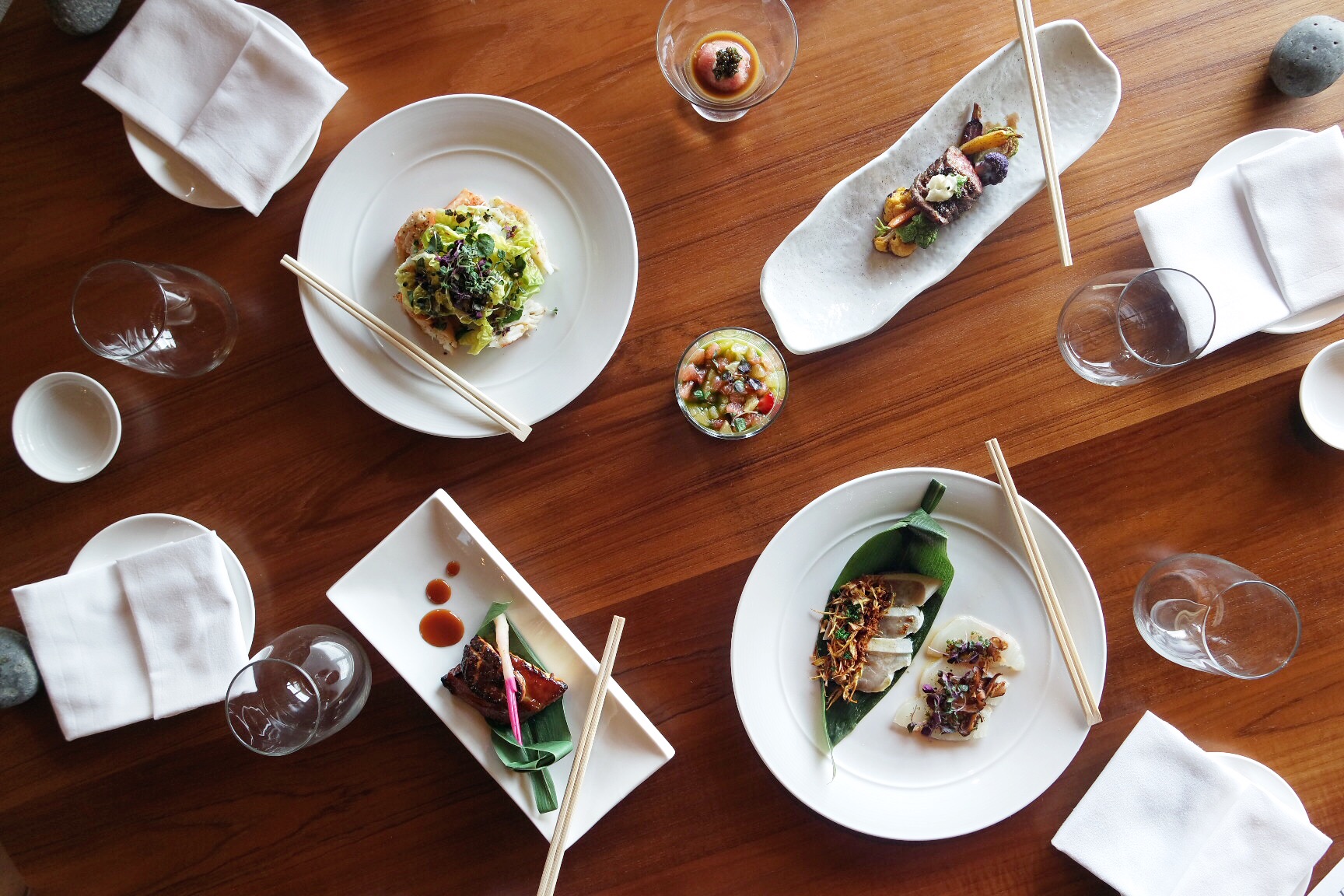 You could tell that everything Saturday evening was carefully planned. The dinner setting was held in Stadium 2, one of the tennis courts where the tournament was being held. We were guided down to the court by candlelight, which provided the perfect ambiance for the evening. After a round of Rosé Impérial, we were seated at a long, elegantly dressed table, complete with champagne glasses for each of our tastings and gold accents. This was a beautiful setting for the perfectly paired omakase dinner, complete with Moët & Chandon champagnes! This weekend is definitely an experience that will be engrained in my mind forever. It was the ideal combination of delicious food and drink, ambiance and prestige.
I also had the pleasure of interviewing the mastermind behind the dishes we would enjoy that evening, Chef Gregorio Stephenson. I was very impressed by the quick answers he came up with to the questions I consider difficult for me to answer, but when someone has been working with food for as long as Gregorio has, I suppose it makes sense.
One of my closest foodie friends almost always asks people what their last meal would be if tomorrow the world was to end, and I still have not been able to decide what my answer is. Gregorio immediately said barbecue, specifically ribs and brisket. Though BBQ would be his go-to last meal, if he had to eat one cuisine for the rest of his life, he said Italian. Since his culinary background is that of Italian, I wasn't surprised.
Though most would look at Nobu and think primarily about Japanese food, it is a culmination of Gregorio's backgrounds. He said he prefers what he gets to do at Nobu, because he isn't confined to a box.
I asked a couple of my favorite questions towards the end. First, what sparked his love for food? His mother, which is the same answer for me. Second, what advice would you give to someone who wants to learn more about cooking? "Stop watching TV! Go out and enjoy food and drink!"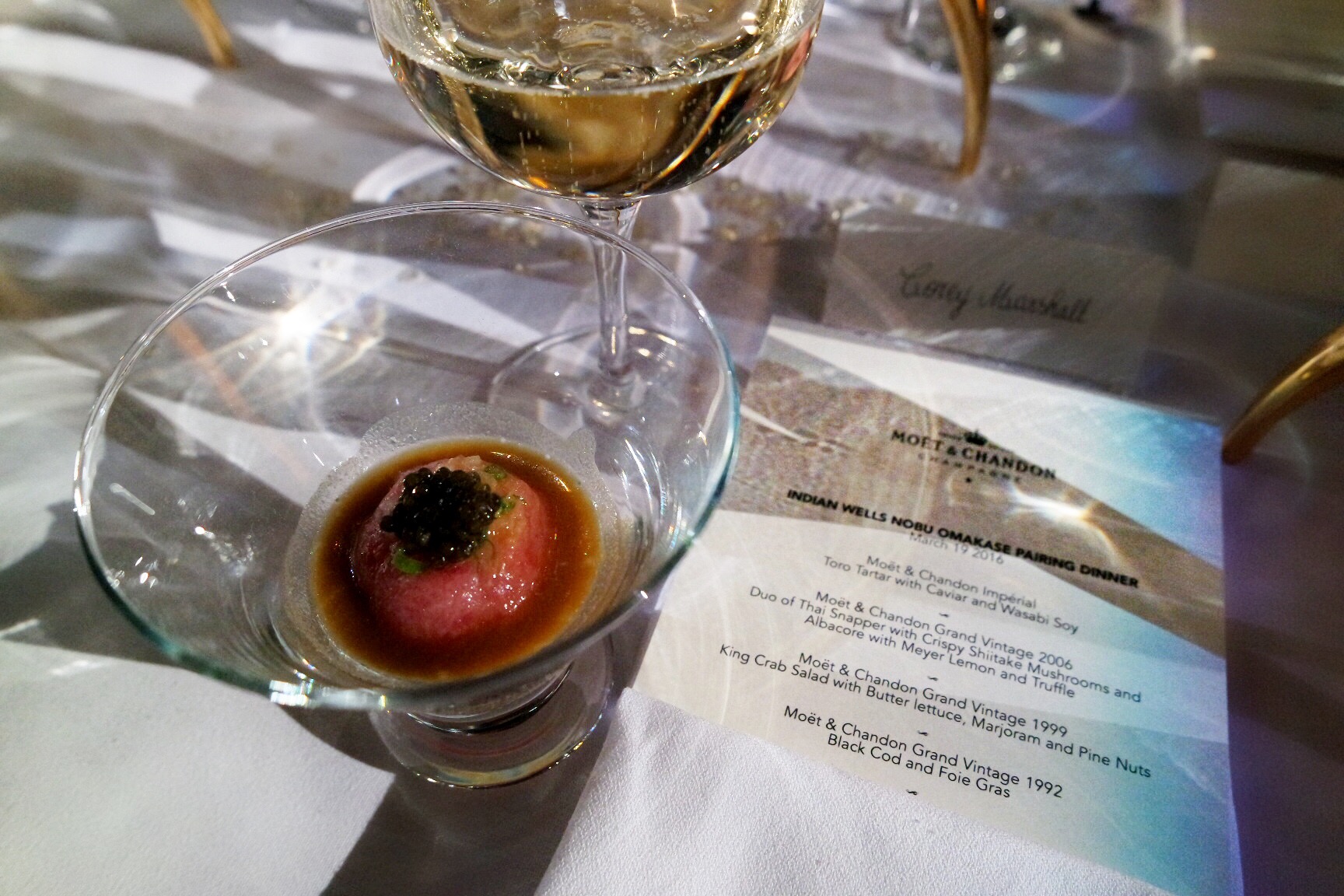 For the omakase dinner I chose a simple and sleek black jumpsuit paired with black heels and a red lip. It was comfortable chic!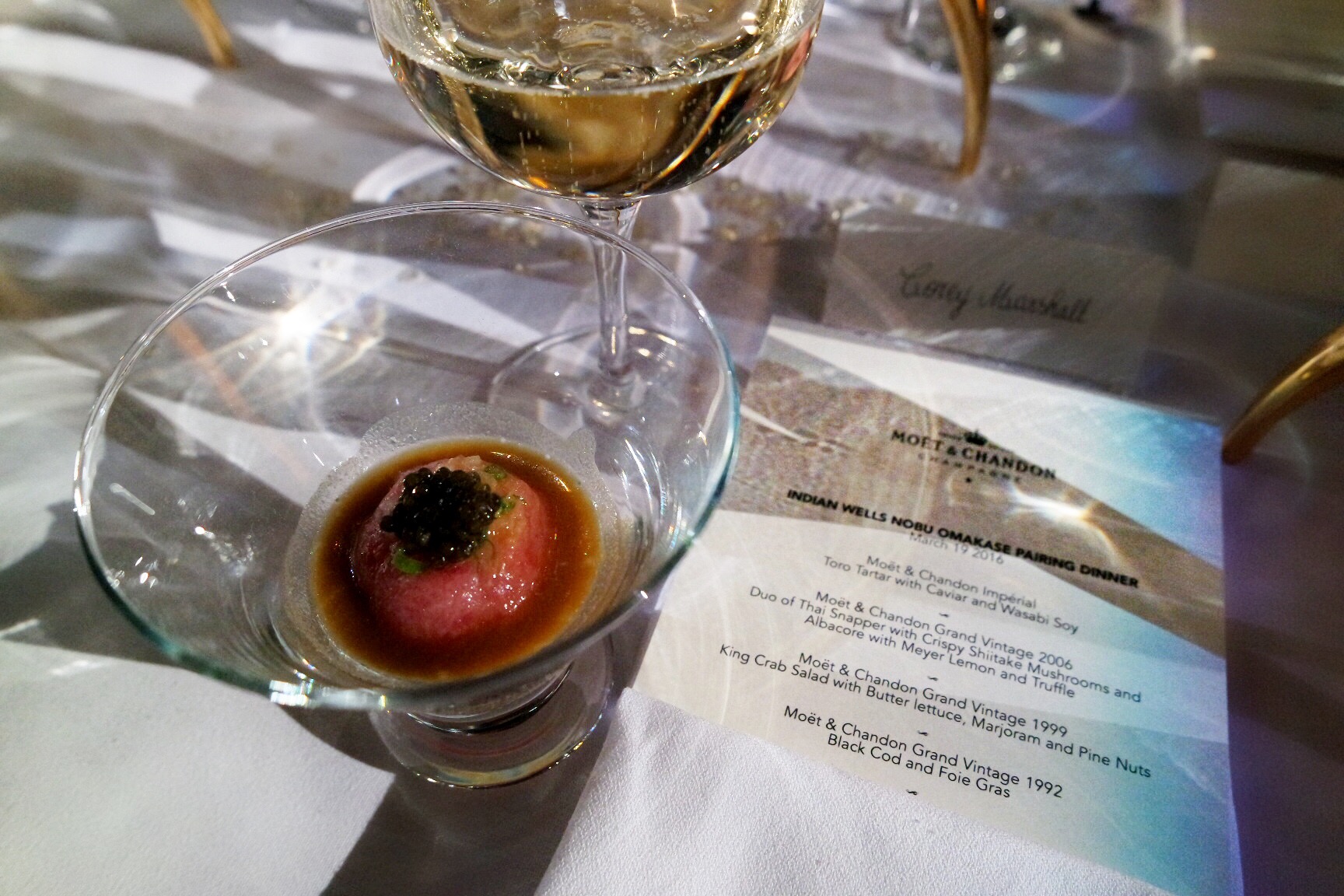 You might also like