I remember back when I was a whole lot more bitter and single, Valentine's Day was better known as Singles Awareness Day to me, but I really wish I'd heard of Galentine's Day back then instead. It's a whole day based around loving on your friends – the ones who really make your world go round no matter what! This year I got together with some of my favorite Gals and we created a day about not only celebrating your friendships but also yourself, with a cocktail in hand and some yummy food by your side [of course].
I met Emily of Tasteful Tatters a few years back at one of my close friend's [Ahren, our hype girl for the shoot] birthday parties and we instantly clicked and have been creatively collaborating since. Emily is one of those people who wants all of her friends to be friends. It's truly beautiful to see all of the connections being made! Emily brought on Kasey Dreier, who is basically a inspirational magic maker. I could tell when I met Kasey, that she is a badass, positive woman, who wants to help other women succeed.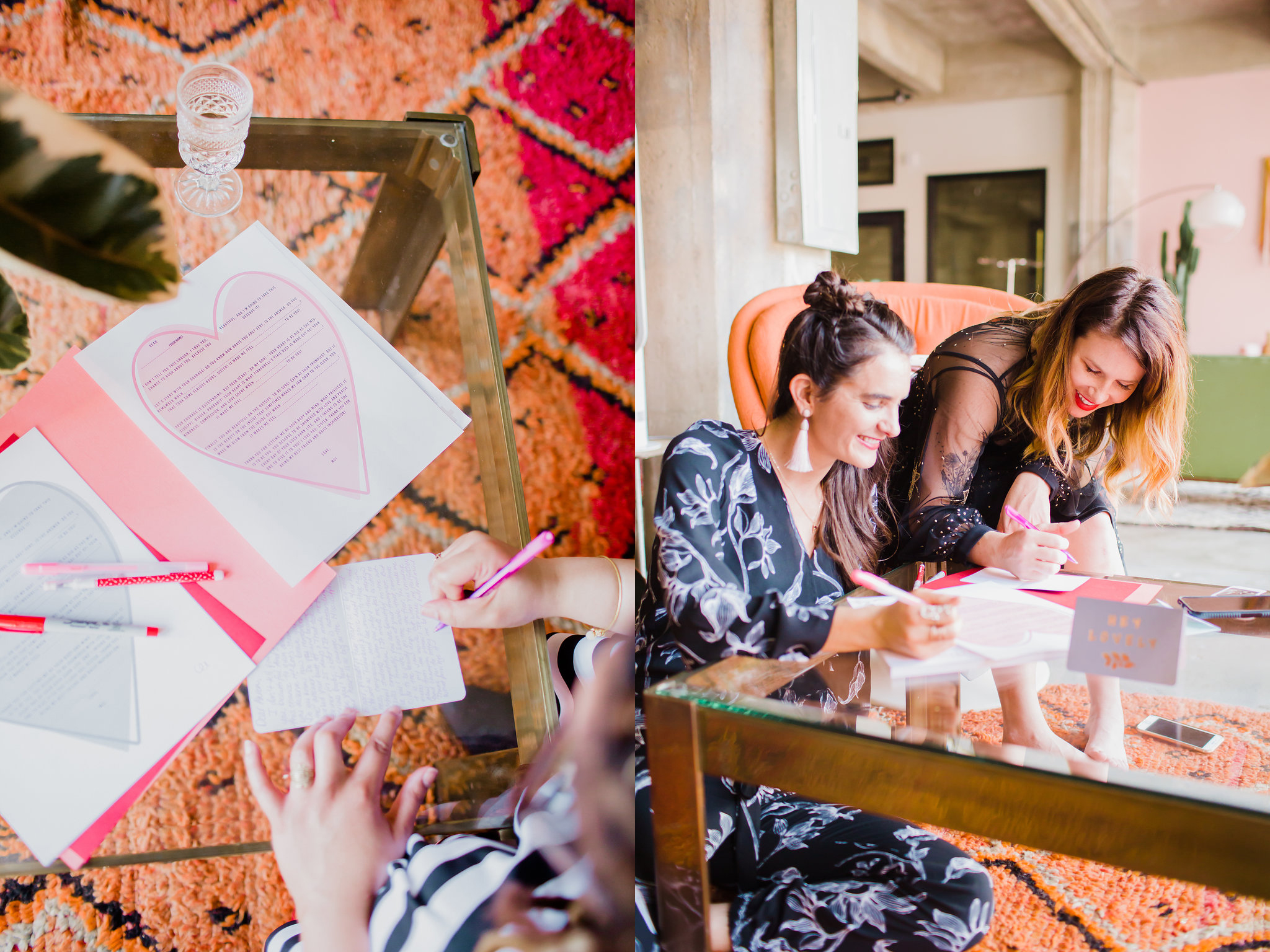 She created a Valentine template for all of the gals to fill out and write to themselves during our Galentines get-together. Check it out here. It is definitely a fun way to practice a little self love!
You can't have a get-together without some sort of beverages and snacks! Think refreshing cocktails, and sweet and savory bites. We've got 4 cocktails crafted by Emilee and 2 local Los Angeles businesses I've dubbed as my favorite places to order food for parties and get-togethers [no matter how big or small]!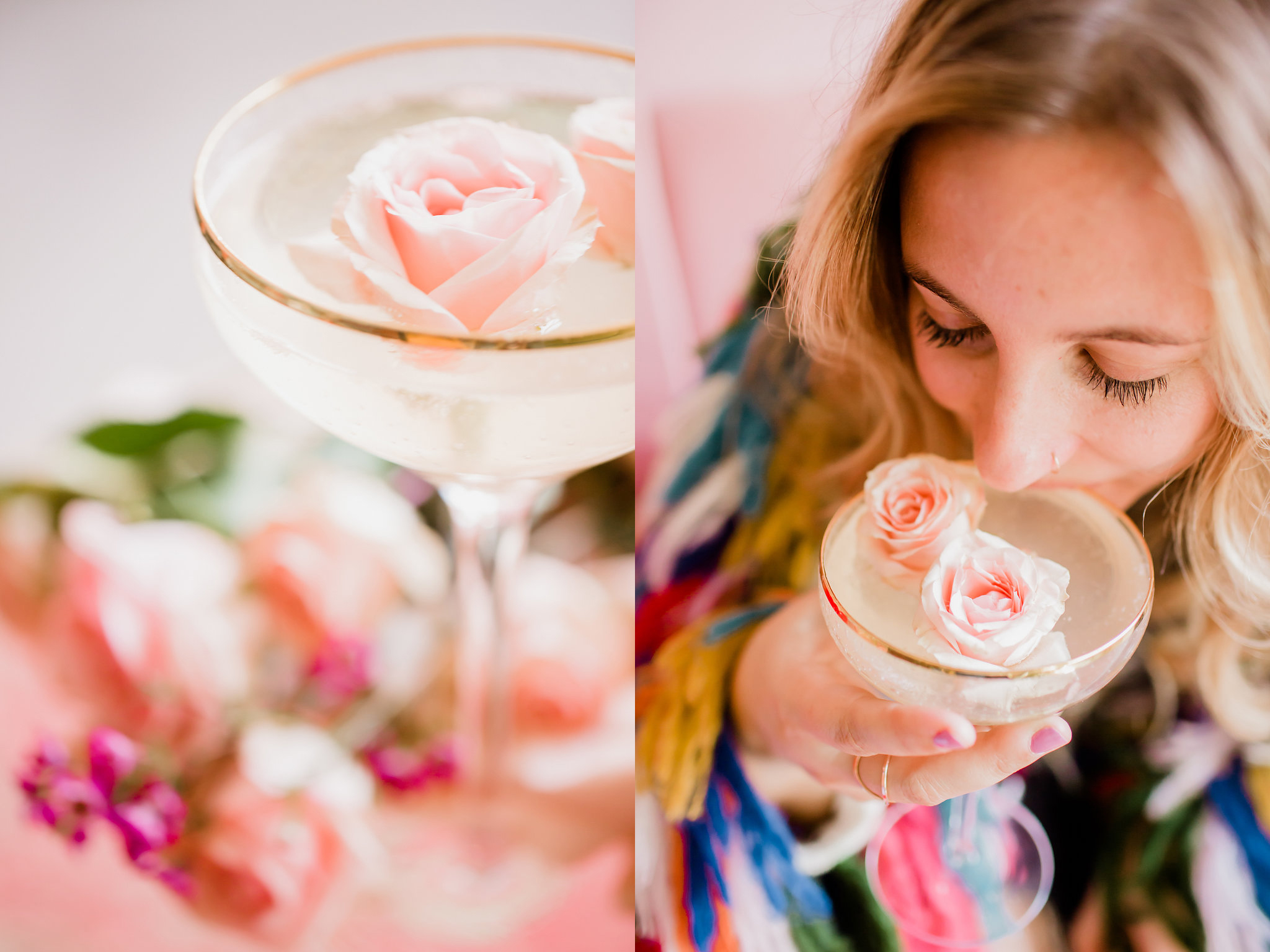 The Cardamom Rose
1.5oz gin
1oz rose water
1oz fresh grapefruit juice
5 (or so) dashes cardamom bitters
top off with prosecco
mini roses to garnish
XOXO
1.5oz gin
1oz elderflower syrup
1oz rose water
3 mint leaves muddled
top off with prosecco
garnish with  chamomile flowers and mint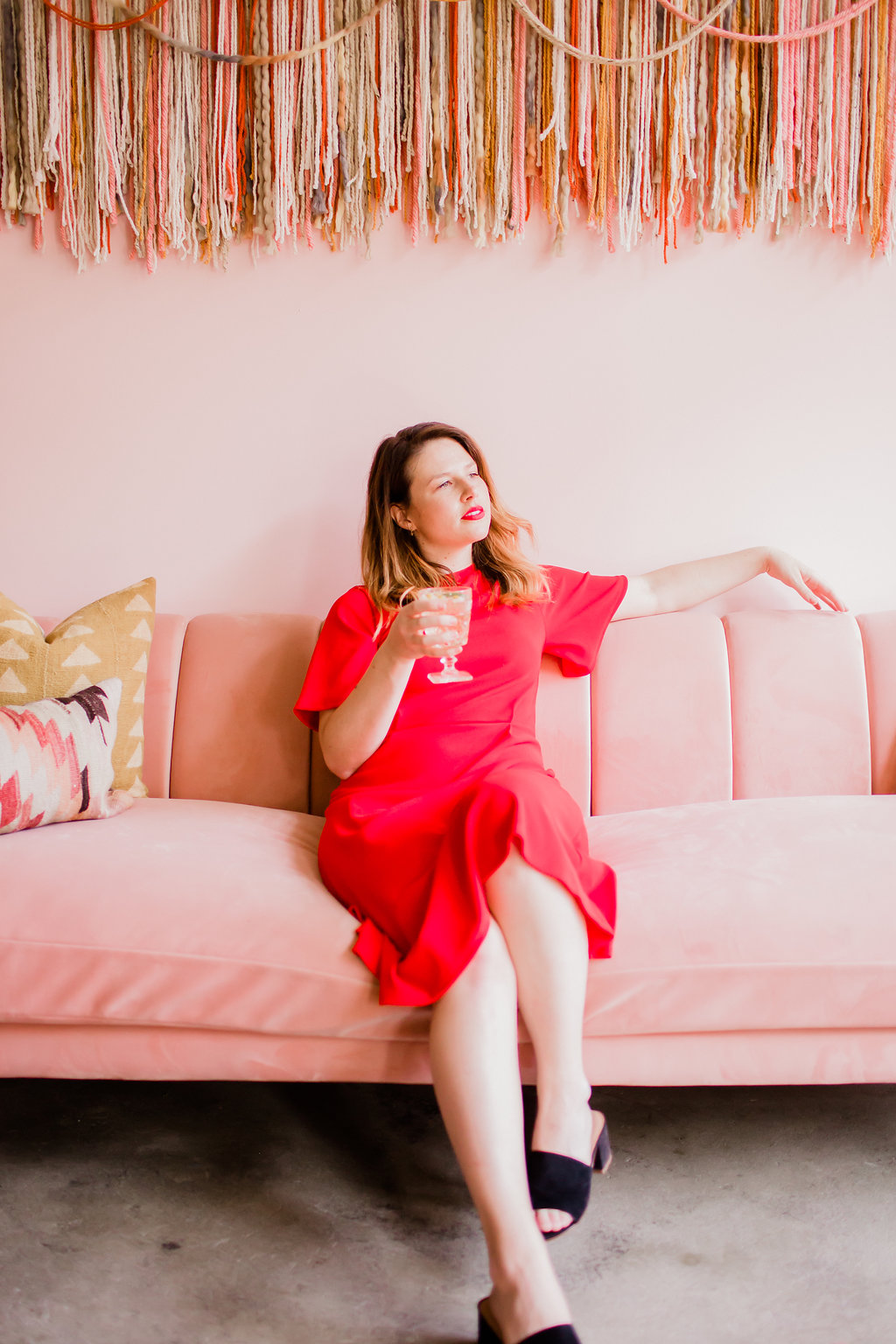 The Galentine
3oz vodka
1.5oz strawberry rhubarb sparkling lemonade (from Trader Joes!)
1.5oz pink lemonade
1/2 of a fresh lemon juice
muddled strawberries (and for garnish)
garnish with chamomile flowers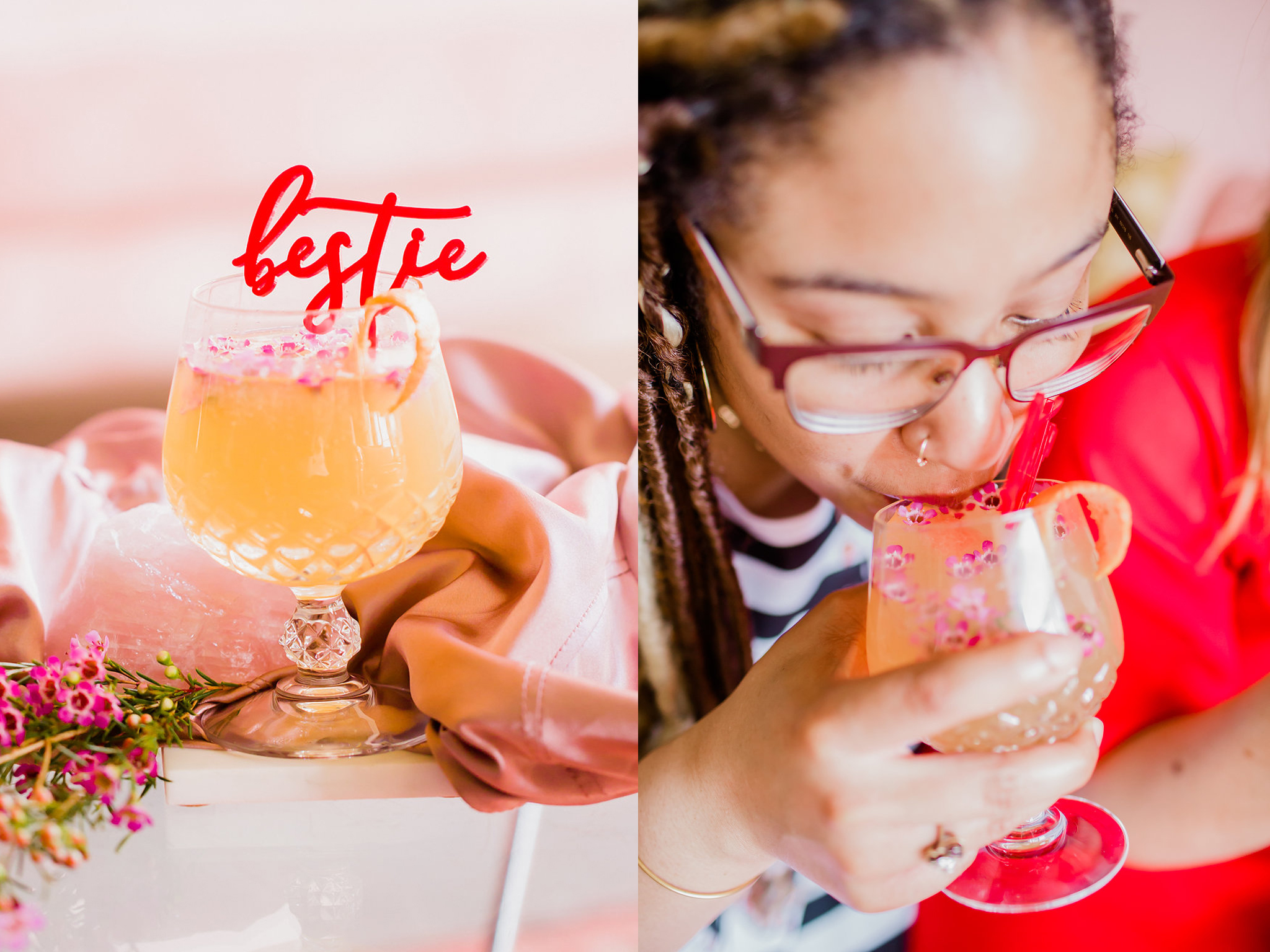 Your Bestie
3oz Bourbon (or more if you're like me and Emilee!)
half of lemon juice
1.5oz fresh squeezed grapefruit
top off with ginger beer
garnish with a grapefruit peel twist
All of the sweets were made by one of my favorite local bake shops – My Delight Cupcakery. I've found their deliciousness easily outweighs their cuteness, which is really saying something because seriously how cute is everything?!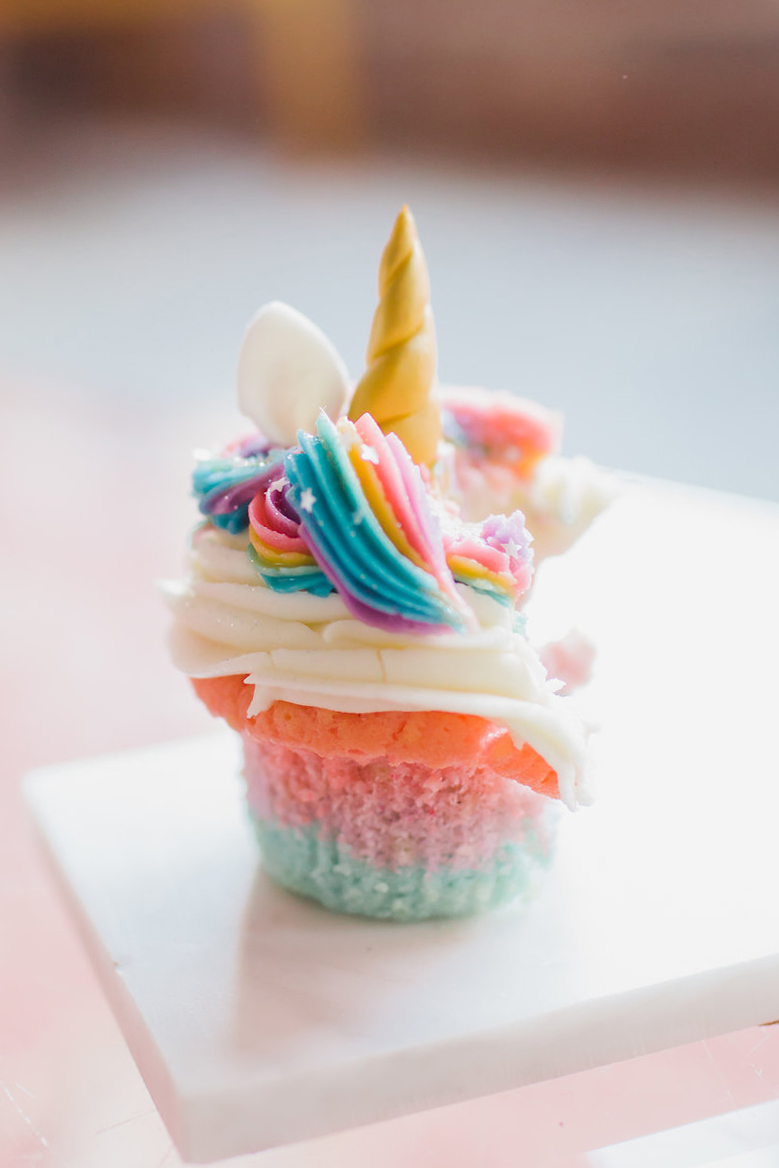 The crudités platter [with homemade hummus] was handcrafted by the lovely gals over at Sorella Collective, who I have been loyally following for awhile now because they're seriously so damn talented. They also create various other platters, like cheese & charcuterie and fruit & cheese!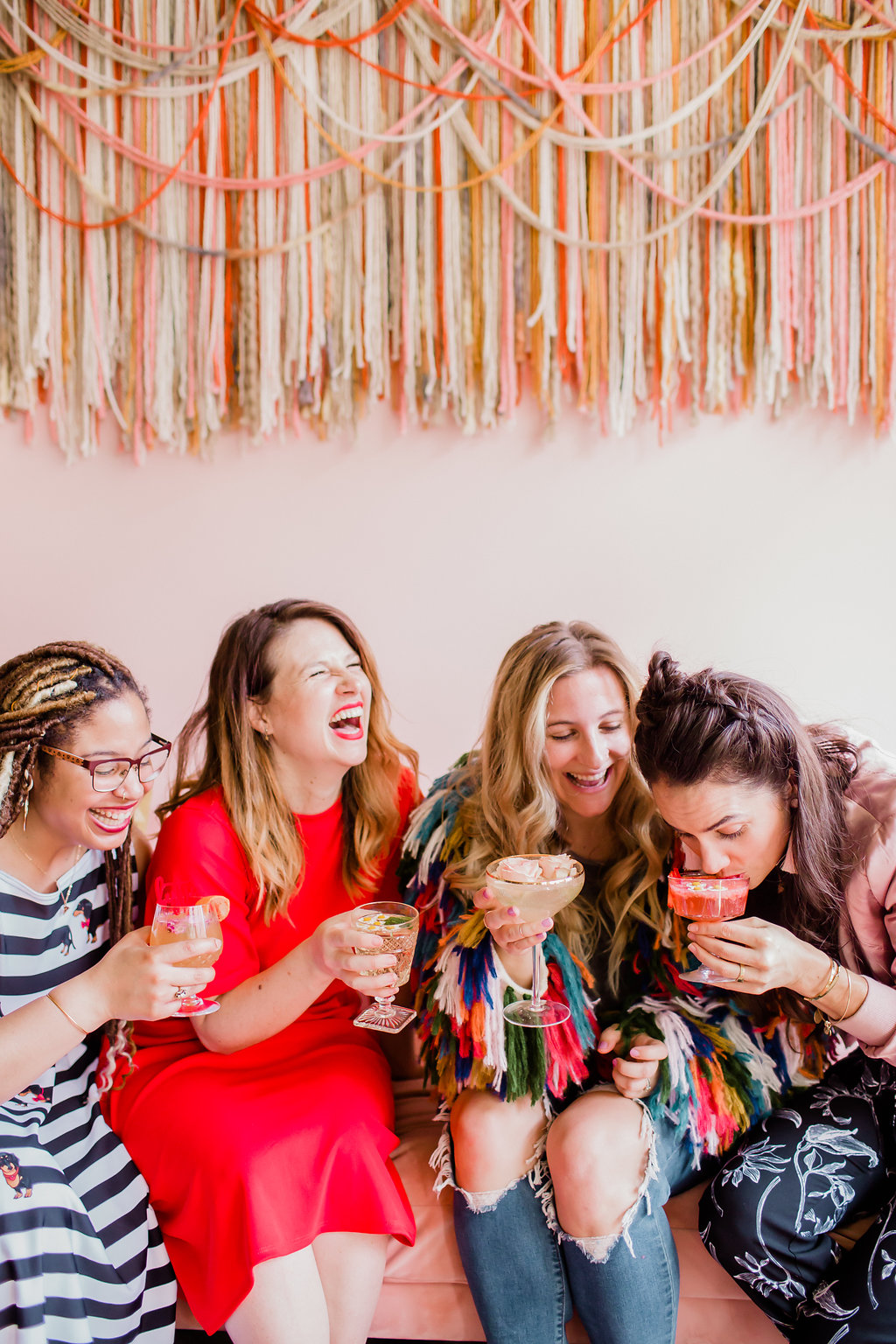 Now grab all your closest gal pals!
Did anyone notice my wardrobe change? Can't have a successful Galentines day without plenty of clothing options. 😉
Check out all of the wonderfully talented people who pulled this all together!
Concept & Styling: Tasteful Tatters // Photography: Simply Adri Photography // Food Styling: Miss Foodie Problems // Boss Babe Guru & Valentine Letter: Kasey Dreier // Sweets: My Delight Cupcakery // Platter: Sorella Collective, Studio: Biz Babez // Cheerleader & Hype girl: Ahren Samuel