I've always been more of a fan of baking than cooking. I like that I can read a recipe, follow it and something delicious is guaranteed to come of it if I follow the directions. Don't get me wrong, I like to cook too, but I am not super comfortable with the "a little bit of this, a little bit of that" mentality! When it comes to baking, I find so much joy in the precise process of it all. Let's make a Simple Summer Galette!
I am ecstatic to announce my new partnership with Bristol Farms. I will be shopping at my local BF and creating a few recipes inspired by in season produce! First up: Peaches! This recipe is an ode to the height of Peach Season in California. Bristol Farms is also running a recipe contest until the next Monday July 23rd, so I think you should get to recipe planning and bake something delicious this weekend! The winning recipe gets a $500 gift card and 2 runner ups get $100!
I was inspired by a pie photo that my friend Kaitlin posted to her feed recently because I'd never heard of the combination of peaches, lemon and thyme before — which made me very curious! I did a quick Pinterest search and was surprised to find quite a few renditions of this flavor combo.
This Two Cups of Flour's recipe was very helpful while I was creating and tweaking my own!
Simple Summer Galette recipe – peach, lemon & thyme
Recipe makes 1 large galette or 3 small galettes!
Servings: 8
Prep Time: about an hour
Cook Time: 30 mins
Simple Summer Galette Ingredients
for crust
1 1/4  cups all purpose flour
2  tsp  sugar
1/4  tsp  salt
8 TBSP cold unsalted butter cut into thin slices
1/4  cup ice water
for filling
4 freshly sliced large peaches (leave the peel on)

Depending on the ripeness of the peaches, I found that there are different techniques to slice.

Cut peach in half (if it is easy to separate one side from the pit, all you have to do from there is separate it, remove the pit and slice each half up!)
If it's too difficult to pull the peach apart without squishing it, I recommend making slices all the way around the peach.
You should be able to remove one slice free from the pit, then continue sliding your finger along each slice as close as you can get to the pit — most of them should come free pretty easily. And the ones that don't can be your reward for all of your hard work so far!
1/8 cup honey (you can add more if you feel like your peaches aren't completely coated)
1 TBSP flour
1/2 TBSP chopped fresh thyme
1/4 tsp vanilla
1 tsp lemon
1/2 TBSP corn starch
for egg wash
stirred together with a fork or whisk
Directions
for crust
Mix flour, sugar and salt together in a bowl. Add butter slices and begin squeezing them into the mixture with your hands. Continue working it until you feel like the butter is distributed pretty evenly — there will still be uneven pieces of butter, but don't worry about those.
Add the ice water and mix. Lightly flour a surface and knead the dough for about 20 seconds, until all of it comes together. Form a ball with the dough (flatten it out a bit) and wrap with plastic. Refrigerate for at least 30 minutes.
for filling
In a large bowl mix together all ingredients except peaches with a whisk. Add the sliced peaches and stir with a wooden spoon to coat them.
Add the sliced peaches and stir with a wooden spoon to coat them.
assembling the galette
Preheat oven to 375 F. Line a cookie sheet with parchment paper.
Flower a surface and roll out dough (for the large galette) into about a 12″ circle or (for 3 small galettes) cut the dough into 3 equal parts and roll each out into about 6″circles. Don't worry if they aren't perfectly round. I left mine very rustic looking! PRO TIP: After rolling out your large galette dough, use your rolling pin to pick it up by placing the rolling pin gently in the middle of the dough and wrapping both sides around it. Lift & gently place on your cookie sheet!
Assemble peaches onto the crust leaving about a 2″ border (large galette) or about a 1/2″ – 1″ border depending on size of peach slices, this can vary (small galettes) all around. Place your peaches overlapping a bit in a spiral pattern all the way to the center of the dough.
Fold the dough you left as a border in and press together to hold in the peaches. The center will still be open so that you can see the gorgeous fruit!
Brush the crust with your egg wash and sprinkle the whole galette with a bit of sugar.
Bake for 30 minutes or until crust is golden brown and peach juices are bubbling a bit. Note: If the peach juices look runny, don't worry — they will solidify as the galette cools.
Remove from oven and allow to cool on pan for 10 minutes.
Transfer galette by sliding the parchment paper off the cookie sheet and onto a wire cooling rack.
Let galette cool completely.
ENJOY!
You can top off your Simple Summer Galette with homemade or store bought whip cream and/or ice cream!
I ended up having this the next couple of mornings for breakfast. I love that you can taste the peaches, a hint of thyme and the whole thing is not too sweet!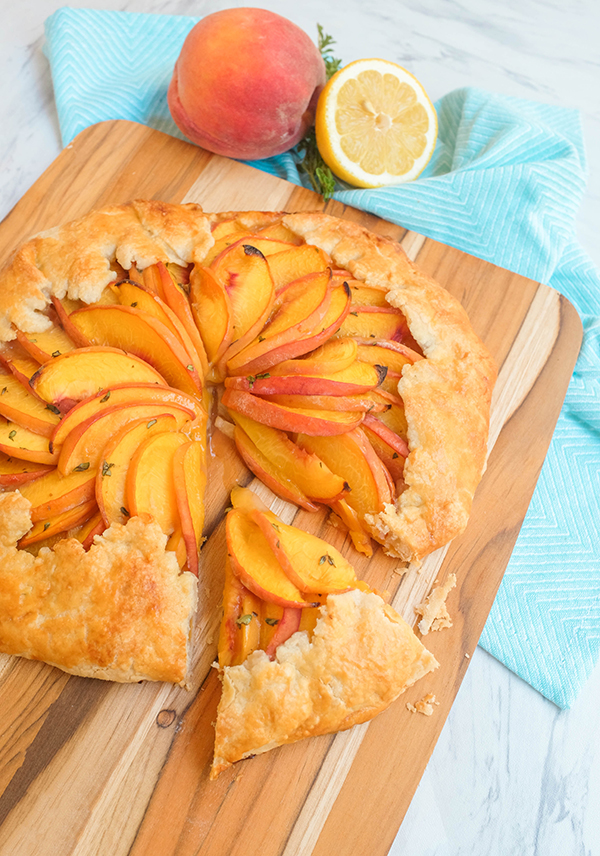 Happy Baking,
Corey, Miss Foodie Problems