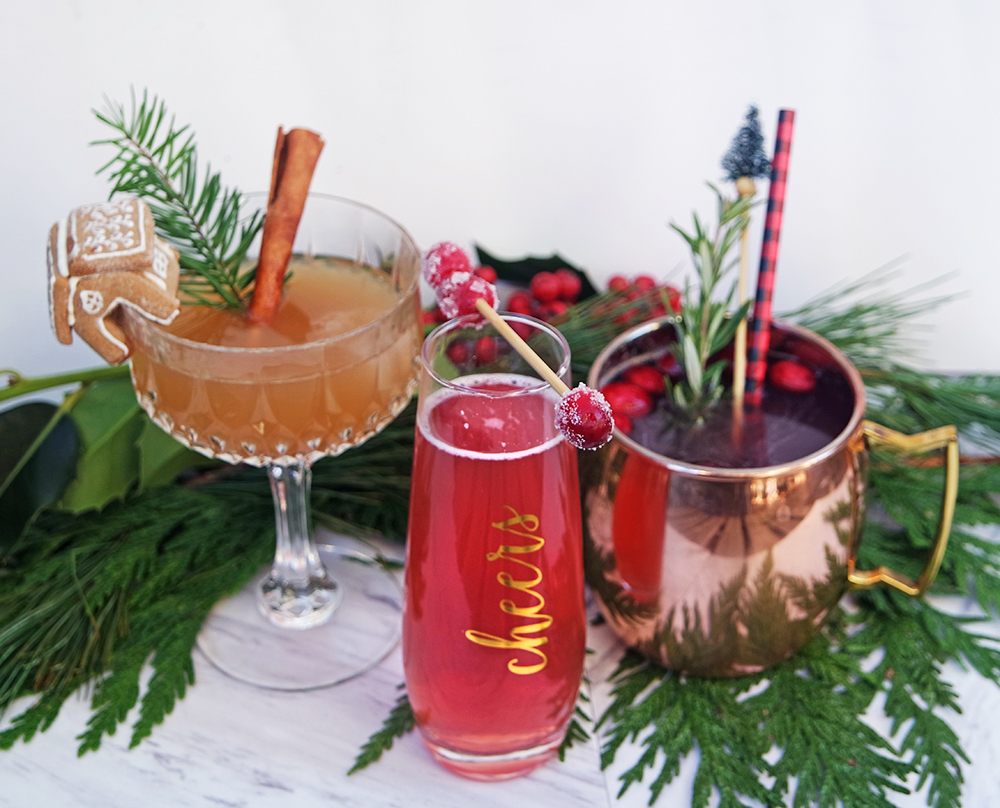 We attend countless holiday parties this time of year and may not realize how much work it is to put everything together! My friend Emilee, pro party-planner, from Tasteful Tatters asked me if I'd like to collaborate on shooting some cocktail content, while taste-testing (obviously — basically these cocktails are proven to be delicious)! I love the way she developed them because she made it super straightforward, but you'll look like a professional bartender!
Here it is in her own words,
Hosting a holiday party is a lot. There is the decor, seating chart, music, menu…Don't forget about the bar. Do you do a full bar? Wine only? A signature cocktail? When I dreamed up this concept, I wanted to create a bar option that was more than just one cocktail, without having to buy a full bar — essentially. These cocktails are all very different and will make all your guests happy. Best part is, the main ingredients can all be used multiple times! Three different signature cocktails, but just as easy as making only one.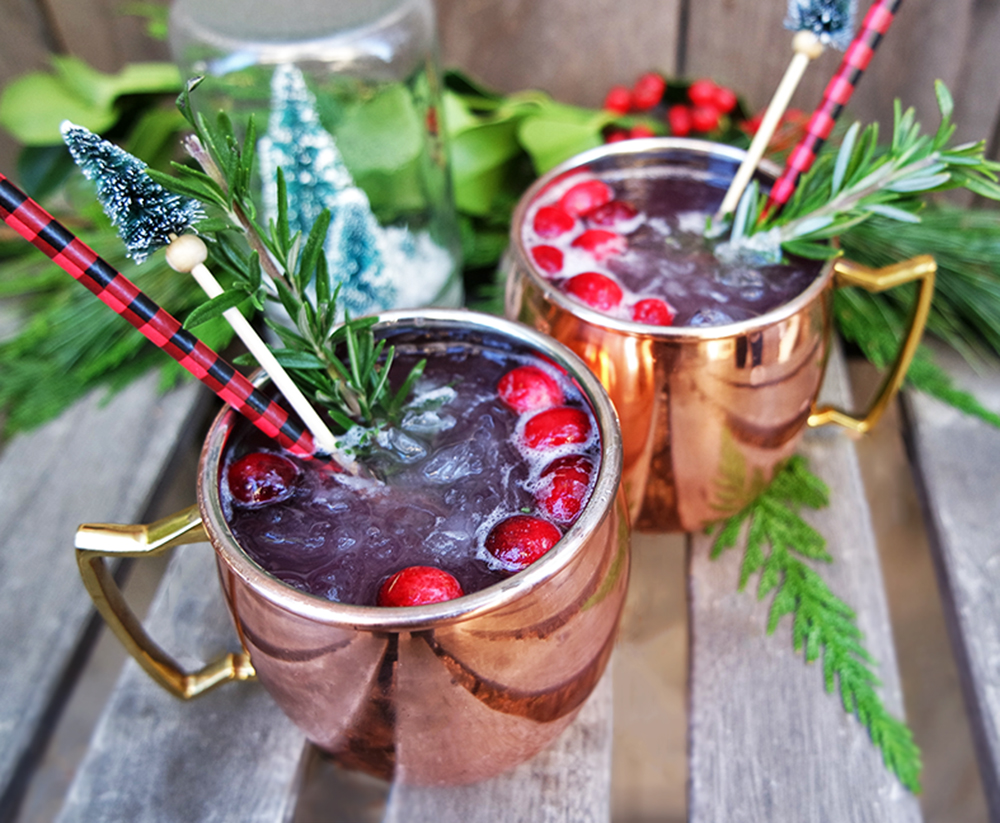 Holiday Moscow Mule
1 1/2 oz of cranberry juice cocktail
1 1/2 rosemary infused vodka (1-2 cups vodka with 2-3 sprigs of rosemary in fridge – let sit overnight)
1/2 of a squeezed lime
3/4 cup ginger beer
crushed ice
garnish with cranberries
Cranberry Mimosa
2 oz of ginger beer
2 oz cranberry cocktail
3 oz champagne
Spiked Spiced Cider
equal parts whiskey of your choice & Trader Joe's Spiced Cider
square of ice
To me the holidays are all about spending quality time with loved ones. They may be people we see often or people we haven't seen in years (maybe something in between). Either way, food and cocktails are the best way to bring people together. It doesn't have anything to do with gifts for me any longer. My family decided to minimize the spend and "junk" we go home with this year. Last year we decided to only do stocking stuffers for everyone, but I vetoed that this year because those items are usually unnecessary fillers. Confession: I literally haven't unpacked most of mine from last year from the bag I threw them in. This year, we decided to do a Secret Santa set up so we all only buy one (meaningful) item for one person and receive one. I think this will be a nice change and will take the emphasis of the holidays off of presents and more on presence. Don't get me wrong, I love experiencing the joy of others when I gift them with something meaningful, but really time is truly our greatest present to each other. So soak up every moment cooking, grubbing, drinking, laughing, crying, (even fighting) with your loved ones this holiday season and let me know if you end up making any of these cocktails. Send any photos over to my instagram. I love to see your posts! Also share any fave holiday cocktail recipes below in the comments.
Happy Holidays,
Corey, Miss Foodie Problems