First off, what is Valentine's Day really about? I find it kind of silly and ridiculous because why not show love for that special someone all the time and not just on this designated day, when everyone else is doing the same thing? For those who are single, it can be a bit of a downer! Which leads to the invention of secondary "holidays" like Singles Awareness Day. I subscribed to this one back in the day. Haha bitter much? Then there's Galentine's Day, a day to celebrate your friendships and share a little extra love with those you are so grateful for! I can totally get behind this one!
This past weekend, I got together with one of my girlfriends, Emilee of Tasteful Tatters to put together a Galentine's Day brunch. She brought on Jenni, a talented calligrapher and Chloe of Bloom & Beam Floral Co. I put together the food items and photographed this beautiful brunch spread.
You may wonder where to start to put together a table spread! It can look intimidating. We started out by coming up with our theme, then collaborating on a Pinterest board and picking a color scheme from there. Think blush and touches of red and gold.
The Decor
Emilee is a wedding planner, so basically has a magical array of gorgeous pieces on hand which she brought together for the table. You'll be happy to hear the pieces are from stores that are easy to find and totally affordable!
Tall Glasses: World Market
Tumblers: Anthropologie (similar ones can be found here)
Chargers: Michaels
Flatware: Target
Favor Boxes: Hadron Epoch
Mini Piñata: Lula Flora Designs
A lot of the other decor is from Target! She DIYed the beautiful peachy pink napkins by dying them with avocado pits! What? I know it sounds crazy!
The hand written calligraphy menus were a beautiful touch! They were written by Jenni! And the gorgeous floral arrangement was done by Chloe! I mean how perfect do they look together?

Chloe had some leftover green rose buds, and Emilee suggested taping them to the wall with clear tape. How dreamy is this? Emilee seriously has the best eye for this stuff!

The Food
I decided to make some super easy and delicious sweet treats for the menu.
Conversation Heart Sugar Cookies (complete with Mean Girls sayings written on them)
Feel free to make the sugar cookies from scratch or get an easy mix. Grab a heart shaped cookie cutter. Then make some Royal Icing and either write on the frosting with a food coloring marker or a contrasting color (preferably red) icing!
Ingredients
3 cups powdered sugar
2 large egg whites
1 teaspoon lemon juice
Put the powdered sugar into the bowl of a mixer (the recipe I used said to sift the sugar, but I didn't and it turned out just fine), add egg whites and lemon juice and mix on low until combined. Mix on high for about 7 minutes or until thick. I then added some red gel food dye. I love this stuff. A little goes a long way, and doesn't leave that icky food coloring taste.
The Royal icing is best applied with a piping tip. I used a very small round piping tip from this set to outline the outside of the heart. I highly recommend this set, because you can do so much with them! After outlining all of the hearts, I thinned out the royal icing a bit with leftover lemon juice and piped more into the middle of each cookie with a larger tip, then spread it out evenly with a back of a spoon. Be sure to let the icing dry before writing on it.
Rustic Pop Tarts
These are beyond easy to make. All you need is a pack of pre-made pie crusts, jam of your choice, an egg, sprinkles and frosting/icing. I ended up thinning out the frosting from the above cookies (changing the color a bit) since I still had some leftover.
Ingredients
servings — 6 pop tarts
1 pack premade pie crusts (should come with 2)
about 1/2 cup jam or preserves of your choice
1 egg
icing (used leftovers from the recipe above)
sprinkles
about 1 TBSP cornstarch (to thicken jam)
Directions
Preheat oven to 400 degrees. Flour a surface. Roll out your pie crust evenly. Cut off the round edges, so that you have a square left. Cut into 3 equal sized long rectangles. Mix jam and cornstarch to thicken it up. Spoon jam onto one end of each strip. Beat egg in a bowl. Brush egg around the jam. Fold over pie crust to cover the jam and crimp the edges with a fork. Bake for about 15 mins, or until golden brown on top. You can also experiment with other shapes, like the heart ones pictured! Once cooled drizzle icing in middle and add sprinkles!
I filled my pop tarts with cherry preserves and topped off the icing with the cutest assortment of sprinkles I got from Lincoln, one of my favorite cafes in Los Angeles, located in Pasadena.
The Booze
For any get-together I recommend you have cocktails that are easy to make, but don't taste like they were and be sure to have something for everyone! Emilee and I collaborated on these holiday cocktails and she had the awesome idea of creating 3 cocktails from similar ingredients, so you don't have to buy a ton of extra items. Here is one of the cocktails she developed for the Galentine's Brunch.
Not Your Mother's Champagne
Ingredients
Champagne
Elderflower Syrup
Raspberries
Directions
Add 1 oz of elderflower syrup to tumble. Add about 5 raspberries and muddle. Top off with champagne and an ice block if needed. Voila! A perfect crisp champagne cocktail to pair with all your sweets!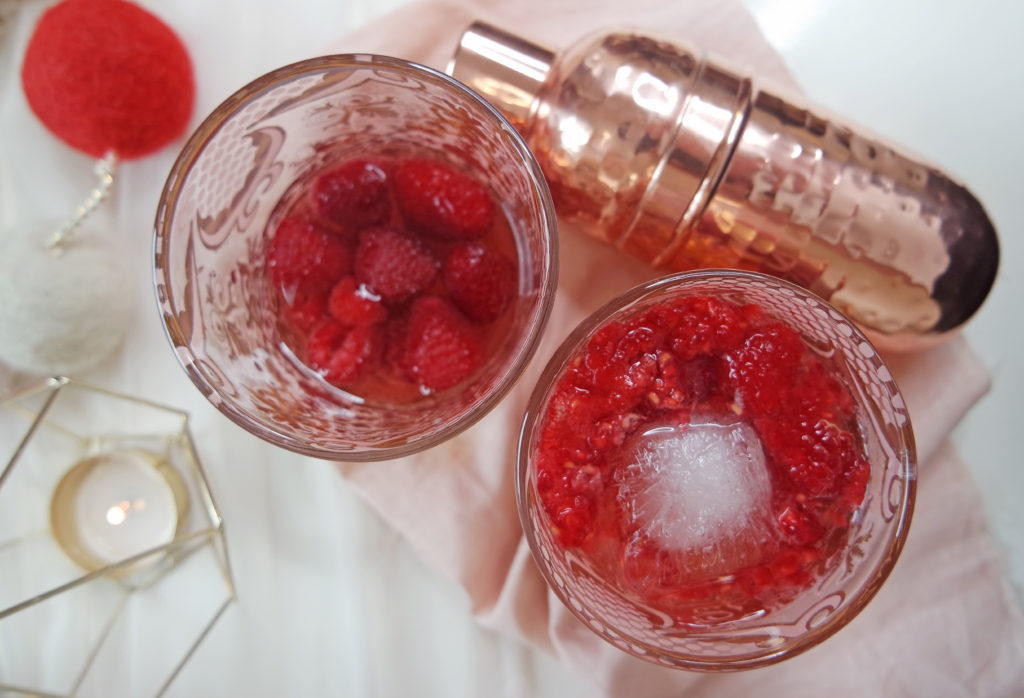 Gather some cute decor, decide what you want to grub and sip on, then invite a few of your favorite gal pals over for a fun day. You can even integrate some DIYs into the mix if you want activities to do! This equation will work for any of your future get togethers. Enjoy!
Design Concept & Styling — Tasteful Tatters / Florals — Bloom & Beam Floral Co. / Calligraphy (Menu & place cards) — Jenni Murphy / Food Styling, Recipes & Photography — Miss Foodie Problems