When I think about the holidays, memories of good times with family and friends come to mind. I've pretty much gotten past the age of caring about presents — don't get me wrong, a thoughtful gift always steals my heart, but really it's all about the quality time spent with loved ones sharing food and tasty booze.
Last year, my friend Emilee and I got together to create holiday cocktails, but this year we pretty much 5-uped ourselves. Is that a thing? You be the judge. Don't get me wrong, they were delicious, but our setup this year was *gold*. When Emilee and I get together, the creative juices flow and the giggles don't stop *see all the photos of us below*.
I'm beyond excited to be partnering with Belle Meade Bourbon for this post. I met Charlie Nelson of Green Brier Distillery earlier this year on a media trip and event on Amelia Island in Florida. I remember being a huge fan of everything I tasted at the bar opening I was attending. It was a no-brainer when Emilee asked if I had a favorite booze company I wanted to craft cocktails with — this is where Belle Meade came in!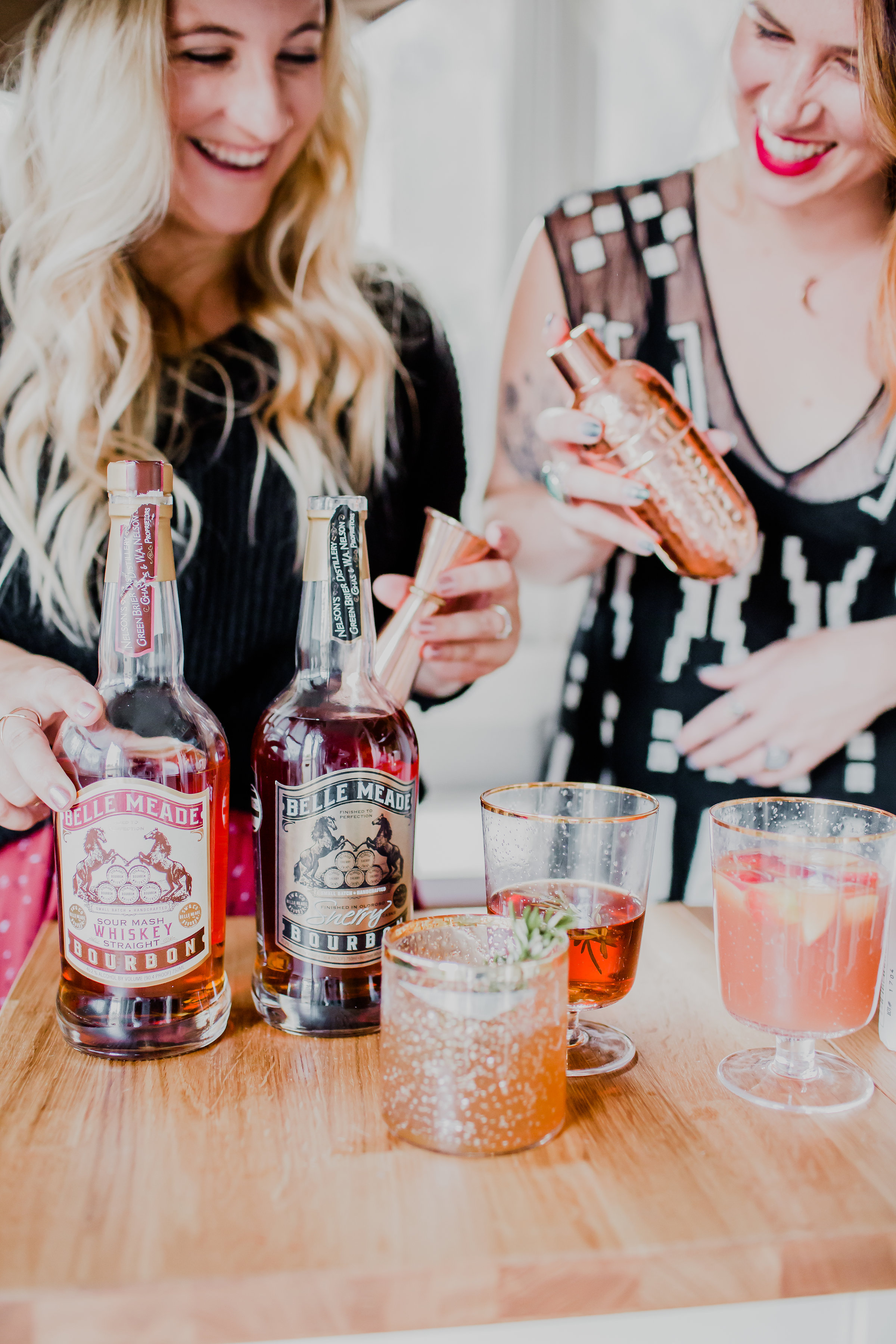 The cocktail lineup was developed by Emilee, of Tasteful Tatters. Not only is she a ridiculously talented wedding planner, but she's also an expert cocktail crafter. I helped her tweak the cocktails a bit, while taste-testing *obviously*.
Bad Santa
1.5 oz cherry brandy
1.5 oz gin
3 oz sparkling wine
3/4 oz sherry bourbon, we used Belle Meade
sprig of rosemary twisted and dropped in glass for garnish
Combine all ingredients in a glass and stir. Garnish with rosemary.
---
Jingle Juice – Holiday Sangria
3 chopped apples
1/4 cup pomegranate seeds
4 cups apple cider
1 cup bourbon, we used Belle Meade
1 bottle sparkling wine
Put apples, seeds, cider, and whiskey in a large pitcher – cover and let sit overnight. Add bottle of sparkling wine to pitcher and serve over ice.
---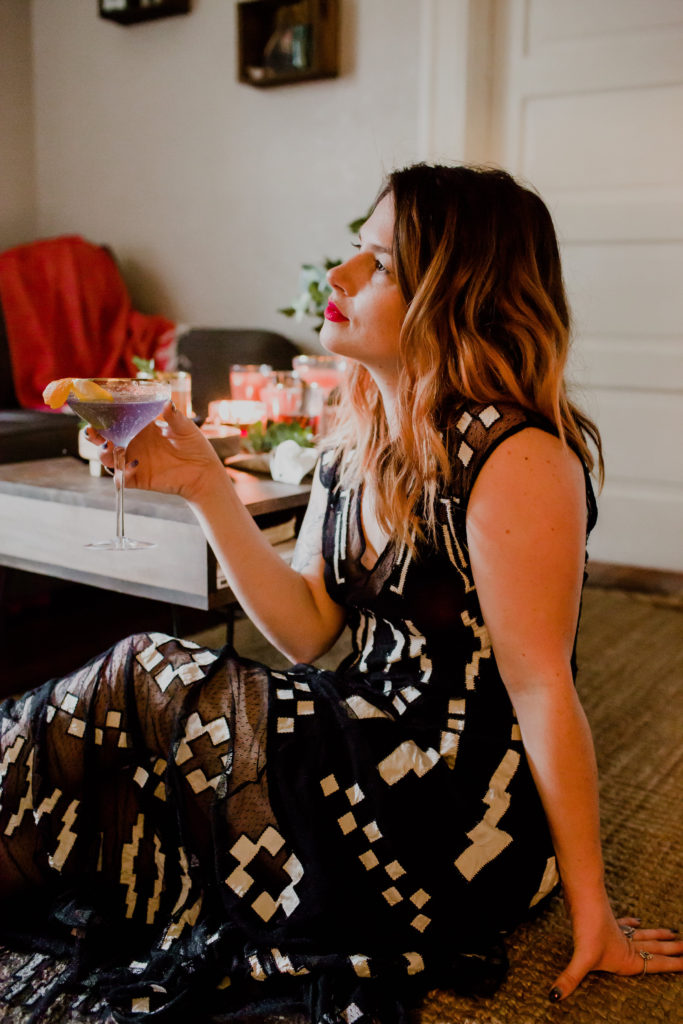 Sleigh Ride
1.5 oz gin
3/4 oz triple sec
3/4 oz creme de violette
3/4 oz fresh lemon juice
orange peel
sparkling wine
Combine all ingredients in shaker with ice and pour into coupe. Twist the orange peel over drink to express oil and save for garnish on rim.
---
Santa's Little Helper
1.5 oz sherry bourbon, we used Belle Meade
1.5 oz rosemary simple syrup
1.5 oz fresh lemon juice
sparkling apple soda
bitters
Combine bourbon, lemon, and syrup in a glass and stir. Add ice. Top off with apple soda, then dash with bitters.
Whether it's a Friendsgiving with your closest friends, a holiday party with your crazy family, or a date night in with your boo — there is a cocktail *or two* for you in this bunch.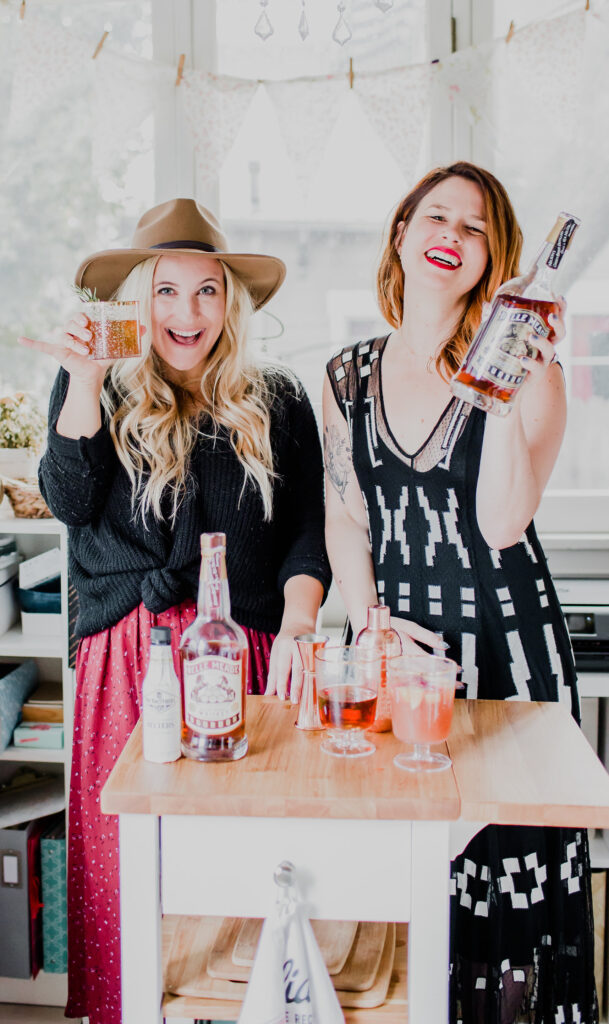 Happy Holidays,
Corey, Miss Foodie Problems