There's no better way to celebrate Repeal Day, the day that Prohibition ended in the United States, than with a few new craft cocktails for your upcoming holiday gatherings. I've definitely become a whiskey drinking gal, but Emilee of Tasteful Tatters and I decided to change things up this year — if you've been around for awhile you know we LOVE making cocktails together. If you'd like more cocktail inspiration from our past posts, you can hover over the recipe menu and click on cocktails! All of the cocktails this year are rum based and they may have converted me to a rum drinking gal too!
Keep The Change You Filthy Animal — our take on Faith & Flower's Milk Punch
This serves 2-3, but you can easily multiply and serve for a larger party in a pitcher or dispenser. Emily did this for her recent holiday party!
4oz spiced rum
4oz apple cider
2 pinches of Chinese 5 spice
bottle of pear cider
lemon peel – to line rim and then put in the drink
garnish with cinnamon stick
---
Say Goodnight Kevin
If you like an Old Fashioned (my go to whiskey drink) this should be right up your alley. It's our spiced rum version!
2 oz spiced rum
1/4 grapefruit squeezed
dash of simple syrup (this is really to your taste, so add more if you'd like it sweeter)
3-5 dashes of old fashioned bitters
grapefruit peel – to line rim and then put in the drink
*Feeling boozy? Optional – add a 1/2 shot of brandy
---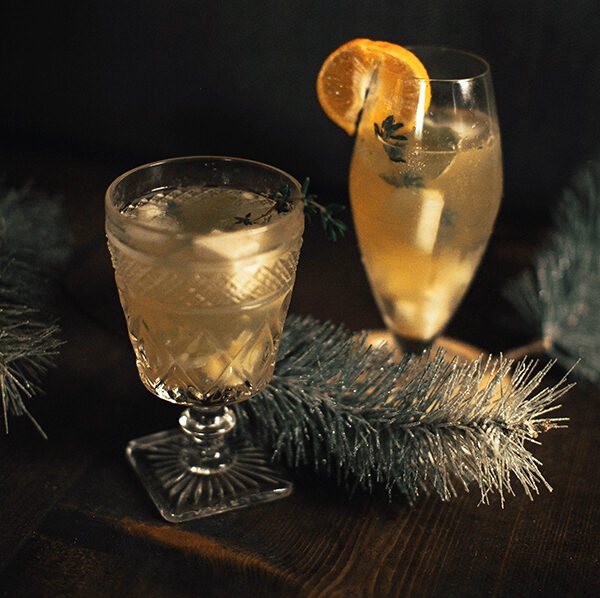 lés incompeténts
For more of a the fruity, herby, floral flavors fan!
1/2 ripe pear peeled and chopped
1 TBSP honey
juice of 2 clementines
1 tsp vanilla extract
1.5oz white rum
1 tsp thyme simple syrup (here's a simple recipe)
top off with champagne
*suggestion – mix drink and let sit for a few hours before serving for fruits to open up flavor
---
thirsty for more sangria
Another great party drink! Make a couple batches the night before your party and you'll be all set!
1 bottle white wine (moscato for sweeter / pinot or sauvignon blanc for less sweet)
1 bottle champagne
1 cup white rum
1.5 cup apple cider
1 bottle ginger beer
2 apples – chopped
1 pear chopped
*pour everything in a pitcher and let chill overnight before serving

---
buzz's girlfriend
Need a little extra buzz? This is YOUR drink!
3oz aged rum
4oz cold brew
1/2 shot sweet vermouth
1/2 shot chai creme liqueur
3-5 dashes of chocolate bitters
We hope you try one or all of these cocktails for an upcoming holiday get together and are converted to rum drinkers too! Have fun!
PS. If you recognize where we got the titles of the cocktails from, comment below!
Happy Holidays,
Corey, Miss Foodie Problems