I've come to the conclusion that you can basically wrap anything with bacon and it will be delicious! Also, the act of wrapping bacon around anything is proven to make it 10 times more delicious. Okay maybe no official studies exist to back that claim, but I believe it's true! Haha.
I teamed up with Farmer John to create 3 bacon wrapped dishes; an appetizer, main dish and a dessert!
Farmer John Bacon wrapped dates with
goat cheese and balsamic vinegar

Ingredients :

Pitted dates (unless you don't mind pitting them)
Goat Cheese
Balsamic Vinegar
Preheat oven to 350 degrees F. Layer a cookie sheet with foil. Cut into your dates on one side and fill with goat cheese, then close back up. I made 15 dates, but you can make as many as you would like, depending on the size of your party, or if you're just making them for yourself 😉 Cut your Farmer John Bacon in half and wrap around the dates. You can use toothpicks to secure the bacon but I didn't have any and they turned out just as delicious. Place the wrapped dates on your cookie sheet with the open end of bacon down. Place cookie sheet into the oven and cook dates for about 30 minutes.
While your dates are cooking, grab a skillet and pour 1/2 cup balsamic vinegar into it (you can make more if you are making a significant amount more dates than I did). Put over a high flame until it boils. Reduce the heat to medium high and let it reduce down, stirring occasionally. You can check the consistency with a spoon! It took about 15 minutes to come to my desired consistency.
After your dates are in the oven for 30 minutes, check them and flip them to cook on the opposite side. Cook about an additional 30 minutes or until they are as crispy as you would like. Take the dates out of the oven and let them cool a bit, then place them onto paper towels to get rid of some grease. Place them onto a plate and drizzle balsamic reduction.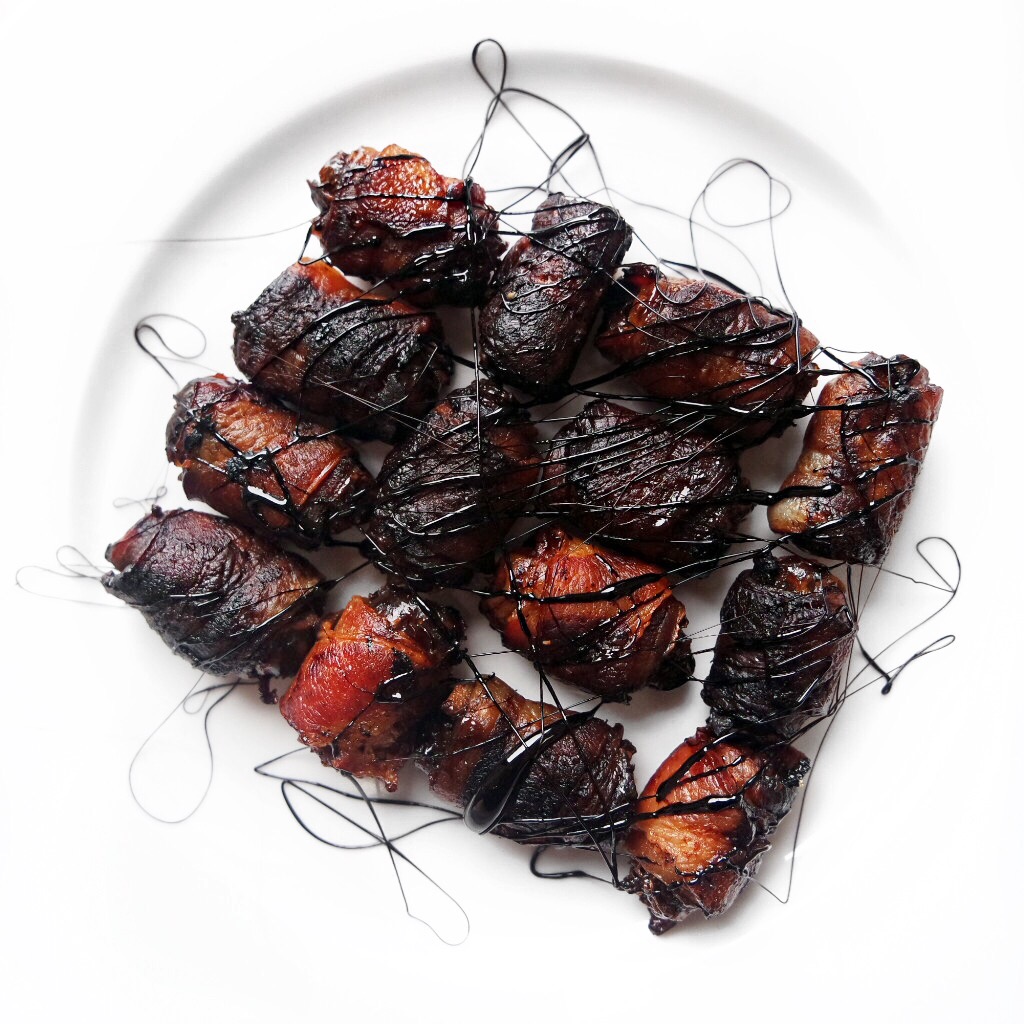 Farmer John Bacon wrapped Spiral Holiday Ham
Ingredients :
Preheat oven to 350 degrees F. Line a cookie sheet with foil. Place your unwrapped ham onto one of it's flat surfaces. Place a slice of bacon onto  the top of the ham, then place the next one onto the first one like a + sign. Then begin weaving as you place new pieces. This sounds kind of complicated, but think back to when we weaved paper strips back in elementary school. Haha! Try to tuck your slices under the ham so they don't curl up while cooking. Cook your ham about 15 minutes per pound, or until your bacon is crispy!
Farmer John Classic Bacon wrapped snickerdoodles
Ingredients :
1 cup butter, room temperature
¾ cup granulated sugar
½ cup light brown sugar
1 egg, plus 1 yolk
1 Tbsp vanilla
1 tsp baking soda
1 tsp cream of tartar
½ tsp kosher salt
1 tsp cinnamon
2¾ cup flour
Cinnamon Sugar Coating
¼ cup granulated sugar
1 Tbsp cinnamon
I used Cookies and Cups "perfect snickerdoodle recipe, with the above ingredients. Go ahead and follow the recipe and cook your cookies for about 8 mins before wrapping with bacon. Your bacon slices should be put onto a foil lined cookie sheet and cooked about 7 minutes before wrapping. When you take your cookies out of the oven mid-bake, let them sit a couple minutes to let them harden a little bit. You will still need to be careful with them, since they are still soft. Pick each up individually with a spatula. Place one slice of bacon centered on the underside of the cookie and fold the excess over to the top of the cookie, then place a second slice on the top of the cookie in the other direction (like an +) and fold the excess to the bottom of the cookie. Place the cookie back onto the cookie sheet (this will keep the bacon in place. Bake the cookies about 5 more minutes but you will need to watch them. I ended up cooking them longer than in the original recipe because the bacon grease seems to soften the cookies a bit. Cook until they are your desired crispness.