It was about a 5.5 hour drive, the longest of our day trips, to get to our place in Tuscany (we stayed in Barberino Val D'elsa), but really it wasn't so bad since the views were practically beautiful the whole time and the company wasn't too bad either 😉 When we got to our next Airbnb, the owner (Federica) was on site to give us a quick tour of our place as well as the grounds and terrace. She told us that there is basically unlimited places to explore and hike on the property. We got settled in, changed our clothes and headed out for a walk — happened upon some art installations, tons of wildflowers and beautiful views.
As the sun was setting we headed back to our place and popped our leftover lasagna into the oven. While the lasagna was cooking, we brought cheese, prosciutto and wine up to the terrace to enjoy with the rest of the sunset. I swear the sunsets in Tuscany last for multiple hours. It was past 9pm when the sky was actually dark. Once our lasagna was ready, we enjoyed it on the terrace as well. We called it a night pretty early, but cozied up on the couch for a bit first. We had a pretty early wake up call the next morning as we had a reservation at a winery about an hour away at 10:30am.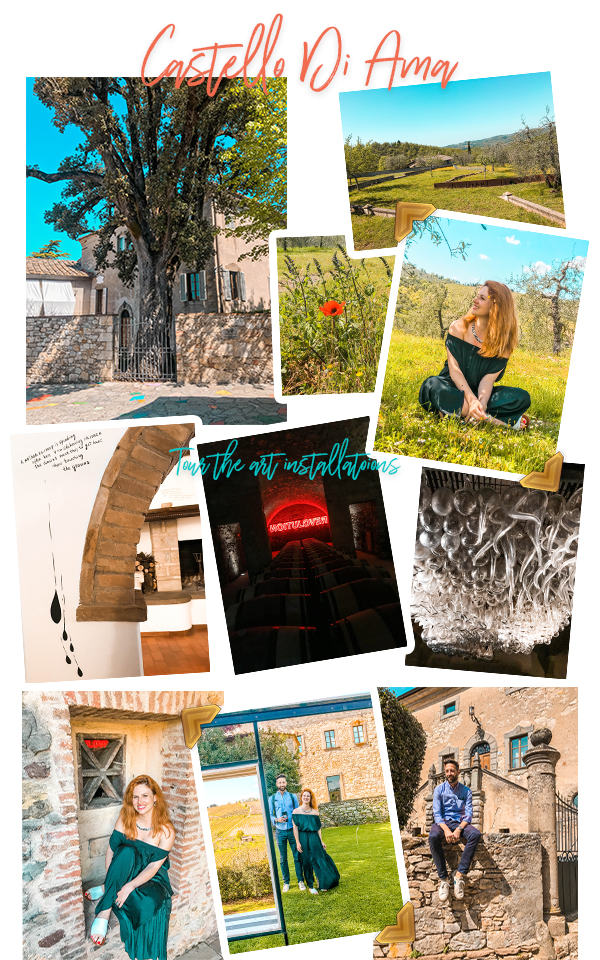 After a quick breakfast we drove to Castello Di Ama for a tour of their art installations and wine / olive oil tastings. If you would like to make a reservation for any of those things, click here, then the "visit and tasting reservation" link on the website — shoot a message their way and they will set everything up for you. I loved learning the history of the property and the Castle (the actual Castle building doesn't exist anymore on the property) as well as finding out more about each art installation. The wine and olive oil tasting was spectacular. I told our tour guide that it is RARE that I do a wine tasting when I actually enjoy all of the wines.
After our tasting we headed upstairs to the restaurant on property for lunch on the patio. Delicious pasta, meatballs and wild boar. A man that sat next to us on our plane to Italy suggested we must try wild boar. It was delicious! Dessert was a citrus cheesecake with blackberries as well as a couple small scoops of coffee ice cream on the side. We wandered the grounds a bit more to get some photos, then headed back towards our place to relax a bit — but not before buying a bottle of wine to take back and enjoy later.
Note: We made an effort to make 1 – 2 meals per day in the kitchen where we were staying, during the whole trip. Our go to breakfasts were toast with marmalade and fruit! Lunch and dinner varied depending on what meals we went out for!
In the evening we took another walk around the grounds of our place — found a creek, some deer and an old run down stone building. The sunset was gorgeous (again, duh), complete with lavender and bright red orange peeking through the olive groves and lighting up the grass below the trees. Afterwards, we headed to a nearby town called San Donato to grab dinner from a pizza place that Federica suggested to us called Palazzo Pretorio. We arrived around 8:30 with no reservation and they said it would be a 45 minute wait, so we walked about the town a bit, then headed back maybe 5 – 10 minutes later to make sure they got our name down (we didn't get specific very when we initially got to the restaurant and I was adamant that we go back lol). A table had opened up on the patio! We ordered a huge bowl of mussels, clams and other shellfish that came with bread to sop up the delicious juice at the bottom — to start. To follow, we shared a dish that was half calzone filled with ricotta & prosciutto and half pizza topped with mozzarella, sausage & mushrooms. We also got one of the pizza specials of the night – a margherita pizza with an egg and bacon. And of course glasses of the house red wine — ALWAYS order the house wine in Italy. Note: we were not disappointed by the house wine our whole trip. DO NOT order the house wine in America (usually).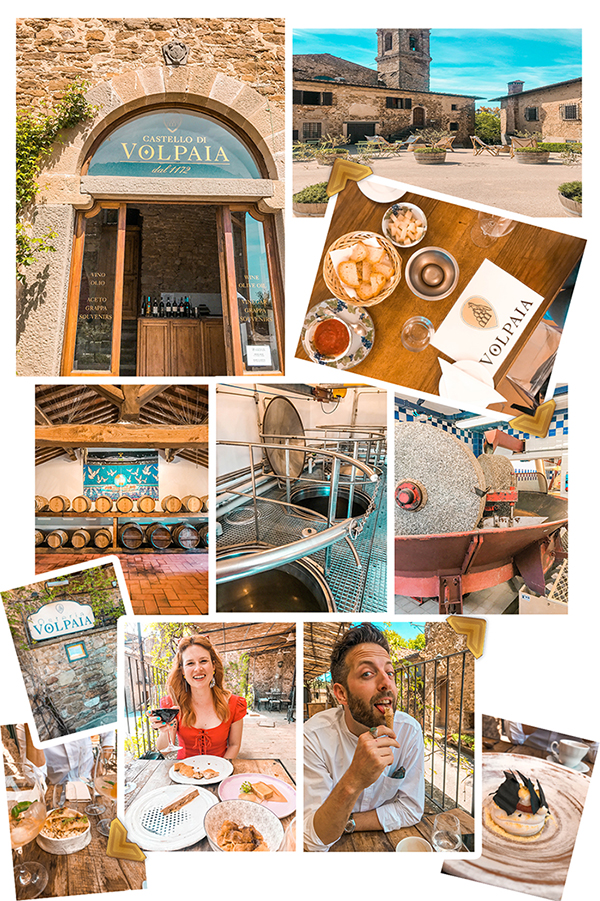 The next morning we slept in a bit, then figured out what we would do with our day. We took another one of Federica's suggestions, this time for wine tasting — located in a nearby village called Volpaia. We took a tour of the town as well as wine and olive oil production. This village has a vast history you learn all about on the tour – followed by wine and olive oil tastings of course (another tasting that I loved all of the wine). After our tour and tasting with our guide Marco, we headed to the restaurant attached to the building. The chef is Colombian, so a lot of the dishes are a fusion of cuisines. They were all presented with gorgeous presentation and were beyond delicious.
On our way back to our place we stopped in Radda, another nearby town to check out an Alimentaria, grab some food to prepare for dinner that evening as well as breakfast the next day.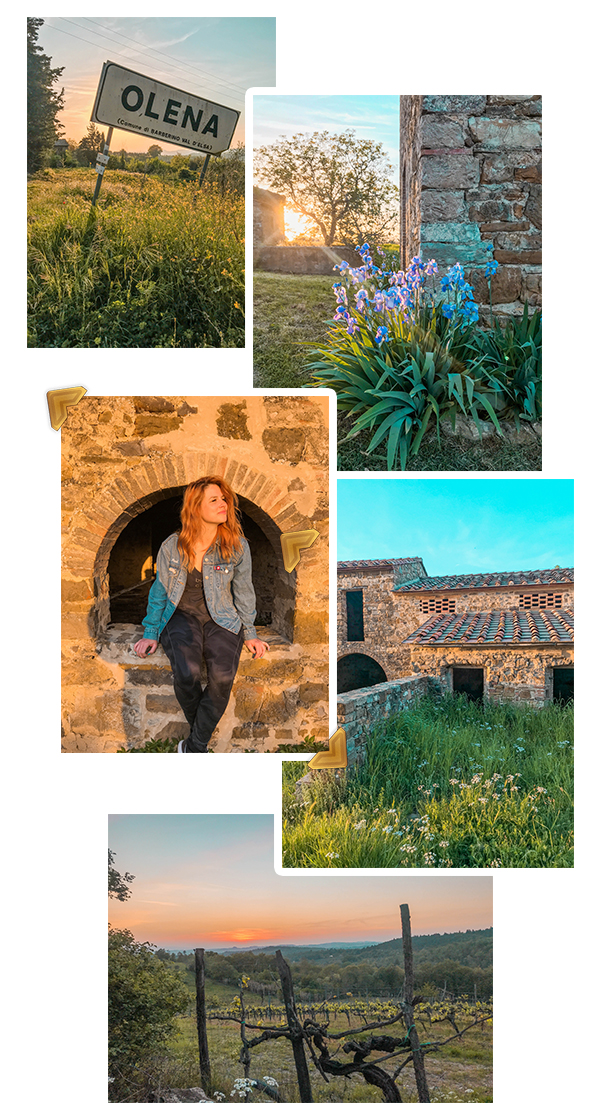 On our last day in Tuscany, we soaked up the quiet and headed out close to sunset. There is an abandoned town, called Olena within walking distance of our place. We drove to the beginning of the windy road that leads to our place and parked there, then walked the rest of the way. The town was definitely a bit eery. Its crazy because there are definitely some decrepit buildings, but also some of them are obviously still lived in. One of the places had an elevated walkway, where a dog was laying and staring down at us. Another house was more well kept, and we even saw someone roaming around. We headed out from Olena and watched our last Tuscan sunset of the trip. We called it a night and were off to Bologna in the morning and a brief stop in Florence on the way!
Happy Traveling,

Corey, Miss Foodie Problems