I have been a HUGE fan of wine country since the first time I got to travel to Sonoma and Napa! My only complaint? The drive from LA can be pretty brutal. Can we talk about the traffic in the Bay Area? I'm pretty sure it's worse than LA…
Now you can see why I was so excited to hear I could fly into Concord, CA on a private jet in under an hour. Jetsuitex currrently flies Las Vegas as well, and soon to be San Jose. Oh and you can arrive 15 minutes before your flight, show them your ID, get your boarding pass and hop on board. No long security lines or nonsense!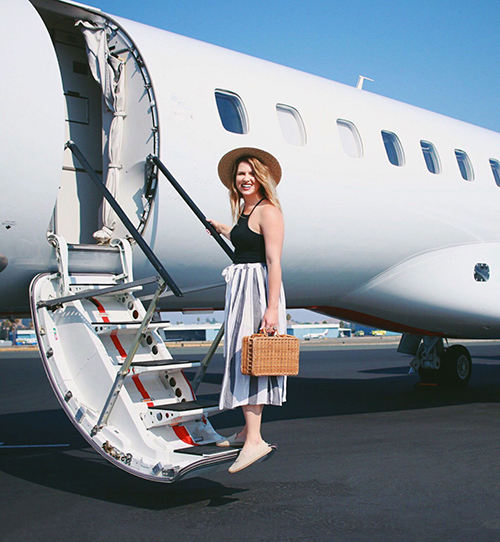 Once we got on board I noticed how spacious the jet was for only being a 30 person jet! Oh and there are more perks. An easily accessible outlet to charge your phone, free Wifi above 10,000 feet, free alcohol and actually yummy snacks. No basic peanuts or stale pretzels on this flight! 😉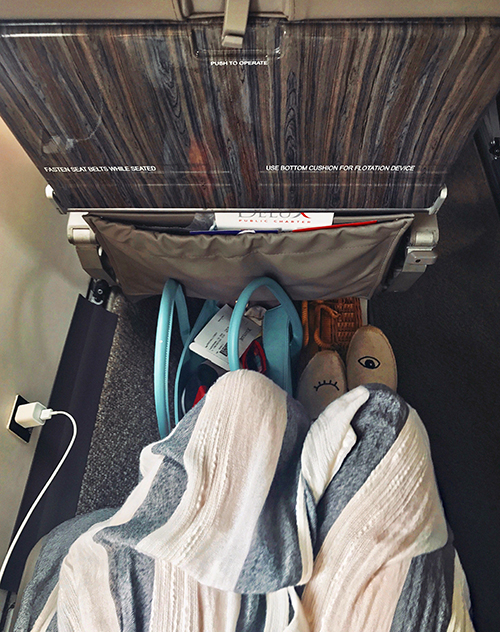 Obviously we were heading to wine country to do a little wine tasting. Which Winery curated our stops for the day. I got to chat with one of the owners, Gabrielle, who is super knowledgeable about the wineries in the Napa area, but she informed me that she has representatives in 47 countries! The website has a trip planner tool to plan and track trips specific to your wants and needs, along with the ability to bookmark wineries and create custom collections of wineries so you can keep track of all your wine country experiences. You know it can get hard to keep track of where you drank that one wine that you absolutely loved after you're 4 wineries deep.
First stop: Round Pond Estate
I immediately fell in love with this place. We were welcomed by the winemaker, JJ (who ironically used to be the winemaker at the second winery we stopped at) and a glass of rosé.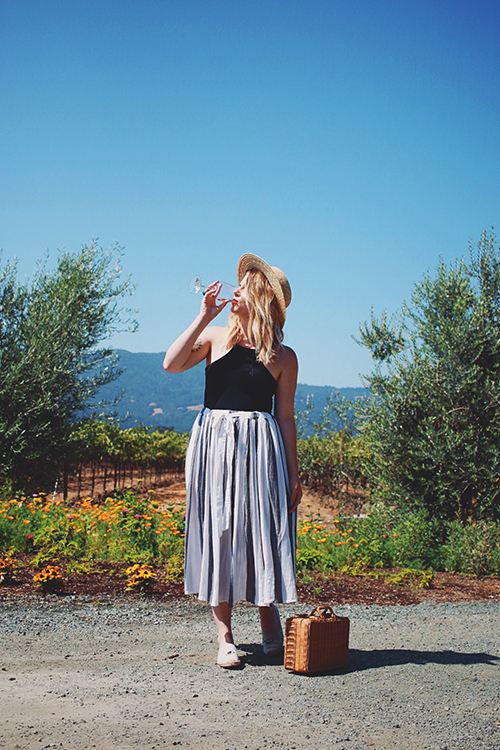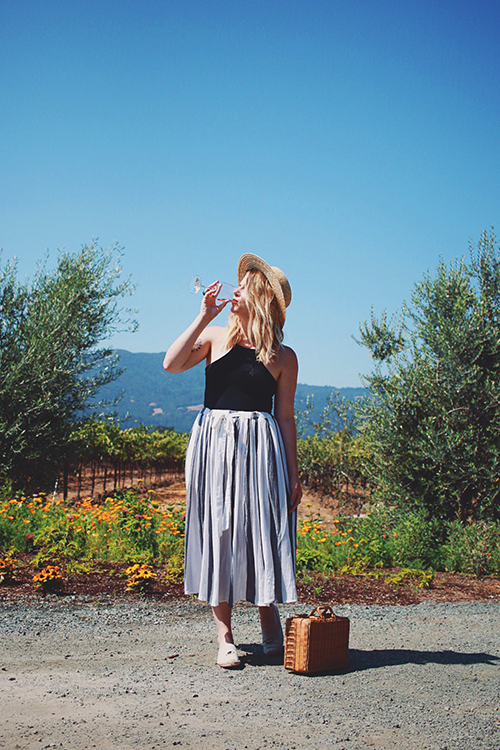 We walked through a room with wine barrels, through the garden, where I was drawn to the (at least) 7 foot tall cherry tomato plant. I grew up in a garden full of tomato plants, and various items my dad was a pro at nurturing and helping thrive. Sampling these delicious tomatoes definitely brought me back!
All of the items grown in their garden are used in their restaurant on the terrace, which has actually been named one of The Best Winery Restaurants in America by Food & Wine Magazine.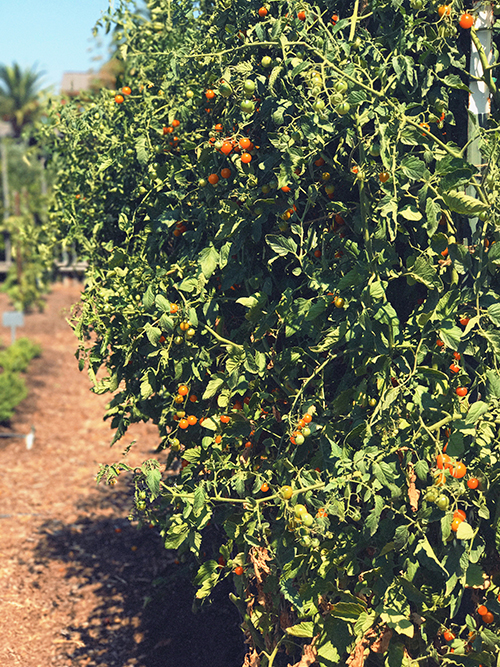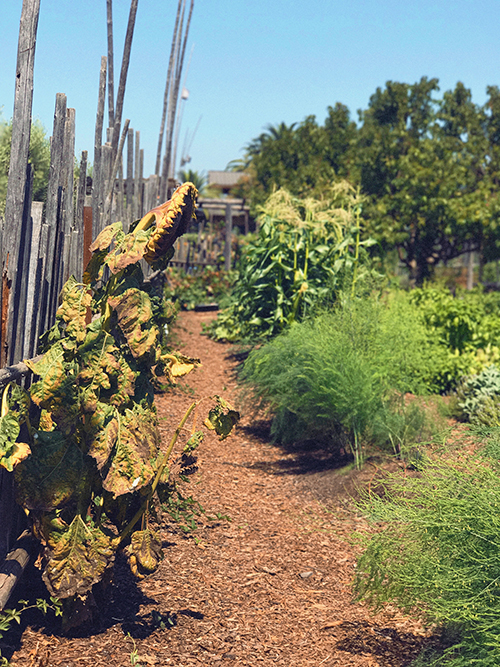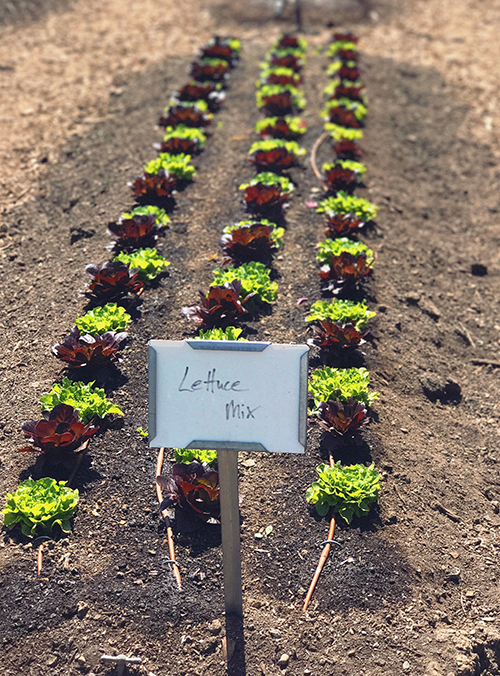 After taste-testing the tomatoes we headed out to their gorgeous patio where we were welcomed with more wine and a gorgeous charcuterie and cheese board. You KNOW I was in heaven.
How gorgeous is this outdoor space? I could have sat, sipped on wine and eaten cheese and charcuterie until the sun went down. I'm already planning on returning soon.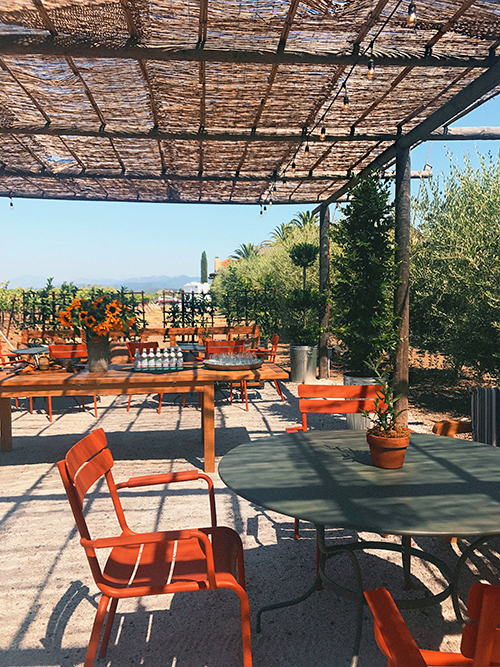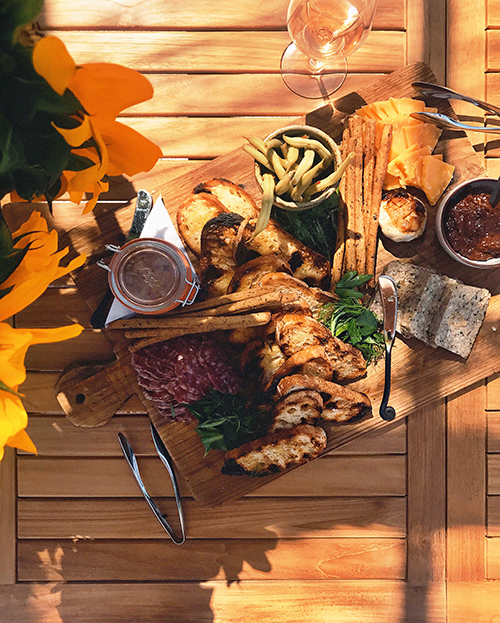 Next up? Lunch, of course! We tasted different vinegars and olive oils that they also make on property (right across the street). My favorite dish from our lunch was definitely the flank steak, but EVERYTHING was so fresh and delicious!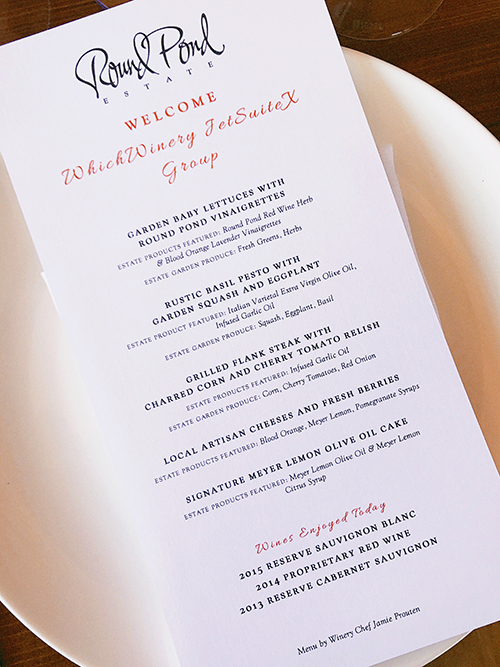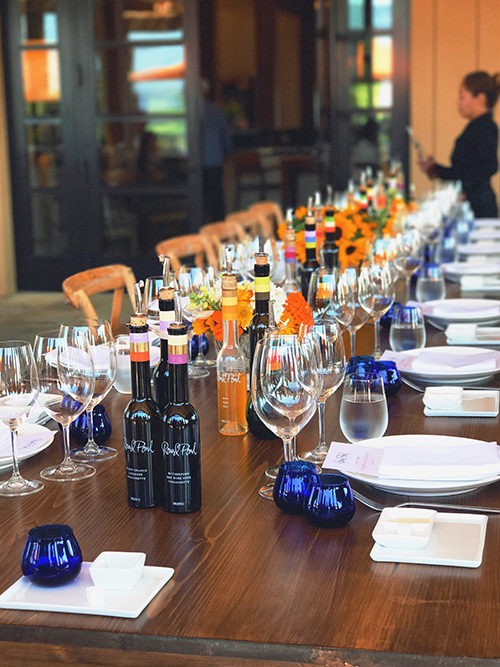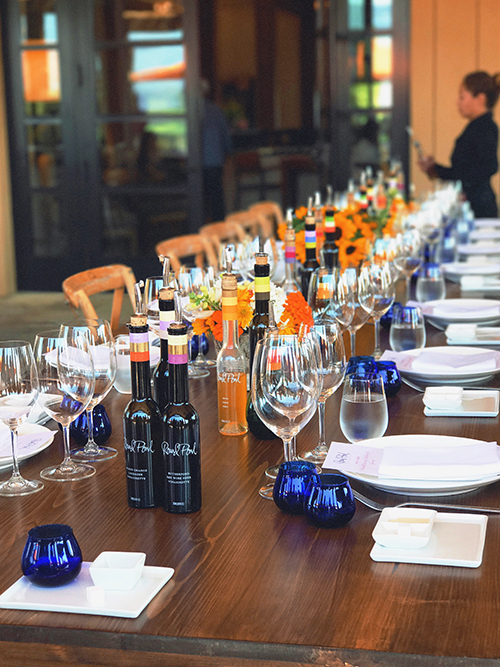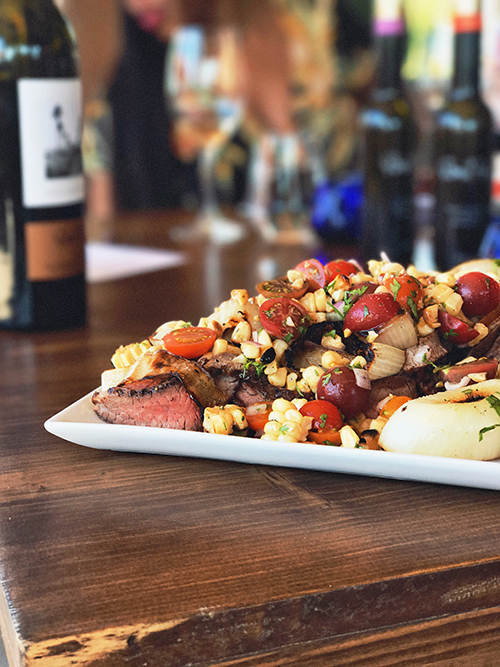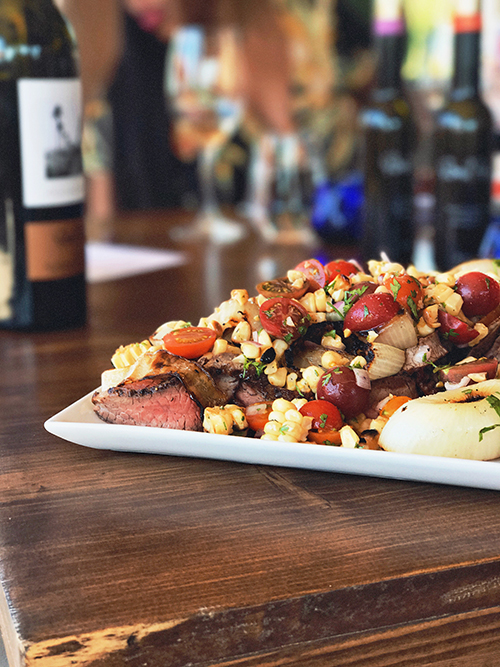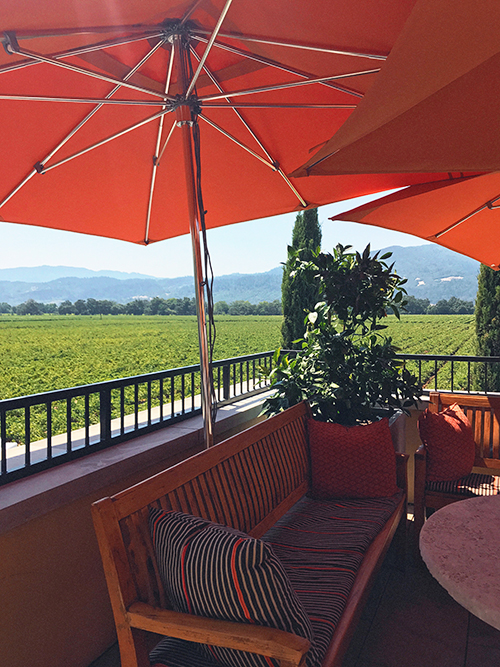 Next Stop: Alpha Omega Winery
Alpha Omega was so welcoming and informative. We toured the grounds and got a peek into some of the more private tasting rooms, while we sipped on some of their wine.
As gorgeous as the rooms inside the winery were, I am always excited to be able to eat and drink outside, especially among the vines! There was a table set for us with 4 wine glasses and more cheese.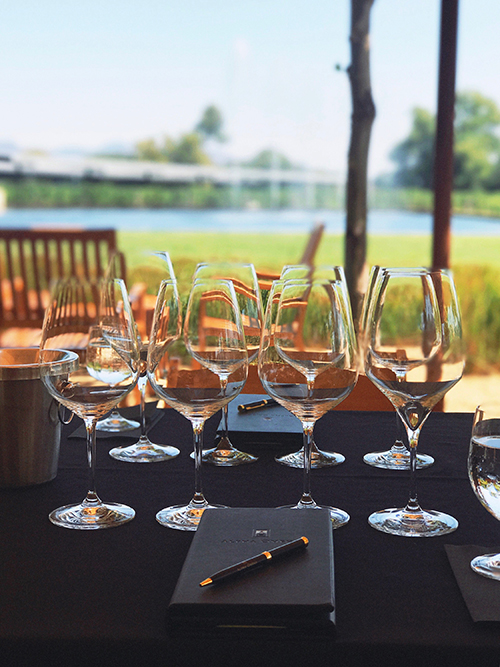 What an whirlwind experience! I love that I gain a little bit more knowledge every time I go wine tasting and meet people in the wine industry. I've found that their passion is always so strong. I am so happy to have found a way to head to wine country, without having to commit to a 6+ hour drive. I strongly suggest you check out the Jetsuitex website. Their prices range from $129 – $350 round trip (and obvi you don't have to return the same day like we did)! I will definitely be utilizing it on my next wino trip or even for Bottlerock next year!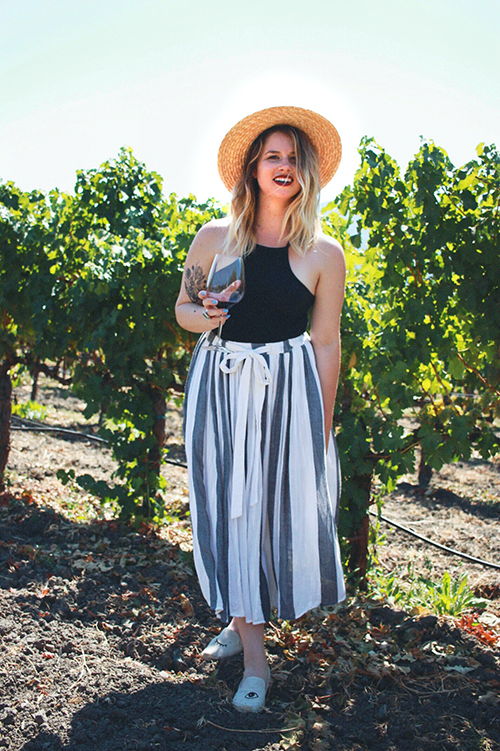 I decided to link the clothing items that are still available below! I am currently obsessed with "smoking slippers" and "boater hats".
Happy Traveling & Sipping,
Corey, Miss Foodie Problems