From Bologna, we headed to Cinque Terre, but stopped in Parma on the way. We toured a random Prosciutto factory (If you want to do this too, definitely do more in depth research than we did for this, because we caught the guy off guard who worked there. He gladly gave us a bit of a tour, but I am sure there are more organized ones.) Afterwards, we grabbed lunch nearby at Ristorante Pizzeria Al Posta — we ordered pasta, a sandwich, 2 glasses of wine and 2 espressos for about 15 euros. It was a great gem to find on the road, set on an adorably quiet street (aside from the locals singing at the bar across the street haha).
The drive down into Cinque Terre is pretty magical. This part of Italy is basically the Italian version of Big Sur, California. There are 5 separate villages that make up Cinque Terre. We stayed in a town called Monterosso al Mare because it has a pretty big sand beach and a gorgeous old town area to explore. Our first evening, we walked along the coast to old town and explored a bit before dinner. We walked along the gorgeous streets lined with colorful old buildings and wandered into a stunning black and white striped church — Church of San Giovanni Battista. For dinner, we found a pizza place since we were both craving pizza. Pizzeria La Smorfia was super crowded, but we got lucky with a table outside right away. My favorite of the 2 pizzas we ordered was one with truffle cream, gorgonzola, mushrooms and ham. We also ordered a liter of wine and a dessert calzone with Nutella and mascarpone. HOLY YUM!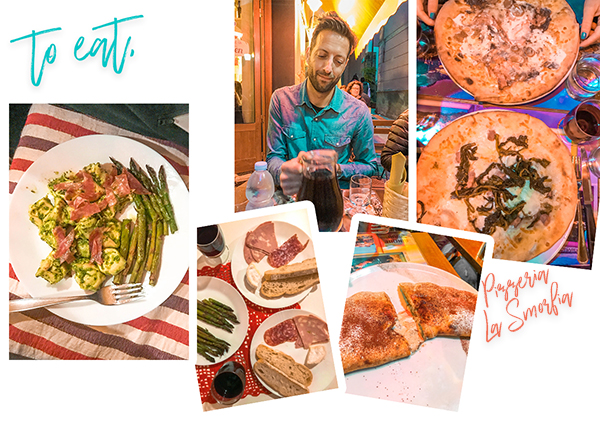 The couple eating next to us spoke French so Randolph chatted with them a bit. They warned us not to head on our hike the next day too late in the day because it took them a long time with how crowded it was at 10AM. We ended up going to bed pretty much right after we got back from dinner since we wanted to hike from our town to the next early the next morning. It was perfect! We only passed a total of about half a dozen people on the way to Vernazza and the views were spectacular. We happened upon a cat village on the way and it was so cool taking in all of the farmland and sea views. The wildflowers were also gorgeous! When we arrived in town we grabbed a quick bite, explored a bit, took in the view, then headed back to town on the train.
We decided to take it easy most of the rest of the day and it started to rain sooner than we expected so we were definitely grateful to not be on the hike anymore. We headed out for a walk in the rain, umbrella in hand to explore the other part of our town that we hadn't been to. We found a private boat club and a tower.
We made dinner at home and stayed in to watch some Netflix. Tortellini with pesto, wine + some leftover calzone dessert from dinner the night before.
The next morning, we slept in a bit since it was raining. We didn't want to let the day waste away just because of the rain, so we found a nearby town to take the train to. Chiavari is located in the city of Genoa and is known for its porticos, which made it a lot easier to enjoy the rainy day. We grabbed a burger and fries at Circolo Dello Sport. The food was pretty good — though we were starving and it was all that was open at the time. Afterwards, we walked around exploring the town bit, then grabbed some sweets and coffee from Gran Caffe Defilla.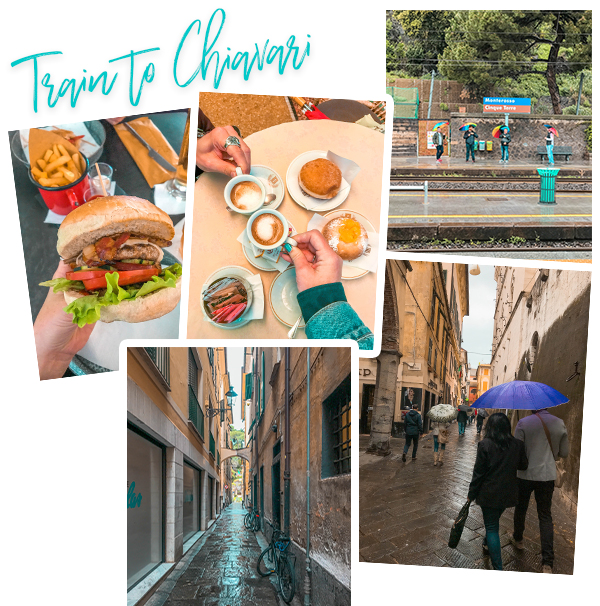 I really wish we would have had better weather during this part of the trip so we could get another hike in, but we made it work and still enjoyed ourselves! I will just have to make my way back to Cinque Terre one day. Next up, Roma!
Note: We weren't huge fans of the place we stayed so I'm not linking it!
Happy Travels,
Corey, Miss Foodie Problems