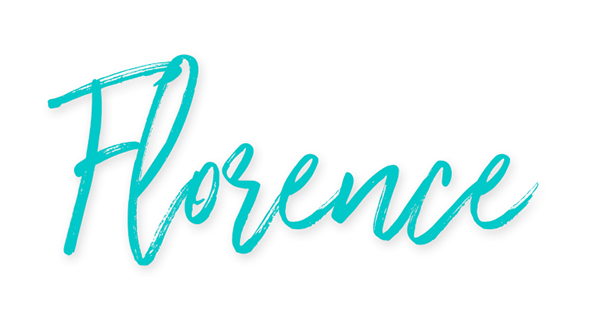 We stopped in Florence, Italy on our way from Tuscany (click through for that travel guide) to Bologna, but definitely found some gems while we were there. I recommend parking in the underground lot below the central market, especially if you have all of your belongings in the car. We wanted it to be as secure as possible.
Santarosa Bistrot: was the perfect quiet spot for lunch. We shared a salad, gnocchi, sandwich and washed it down with rosé! After fueling up, R took me on a tour of a few of the landmarks in Florence.
Ponte Vecchio: A bridge over Arno River which still has shops built along it. The first documentation of the bridge dates back to 996.
Duomo Di Firenze: A gorgeous part of the Florence Cathedral — we took in the view from outside. You can also line up to go inside, but it wasn't on the top of our list and the line was LONG. The cathedral took 140 years to complete and the dome is the largest masonry dome in the world. I definitely suggest looking up the rest of the history; it's extremely interesting.
Loggia De Lanzi: This outdoor sculpture garden is one of the first open air exhibition areas in the world.
I also grabbed some gelato nearby. Unfortunately I have no idea what the place was called, but thankfully there are a ton of places and you can find one on just about every street.
After an afternoon in Florence, we continued on our way to Bologna. When we got to our Airbnb, the owners warned us about driving within the city walls. We'd already gone into where we weren't supposed to, but found a solution by paying a local parking lot to hold our car the whole duration of our stay. We were able to take the car out once for a trip outside the city without paying extra. I am unsure on the technicalities with this, but just wanted to tell you to be aware!
Sfoglia Rina: A perfect spot for lunch, this pasta shop has been around for 50 years. Check out our order below. You write out what you'd like onto a piece of paper for them to take and prepare. You can also order fresh pasta and lasagna to take home. It looks like they also have pasta courses!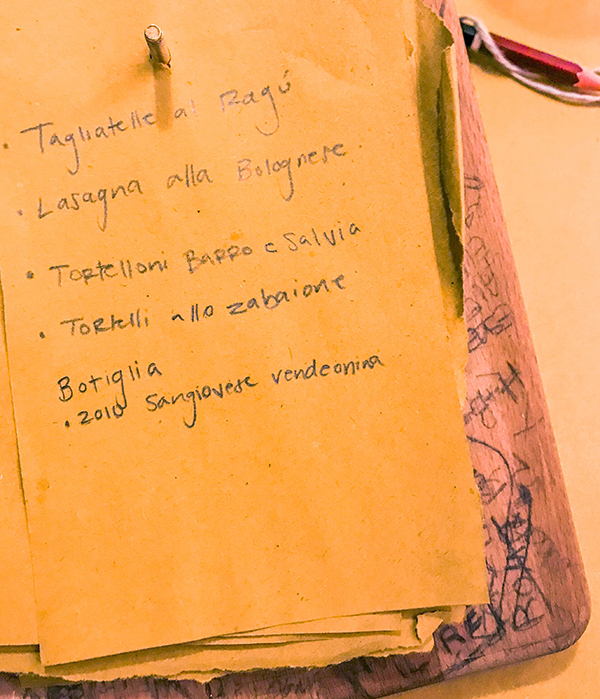 La Sorbitteria Castiglione: Perfectly creamy gelato, delicious classic Italian flavors. You can't go wrong with your choices. I was told I had to try the dark chocolate flavor!
Bar De' Marchi: This bar is located in front of Basilica di San Francesco. We grabbed 2 Aperol Spritz and enjoyed them outside in the courtyard in front of the gorgeous church with the rest of the crowd, before heading to dinner. Can you spot the moon in the photo of the basilica below? Isn't she gorgeous?!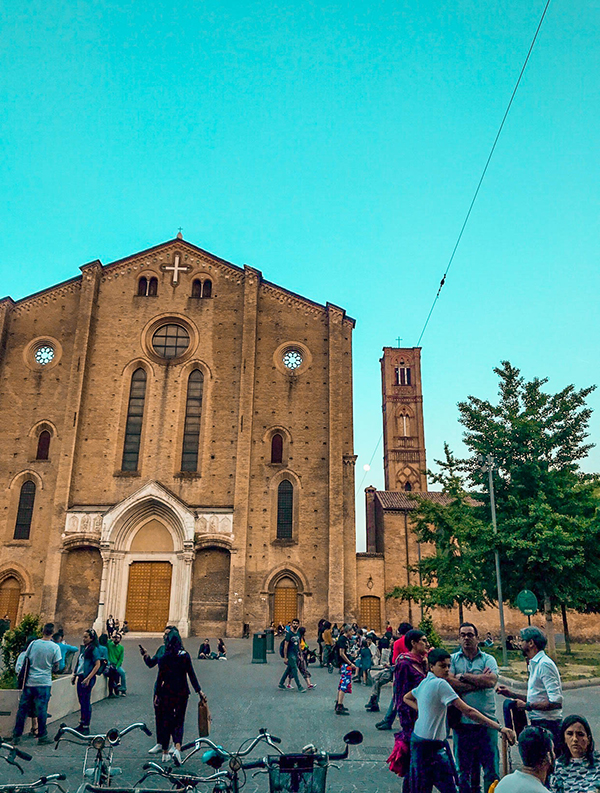 Salumeria Simoni: If you want meat, cheese, and wine — this is the place to go. We ate here twice in our 3 day leg in Bologna. Must order: large meat and cheese platter (duh), panini, parmesan flight, wine.
PRO TIP: I suggest getting the stracchino cheese on your board, so you can slather it all over the panini. You're welcome.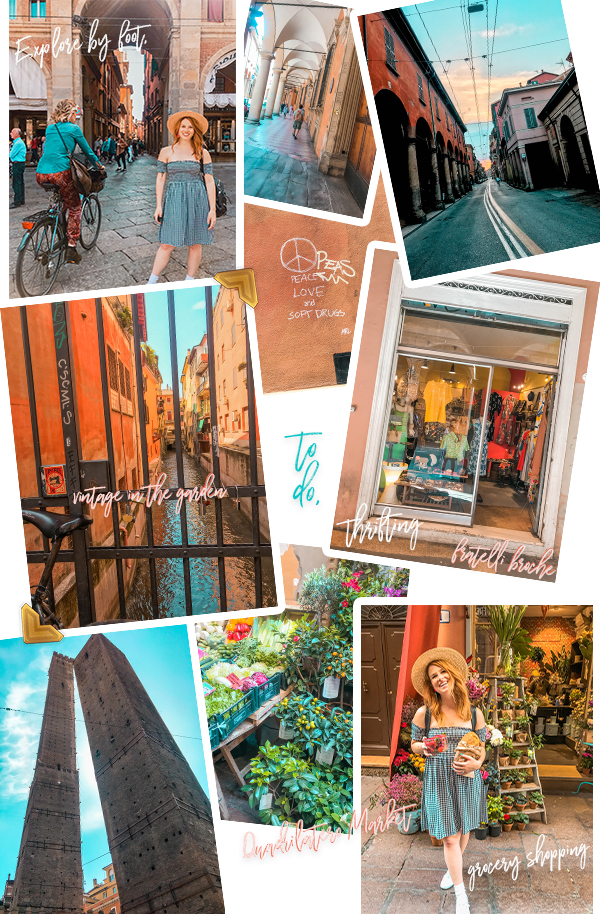 Take to Bologna's streets on foot. We found a couple cute secondhand shops near our Airbnb. I brought home a dress & scarf from Vintage in the Garden and a couple pairs of earrings from Fratelli Broche! There is so much to see in this city — from restaurants, to markets, to towers, and people.
Quadrilatero Market (located right by Salumeria Simoni): A street of shops and stands! We grabbed bread and fruit for our breakfasts. I am a HUGE advocate of preparing 1 – 2 meals per day wherever you're staying. I mean I love eating out, but this saves money & it makes the city you're in feel a little more like home! I think it's also a fun activity, to prepare meals together.
Two Towers: Bologna is know for its towers. Families used to build towers as a competition for who was more powerful. These towers were built by 2 different families. Yes they are leaning! You can go inside of one of them, but ended up only observing from outside.
I love how alive with energy Bologna feels, with everyone out and about. There are so many bars to check out and the streets are full of people into the wee hours of the night.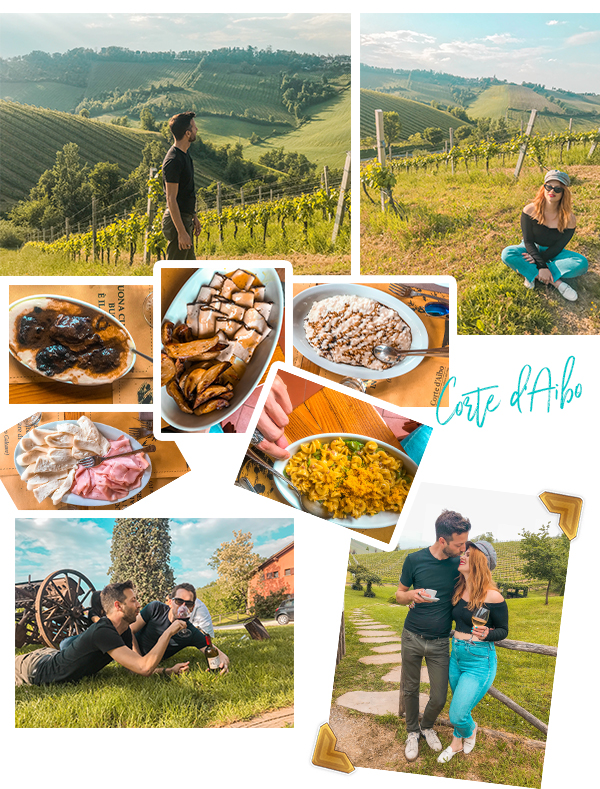 Our last day in Bologna we headed outside of the city to meet up with one of R's friends and his former classmates for a reunion event at a Agritourismo called Corte d'Aibo. We had a gorgeous and delicious multi-course lunch complete with wine. The property is stunning! R and I wandered through the vines and took it all in. We met back up with everyone and spent a lot of time outside, drinking and chatting. It began to rain and was honestly so damn gorgeous to see! After it cleared up, everything was back to regularly scheduled programming. You can also book Corte d'Aibo to stay overnight. I definitely intend on returning one day!
We eventually headed back to the city and to Simoni for our second meal there. The next morning we packed up and headed on our way to Cinque Terre, but not without stopping in Parma first.
Happy Travels,
Corey, Miss Foodie Problems