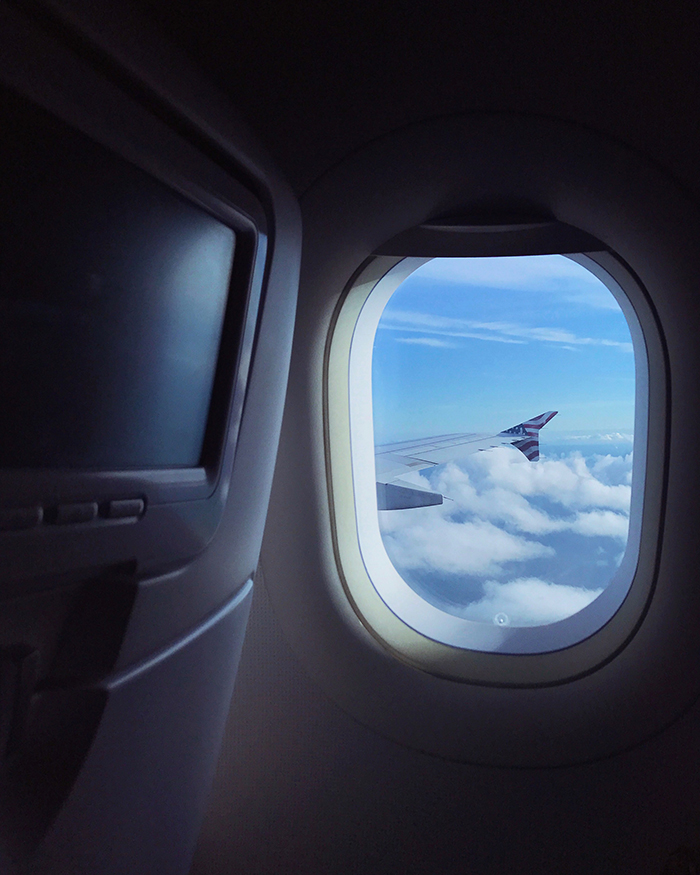 DAY 1
Step 1: Take a redeye.
We left on a Thursday night after both my mom and I worked during the day, rushed home, finished packing and headed to LAX. This being my first trip to NYC (I KNOW, ridiculous) and it being my mom's first time back in years, we wanted to take advantage of all of the time we had. We arrived around 8AM to JFK airport, took a lyft to our hotel (I napped on the car ride there), dropped our bags off, then off we went!
Hotel: Archer Hotel.
The location, in Midtown Manhattan, is perfect whether you want to walk, take a lyft / uber / taxi or brave the subway. We did all of the above, but the subway quickly became my favorite mode of transportaion.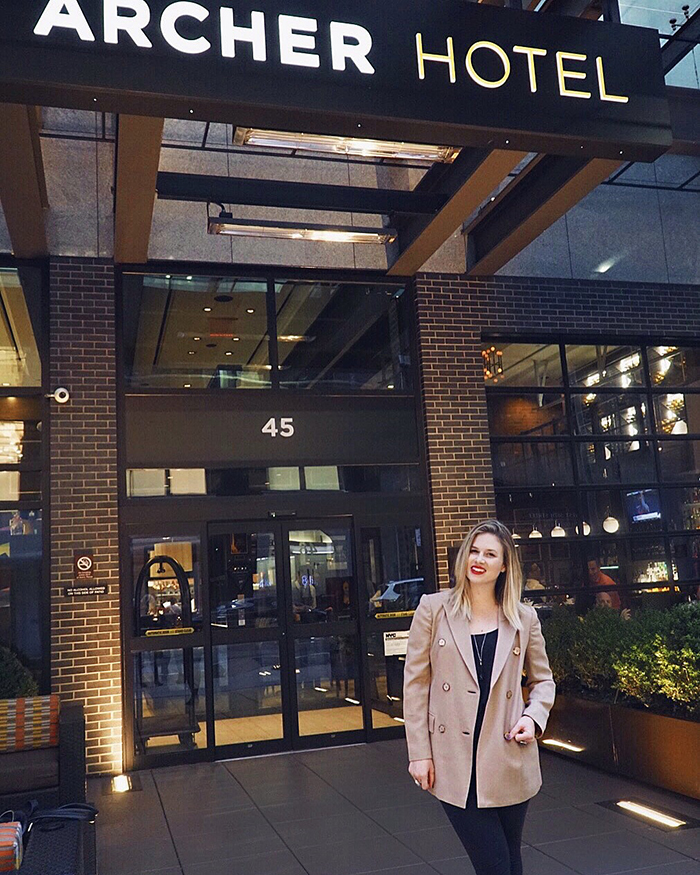 EAT!
I plan most trips around where I'm going to eat, so obviously the next step was to grab fuel for the day. We headed to Union Fare Smashbar. Smashbar has a slew of delicious toasts and pastries to choose from. Naturally I tried ALL of the croissants because, pastries, well pastries and I have a special connection.
Croissants (in order of my deliciousness preference): creme brûlée, birthday cake, red velvet, fruity pebbles, matcha
I am still thinking and talking about that creme brûlée one (video above), crunchy hard sugar outer layer, creamy custardy filling. YES.
Smashes (full menu below): I tried number 1 and 4. I preferred 1, because RICOTTA and honey.
Bonus: The interior of Union Fare is gorgeous and ultra-instagrammable.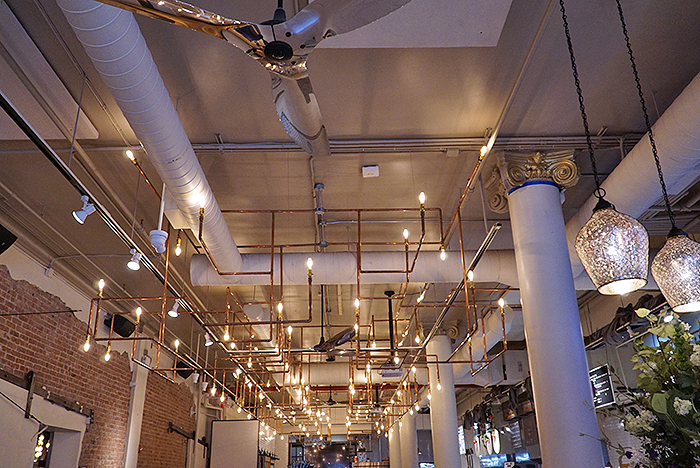 9/11 Memorial Museum:
There are different ways of approaching taking in the museum and the surrounding areas, with tons of tours to choose from. We went the route of just purchasing tickets to the museum itself ahead of time. You choose a time slot and go in for however long you'd like. It's possible to spend a whole day inside and you still won't see everything. I definitely recommend this, especially if you remember exactly what you were doing that day in September 2001, like I do. This was a very moving experience, especially since you're literally walking around where the events occurred that day.
Bonus photo opp: The Oculus.
 This building is right near the Museum and is so stunning to look at and snap a few photos of. I didn't end up going inside, but apparently it's a train station.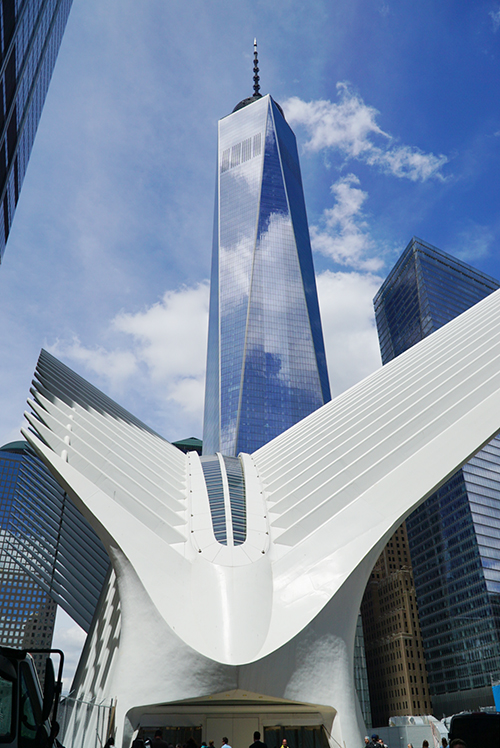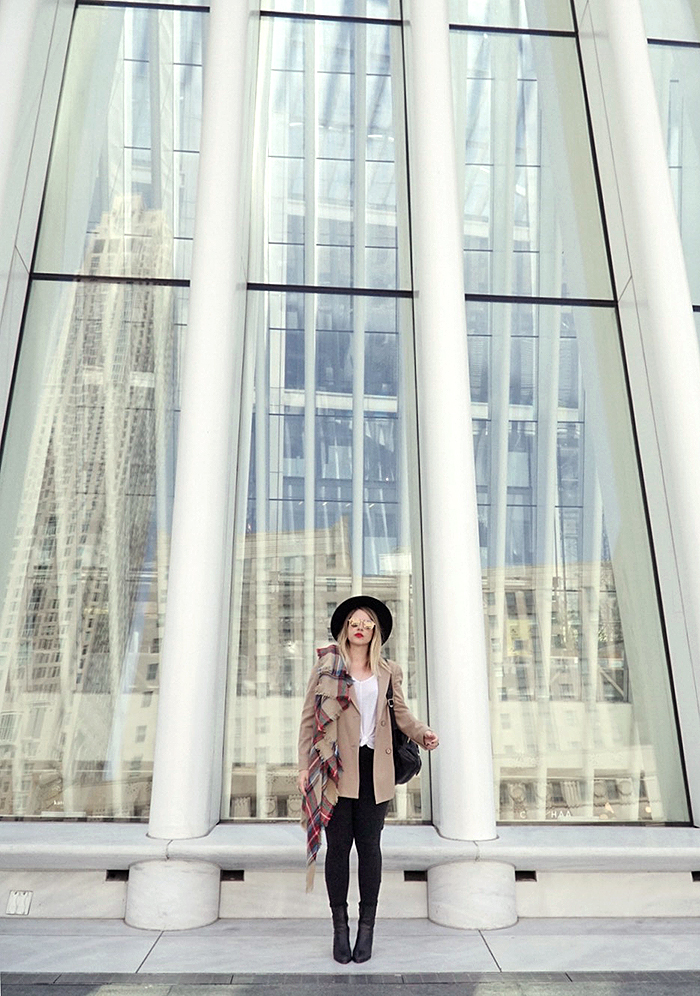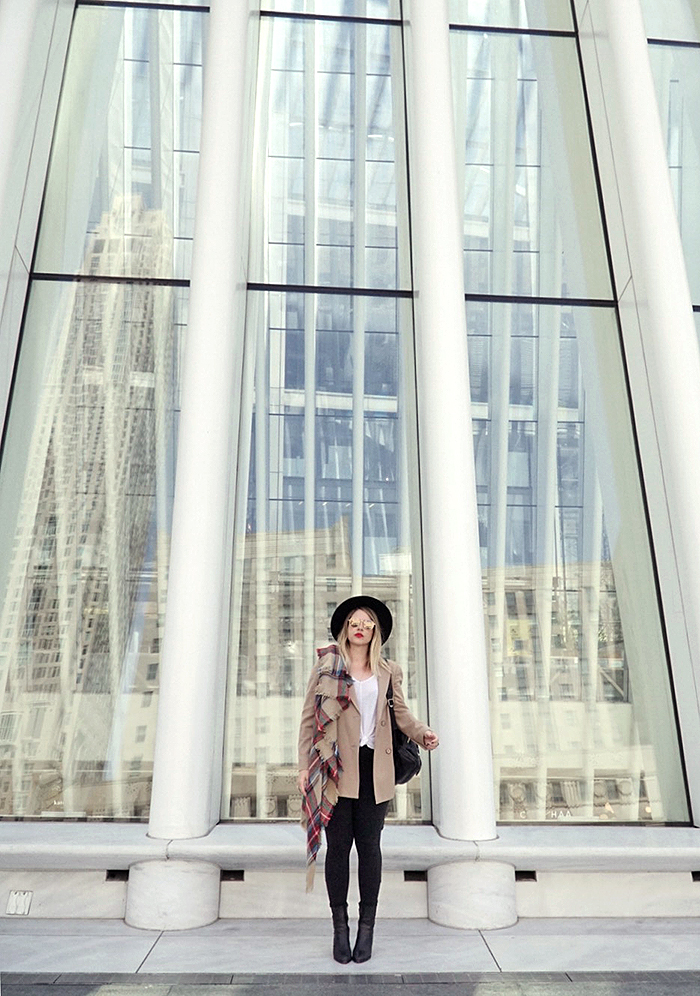 Aside from the 9/11 Memorial itself being emotionally draining, we were definitely running low on energy by this time, so we decided to head back to the hotel for a quick nap. But first, behold the photo of me realizing that the Empire State Building was right outside our window at Archer Hotel. Also, how cute are the slippers? They also have a pair with mustaches on them.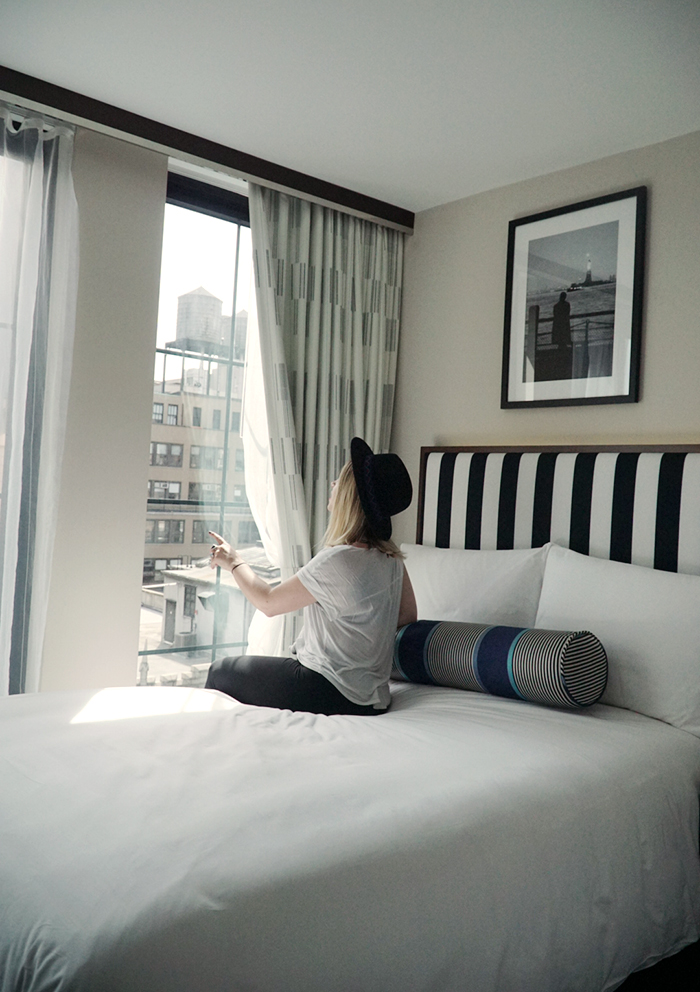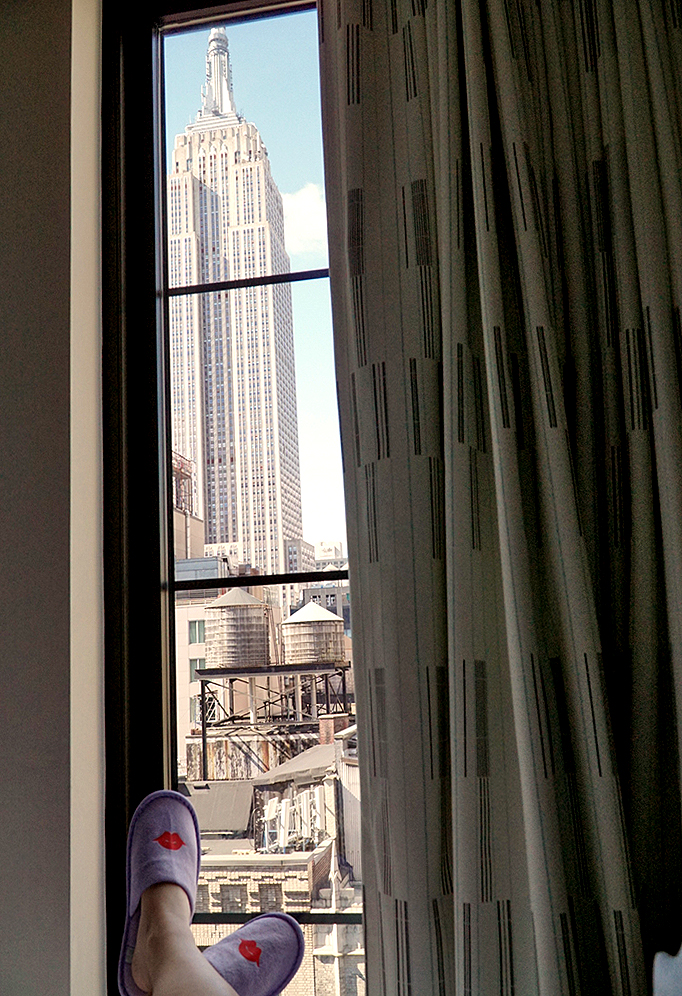 Energized from our naps, can you guess what's up next? Obviously more food! We headed downstairs to the Lobby floor of Archer Hotel for an early dinner at Charlie Palmer Steak. HOLY YUM!
What we ordered: housemade charcuterie, fish n' chips special, American wagyu ribeye steak, gnocchi with pea tendrils / cheese /morels, chocolate + pistachio dessert
My favorite item was the steak. It was definitely one of the best (if not the best) steaks I've ever eaten. You know that melt in your mouth marbling and perfectly cooked medium-rare? SO GOOD.
Northern Lights: rye, amaro, walnut bitters, smoked orange peel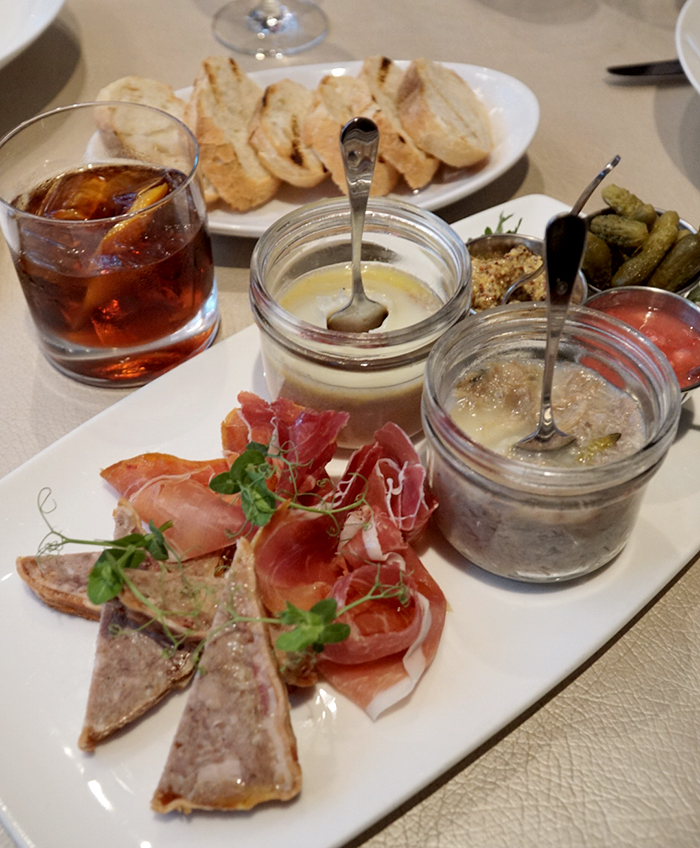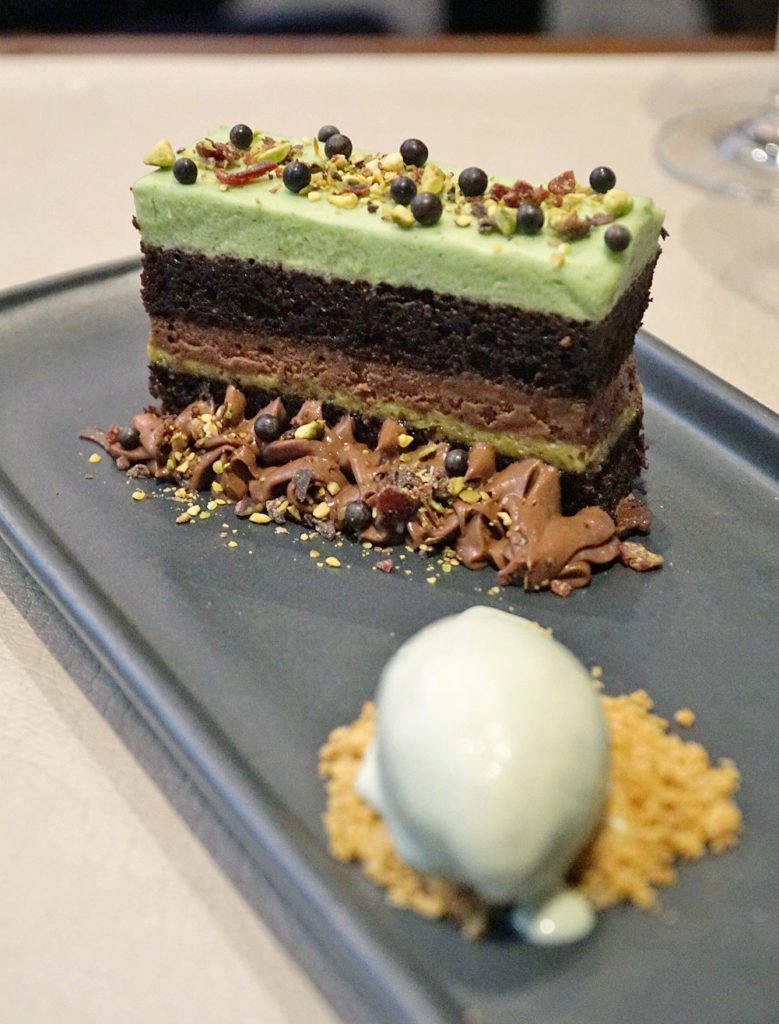 After dinner, I took the subway to Brooklyn to meet one of my favorite foodie friends, Emily of @foodloversdiary. I met her through instagram a couple years ago. She's one of those friends you immediately click with. She eventually moved away from LA and to NYC, so I obviously had to meet up with her while I was in her new city. We went to Have & Meyer, the perfect balance between sexy and chic "natural wine bar with organic, biodynamic wines". They also serve Italian food. We stuck with the cheese board as a snack since I had just finished the above steak feast. The guys working the place are super knowledgable and even have Italian accents. Swoon. Anyways, back to being knowledgable — you tell them you want a spicy red wine, well they've got just the right wine for you, probably at least 5 perfect wines to choose from and they will insist that you try them all. They will also encourage you to try some wines that you wouldn't usually drink. Basically we sat there for a couple hours, chatted, munched and drank to our hearts' content.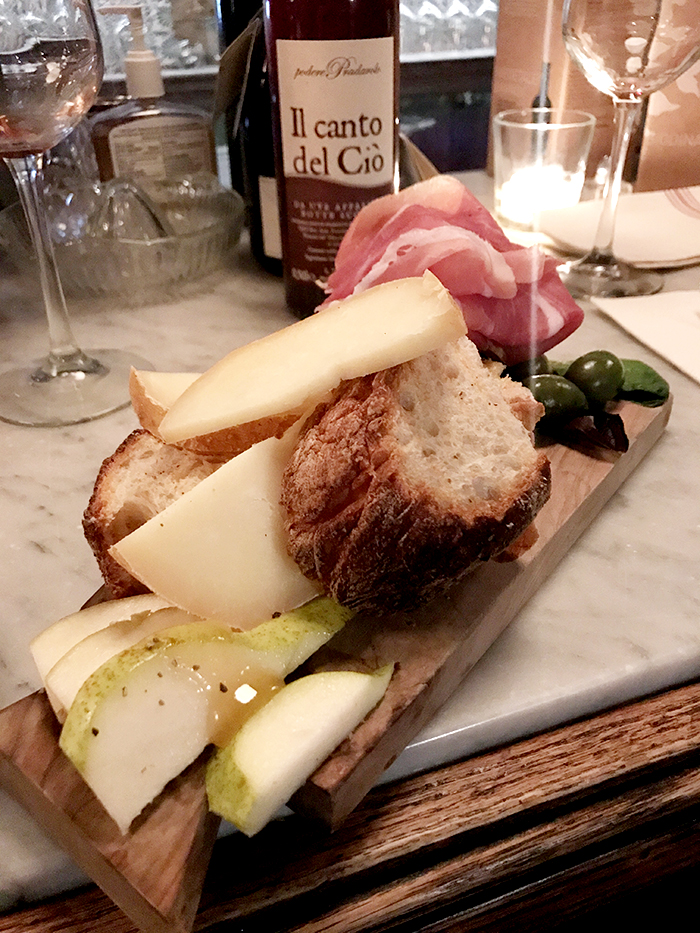 DAY 2
As you could probably tell from the above events, drinking a whole lot of wine until all hours of the night, a bit into the morning, I may have felt a tad bit hungover the next day. My mom and I headed to the most adorable brunch spot called, L'Amico. I tried my best to pretend I wasn't feeling as nauseous as I actually felt and take it all in.
What we ordered: our bread (a little more detail on this one below), lemon ricotta pancakes, fennel sausage and eggs pie (pizza)
My favorite item was OUR BREAD, whipped sheep's milk ricotta, acacia honey, dried cherry, marzipan. Pretty much all of the ingredients on it are 'must order' trigger words for me. HOLY YUM.
L'amico is connected to one of the Kimpton Hotels and the decor throughout, even in the bathroom is a lot of fun. Definitely wander around a bit (and scroll to see a taste).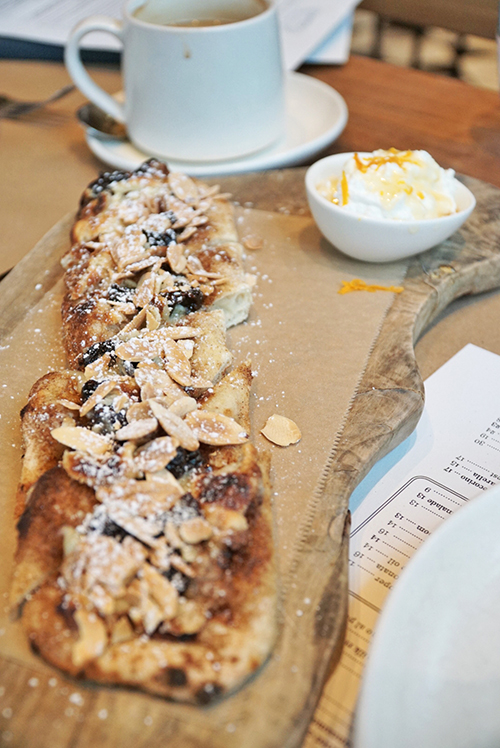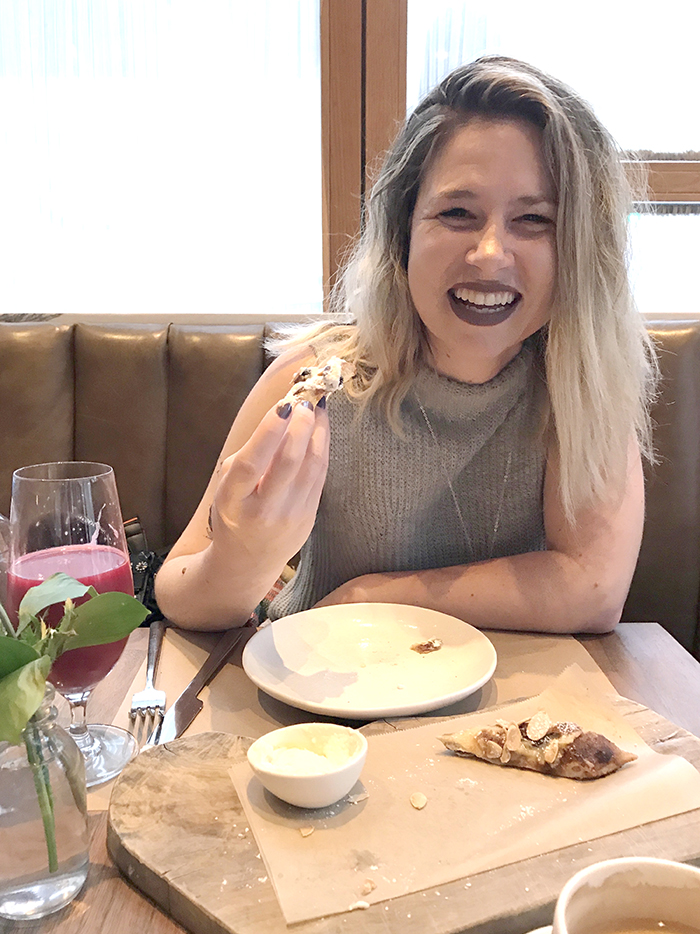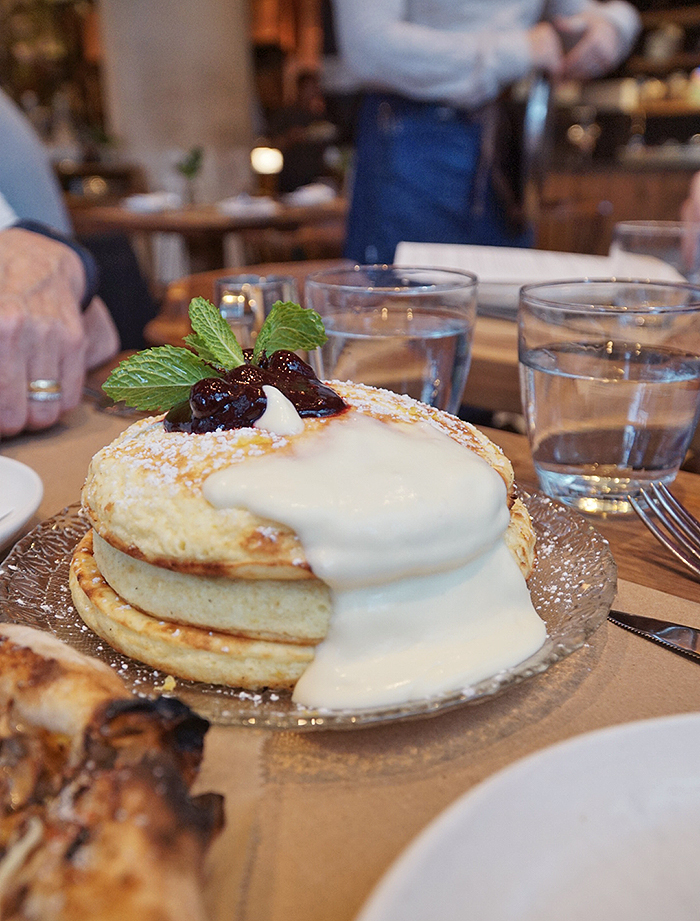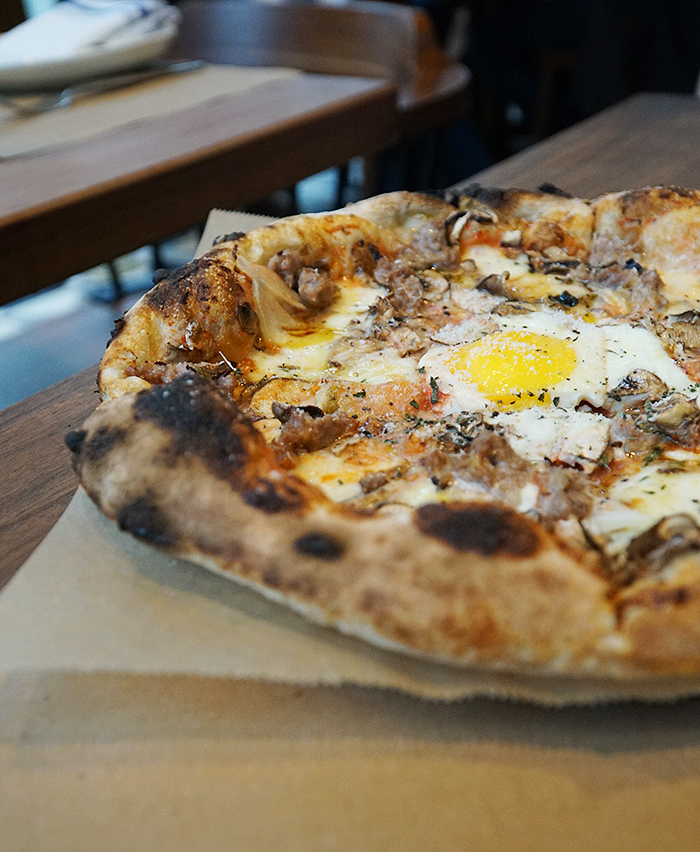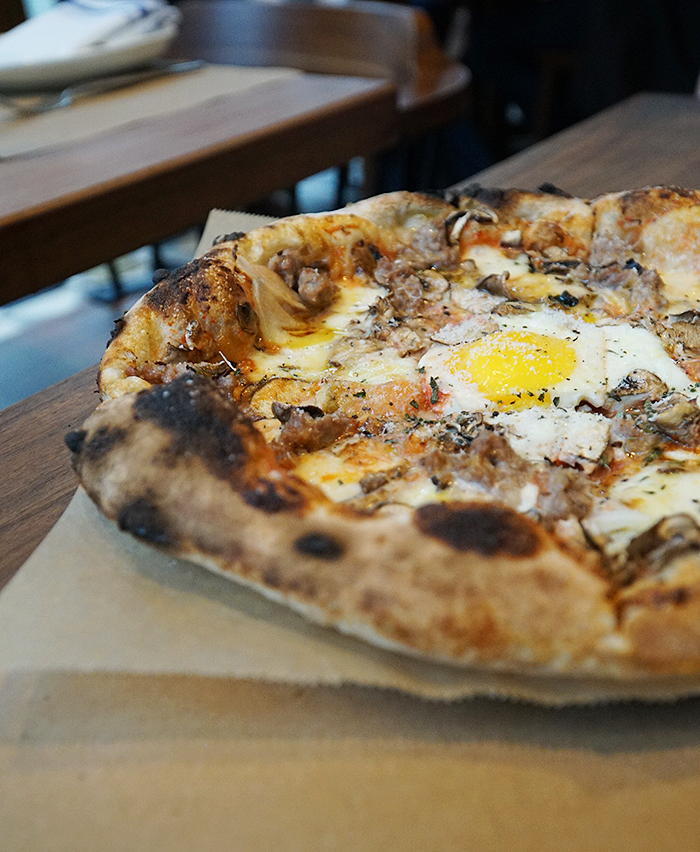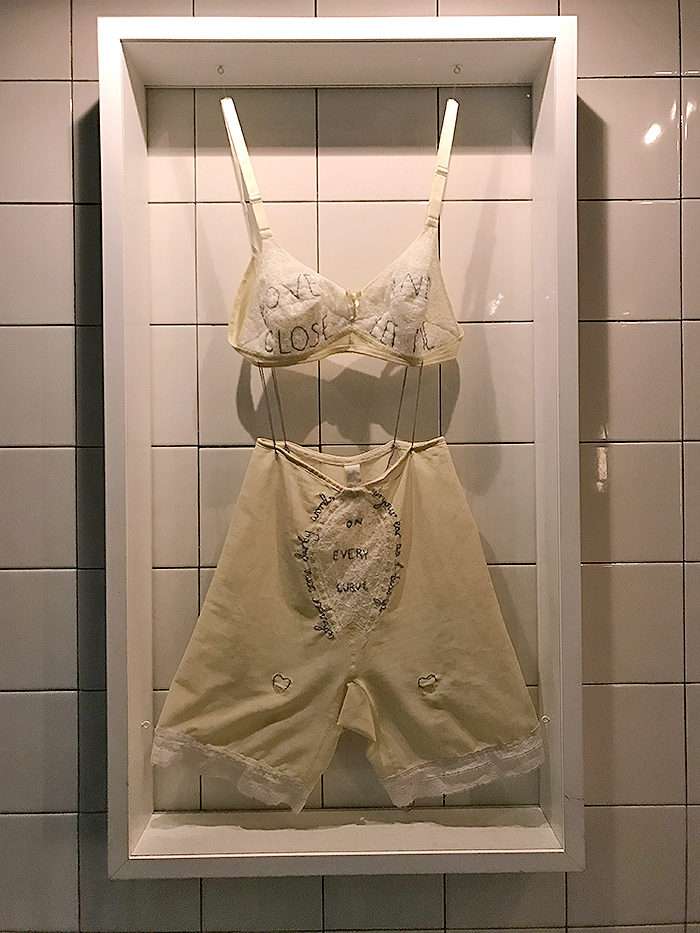 Take in a show.
True story, the initial reason my mom and I decided to go to NYC was to see Sara Bareilles in the musical Waitress. Then the rest of the magic was planned around this event. Off we went to see the show, walking through Times Square with our umbrella in the rain. I couldn't help but smile as my mom and I walked with linked arms through the rain, a situation that a lot of people would complain about, but in that moment I was truly happy. Shortly thereafter we arrived at the Brooks Atkinson Theatre. OH. MY. GOSH. The moment Sara started singing, I started crying. LOL. That woman has such a powerful voice and the storyline is so much fun and relatable. I won't mention how many more times I may have cried throughout the rest of the show. I'm pretty sure Sara's stint is over but I would highly recommend seeing this show anyways.
Obviously next up is dinner. Off to Chelsea Market we went to meet Emily and her boyfriend and our friend Julie, the oyster expert. Her initial recommendation was Great Banks, a great outdoor spot, but unfortunately we had to make a last minute change because of the rain. We ended up going to Cull & Pistol instead, which ended up being delicious.
What we ordered: A ton of oysters, Connecticut style lobster roll, and the Vietnamese grilled branzino (not pictured)
Lobsta roll and oysters were my faves.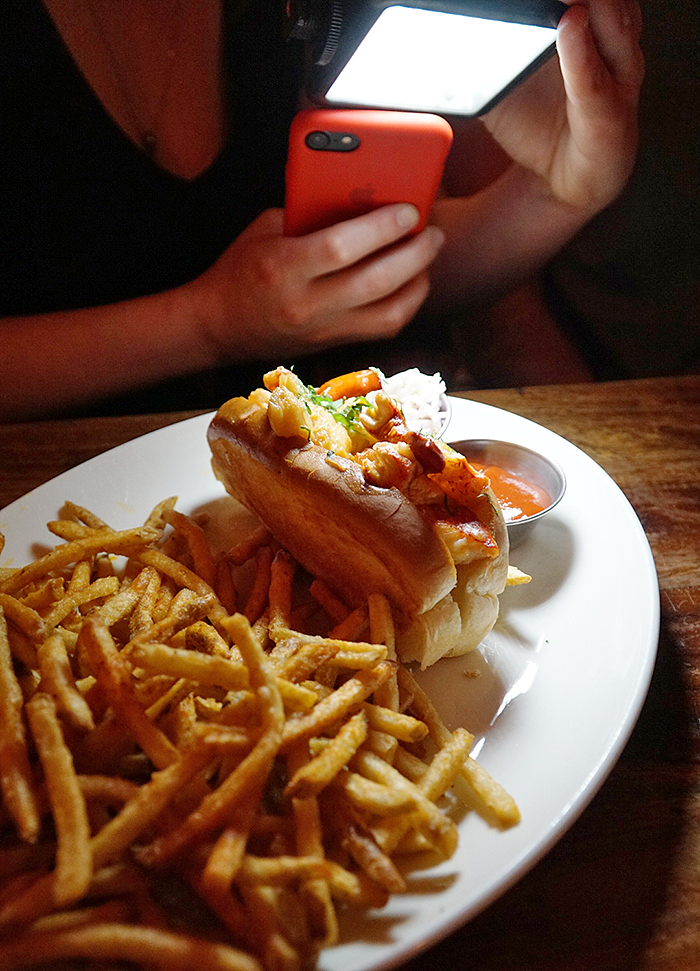 DAY 3
We walked a lot in NYC and kept walking past this place with super cute patches in the window, so we decided to stop in our last morning after grabbing a quick pastry and coffee. The place is called M&J Trimming and its basically a crafters / DIY heaven. I ended up only getting some pins and patches this time around.
The only thing we had planned for the day was brunch, so we checked out Central Park on the way and also walked into the Metropolitan Museum of Art. Unfortunately we didn't have enough time to take in any of the exhibits, but it is on our list for next visit!
Brunch was at Red Rooster in Harlem. This spot has so much energy and was BOMB.
We ordered: corn bread, deviled eggs, The Lenox smash burger, chicken & waffle, mac n cheese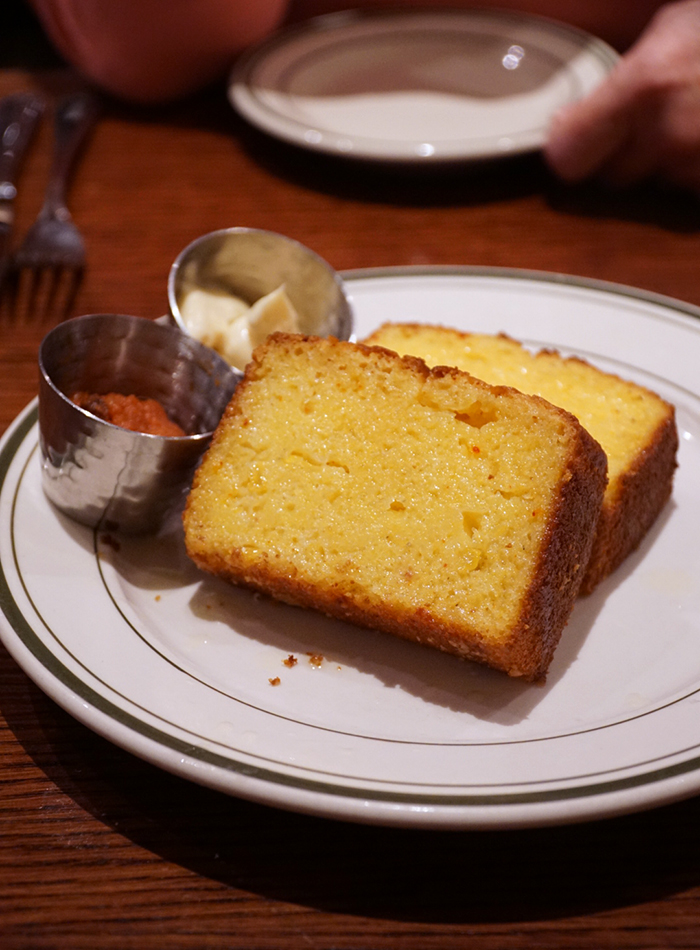 We had a little bit of time to kill still before we needed to head to the airport and needed to pick our bags up from Archer Hotel anyways, so we headed to their rooftop bar, Spyglass, to take in the view one last time, and enjoy one last Northern Lights cocktail.
After returning home from this trip, I really reflected on how much we did in a short amount of time and how much I (unexpectedly) loved NYC. I honestly went into the trip thinking I would like it as a tourist, but could never envision myself living there. All of that changed. No I didn't experience any snowstorms, but I think the rain was a taste of the inclement weather. The below photo of the Empire State Building was about 10 mins before the clouds rolled in and started pouring down rain again. I am happy to report, I loved the city. I honestly haven't been able to put into words how I felt when I was there, but it was magical and had to do with the energy in the air. I can't wait to go back, explore more, and maybe even move in one of these days!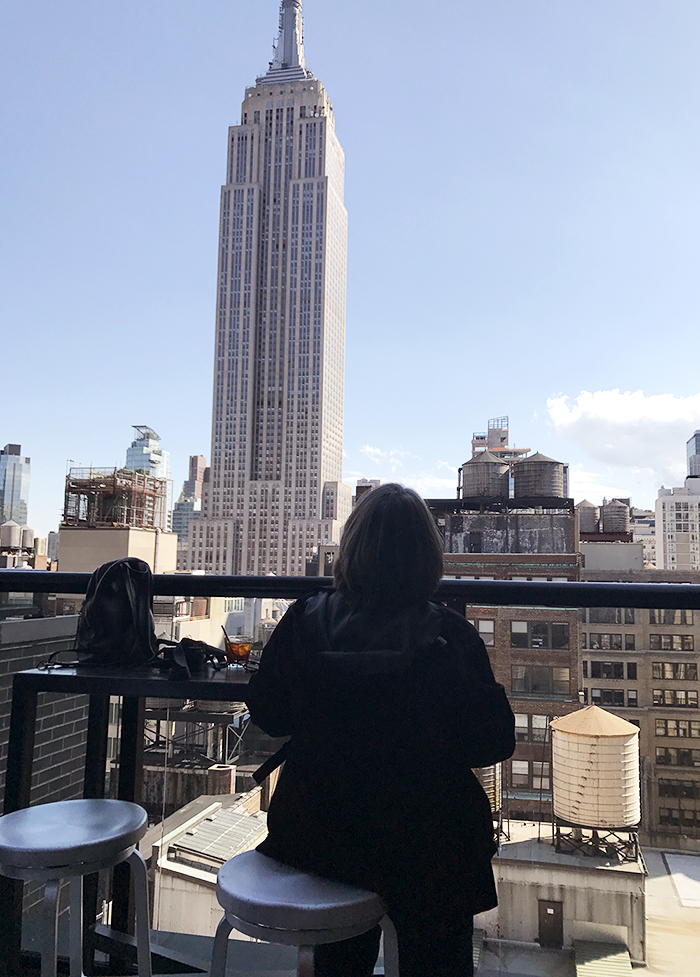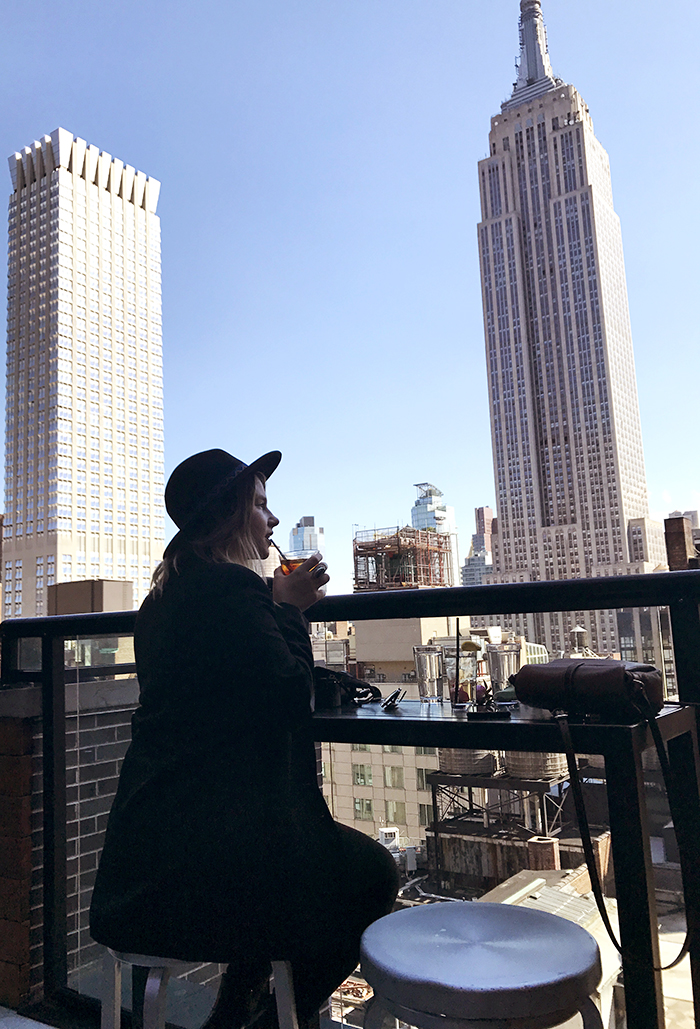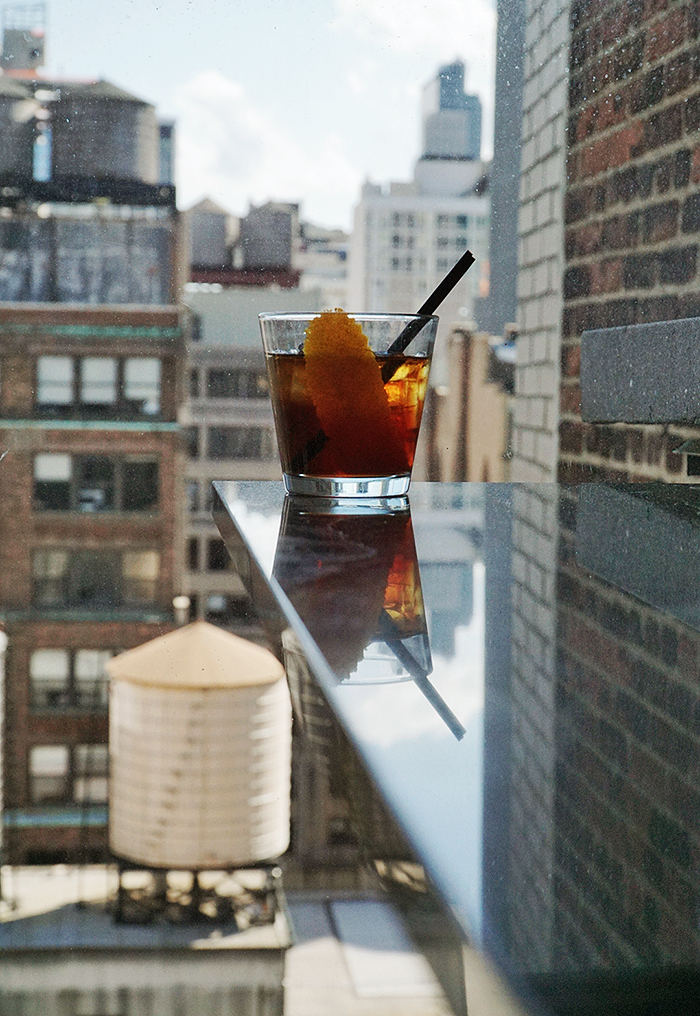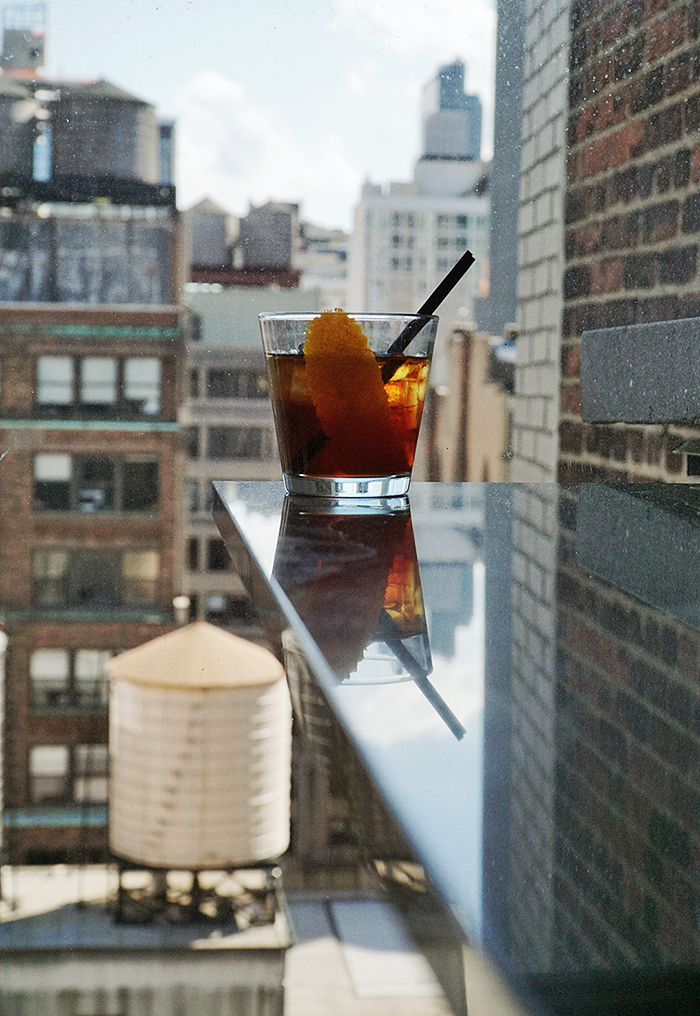 Happy Traveling, 
Corey, Miss Foodie Problems