This trip to Portland was for a friend's wedding on a Friday in October. My mom and I left LAX Thursday morning, so we would have some extra time to explore the city before the event. So naturally, our first stop was at Cheese & Crack Snack Shop, which I'd basically been stalking on their instagram for months. Their website says, "Kid is to candy shop as adult is to CHEESE & CRACK SNACK SHOP". YUP.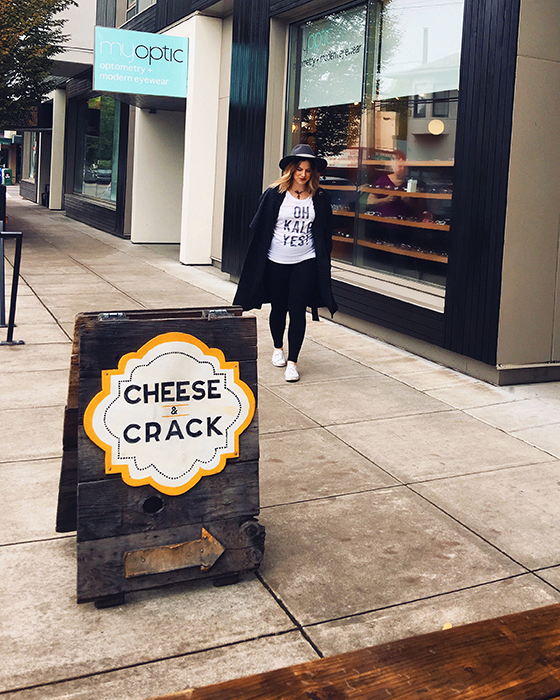 I started off with a glass of Rosé. It may or may not have been before noon, but that's up to you to decide. 😉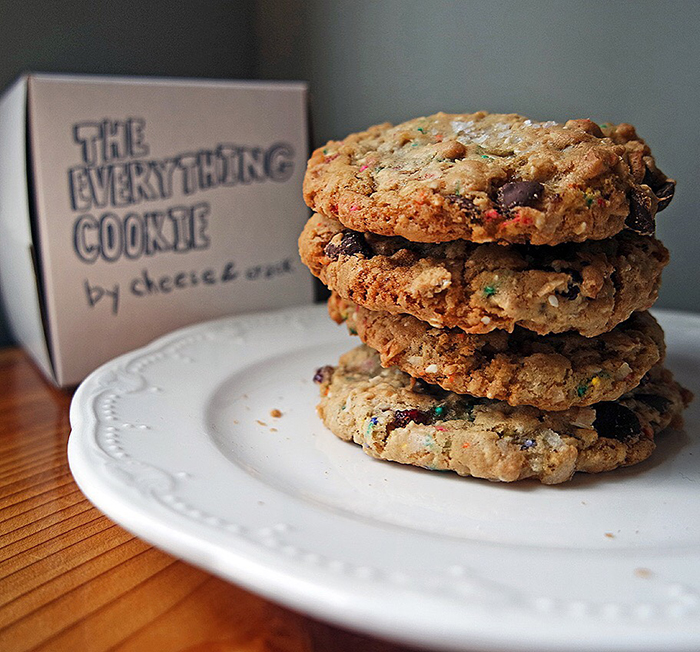 Friday, the morning of the wedding, we headed to Pine State Biscuits. Surprised? Nope, because this is one of the go-to places for tourists to stop. But surprisingly this WAS my first time here.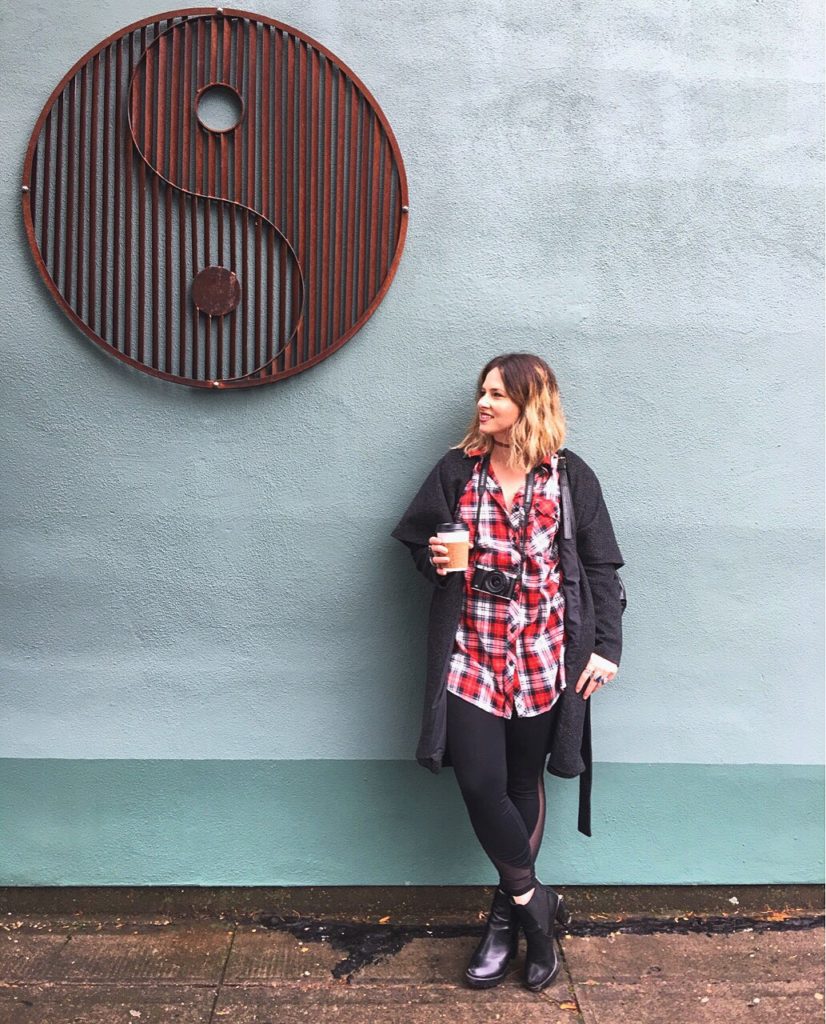 The Reggie Deluxe: Fried chicken, bacon & cheese topped with gravy + egg (with sausage gravy). I was a big fan of this and my plate was definitely empty.
Blueberry Cornmeal Pancakes: Triple stack made from scratch with local blueberries, served with butter & real maple syrup (+ a side of bacon). This was what my mom ordered. I'm not usually the hugest fan of  pancakes but the bite I had impressed me, and she seemed to love them!
& an extra biscuit with jam and butter, for good measure!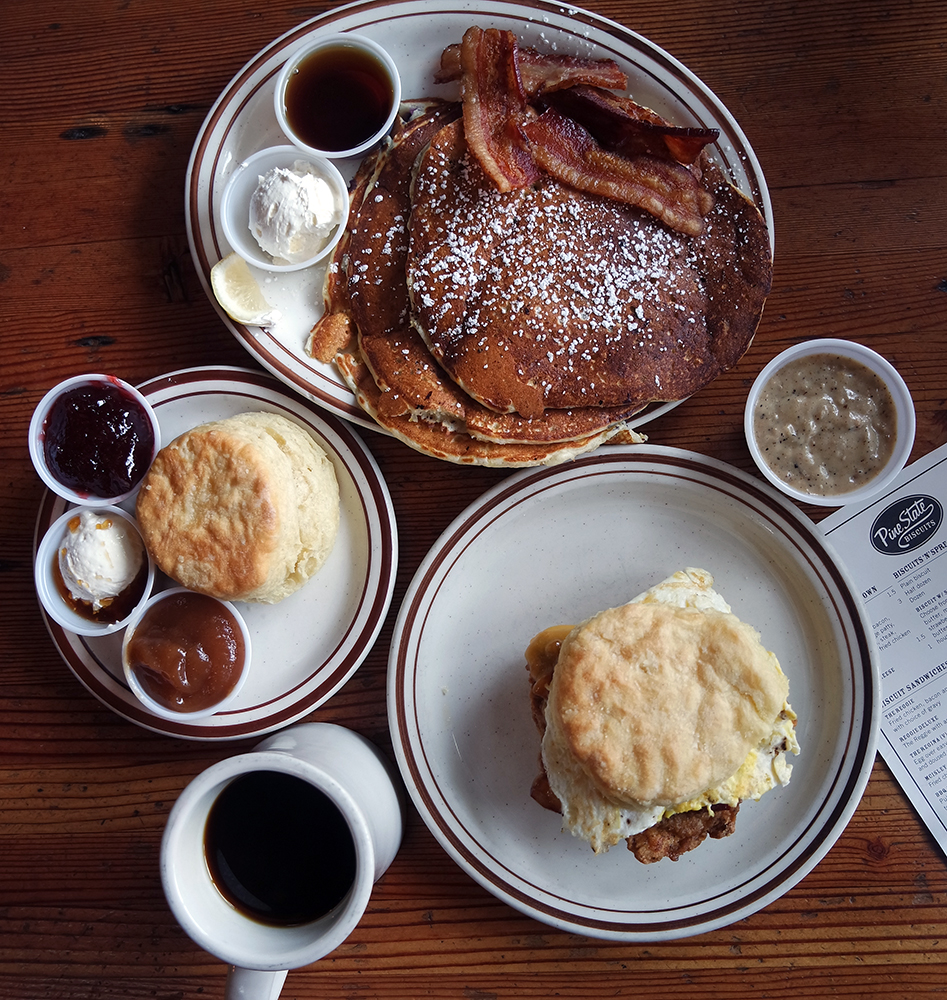 And since we weren't full after the above meal, we grabbed some Salt and Straw. Just kidding, we were plenty full but there was a Salt and Straw ice cream shop right down the street so why not!?
Honey Lavender & Arbequina Olive Oil: The Olive Oil flavor is the first flavor I ever tried at Salt and Straw on my first trip to Portland and it's not available in Los Angeles. So duh! Also, the waffle cone is necessary always.
My wedding attire consisted of a dress I picked up on the sale rack at Anthropologie a few months previous and some booties from Hautelook. The wedding venue was seriously breathtaking, in a town outside of Portland called Ariel, WA. The rain threatened to fall during the ceremony (which was held outside) but didn't end up starting until after it was over. I mean look at those trees. *insert multiple heart eyes emojis*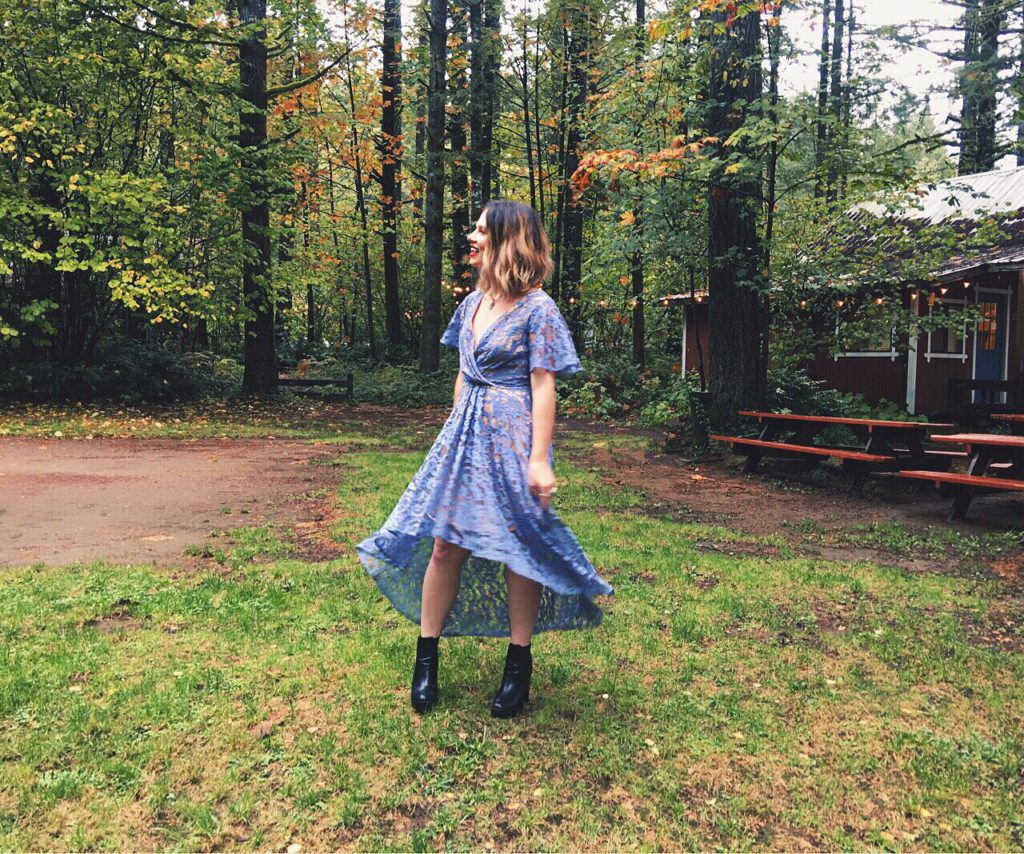 Saturday morning we walked to P's and Q's from our Airbnb on Dekum Street. The owners of the place we were staying in suggested this spot and informed us that they only serve brunch on the weekend.
Biscuitwich: arugula, tomato jam, fried egg & cheddar on a house buttermilk biscuit. This was my mom's. I didn't get a bite, but she was a fan.
Cinnamon Roll: This was hands down the best cinnamon roll I've ever had. It the angel-baby of a Cinnabon and the cinnamon roll from Pie N' Burger in Pasadena. If you haven't had that cinnamon roll and you're in Los Angeles, stop what you're doing and go!
Seasonal Hash (special): Beets, yams, sweet potato, kale, sausage, egg, side salad (and obviously added on a biscuit). I'm a big fan of a yummy hash, and this one didn't let me down. I highly recommend trying the hash on the specials whenever you go in!
After brunch we hiked up to Angels Rest. We usually choose a new place to hike when we travel, but this spot was worth a second hike. Come on, look at that view! Every step of the hike has something gorgeous to look at. I included a lot more in the video I posted on youtube!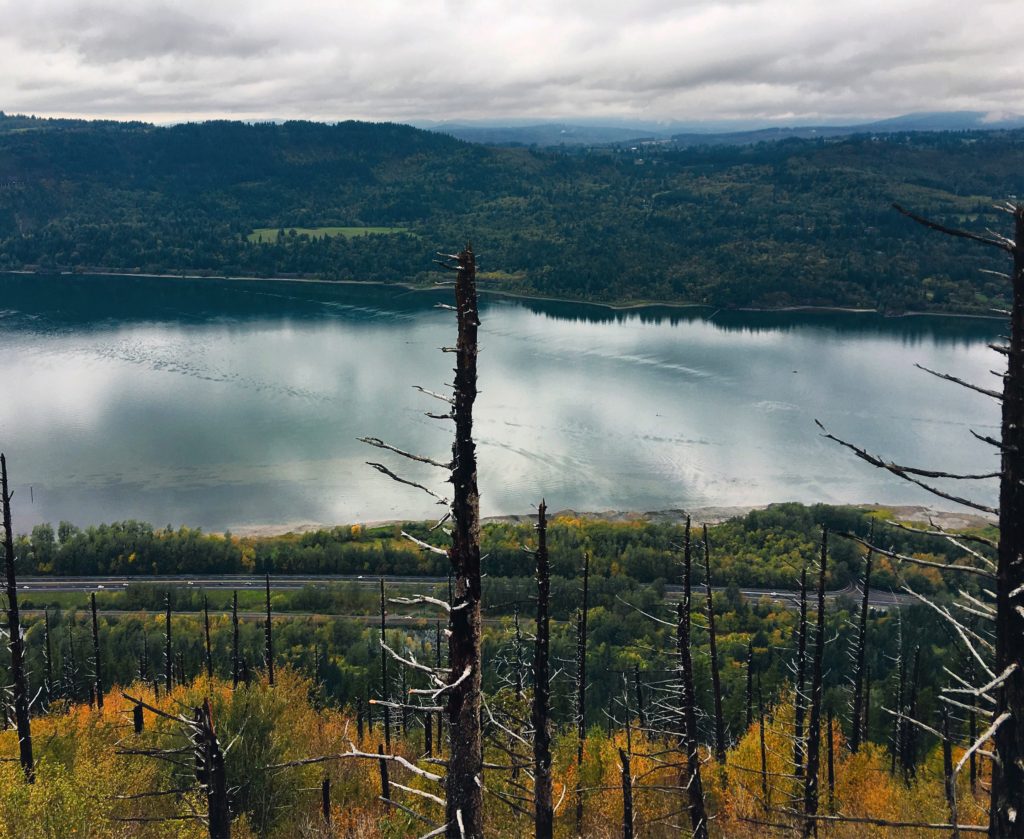 After an afternoon of hiking, we obviously worked up a good appetite (though I always have a good appetite). Saturday night dinner was at Grassa and was easily one of my favorite meals of the trip. I think about this place a lot, haha.
We ordered a bottle of wine and 3 pasta dishes to share.
Chicken Picatta: Spaghetti, brown butter, lemon, caper, watercress, crispy skin. Chicken picatta is one of my mom's go-to dishes if it's on a menu, and she loved this one!
Cacio E Peppe:  Truffle butter, sea salt, cracked pepper, grana. Oh my goodness. The perfect amount of truffle flavor. You know how easily overpowering it can be, well this. dish. was. perfection.
Buccatini: I think this one was made with pumpkin at the time, sage, brown butter. It's a butternut squash dish right now on their menu, but their both squash, so pretty much the same thing. Order this. If you don't like it, bring me the leftovers.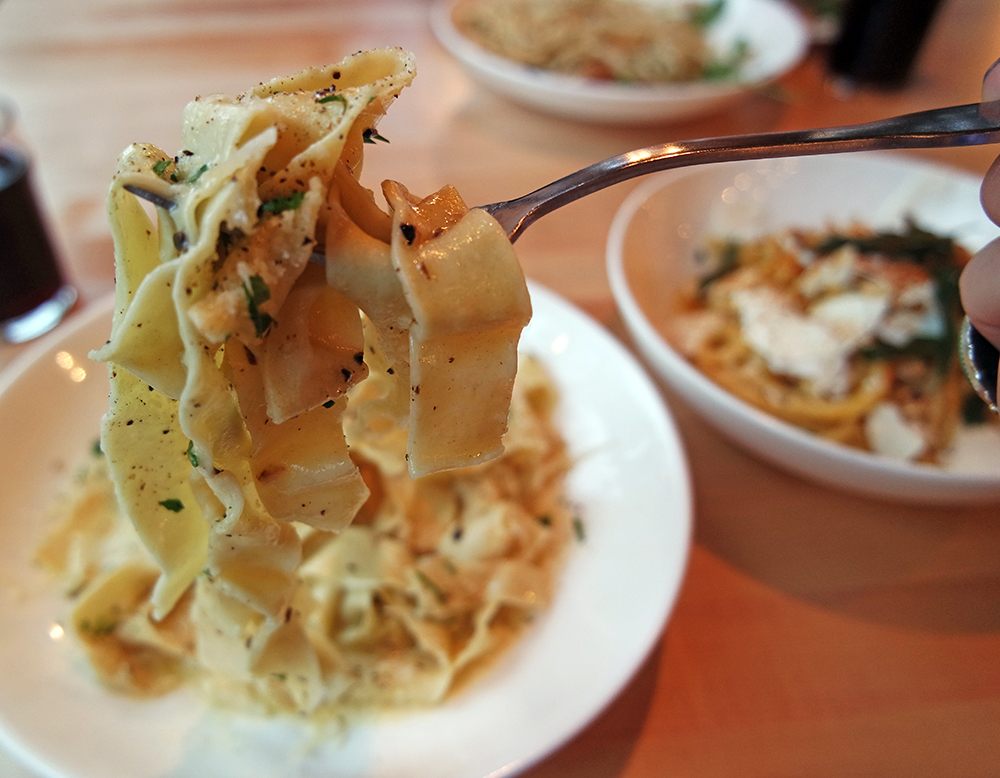 We didn't eat out on Sunday besides a quick (long line) stop at Pip's Doughnuts since we hadn't been before and it's a must-try. We didn't end up trying any of the chai's since I just drink black coffee, but we got an assortment of the doughnuts. They were yummy but I wouldn't wait in that kind of a line again for them. I will have to go back with my Chai-loving cousin on our next visit together.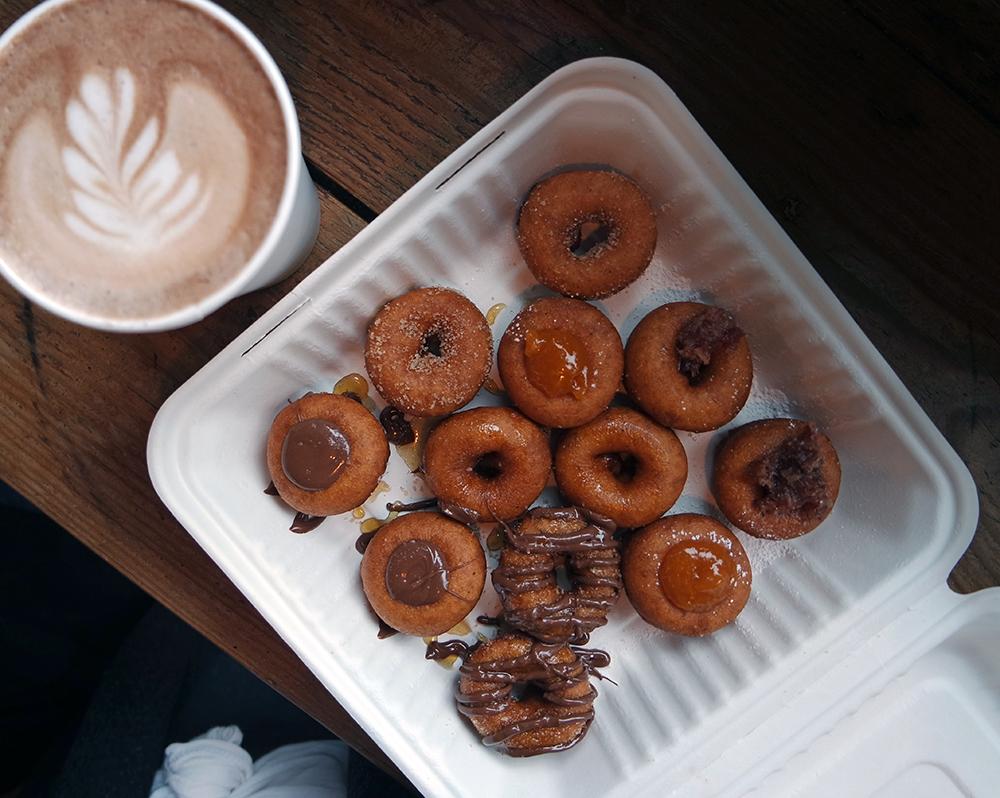 We did go one more place before hopping on a plane on Monday morning, but I completely forgot to film anything for the video, so I've been debating back and forth whether to include it here. The spot is called Sweedeedee and I was a big fan. Think health-conscious eats, but in a seriously scrumptious way. Stay tuned for video on this from my next visit.
BLT: This was my mom's and it was one of the best BLTs I've ever tried.
Fall Bowl (this was on the specials and I don't remember the exact name): Loved this. Great combination of fall veggies and topped off with crunchy seeds and a perfectly cooked egg.
They had a great selection of sweet treats to choose from.
Salted Honey Pie: It tasted exactly like honey, in pie form. I want a slice right now.
In the video, you'll see at the end of the video that I came back the next weekend and stayed at the Jupiter Hotel. Cool, weird, eclectic spot.
Until next time Portland! Let me know if you try any of these spots or have any suggestions of your own.
Happy Eating,
Corey, Miss Foodie Problems
You might also like