When I started researching where my mom and I should getaway for a few days, Santa Barbara came to mind. For a long time, it had been a town I'd driven through while heading up the coast for vacation elsewhere or to and from San Luis Obispo for college. I am so happy we decided to check it out. I can't say enough good things about staying at the Belmond El Encanto — from a warm welcome, to the helpful staff, to the delicious food and 7 acres of gorgeous grounds to explore. There are 92 suites and bungalows to choose from, but I promise you can't go wrong. Belmond is hands down my favorite hotel that I've stayed in, and now I want to explore all of their other locations around the world. They even have trains, river cruises and safari adventures!
Pro tips:
Belmond has a shuttle service that we used every evening to get to dinner and back. Call the valet number ahead to schedule it — they will take you anywhere within 5 miles of the property!
There are fitness classes available every morning. I went to one called Belmond Burn twice and can't rave about Rachel, the instructor, enough!
We had breakfast every morning on the terrace on property. The view is breathtaking to take in while enjoying a meal and a cup of coffee. I just about tried the whole menu and highly recommend: Steak & Eggs, Lox, and Huevos Rancheros. I also sat by the pool one of the afternoons to get some work done and ordered the Chicken Caesar Wrap along with a glass of rosé.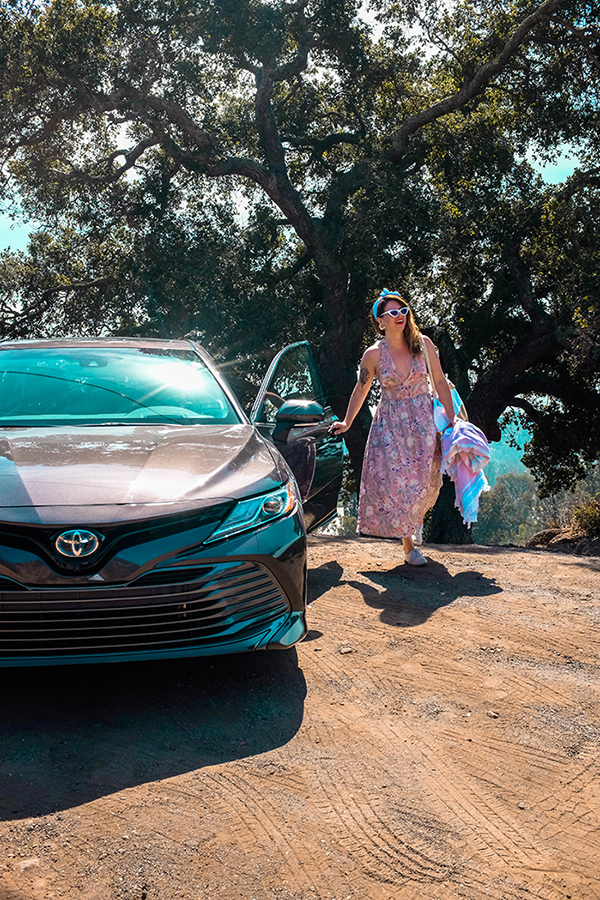 I am so excited I got to partner with Toyota to get us to Santa Barbara and back! The Camry Hybrid's gas mileage is ridiculous — close to 45 MPG the whole time we drove around, which was a huge money saver. That's twice as much as my car (we won't talk about what it is haha). I was also nerding out over the MPH showing up on the windshield / ground in front of me as I was driving. Basically, if I wasn't locked into my lease for my car I would seriously get this car!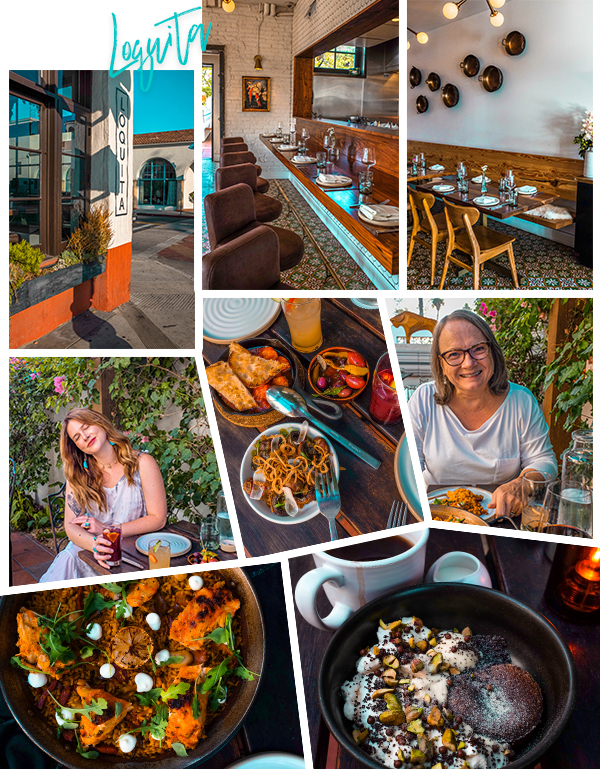 Note: If you want to eat at any of the following dinner spots, I highly recommend making a reservation!
One of my close friends recommended Loquita! They showcase traditional cooking methods of Spain with various tapas dishes, wood-fired seafood, grilled meats and a few different paellas. The inside of the restaurant is gorgeous & the patio is so dreamy. Everything we ate was fantastic! Pretty sure you can't go wrong.
What we ordered:
Drinks: White & Red Sangria
Savory: Olives, Pan con Tomate, Mushroom dish (I don't see it on their menu online, but seriously this was one of the best dishes I've ever had, so order it if you see it), Chorizo y Pollo Paella
Sweet: Chocolat — one of the best renditions of a lava cake I've had!
Test Pilot is the perfect spot for Tiki Bar vibes and craft cocktails in the Funk Zone! It was so much fun watching the mixologist whip up 10 drinks at once (not all ours) while keeping up a conversation with us!
What we ordered:
Loose Cannon: single malt scotch, jamaican rum, bittered italian vermouth, banana, marshmallow
Hotel Nacional Special: cuban-style rum, apricot, pineapple, italian bitter, lime, overproof agricole
The Lark was recommended separately by 6 different people, so obviously we had to go! Everything was delicious but our faves were the Brussels sprouts and pasta! I even recreated my own version of the pasta.
What we ordered:
Note: They bring out that delicious popcorn at the beginning of the meal!
Drinks: Flambeaux Old Fashioned: old grandad bourbon, piloncillo, scotch rinse, chicory bitters, flamed orange
Savory: Crispy Brussels Sprouts, Hamachi Crudo, Suckling Pig Porchetta Toast, Caramelized Diver Scallops, Housemade Tagliatelle Pasta
Sweet: Donuts
Our last dinner was a newly opened spot in the Montecito Inn, by the team of Scratch Bar in Los Angeles. One of my very first media dinners a few years ago was at one of their restaurants, so I kind of have a special place in my memories for them. Monarch is a perfectly cozy spot. They offer you an aperitif of mead when you arrive. The service at all of the restaurants we went to was great, but Monarch was another step up.
What we ordered:
Drinks: Rapscallion: angostura, yellow chartreuse, luxardo maraschino, stagecoach cutler's whiskey
Savory: Pumpkin Agnolotti, Heirloom Tomato Flatbread, Short Rib (comes with all of the sides pictured, whatever they've got for the evening — this was definitely our favorite item of the meal)
Sweet: Donuts
There's a whole lot to explore in Santa Barbara! From the beach, to shopping, food & booze. I'm a huge fan of wandering around the downtown and looking at all the beautiful architecture.
I was super excited when my mom told me about Lotusland, thanks to one of her coworkers. This place is truly one-of-a-kind. I won't spoil the background story, but I will just say if you enjoy plants, you've GOT to go. I was in heaven!
I'd love to hear your Santa Barbara recommendations in the comments! And stay tuned to hear about my other favorite quick getaway from Los Angeles. What are your favorites?
Happy Traveling,
Corey, Miss Foodie Problems