This trip up to the California Central Coast was the middle of a 2-week long trip that started and ended in Los Angeles. Check out the Eastside Los Angeles blog post for a little more back story & this blog post for our Westside Los Angeles itinerary!
When I was planning this trip with my Italian guest and now boyfriend — I knew I didn't want to stick around in LA the whole time! I HAD to show him a few of my favorite spots up the coast — SLO (I went to Cal Poly SLO), Cambria and Big Sur (been traveling to both my whole life)!
I reached out to the City of San Luis Obispo for the SLO portion of this trip & they graciously hosted our stay. All of the opinions are my own!
To Stay — SLO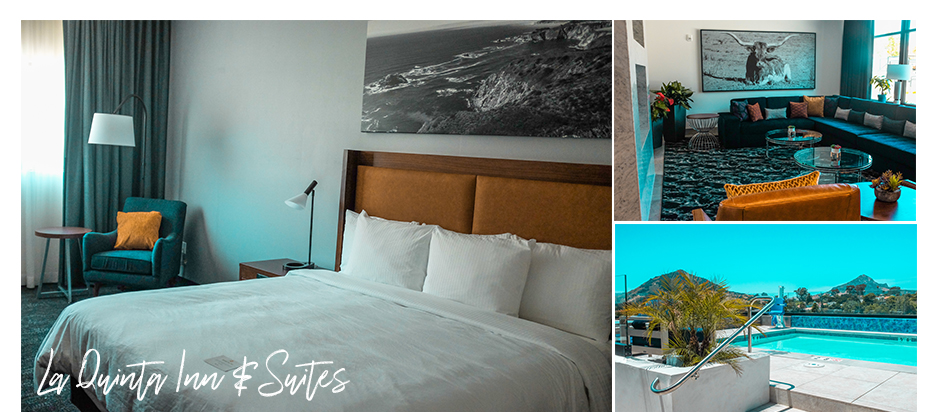 One of the newest properties in SLO, the La Quinta Inn & Suites is located on one of the main streets in town, which makes it a great location to walk to downtown! The interior is cozy, chic and simplistic. They have a rooftop pool and jacuzzi. Walter and I spent time up there during both of our evenings in town — the views are stunning!
Day 1
We arrived to SLO in the afternoon, so obviously we kicked off our time with some wine tastings. I've explored Edna Valley quite a bit, but was excited to try out 2 new (to me) wineries!
Malene Wine is the sister winery to Chamisal, right next door, which I frequent! They've got a perfect set up outside for a Summer afternoon, sipping on chilled rosés. We walked up to their Airstream, grabbed our tasting glasses then took a seat under the umbrellas to enjoy their lineup. They craft intentional rosés from Santa Barbara County and also create component wines to highlight some of their favorite traditional Rosé varietals: Rolle (Vermentino) and Grenache Noir.
The name Malene (ma·lene \mə-ˈlēn\) is inspired by the semi-precious gem tourmaline, which can be found in many parts of the world, including California where the gemstone exhibits an exquisite watermelon-pink hue.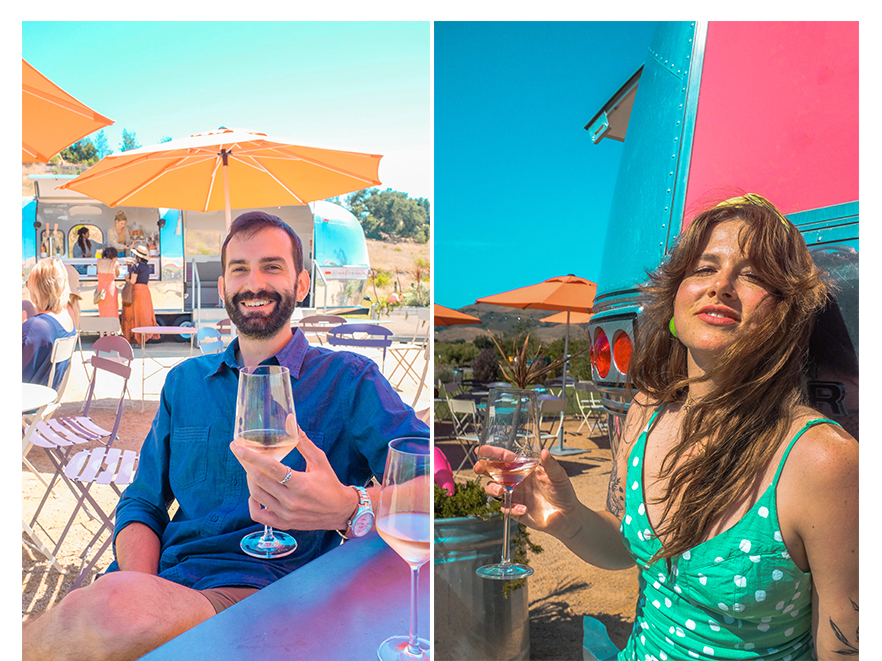 Saucelito Canyon's vines were planted in 1880 in the Arroyo Grande Valley, "abandoned after Prohibition, and painstakingly restored by one man (Bill Greenough) with a pick and shovel in 1974." Bill's son has since taken over the winemaking process, but they still produce one of California's most notable Zinfandels! Their tasting room is situated in Edna Valley, among vineyards and rolling hills. There's plenty of shaded seating outside for a warm Summer day!
1865 Craft House + Kitchen is a revival of a former restaurant in SLO — with a fresh modern look, craft-inspired food and drink and a family friendly atmosphere. The menu has a Southern spin with its delicious comfort food.
Our order: Old Fashioned, Brussels sprouts, Elote, Southern Feast, Burger + Onion Rings, Peanut Butter Cheesecake (this was off menu & fabulous, so definitely ask if they have it)
Day 2
SLO Provisions offers all day take away and dine in options with house-roasted rotisserie meats, family-style dinners, specialty sandwiches, farm fresh salads, rustic-style baked goods, signature drinks, coffees, wine & beer. They are committed to local ingredients and small batch purveyors — the market portion of their store is full of quality curated products!
Our order: Drip Coffee & Cold Brew, Bacon + Eggs, Market Vegetable Breakfast Bowl (loved the house fermented veggies)
They also sent us home with 2 sandwiches (the Frenchi and El Bocadillo) and 2 cookies — everything was phenomenal!
Explore the charming Downtown District
The Downtown area is very pedestrian friendly, lined with historical sites, shops, restaurants, and bars. It's big enough to find something for everyone, but small enough to walk it in part of an afternoon.
Hot spots: Fremont Theater, Mission San Luis Obispo de Tolosa, Bubblegum Alley, San Luis Creek, SLO Arts District
Taste of SLO Walking Food Tour
There are 2 different Taste of SLO Food Tours available! We went on the one in Downtown. I highly recommend booking one of these tours especially if you haven't been to SLO, feel like being social, or love food, wine & beer!
If you know me you know I'm partial to Firestone Grill because I'm obsessed with their Tri Tip sandwich and fries, but I was happily surprised by Old SLO BBQ Co.. It has a completely different vibe than Firestone — more low key, tons of beers on tap that you get to pour yourself & lots of different BBQ meats and side dishes. I loved the Cowboy Corn Pie!
Nourish is a healthy eatery at Granada Hotel & Bistro featuring fresh, local and veggie-focused meals. We had a sampling of their veggies, grilled cheese, tomato soup and a glass of wine.
McConnell's Ice Cream started out in Santa Barbara as a family-run dairy! Today they only make ice cream, but they've expanded to multiple cities and are committed to keeping it simple with the best ingredients around.
House of Bread specializes in fresh made breads and pastries. They're dedicated to providing the most nutritious and best tasting products available. They bake all of their products just like their Grandma made hers – by hand, using all-natural ingredients.
Luna Red is located near the Mission & has a beautiful outdoor patio. They feature a globally-inspired menu, craft cocktails and an award-winning wine list. We went to their happy hour which runs from 3 – 6PM daily. I got the Sangria!
We also stopped by the British Sports Cars shop — it's definitely worth a trip if you or someone you're traveling with is into cars! I'm not, and I thought it was awesome!

The Creamery Marketplace is a retail destination in the heart of Downtown SLO. It's filled with locally owned businesses — ranging from a bakery to an ice cream shop, a Peruvian restaurant (more on this below) and various other shops. They've embraced the history of the 1900's creamery buildings by using lots of the original pieces as decor throughout the space.
Mistura is a "modern Peruvian restaurant that captures the multicultural spirit of Peru, blending its Native Pre-Columbian and Incas gastronomic heritage with the Spanish, Italian, Chinese and Japanese influences that embody the country's vibrant cuisine. It is a true homage to the diversity of Peruvian food by proposing flavors that are once familiar yet adventurous and unexpected." That said, if you're feeling adventurous — they will prepare you a guinea pig if you call ahead and request it! Guinea pigs wouldn't be considered adventurous in Peru, it's actually considered a delicacy and the Inas have been eating them for centuries.

Our order: Sangria, Empanadas, Ahi Tuna Cebiche, Scallops, Filet Mignon, Octopus, Platanero
Note: Mistura's chef is Italian and also has a spot next door called Mama's Meatballs!
Day 3 — Off to Cambria
Before heading to Cambria, we fueled up at Sally Loo's, which serves food that is good for you and the SLO community. They choose to use organic and local ingredients whenever possible, valuing local farmers and the amazing food they produce.
Our order: Drip Coffee, Cold Brew, Egg Sandwich, Scones
Other great restaurants in SLO: Big Sky Cafe, Firestone Grill, Sidecar (get the Brussels sprouts & they also make very inventive cocktails!), Novo (great patio), Breakfast Buzz (2 for 1 Breakfast Burrito Tuesdays)
To Stay — Cambria
Oceanpoint Ranch is located walking distance to Moonstone Beach, one of my favorite spots for beachcombing and watching the sunset. Their rooms are cozy with a little bit of country and a little bit of boho chic vibes. They have fire pits to keep warm at night while roasting s'mores — just ask the front desk for a kit!
After checking into our room, we headed directly up to Hearst Castle for their last tour of the day! We lucked out and all of the fog had burned off by our tour — our guide mentioned that the last few days had been so overcast that he had to describe the gorgeous ocean view to his groups. The Castle was media mogul William Randolph Hearst's massive project to build what is now an exquisite estate and museum. He decided to have his castle built on the property on a hill in San Simeon where him & his family had camped (or rather glamped) when he was a kid. He employed architect Julia Morgan to bring his dreams and visions to life — including a twin-towered main building, three guesthouses, and 127 acres of terraced gardens, fountains, pools, and even a zoo. If you're lucky, you may spot zebras on the hillside that are decendents of the original zebras in Hearst's day. Hearst collected items from all around the world to decorate his place, including a statue from Egypt — the oldest piece in his collection. You can find this right outside that aforementioned twin-towered main building (on the coastal side). In its heyday, The Ranch hosted Hollywood's finest during massive parties and restorative getaways. It is definitely worth the trip and I highly recommend the Grand Rooms tour for first-timers!
The Canteen is the restaurant and general store on the Oceanpoint Ranch property. They are open for breakfast (daily) and dinner (Tues – Sat)! You are also able to pick up grab-and-go items for a picnic or day on the coast.
Our order: Braised Short Ribs, Double Cheeseburger
Day 4 — Day Trip to Big Sur
The French Corner Bakery is located on one end of Main St. in Downtown Cambria. They serve pastries, cakes, breads, sandwiches and coffee — perfect for a quick breakfast before heading further up the coast.
Our order: Drip coffees, German Chocolate Danish, Blueberry Coffee Cake

Big Sur is one of my favorite places on the planet. I find so much peace on that portion of our coast and it was so special to share it with Walter. We drove up on a morning that was ridiculously overcast. Our first stop was Nepenthe, which usually has a breathtaking view but was so socked in that we decided to head back down the hill. We stopped off on the highway near McWay Falls — there's a great view without having to go into the parking lot and fight through the crowds. I'm pretty sure they're doing renovations / rehabilitation on the path below, so you can't walk out as far as you used to be able to. Just be sure to park in a safe spot and be careful walking along the highway above! We drove back down to Cambria and stopped off at a couple of other vista points. I prefer the ones that aren't overly crowded. Do you sense a trend? LOL

Main Street Grill is the original Firestone Grill (SLO). Funny story, I've been traveling to Cambria my whole life for family vacations and hadn't once been in to eat at this spot. When I moved to SLO for college Firestone became one of my goto spots. Just recently one of my friends told me about Main Street Grill and I found out that it's been just under my nose my whole life! I could have had so many more tri-tip sandwiches!
Our order: Tri-Tip Sandwich, side of Fries (plenty for 2 – 4 people), Salmon Sandwich, ask for a side of ranch (for fry dipping) & BBQ sauce (for Tri-Tip sando dipping) when you go up to pick up your food. Thank me later.
Other great restaurants in Cambria: Linn's, Robin's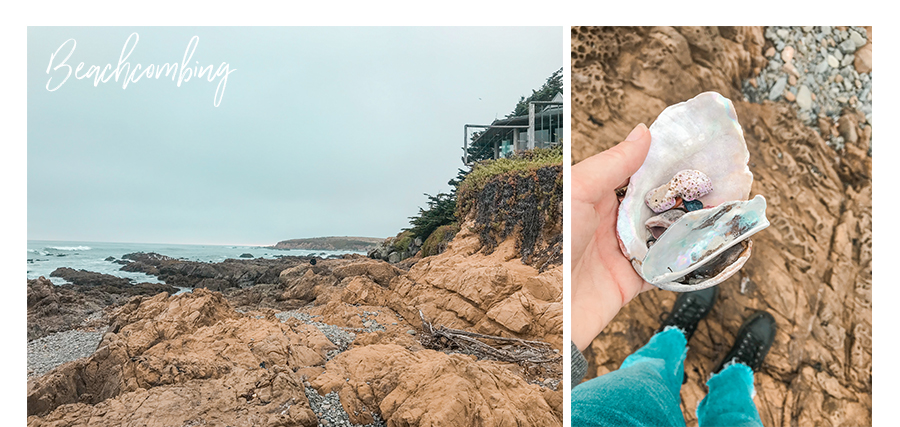 Beachcombing is one of my favorite things to do in Cambria! My go-to spots are Moonstone Beach (better for epic sunsets) and the Wedgewood Accessway (more low key and hidden)! We found a ton of treasures the day we went out.
Another one of my favorite things to do there is stargazing! Walter and I headed out our first evening and found a bench along Moonstone Dr. to sit on and look up. It was literal perfection!
If you want more tips on the central coast check this post out.
Happy Travels,
Corey, Miss Foodie Problems