When I heard that one of my favorite restaurants in Los Angeles was starting a brunch service on the weekends, I immediately made plans to go in and see what it was all about. First things first, if you haven't been to Union for dinner — YOU MUST! Now that I've gotten that out of the way, HOLY MOLY the brunch blew me away. Don't get me wrong, I love brunch. What LA native or transplant doesn't? But brunch is brunch is brunch & I haven't been impressed by a brunch menu in a LONG time. This menu has something for everyone — from the sweets to the savories, all with a little bit of Italian flare!
We pretty much tasted the whole brunch menu so you don't have to (I know, someone's gotta do it ????) but everything was so damn delicious that I would have a difficult time narrowing my order down the next time I go in! Just round up a few of your friends / family & go to town on ordering so you can all try a bunch of items.
START
Homemade starters made fresh daily.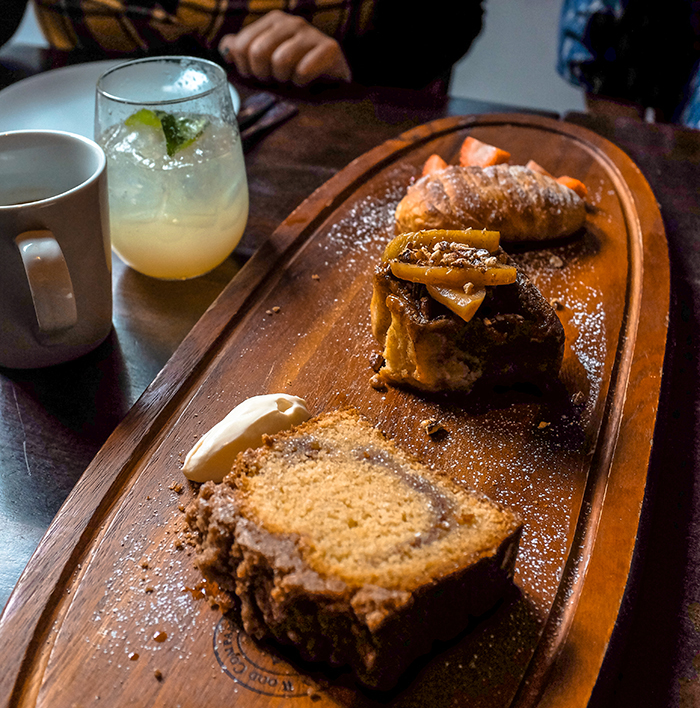 CORRONETTI house made ricotta, seasonal jam
JERSEY STYLE STICKY BUNS spiced rum, pecans
COFFEE CAKE cinnamon, crème fraiche, brown butter
All fabulous, but the sticky bun ended up being one of my favorite bites of the meal.
SALADS
Made from locally grown fruits and vegetables from their favorite local farmers.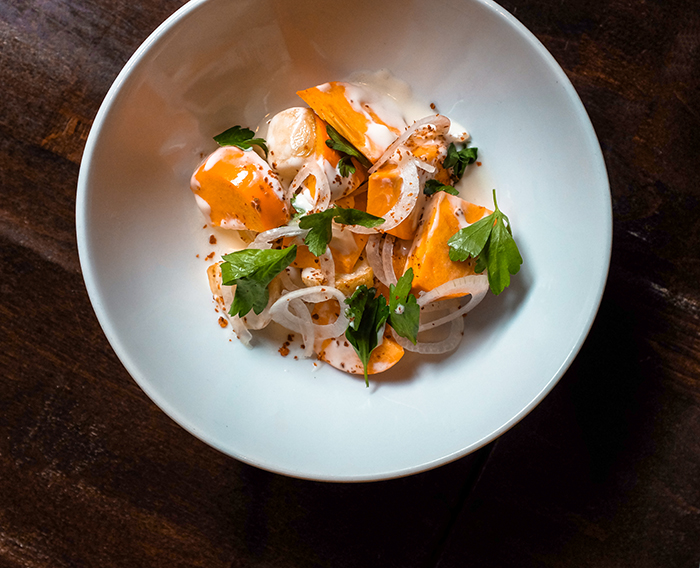 MURRY'S PERSIMMONS bacon ranch dressing, charred turnips, Aleppo
Obviously a seasonal menu item & I can't help but try to hold onto persimmon season as long as possible!
SHAREABLE
Sourced from local purveyors.
BEER CHEESE TOAST 3 Year Fiscalini cheddar, fried egg, speck
SCHANER FARMS DEVILED EGGS Blue crab, horseradish, house Old Bay
AVOCADO TOAST Giardinere, flax seed, radish sprouts
CHARRED OCTOPUS ROLL Brioche bun, aioli, lemon, soft herbs, pimenton chips
SMOKED WHITE FISH Passmore Ranch Steelhead trout caviar, potato hash browns
TIGELLI breakfast sausage, fried egg, noenata
I think the overall favorite in this section was the Beer Cheese Toast. That browned butter & sage situation is one of my fave flavor combos of all time. That being said, you really can't go wrong. Also, I discovered tigelli for the first time in Northern Italy on my recent trips, so that was a happy memory jogger.
MAIN
Handmade pastas, housemade butter & dressings.
LASAGNETTE AMATRICIANA guanciale, DiNapoli tomatoes, red bell peppers, egg
BAKED CANNELLONI black kale, young pecorino, egg, brioche breadcrumb
APPLE PIE FRENCH TOAST apple butter, cinnamon gelato, maple syrup
Both pasta dishes were phenomenal, but I am partial to anything crispy so the Lasagnette won me over. I meeeean look at those edges! Also, if you've gotten to the end of your meal and need a little bit more dessert (or even if you're already stuffed) the Apple Pie French Toast is the perfect ending! I mean it has cinnamon gelato on it. Do you really need more convincing?
Now gather your favorite humans to grub with & make yourself a reservation!
Happy Brunching,
Corey, Miss Foodie Problems