This post is sponsored by Tahoe South and Carson Valley Nevada. All opinions are my own.
Getting There
Depending on the length of your trip, you can road trip to this stunning slice of Nevada or fly, then rent a car — I prefer the Reno airport! It's just 45 minutes – 1 hour to both of these destinations, depending which you want to go to first! If you do fly into Reno and you enjoy thrifting, you've GOT TO stop into The Nest!
I strongly suggest making time to check out South Lake Tahoe AND Carson Valley. They have unique offerings that make it worth checking both out!
South Lake Tahoe
To Stay
The Ridge Resort spans 11 acres nestled into a ridge in the Sierra Nevada Mountains. They have a range of accommodations from deluxe hotel rooms to one and two bedroom condominium suites with full kitchens. The panoramic views are breathtaking and have an immediate calming effect.
The Ridge offers a variety of amenities — health club, sports complex, swimming pools and jacuzzis, restaurants, market, full-service spa and more. A complimentary shuttle service is also provided for trips within 5 miles of the property, but if you opt to drive yourself around, you will find that the location is prime!
To Eat & Drink
I admittedly went back to Clyde's Coffee multiple times. It is a perfect spot to grab a coffee and pastry to enjoy in their cozy atmosphere. It's also ideal for bringing your laptop along and getting some work done if you find the need, but I hope you're 100% going on vacation if you're reading this!
Highly recommend: Ham & Cheese Croissant, any of the Scones & Drip Coffee
Lake Tahoe Aleworx is the perfect spot for lunch or dinner. I also caught wind of it being a great place to go for more of a night time bar scene! They've got 2 locations! One in California — head to this location if you're more into the Craft Beer scene. Don't get me wrong, they've got great Craft Beer options at both locations, but head to the Nevada location if you're more into spirits, especially Whiskey! I had 2 of the best Old Fashioneds I've ever tasted there — I could definitely taste the passion that went into each glass. One last thing about booze before I talk food — you get to pour your own beer at this place. Get a wristband and a glass, head over to the taps and pour away. You're charged by the ounce!
Ordered: Avventura (wood-fired) Pizza, Cobb Salad and Biscotto!
Highly Recommend: I don't think you can go wrong with any of the pizzas and the salad was seriously delicious. It had perfectly seasoned chicken and shrimp to top it off!
Capisce? is a family owned and run Italian restaurant with roots from Northern Italy. They continue to implement the traditional techniques taught by their ancestors while utilizing carefully sourced ingredients to bring unique, handcrafted menu selections.
Ordered: Lobster Campanelle, Rav Sampler (they're known for these, so I had to give them a taste, but didn't want to commit to a whole order), Banana Pudding.
Highly Recommend: If you're a seafood fan GET THE Lobster Campanelle! If you get the Rav Sampler — ask them to give you 2 of each kind of ravioli, each with a different sauce, so you can taste all of the different combinations.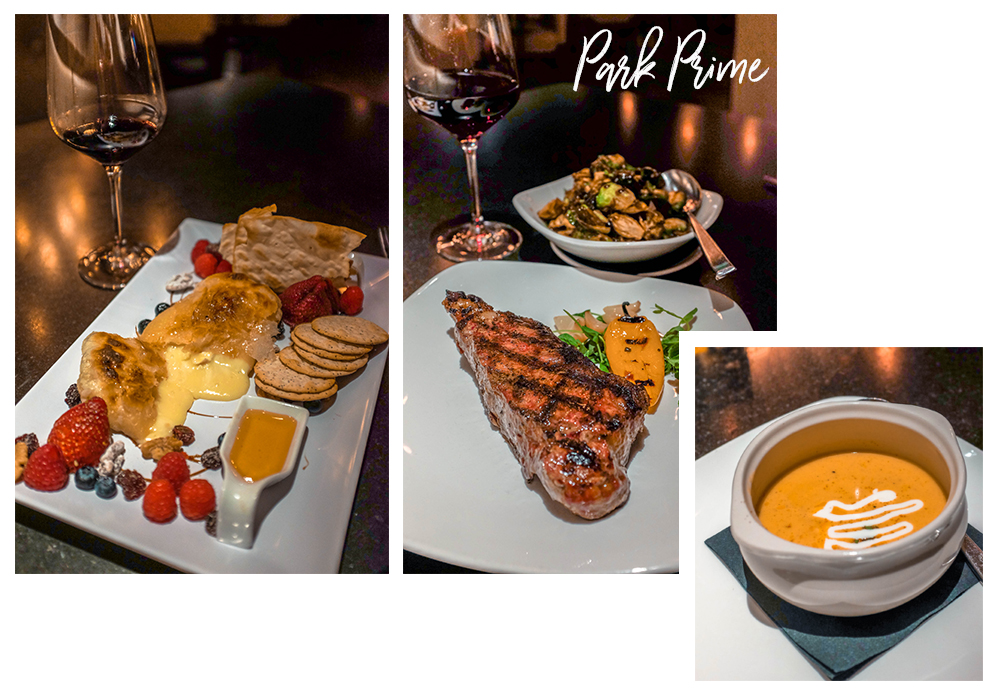 Park Prime is a modern steakhouse inspired by local ranchers, offering a sophisticated bar, live music, and stylish atmosphere located in the Hard Rock Casino! The chic vibe and delicious food is perfect for a higher end evening!
Ordered: Baked Brie, Lobster Bisque (fyi, a little spicy) & New York Striploin (they were all out of the Rib Eye or else I would have gone down that avenue) w/ a side of brussels sprouts
Highly Recommend: Baked Brie, Steak!
I didn't have a chance to make it to 19 Kitchen Bar, but I heard it boasts spectacular views of the lake since it's located on the 19th floor of Harveys Lake Tahoe! I recommend heading up and grabbing a drink right before sunset!
To Do
Clearly Tahoe offers the first and only guided tours on Lake Tahoe in completely transparent kayaks! You can experience depths of up to 65 feet as you paddle along the beautiful shoreline! Unfortunately, the waters were a bit rough for me to do a full tour during my trip, so I will definitely be signing up again on my next one!
Another water activity: Round Hill Pines Serenity Yacht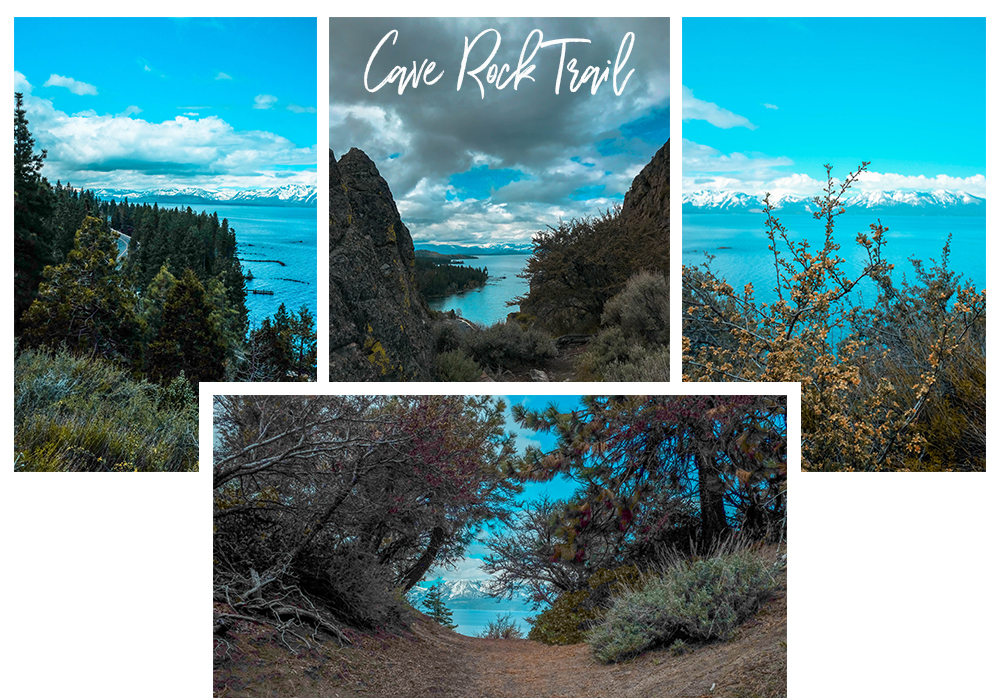 Cave Rock Trail : 0.8 mile moderately trafficked out and back trail — Since my kayak adventure was cut short I headed to the closest trail to catch a stunning view of the lake! This is a super easy hike and has a rewarding view!
Other Hikes
Carson Valley
To Stay
Carson Valley Inn & Casino has a range of accommodations from hotel rooms to suites with epic views of the nearby mountain ranges. They also have an RV Resort adjacent to the main property.
The CV Inn & Casino amenities include an indoor pool, hot spas, a fitness center, various dining choices, free parking, and Casino activities!

To Eat
The Pink House has a rich history that goes back to 1855 in Genoa! It HAS always been pink and its architecture is done in the Gothic Revival style. The inside is perfectly charming and the outside is ideal for a sunny day meal! They feature a menu of food and drink offerings, including a selection of artisan products — cheese, charcuterie, sandwiches, salads, cheese plates, other light fare, beer, wine, specialty coffee.
Ordered: Porchetta Sandwich, Quiche, Chicken Pot Pie
Highly Recommend: I ordered the Porchetta Sandwich and it was perfectly flavored and crispy! Everyone else seemed to enjoy their items too, so I don't think you can go wrong.
JT Basque has been a Nevada staple for over 50 years! They offer a multi-course family-style meal — first created for the sheep herders who were in abundance in the area. If you don't have a huge appetite, you can order individual dishes too!
Ordered & Highly Recommend: Family-style meal! It was a fun, delicious experience for basically a steal! If you're feeling adventurous, order a Picon!
At CV Steak, I got the Rib Eye I'd been craving! It was perfectly tender and I HIGHLY recommend getting the au gratin potatoes as a side!
To Drink
Genoa Bar & Saloon is Nevada's oldest Thirst Parlor! Many of the items found inside have been there since it was built in 1853! Check out the full history here. We grabbed a drink, sat at the bar and chatted with Dana — their mixologist and one of Carson Valley's local Legends!
Bently Heritage produces ultra-premium spirits made from grain sourced from their land nearby in Minden, Nevada. Their mission is to explore the abundance that nature offers and innovate on traditional techniques. Their current lineup includes 3 Juniper Grove Gins and 2 Source One Vodkas — one of which is rested in Oak Cherry Casks, giving it a perfect taste for Whiskey drinkers! Their Whiskey is in the works, but they're a newer distillery, so it will take some more time before it is ready for consumption.
Head into their main building, walk upstairs to the bar and take a seat. You can taste through their lineup or order a drink! After tasting through their lineup, I ordered the Maple Old Fashioned, made with that aforementioned "Whiskey drinkers" Vodka.
Battle Born Wine specializes in fine wines, craft beers and niche spirits! I didn't get a chance to head in, but intend to on my next trip to CV in July! They also host different events monthly, so check their website if you're planning a trip.

DST Coffee is a perfect spot to grab a coffee, ice cream, or get a little work done!
If you're craving a sweet treat, head to Chocolate Shop by Sweet Images! They handmake everything in small batches on site!
To Do
In addition to tasting and drinking at the bar, you can tour the Bently Heritage Distillery, which is housed in multiple gorgeous historic buildings! They'll educate you on their history as well as the distilling process while you walk through their stunning facility!
One of my favorite experiences of this trip was the Wild Horse Tour with JT Humphrey! JT is a wildlife photographer and is very passionate about the well-being of his subjects. He is also one of Carson Valley's local Legends! I headed out with him one of the mornings and we found a ton of horses. He said it was rare to catch so many bands in such close proximity to each other. I learned SO much about the dynamics between wild horses — some may compare it to our soap operas. If you'd like to inquire about one of the tours, you can message JT through the link above!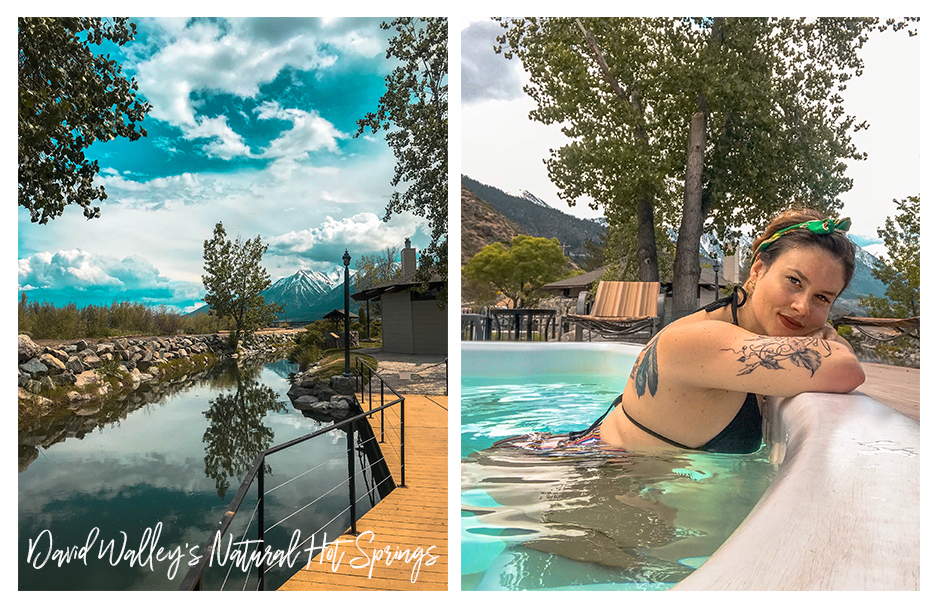 Need a little R & R? David Walley's Natural Hot Springs is the perfect place to catch it! Soak in one of their Natural Hot Spring spas while taking in the gorgeous view of the Sierra Nevada Mountains, book a treatment, sit in the sauna or ALL of the above!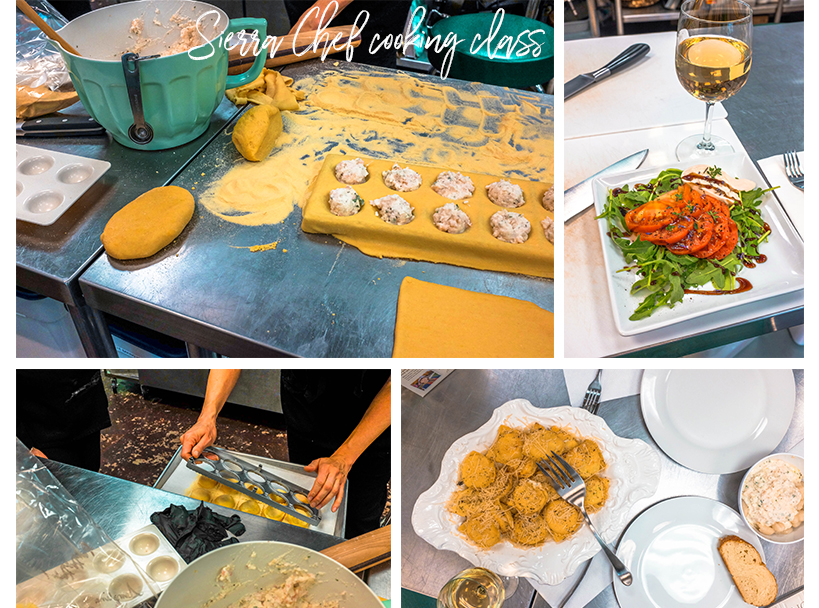 Sierra Chef cooking class was another one of my favorite activities on this trip! Cynthia started us off with a Caprese style salad and wine before we got to work! She makes cooking easy and fun! We made lobster ravioli and got to enjoy the fruits of our labor right there in her kitchen. The best part about Sierra Chef is the fact that this is Cynthia's retirement venture!
If you're a history buff or intrigued by finding out more about the places you're traveling, definitely check out the Museums and Historic POI! I went to Mormon Station and Court House Museum — it was so interesting to find out more about the history of this beautiful area, from the Native Americans who initially settled the area, to a man called Snowshoe Thompson who helped deliver mail on skis, to an event called the Candy Dance that is celebrating it's 100th installment this year!
It was such a treat to explore a part of the US that I hadn't been before! I was so surprised by how STUNNING Nevada is. Apparently Nevada has a whole lot more to offer than Las Vegas. 😉
Comment below if you've got anymore Nevada travel tips!
Happy Exploring,
Corey, Miss Foodie Problems