I've always been drawn to thrifting since I can remember. Not only is it better for the environment and your wallet, but its also more fun — I feel like I've achieved something when I find something at a thrift store that fits. Also, I feel like I will probably be the only one walking around with said item on (not always, but a lot of the time). AND when it's vintage, it's 100 times more exciting. I feel like I've gotten even more into the hunt since I started traveling a ton this year. From Italy to just down the California coast to Arizona, Utah and Nevada — I feel like I'm really on a roll. I love finding an item to add to my wardrobe, that will fondly remind me of my travels.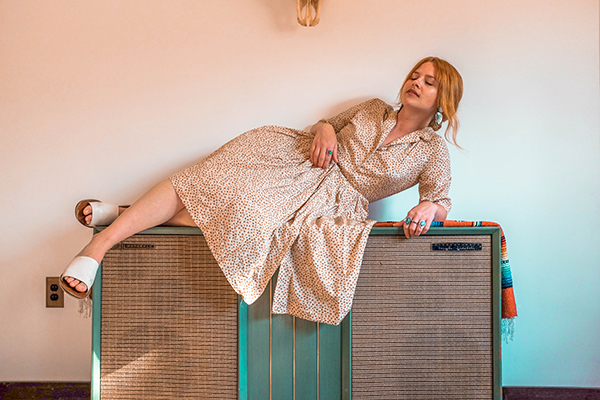 I love the vintage feel of this dress while it's still super comfortable and wearable. The dainty flower print and color palette give me all the Pretty Little Fawn vibes (amiright?). Her perfectly red hair inspired my recent deep dive into the strawberry blonde hair commitment I'm currently taking part in. I found this gem of a dress from a marketplace in Oceanside that is relatively new! I am obsessed and plan to head back every time I visit my family down the coast.
Vintage Floral Dress: Sea Hive — Oceanside, CA
These earrings were acquired by this boutique in Bologna from a place that shutdown and still had stock from the 80s. Scroll down for a closer up look along with the rest of the accessories. R bought them for me along with the white flower ones pictured with all of the accessories further down the post.
Upside Down Teardrop Inlay Earrings: Fratelli Broche — Bologna, Italy
I am beyond grateful for the recommendation to check out this place from my friend Jackie. When we were quickly planning our recent road trip, I knew I had to ask her for all the best thrifting spots.
Turquoise Ring (top): Gracie's Vintage — Kingman, AZ
Flagstaff, AZ is one of my new favorite places for affordable, high quality secondhand items as well as Native American jewelry. I got the woven bag and 2 blazers (pictured in a couple photos below this) for $5 each. When the woman behind the counter told me the price, I quietly paid and basically ran straight to the car before she changed her mind. Haha.
I'm also pretty obsessed with Winter Sun Trading Co. — its half jewelry store & half wellness store. The man who was working the place was also super helpful and so kind!
Turquoise Ring (bottom): Winter Sun Trading Co. — Flagstaff, AZ
Woven Bag: Sharon's Attic — Flagstaff, AZ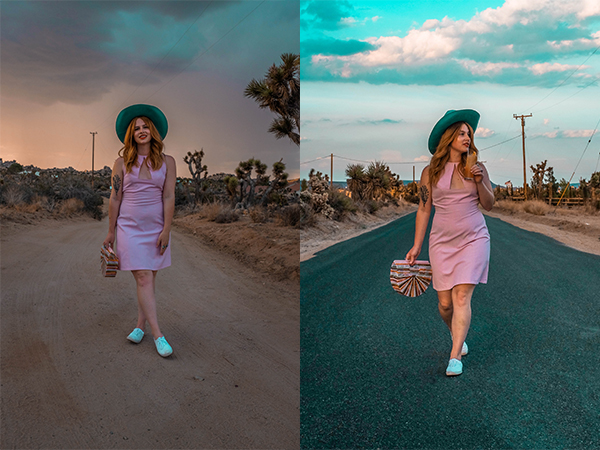 When Randolph and I went to Italy, we really didn't do a ton of shopping, but we did check out some vintage spots in Bologna! I highly recommend you do the same if you're traveling there as well. This dress is in my top 3 favorite finds of all time. When I put it on, I couldn't believe how perfectly it fit & it was SO affordable. This hat is also in my top 3 fave finds! It was a spot pretty much in the middle of nowhere (outside of Las Vegas) that we stopped at after we attended R's friends' wedding on a dry lake bed nearby. I tried it on, knew I had to get it, and the man behind the counter decided to give me a discount!
Mod Dress: Vintage in the Garden — Bologna, Italy
Hat: Sherman's House of Antiques — Boulder City, NV
These are the $5 blazers — one of them is a Pendleton! This suede jacket is from a spot I always stop by when I am on my way to Joshua Tree. It's a pretty big affordable spot.
Blazers: Sharon's Attic — Flagstaff, AZ
Suede Fringe Jacket: Pioneer Crossing Antiques — Yucca Valley, CA
Another one of my favorite secondhand spots in Oceanside. This is my go to spot for super affordable finds and they also carry some great (new) hats!
Tropical Print Tank Dress: Captain's Helm— Oceanside, CA
Blue Head Scarf: Vintage in the Garden — Bologna, Italy
Scarves (refrigerator): Pioneer Crossing Antiques — Yucca Valley, CA
Here's the 3rd item in my top 3 finds! The retro print and cuteness of a skirt with the ease of a pair of shorts sold me immediately when it fit perfectly.
Vintage Floral Skort: Sea Hive — Oceanside, CA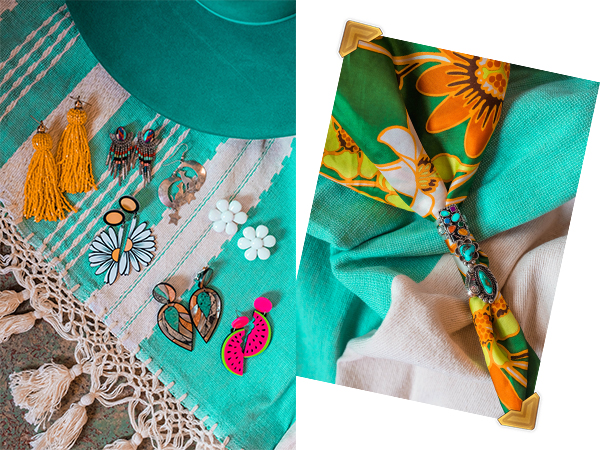 I used to wear earrings a lot when I was younger, but kind of fell out of it for awhile until I found the daisy and watermelon pairs from Dazzles. I definitely blame my newly rebound love for earrings on those 2 pairs. I've slowly been adding the rest of these to my collection the last few months — all so perfectly unique! My ring obsession has been going strong for years and I was so excited to add to my collection while we were on our recent road trip!
Light Blue, Red, Orange & Green Heart Scarf (pictured with Tropical Print Tank Dress above): Vintage in the Garden — Bologna, Italy
Fringe Earrings: Santa Monica Airport Antique Market (unsure on the stand)
Native American Inlay Earrings & Moon/Wolf Earrings: Gracie's Vintage — Kingman, AZ
White (whole) Flower Earrings & Upside Down Teardrop Inlay Earrings: Fratelli Broche — Bologna, Italy
White & Yellow (half) Flower Earrings, Watermelon Earrings & Macrame Bags : Dazzles — Palm Springs, CA
Green Floral Scarf: Sea Hive — Oceanside, CA
Multiple Stones Ring (top) – not thrifted: White Mountain Trading Post — Orderville, UT
Remember what I said about Flagstaff? I got this top for $4! It is so perfectly comfortable and pairs with so much more than I thought it would.
Black and White Peasant Top: Cedar Closet Thrift Shop — Flagstaff, AZ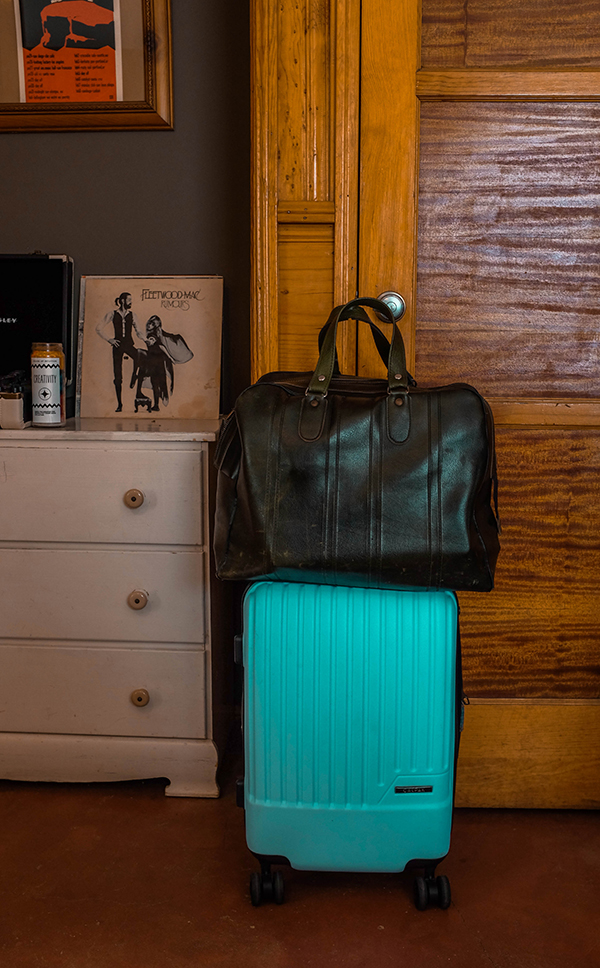 Last, but certainly not least is this green bag. I have no clue what the place was called that we found it on the last day of R and my first European trip together last year. The only reason I was looking for a bag, or even considered purchasing this thing is because my suitcase was well over the allowed weight on the way to Paris, so I was trying to alleviate the $$$ blow on the way back home. I now use this bag for weekend trips away and every time I go over to R's place. Kind of funny how that works! And it was only $12 and happened to have a German bill and a hand written note in the pocket!
Green Leather Bag: Paris, France
Blue Luggage: Calpak
Photos shot at Rimrock Ranch
Photos of me shot by Christina Champlin
Comment below with your favorite thrift store or vintage finds!
Happy Thrifting,
Corey, Miss Foodie Problems