From Cinque Terre, we drove to Rome! It was a pretty rainy drive, but thankfully the storm let up after we arrived into the city!
We stayed in this Airbnb. It wasn't anything special, but I did love the location in the Trastevere area — there is a LOT in walking distance from that part of the city.
I was completely surprised that I loved Rome as much as I did since it's a big city! I am usually not a huge fan because of the crowds, super touristy areas, and all-around big city feel, but I felt like Rome is different. There are so many quiet streets, hidden shops and gems to find around every corner away from the crowds.
To Eat & Drink
A couple of notes before I get into the restaurant deets:
If you love wine, be sure to order the table wine at restaurants — there should be a choice between a white and a red. It is not anything like our crappy 'house wine' in the states! It's super affordable and great quality!
I also love the option of making some meals at the place where I am staying — which is one of the many reasons I love Airbnbs. I usually do breakfast in and then 1 or 2 meals out per day. There isn't a huge breakfast culture in most of Italy, so it works out to eat that meal in! It helps save money and makes you feel more at home in whatever city you're in. A lot of the time we had leftovers from meals, which was perfect for one of the meals the next day.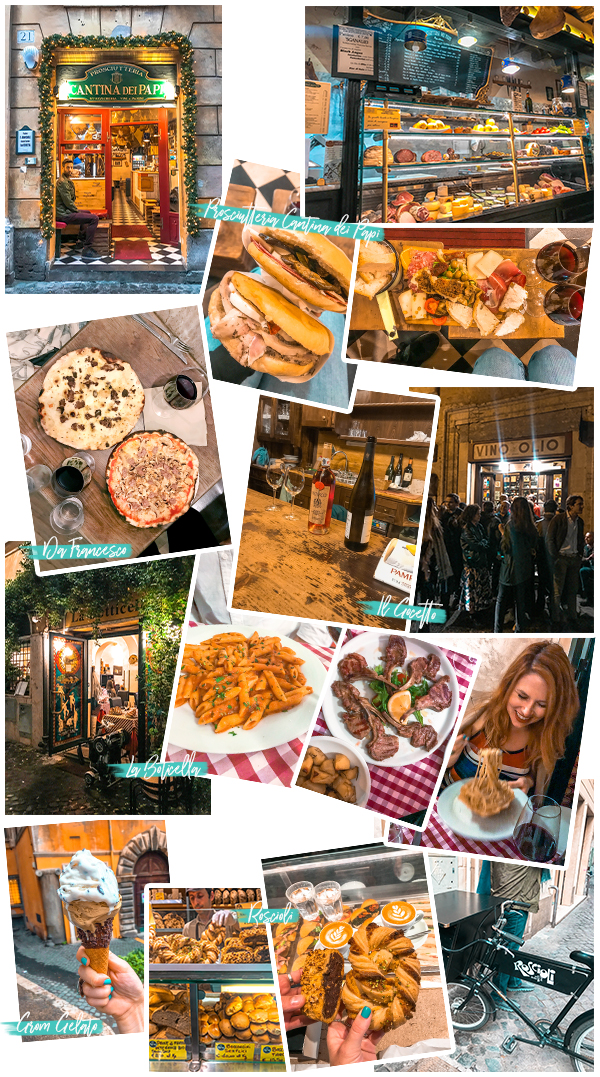 Prosciutteria Cantina dei Papi — This is one of the places I fondly think about revisiting in Italy on my next trip!
Ordered: cheese and charcuterie board and wine. Salami sandwich and porchetta sandwich. You can basically customize your sandwich with anything in the case — truly you can't go wrong! There was one afternoon that we got caught at this place during a storm so we waited it out with sandwiches and a bottle of wine in hand.
Note: The Porchetta sandwich reccommendation came from a man that we chatted with the day before. It pays to be friendly and open to chatting with "strangers".
La Boticella — Located on an adorable cobblestone street lined with vespas and greenery!
Ordered: Cacio E Pepe, Penne all'arrabbiata, Lamb Chops
The Cacio E Pepe comes in a bowl made of cheese! If you order one thing def order that!
Roscioli — We grabbed pastries and coffee at their takeaway location. Coffee was delicious but the pastries were only okay.
Note: I've heard fantastic things about their actual restaurant. We plan on going this time around, so stay tuined!
Da Francesco — This was one of the places that had been suggested to me a few times. We actually ended up happening upon it after going out for drinks one night across the way at Drink Art Gallery.
Ordered: Truffle Pizza, Sausage Pizza
Il Gocetto — This place is what I think about when I think back to this trip. A crowd enjoying their glasses of wine on the cobblestone streets; chatting and making new friends. PERFECTION. We only grabbed wine here, but I would love to go back and get some bites!
Drink Art Gallery — The perfect spot to grab drinks and enjoy live music.
Grom Gelato — If you're craving gelato, this place is delicious and consistent, but now you can get it in Los Angeles!
To Do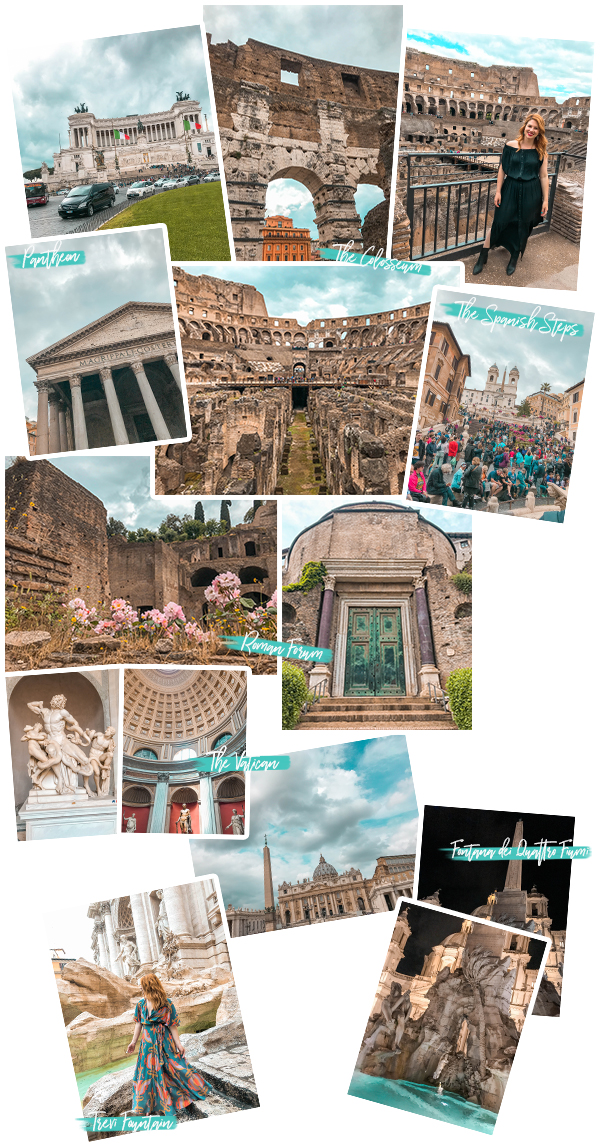 There is a ton of vintage shopping in the Trastevere area. I didn't end up purchasing anything, so don't have any specific recommendations!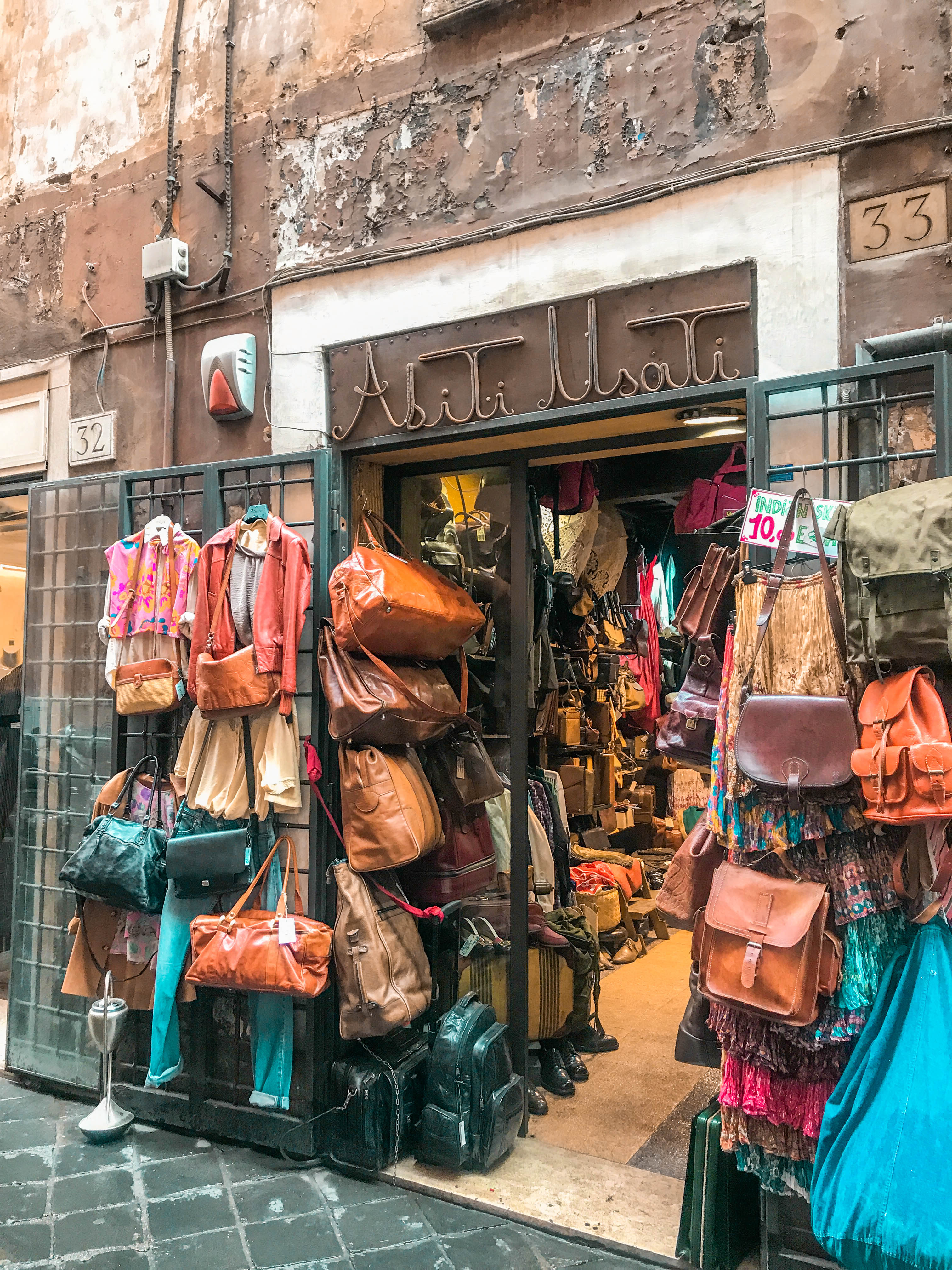 The Colosseum — We were able to walk from our Airbnb. We bought the most basic tickets to gain entry into the Colosseum. There are a ton of different levels of tickets and a bunch of different avenues to buy them. I am heading back to Rome this month and am doing a completely different tour with a guide, so I will report back about that soon! Our tickets also included entry into the Forum and Palatine Hill. I definitely recommend seeing all of those places at a minimum.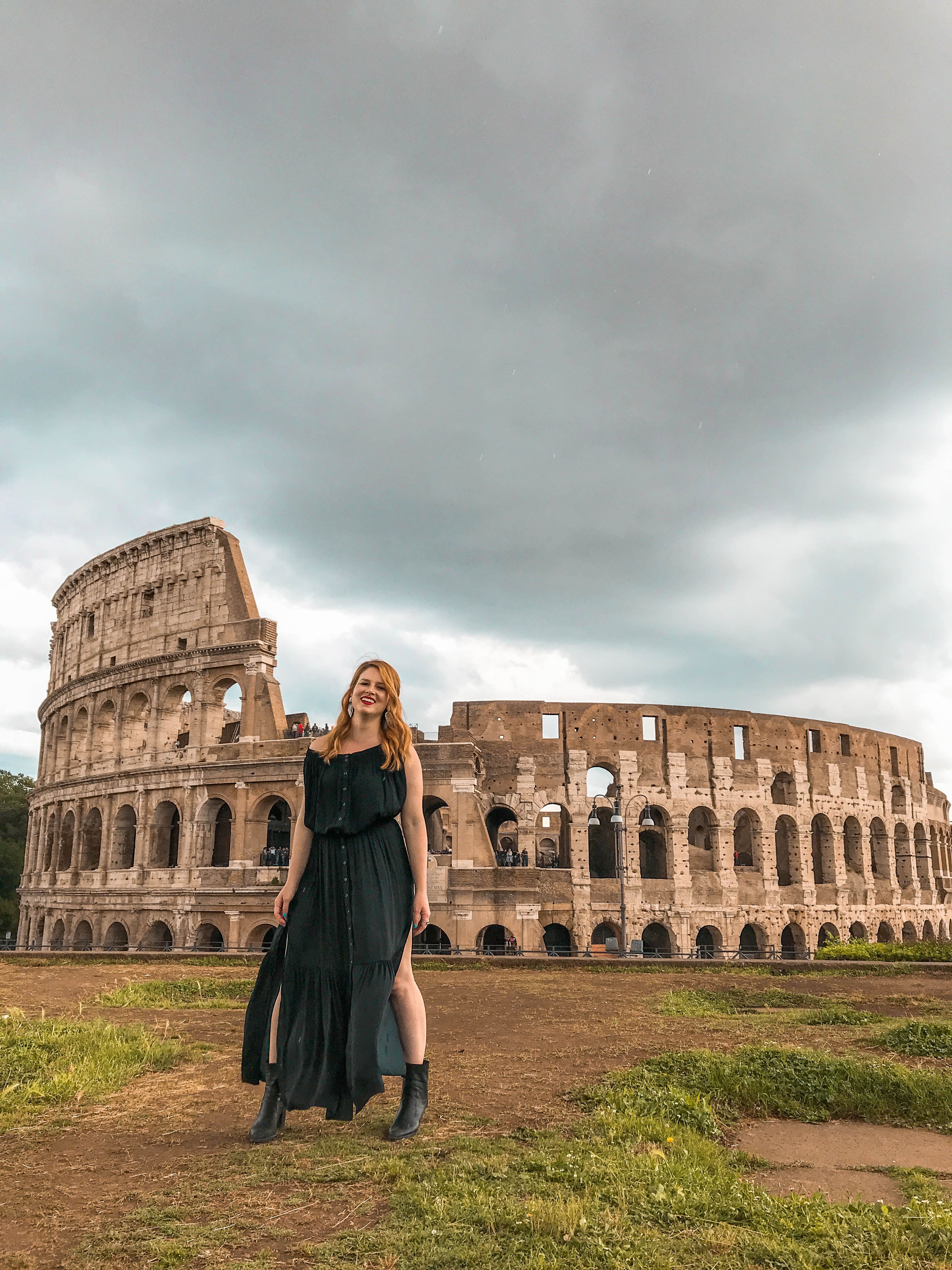 I was determined to get a photo with the Colosseum behind me and nobody in it. It just so happened that as we were walking up to an elevated area it started downpouring and everyone else dispersed! Luckily the rain let up pretty immediately after and we were able explore the Forum.
The Vatican and Sistine Chapel — SUPER crowded. Definitely buy tickets online ahead of time and ignore anyone outside trying to tell you that they can get you a better deal. The lines outside are unnecessary. This is definitely a spectacular experience. The Sistine Chapel is at the very end of the tour and you aren't able to take pictures!
Fun fact: The white statues were once painted! I was so taken aback by this because I'd never imagined them being anything but stark white!
I strongly recommend checking out the following 3 places in one go! They're all within a 20 minute walk from each other.
Pantheon — we didn't go inside, though it is pretty spectacular from outside. There is no need for tickets and I've heard the line goes quickly. I will definitely be going this time around!
Trevi Fountain — I've decided this place is always crawling with tourists, but there are probably more ideal times to go. No matter when you go, just be patient if you'd like to get a photo. There is only one side that you can enter and exit, so definitely scope that out when you walk up. Regardless of the crowds, this monument is spectacular!
The Spanish Steps — Another crowded attraction, but definitely worth checking out!

I'm so happy to be done with this round of Italy travel guides. If you missed any of them you can find them all here! I am headed back to my spirit country tomorrow for a 7-week stint, so stay tuned for all of the new content over on my Instagram and soon to be on here!
Happy Travels,
Corey, Miss Foodie Problems