This post is sponsored by Tahoe South, all of the opinions are my own!
Whether it's the heat of the Summer, the cold of Winter or somewhere in between –– Tahoe is always a perfect place to visit. I've spent quite a bit of time in the Tahoe South area in the last couple years. Check out this blog post if you're visiting during the warmer seasons, but also read on here because everything in this post is great for warm weather, besides skiing (obviously)! If you're interested in traveling in the Fall and Winter, read through for a special discount code at the dreamy place we stayed!
Have you been itching to get out of quarantine and travel (safely)? Tahoe South is a great option –– yes it is a bit of a drive from LA but there is SO much beauty on the way! May I suggest San Luis Obispo, Cambria, Big Sur! Here's a post about those 3 locations & another post all about Ojai + more Big Sur and SLO info! There's more to come soon from our most recent trips to Cambria & Santa Barbara, Los Alamos and Buellton. If you are considering visiting Tahoe, check out this page that Tahoe South put together to help alleviate any potential anxieties!
I do feel like I have a responsibility to remind you that when you are traveling, always, but especially during this time, please be considerate of OTHERS. A lot of the places we have traveled in the last few months are small towns that could easily be taken down by the spread of the coronavirus (these towns have tiny hospitals, if there even is a hospital nearby), though they also run primarily on tourism. So if you're considering a trip, only book if you're being smart. If you feel sick, stay home. When you're in public around others, WEAR A MASK, social distance and wash your hands often. It's really not that hard and could save a whole lot of lives AND make it capable for us to continue to enjoy travel and one day travel internationally again!
Back at the end of February, Walter (my boyfriend who currently lives in Italy) came to visit for a couple months, which turned into a few months because of coronavirus, but that's a story for another day. To think that back in February, we had NO CLUE what the next few months would hold is so strange to think about. I am beyond grateful we got to squeeze this trip in right when he arrived –– complete with fresh snow, but perfect conditions to drive in and out of town with no issues or having to use chains on the car.
Where to stay in Lake Tahoe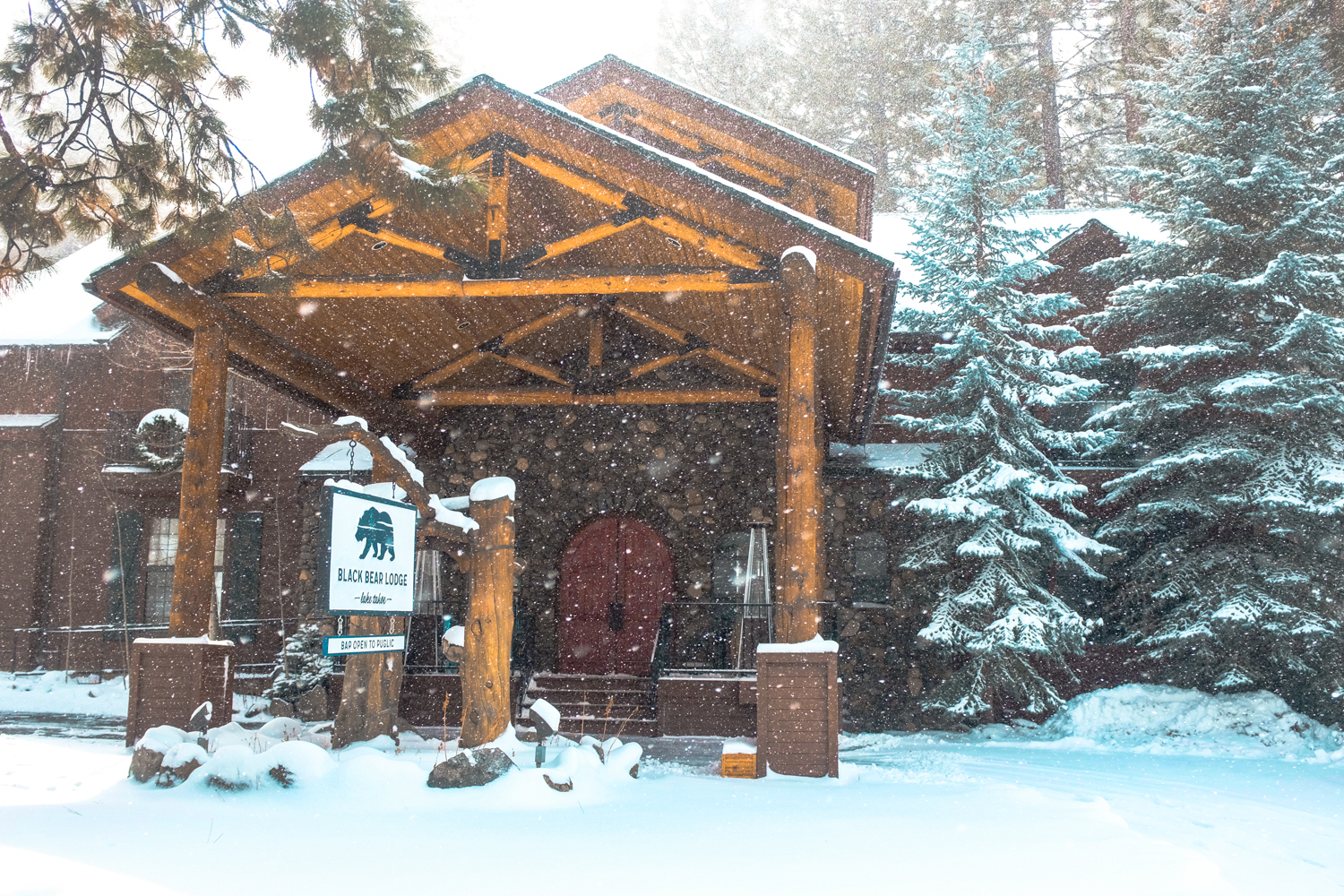 I was eyeing Black Bear Lodge since a previous trip into the area! It is a cozy boutique mountain retreat with a couple options for your stay. The main lodge has rooms for 2 – 3 people and there are also private cabins on property. I mean how cozy AND chic is this place?
Oh by the way (below) is what the property looks like right now –– the back garden is a great spot to enjoy a glass of wine and a snack outside!
There are 3 cabin options to choose from –– the Studio & Hideout which both accommodate 2 people and the Den, perfect for 5 people. We stayed in the Studio!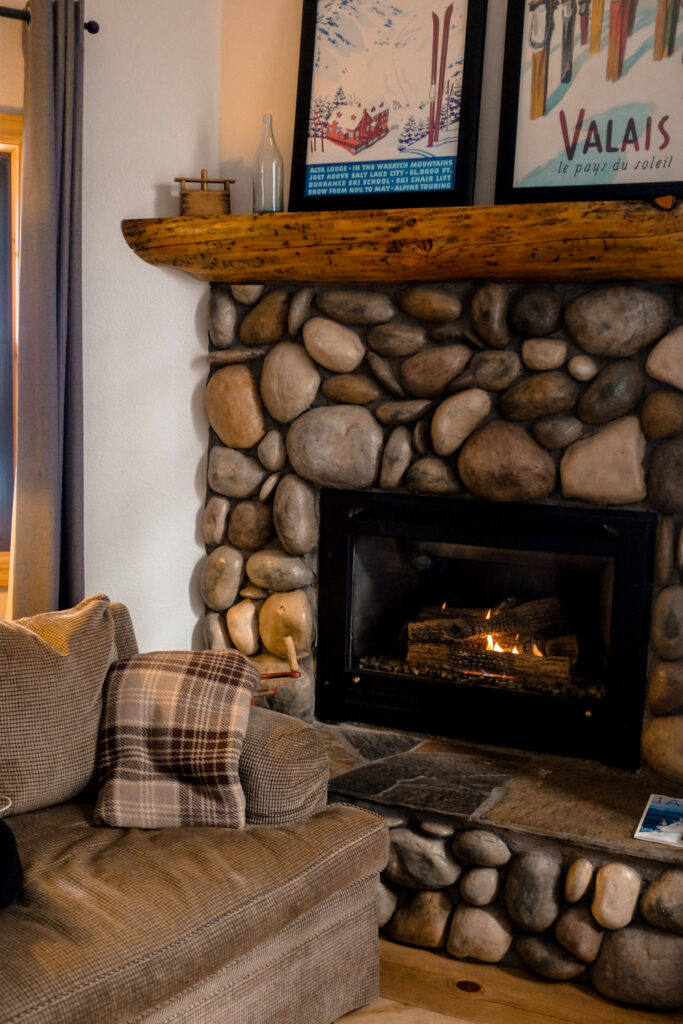 The Studio is complete with the comfiest of beds (an oil diffuser on the side table) and a love seat strategically placed in front of the fireplace. I love that the cabins are equipped with kitchenettes. So many times I've gone out to dinner while away from home and had leftovers but haven't been able to take them because I was staying in a hotel room with a tiny fridge and no way to warm them back up! Whether you want to prep a quick lunch, a picnic for a hike or store and warm up leftovers for later, you are SET!
Need a snack between meals? Head into the main cabin, they can whip you up cheeseboards (like the one above), an olive-tini, popcorn and bacon cheddar biscuits! We paired our board with a bottle from a recent visit to Bricoleur Vineyards while we were in the Sonoma area –– more on that trip coming soon. If you're curious about their wines, browse, add to cart and thank me later!
I asked Black Bear Lodge if they were able to offer you all a special discount AND they delivered! Save 20% on your stay this Fall or Winter with code missfoodie20! Must book by September 30, 2020. Valid for stays October 1, 2020 – December 17, 2020.
Here are Walter's thoughts on the trip!
The Black Bear Lodge is the perfect place to enjoy a skiing holiday in Lake Tahoe. There is nothing like enjoying a glass of welcome Prosecco, lying on the bed heated by the fireplace and watching the snow falling outside the window.
Going up to the ski area, a few minutes from the hotel, you reach the top of the mountain, and once there you turn to look at the valley…the show is breathtaking: the sky and the lake are so blue that if there wasn't a piece of earth to separate them you might think they are the same thing
Where to eat in Lake Tahoe
Revive Coffee & Wine was the perfect spot to fuel up for a day of skiing –– we got a Croissant Sando, Avocado Toast and coffee. As you can tell in the name, they also have wine –– I guess we need to head back to check out that menu soon!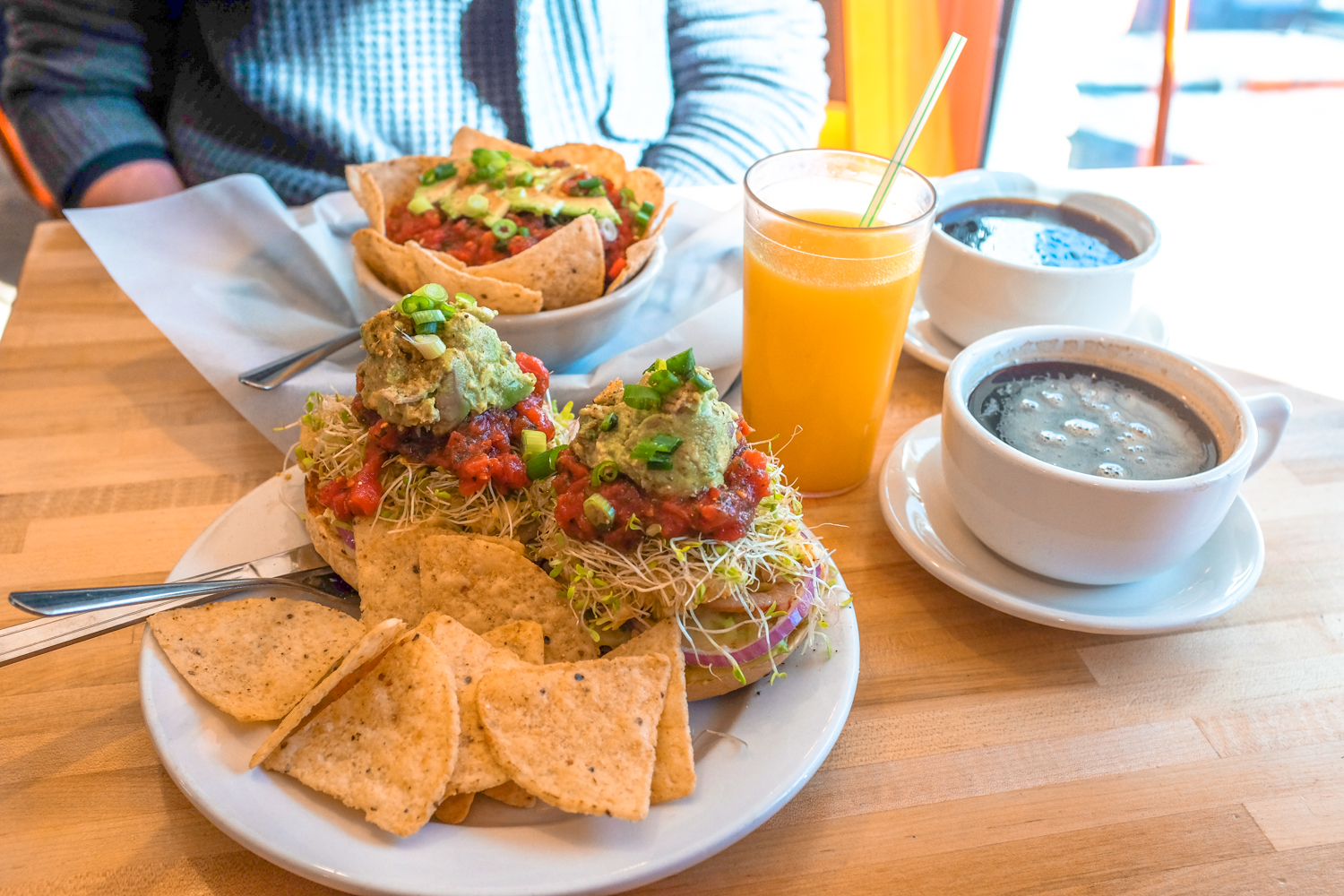 Head to Sprouts Cafe if you're looking for something delicious AND nutritious! We got the Breakfast Bowl & Breakfast Special.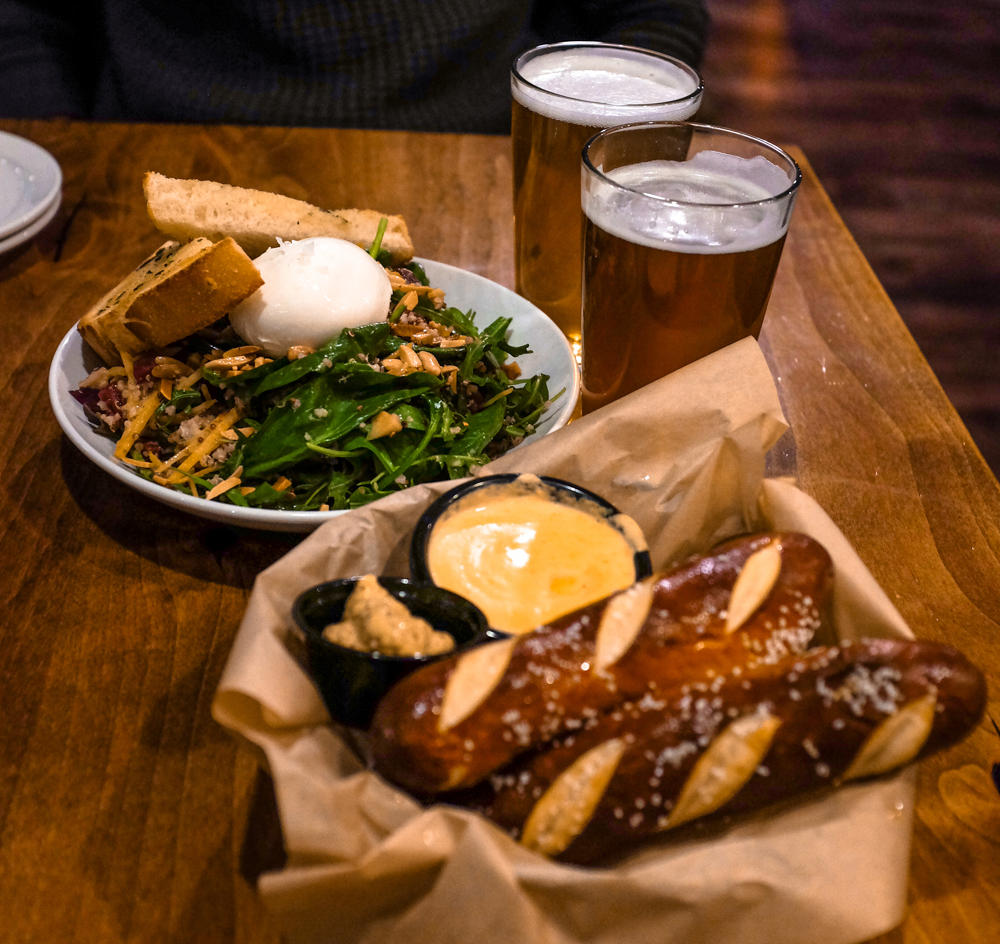 Cold Water Brewery was the reason we needed the fridge for those aforementioned leftovers. We ordered the Pretzel Sticks with Beer Cheese (Walter & I were huge fans), Beet & Burrata Salad, Short Rib, Pork Chop and Warm Chocolate Chip Bundt Brownie (basically sticky toffee pudding). They also brew their own beers, so definitely ask for some tastes so you can choose your favorite to enjoy throughout dinner!
What to do in Lake Tahoe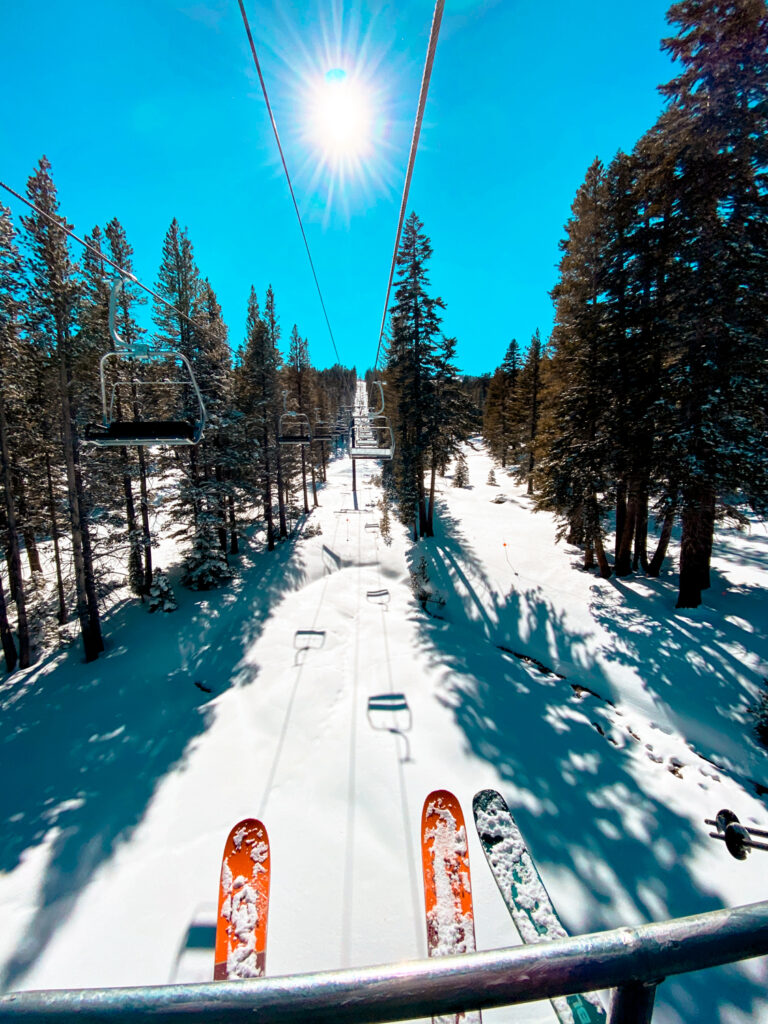 When we booked this trip we were unsure what the skiing conditions would be, but we were happily surprised by fresh snow! We reserved rentals and picked up a couple last minute items at Heavenly Sports. FYI : you cannot rent goggles or gloves, though they have them available for purchase. They make the whole process extremely streamlined. There is a gondola at the bottom of the mountain near where we picked up our rentals, though it wasn't running due to wind the day we were skiing so we drove up to the top of the mountain where there is plenty of parking. There is also a Heavenly Sports up there where we were able to return our rentals!
The breathtaking views on the top of Heavenly of Lake Tahoe were enough to convince me to come back every ski season in the future. We skied almost nonstop for quite a few hours and it felt like there were unlimited runs to choose from.
I love the versatility of Tahoe! It really encompasses so many of the reasons California is so special –– from the mountains capped with snow in the winter to those same mountains full of beautiful trails to explore the rest of the year. Not to mention that stunning lake! Whether you need a bit of fresh air, are itching to travel somewhere, or want to wait until Fall or Winter to travel, I highly recommend booking a stay in Tahoe.
Happy Travels,
Corey, Miss Foodie Problems