Last month I was invited to Ojai to attend the Ojai Wine Festival. I'd been to Ojai once before and was so excited to explore it a bit more in a different light! This was the perfect weekend getaway from Los Angeles!
To Stay
I got to stay at Su Nido, a collection of Mission Revival suites — some include a fireplace, kitchen and patio! My room was perfect for this cozy weekend getaway, opening up into the courtyard — with olive trees, a fountain & plenty of tables, chairs & umbrellas to enjoy a warm Summer day! I felt like I was transported to the Tuscan countryside!
The Ojai village is just down the street; filled with art galleries, theater, dining options and more! One of my favorite spots is just steps up the street!

The Festival
Since 1987, the Ojai Wine Festival has earned over $1.3 Million for Rotarian Community Service and international projects. From local efforts enriching the education and health of Ojai's local youth to aiding additional civic needs. Their International Projects promote peace, fight diseases, provide clean drinking water, save mothers and children in need, support education and help grow local economies.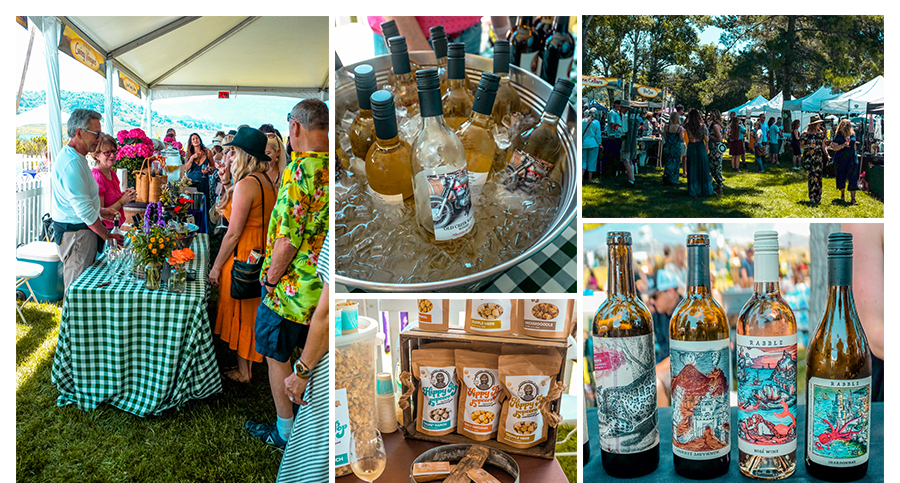 The Ojai Wine Festival is a day filled with wine, beer, food and music! Depending on the experience you'd like to curate, there are different ticket options — GA & VIP! The VIP Lounge is limited to 600 attendees, has early 11:30 a.m. entry, exclusive fine wines, craft beers, spirits and hors d'oeuvres.
I enjoyed tasting *new-to-me* wines with one of my close friends, finding a few new favorites, like Rabble Wine & Dusty Nabor! They were delicious, but I was also drawn to their beautiful labels since I'm a low key design nerd. I also met the wonderful owners of Hippy Pop — I tasted through their whole popcorn lineup and came to the conclusion that the Snickerdoodle flavor is my favorite!
This would be the perfect weekend with group of friends or as a couple! The whole family can join in on the fun too — there were lots of kiddos running around enjoying the beautiful day!
To Eat Nearby
We headed to The Nest for a bite after the Festival! I'm a huge fan of their Sangria, Fried Chicken Sandwich & Fries!
Another option, just steps up the street from Su Nido, is Tipple & Ramble! They've got a gorgeous outside area, make cheese boards, other bites and have plenty of wine & beer to choose from!
If you're interested in more Ojai recommendations check out this post!
If you're interested in more of the Central Coast check out this post!
Happy Travels,
Corey, Miss Foodie Problems